Teachers nowadays can make money online with a WordPress site, LMS, and other tech tools.
Online teaching opportunities help teachers, professionals, and thought leaders spread knowledge with courses, coaching, and community membership portals.
Discover the top 3 online teaching methods in detail:
courses
coaching
communities
Why should you teach online from home or anywhere you desire?
Income
Teaching online from home helps you turn your passion into a "make money online" business. You can reach a wider audience, generate more sales, and change people's lives at scale.
Impact
Teachers can establish authority as Though Leaders and help their students from all stages, countries, and languages to increase their knowledge, improve their skills, and help them make a difference in society.
Creative Freedom
Online teachers can create, compile, and manage their courses from anywhere. If something works for your students, you can create, teach, and manage the system exactly the way you want.
Online Teaching Fundamentals
Establish Clear Learning Objectives
Teachers can establish clear learning objectives for students using checklists, tasks, and deadlines.
Create Engaging and Interactive Content
Online courses are composed of content, such as textual material, videos, presentations, images, and infographics.
Provide Regular Feedback
Teachers can provide quick reviews, detailed feedback, and suggestions on how well students are retaining and implementing the learning content.
Foster a Sense of Community
Students of all ages can create, share, and collaborate with others, helping each other quickly understand, experience, and learn how things work.
Use Technology Effectively
There is so much technology available today to help teachers update their course content quickly, provide feedback, and conduct online sessions. Students can access their online learning dashboards from anywhere, using tools that require no geographical restrictions.
What are the top online methods of teaching so teachers can make money from home?
Let's address the ways teachers can make money online by teaching from home.
Online Teaching Opportunities
Courses
A course helps students learn how to solve a specific problem, improve their skills, and follow a proven strategy. Online course platforms, such as LifterLMS, help teachers create online courses and make money online from home.
Coaching
Starting an online coaching business is easy with a WordPress website. With its drag-and-drop user interface, a plugin like LifterLMS helps you build a teaching business online.
Coaching involves training, guidance, and online sessions to help students solve a specific problem. As a coach, a teacher's passion can help make money by converting students into paying coaching clients.
Community
Students aiming to learn specific skills online often form an online community. Once a teacher has built an audience, he or she can make money with a group of interested students and form higher levels of paid communities online.
How much money can you make teaching by monetizing your expertise online?
Online teachers can make an almost unlimited amount of money depending on the audience, growth, and marketing strategies.
Here is a list of case studies that help you understand how LifterLMS is helping teachers make money online by teaching their passions.
Frank Kane teaches Big Data sciences and has secured 600,000 students' enrollments with courses on Udemy and a self-hosted site powered by LifterLMS. So far, Kane has made over 2 Million in Revenue teaching online.
Ziv Raviv, who runs a training-based Membership site for Balloon artists, uses LifterLMS on his site and has made over $277K a year in business.
Sally Crewe, who runs a natural healing business – created and launched her first $15K course with LifterLMS.
Where can I make the most money teaching online?
There are many platforms for online teaching – Thinkific, Udemy, and Teachable, to name a few. No doubt, such platforms help you quickly build an online course for profit.
Although teaching platforms help you offer a course to the world, the potential of making money online depends on your audience, marketing strategies, and success rate.
For example, LifterLMS, the most popular plugin to make a WordPress site into a learning management system helps teachers create, customize, and manage online courses.
However, a self-hosted LMS is ideal for those who know how to turn their passion into a business while keeping things in hand at all stages.
Make Money Teaching Online While Also Making a Difference
A Learning Management System (LMS) can automatically enroll students, deliver course content, and help instructors make money online. At the same time, the whole automation infrastructure of an LMS allows teachers to travel the world (or work from anywhere) without being tied down to a physical classroom.
Once you've created a course, coaching program, or membership website, an LMS, such as LifterLMS, will handle everything – from students' enrollments to managing course content and receiving payments.
The Pros and Cons of Online Teaching
Monetizing your expertise online was never easy without an LMS. However, you can also experience the cons of online teaching if you're not careful enough.
Let's address the pros and cons of online teaching for teachers and students.
| Pros | Cons |
| --- | --- |
| Efficient and streamlined | The network may face connectivity issues |
| Ease of creating an online course and access levels, regardless of device, time, place | Teachers and students may face isolation at home |
| Affordable for teachers and students | Less in-person interaction between teachers and students |
| Better time management, continue at your own pace | Students become victims of distractions at home |
| Access to supported course materials, files, and data | Teachers and students sometimes struggle with technology |
Method 1: Sell Online Courses
Selling online courses is a profitable business model for teachers. A course can help build an audience, turn your passion into a business, and provide life freedom.
You can sell anything – from health science material to career counseling books, diet plans, or a course on learning how to lose weight fast.
How to Figure Out What Kinds of Courses are in Demand
Online course platforms – such as Udemy, Skillshare, and LinkedIn Learning list trending courses in the featured sections. Their picks for top courses help you determine what courses are in demand.
You can also find trending courses with research skills. For example, SEO Tools help you find trending terms for niche courses. In an SEO Tool like Ubersuggest, enter a seed term, filter results with desired terms, and get a list of ideal proposals for a course idea.
Google – also helps you get a list of trending course niches, as shown in the screenshot below. Google suggests which course niches are in demand.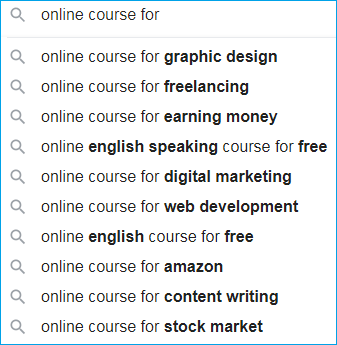 How to Plan and Create Your Content
First, depending on your expertise, you should generate course ideas. You should have compiled a list of product names for a favorite course, coaching program, or online community.
Next, outline your course, chunking it down into sections and individual lessons within sections.
Then, you can start creating actual content, piece by piece. This includes textual content, presentations, videos, images, and digital documents such as PDFs.
Finally, once you've finished creating course materials, you can create a course sales page. A sales page describes your course model, modules, pricing plans, and road map for success; and helps you generate sales by inserting a payment gateway system.
Method 2: Become an Online Coach
An online coach helps clients learn and grow online through proactive coaching, feedback, and mentoring. Keep in mind the need for an LMS for online coaching, courses, and private communities is essential in order to make money online teaching what you know.
Become a Business Coach
A business coach helps business owners launch, grow, and scale. With a business coach, entrepreneurs can learn how to improve their leadership skills, increase their productivity, and generate more sales by improving their business communication.
Become a Health and Wellness Coach
Health and wellness coaching programs improve clients' health and mental state. If you can help people needing physical or mental health upgrades, becoming a health and wellness coach is the best option to make money online by teaching what you know about niche health and wellness topics.
Become a Life Coach
Life coaching helps improves peoples' lives around a wide variety of topics like relationships, productivity, and lifestyle goals. You can create and sell a life coaching program if you're good at helping people improve their quality of life.
Teach English as a Second Language Online
Teaching English to non-native speakers is a model for online teaching to make money online. Teaching English as a second language (ESL) is a way for instructors who've acquired English profecieincy in some niche to create and sell English learning programs to non-native speakers.
Method 3: Create a Private Community
A private online community is an online learning hub for information on a specific topic. Online communities provide a place for online learners to learn and grow together.
Online Community on Your Website
A self-hosted website is one of the best places to create a private community. In this case, an LMS, such as LifterLMS, can help you add an online learning community to your WordPress website.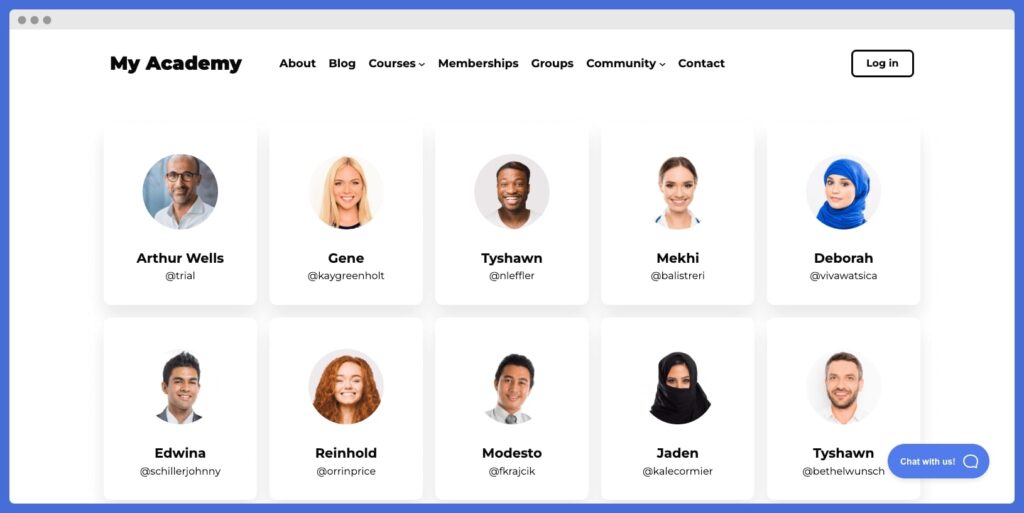 Virtual Meeting Communities
Virtual Meeting Rooms (VMR) help teachers take online sessions with students live. For example, Zoom Business plans help teachers teach more than 300 students at a time. And you can also embed a Zoom classroom in your WordPress LMS website.
Social Media Groups
Social Media groups, such as the ones you see on Facebook and Discord help teachers communicate with specific groups of students. For example, you can only allow students in the group who have purchased your online learning program.
Mastermind Retreat
A mastermind retreat is a form of private coaching supported by experts in a specific niche where growth-minded learners from various backgrounds meet, collaborate, and share ideas in complete confidentiality.
Best Tips to Make Money Online Teaching
Own your LMS website
If you own a WordPress site, you can quickly implement a Learning Management System (LMS) functionality with the LifterLMS plugin for WordPress.
The primary reason why you should own your LMS website is decreased cost, customizability, and ownership.
An example of a self-hosted online LMS is Frank's store – where he leverages LifterLMS to create and sell his online learning courses.
Learn the Art of Student Retention
Retention is the process of increasing signups with past students. Student retention is vital for survival if you aim to build a sustainable online teaching business.
There are many ways to regain past students. For example, loyalty discounts, follow-ups, and post-purchase surveys help you retain past students.
Teach on Multiple Platforms
Possibilities are unlimited if you want to teach your course on multiple platforms, such as Kajabi and Udemy, or use a WordPress plugin like LifterLMS for a self-hosted LMS website.
Suppose you think providing your course on multiple platforms helps you increase conversions, you can offer your course on Udemy, Skillshare, Kajabi, Teachable, Thinkific, Podia, Learn Worlds, Wiz IQ, and more.
Start Teaching Online (Starting an Online Coaching Business)
Teach Online with a Learning Management System (LMS)
Get started with a Learning Management System (LMS) that helps you create your school, design a course, manage payments, and easily retain students.
While you can choose from a hosted LMS, building your course/school with an LMS plugin is the best option to proceed, helping you create a WordPress website with LMS functionality.
We offer LifterLMS which helps people all over the world create and launch their course platforms fast on a website they own and control. If you know how to manage a WordPress website, LifterLMS can quickly help you create and launch an online course, coaching program, and community.
Getting started with LifterLMS is easy.
You can start by installing and activating your LifterLMS plugin the way you install any WordPress plugin. Once installed and activated, the setup wizard on the screen helps you set basic options.
Next, you need to activate your license. Watch this video tutorial if you've any problems.
The next step involves creating your first course. You can proceed with LifterLMS Quickstart Course if you're using it for the first time.
Which LMS Features Do You Need?
Here is a list of features an LMS should provide for WordPress users.
An LMS should provide different elements for course design, such as content blocks, a drag-and-drop user interface, quizzes, polls, and multimedia content. The builder that provides such options is referred to as course builder.
Receiving online payments is a big challenge. You must choose an LMS that helps you accept various credit cards, bank transfers, PayPal, and drive affiliate sales.
An LMS should have options to handle various kinds of learning modalities. For example, an LMS should support and provide suitable options for a teacher with a course, membership site, and coaching business.
Student retention is essential. Choose an LMS that helps you retain students with discounts, certificates, text messaging, follow-ups, gamification, and community.
Keeping track of students' enrollments, data reporting, and user management is vital for a course creator. With an LMS, you should focus on what works for your business, what needs to be changed, and what must be removed.
Branding is crucial to business survival and growth. An LMS should provide options to change course content, color schemes, typography, A/B testing, school layout, and users' options. A modern WordPress LMS theme is crucial for this.
What are the best LMS systems (Monetizing your Expertise Online)?
The best LMS systems are…
LifterLMS
LifterLMS is a WordPress plugin that helps teachers make money online through online courses, coaching, and community. It enables you to create, sell, and manage online courses, build a coaching business, or create a community membership portal with a simple WordPress website.
LifterLMS provides native features for course creation in WordPress. Anybody with something to teach can make money online by following this simple process: 6-Figure Course Plan Challenge.
LifterLMS is mostly free, and comes with a 100% money-back guarantee refund policy.
Udemy
Udemy helps you create, sell, and manage online courses from their website.
Udemy doesn't charge for creating and hosting course material on its platform. However, you can make money based on its revenue-sharing program for instructors.
For example, Instructors receive 97% of the revenue when a sale is made using an instructor's coupon or referral link. On the other hand, if a student has enrolled using an advertisement from Udemy, instructors receive 37% of the revenue.
Kajabi
Kajabi helps teachers create online courses, sell their content, or create a membership plan for students on their website.
One of the most popular platforms for course creation and teaching, Kajabi provides a suite of tools for online creators, including options to create online courses, communities, or membership sites, along with growing your business with landing pages, funnels, and emails.
Kajabi is very expensive compared to WordPress.
Check out this detailed comparison of Kajabi vs WordPress.
Over to You – Online Business Ideas for Teachers
Online teaching can be a lucrative business, especially for those who want to make money online by teaching what they know.
With a WordPress site, LMS plugin, and a course or community, a WordPress platform awaits you to make money online teaching.
We recommend using LifterLMS for online teaching, course creation, coaching, and community platform.
Frequently Asked Questions (FAQs) – Building an Online
Community for Profit
What are the requirements to make money online?
To get started with online teaching, you'll need subject matter expertise, a WordPress website, and a Learning Management System like LifterLMS.
Is online teaching beneficial for students?
Yes. Online teaching helps students learn different skills from home, and you can reach a wider audience (possibly worldwide)
How can a business coach build a teaching business online?
Business coaches can start with private coaching, then create a course to productize their methodology, then create a social learning business community.
How can I build an online community for profit?
Platforms like Udemy, LifterLMS, and Kajabi help you build communities for profit. For more information, visit their websites.
Can you build a sustainable business by monetizing your expertise online?
Sure. You can create a course and turn your passion into a way to make money online by creating and selling digital courses, coaching programs, and community membership plans to make money online teaching with an LMS.
All you need is WordPress and LifterLMS to make money online teaching what you know.