As an online course creator you're full of valuable information, and we believe the best way to get you paid and get your students learning is through effective course landing pages and proven curriculum structure.
If you're using LifterLMS, you can now get these three winning course templates on your website with one click …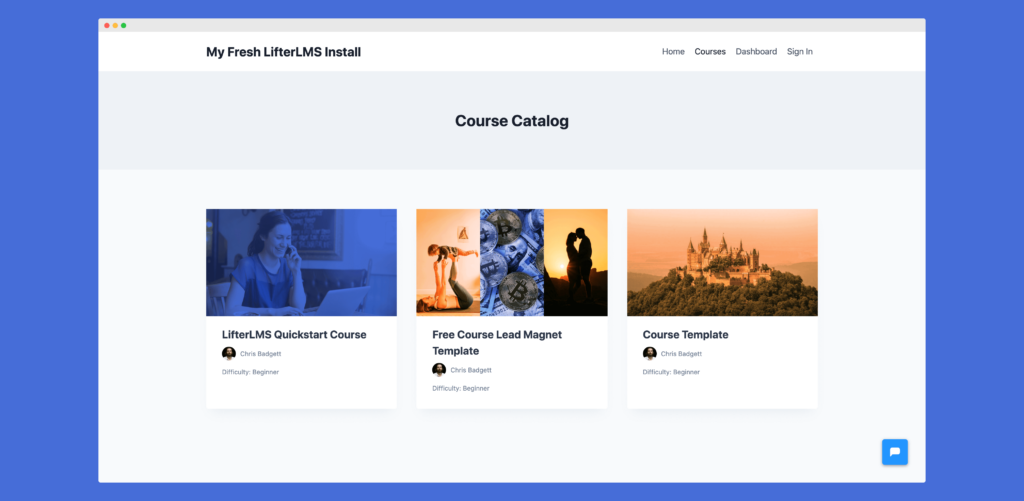 When you start your first (or next) online course with a well-designed course template, you don't need to hire expensive graphic designers, copywriters, or instructional designers to get sales coming in and learners getting results from your training.
Just click the button in the LifterLMS Quick Setup Wizard to install some or all of the course templates. Then simply replace the course and lesson text, images, and videos with your own.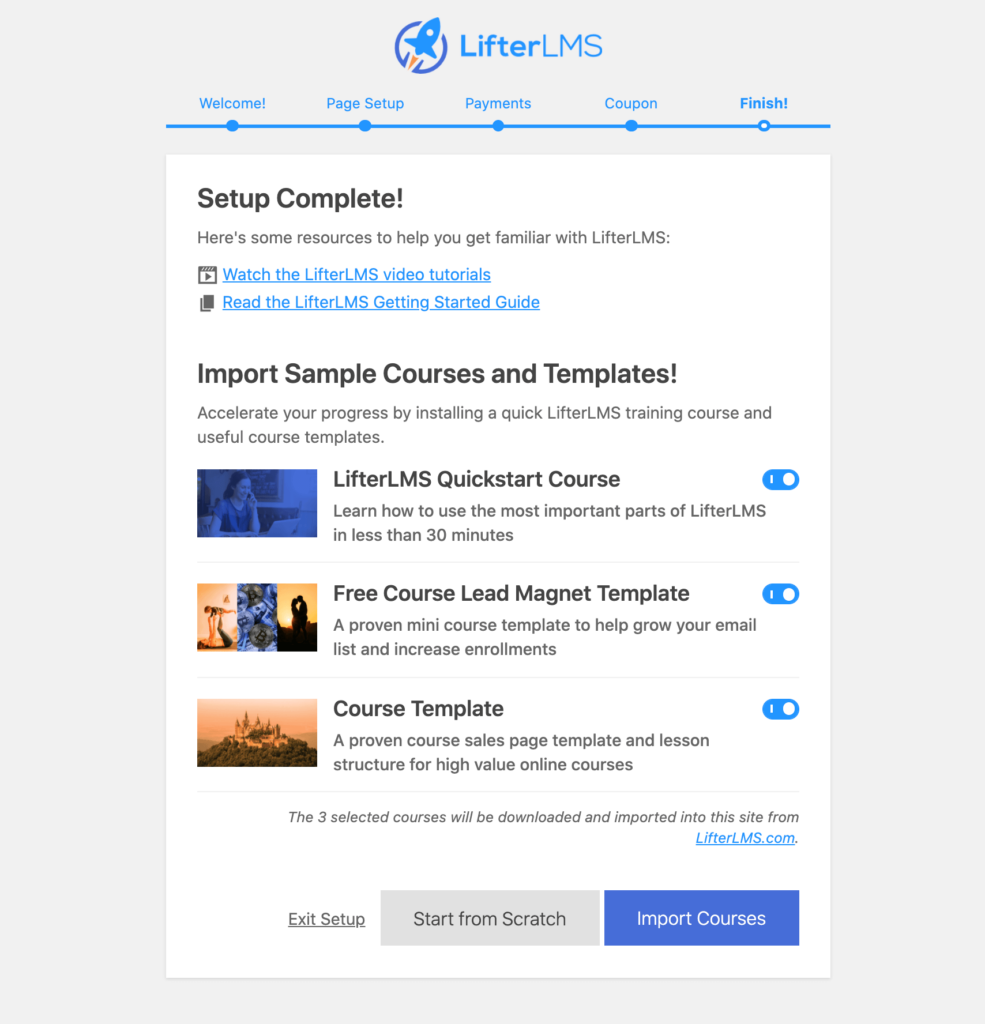 If you already have LifterLMS setup up on your website, you can import (or import a second time) a course template directly from the WordPress admin.
Simply go to your WordPress admin, and click on the Import menu item under LifterLMS.
Increase sales with the signature course template
Don't feel bad if writing a beautiful conversion optimized sales page for your course does not come naturally to you.
It's actually pretty common for subject matter experts, instructors, and WordPress professionals to not be natural sales people and sales page designers.
You don't have to learn sales copywriting and graphic design from scratch to put up a high quality sales page on your website. You just have to replace our template content with your own.
The course template is perfect for high value courses that deserve a proper sales page.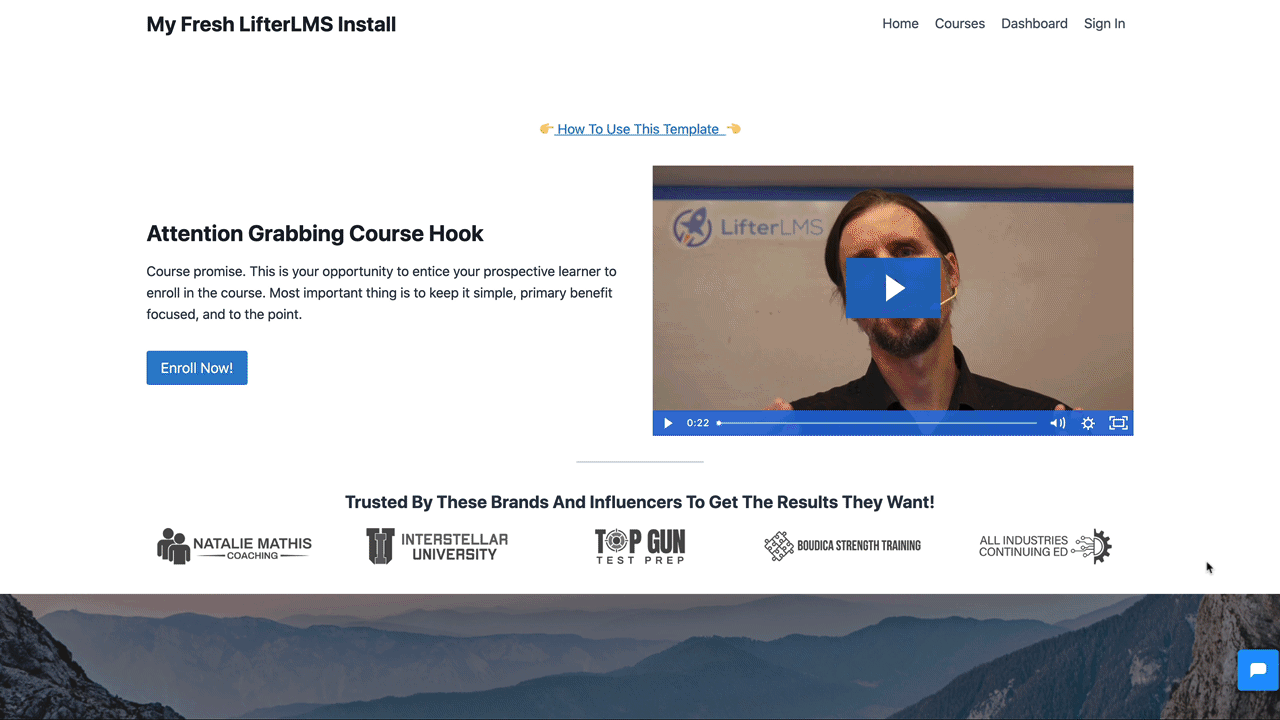 But there's more to a great course sales page than a proven layout, beautiful graphics, and great copy.
We spared no detail in our industry leading course template. In addition to the sales page design, we included a course curriculum outline template based on proven instructional design methodologies to help you create an effective world-class learning experience. We even included individual lesson videos in the sample course that teach how to use each lesson to facilitate learning objectives.
If you (or your client) is an expert in some subject matter, the course template is the fastlane to launching the online course, generating sales, and building lesson content around a proven instructional framework.
Grow your email list with the free course lead magnet template
Why should you listen to a guy who's added over 20,000 people to his email list and community using the free course lead magnet strategy?
If you're reading this, you've probably already enrolled in our very own free course lead magnet course called the Official Quickstart Course for LifterLMS.
If you haven't enrolled yet, check it out. 😉
You see a strategic free course lead magnet is a great way to:
Demonstrate your expertise, build trust, and help someone get a result through your training
Get someone active as a user on your WordPress LMS website
Promote your paid course or membership at the end of the free course
The best marketing is a great product. A free course lead magnet gives the prospective learner a taste of what you have to offer without the time or money commitment of your bigger training. It's the first trust building step in the teacher-learner relationship.
With our free course lead magnet template, you can start building your email list and user community quickly and easily.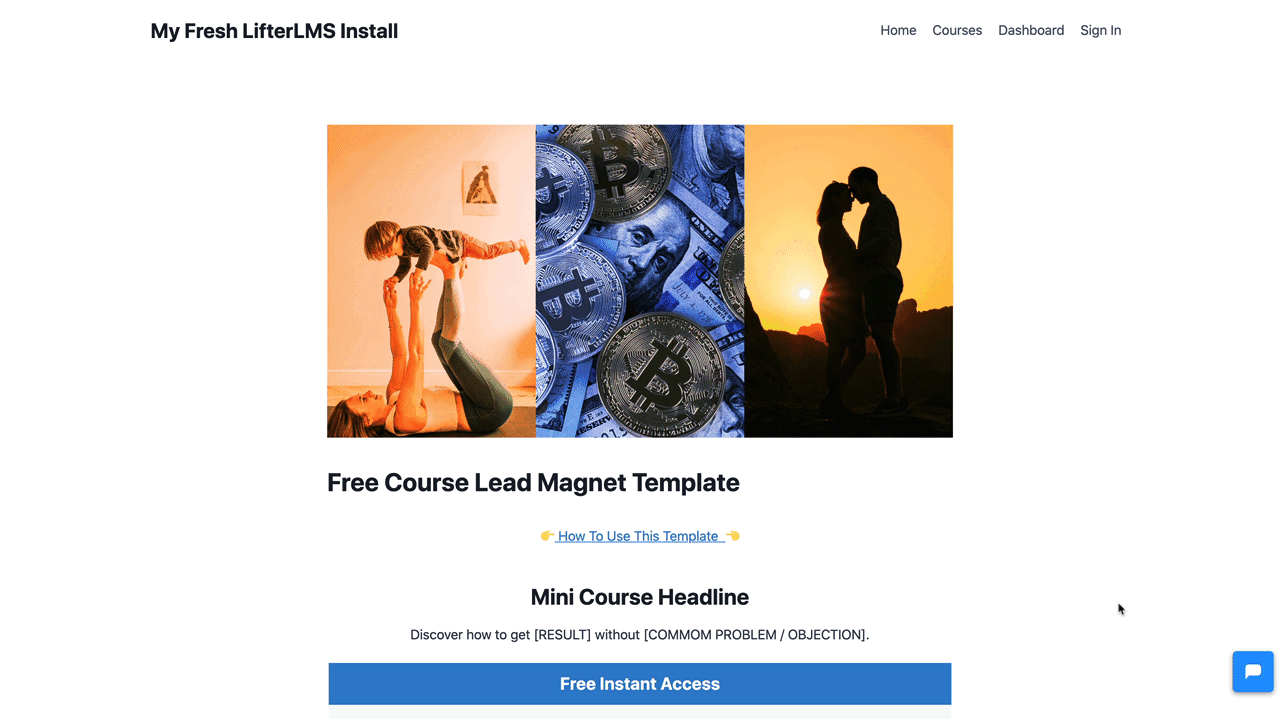 With proven templated copy for you to build on, you don't have to hire an expensive marketer or copywriter to get the learner lead flow rolling on autopilot, even if you haven't created a paid course yet.
The free course lead magnet course structure itself is minimal and optimized to help you lay out your free mini course fast for maximum leads and learner results through a concept called "small wins."
We've also included video instruction inside the lesson templates to help you quickly create your effective free course lesson content.
I challenge you to create your free course lead magnet within the next 3 days.
Use the template.
You can do it!
Growing your community and email database early is an important part of stacking the odds in your favor as an education entrepreneur. The best time to build your email list and learner database is 10 years ago. The next best time is today.
How do I get these free course templates on my website?
These course templates are available for import during the LifterLMS Quick Setup Wizard steps as you can see below…
If you already have LifterLMS installed on your website, simply follow these steps to add the course templates …
At LifterLMS we regularly ask ourselves…
"How do we add more value than anyone else to course creators, training based membership site owners, and WordPress LMS professionals worldwide?"
These valuable course templates came out of that question.
Use the templates. Modify them. Build on them.
They are yours to do with as you please.
Enjoy!
One more thing! …
Check out the biggest sale of the year for LifterLMS that also includes $2,400 in bonuses that's happening right now!
It's called the LifterLMS Black Friday All November Sales Extravaganza Event.
There's something for everybody, even if you're already a LifterLMS customer. 🙂
Get LifterLMS (or upgrade) before November ends if you want the savings and bonuses…
And remember …
"There's a course inside all of us"