Social Learning just rolled out yesterday as an advanced add-on and was added to all Infinity Bundle customer accounts.
Why Social Learning?
At LifterLMS our commitment is to course and membership site creators like you. But at an even deeper level, we serve your students or members.
In the service of results for these users, we look to the offline world for how people achieve extraordinary results in real-life learning scenarios.
In most cases this learning does not happen in isolation.
There is a team or community present.
The social elements are part of the learning process.
We just had to translate this to the online context.
That's where LifterLMS Social Learning came from.
What is Social Learning exactly?
LifterLMS brings social media style interactivity to your WordPress based online course, membership site, or learning management system (LMS).
Here are the primary benefits of the LifterLMS Social Learning add-on:
1) Advanced User Profiles
Any decent social network has a user profile screen.



With LifterLMS Social Learning, your students can customize their details and the style of their home on your website. They can add their custom bio, website, social media links, and update their graphic banner or cover image to represent their style.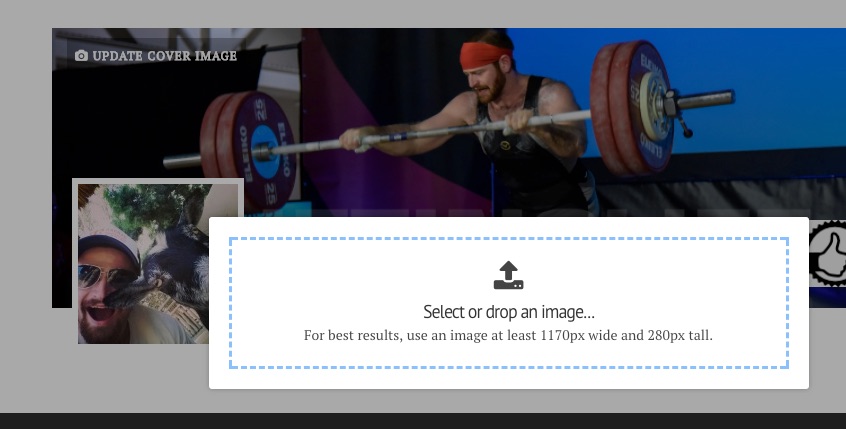 And they can explore the user profiles of others:


2) Facebook-like Timelines
Similar to Facebook, LifterLMS Social Learning has timelines with different views.
There are different "filtered" views of the timeline.
On their profile, your users can see a feed of activity related to them specifically.
There is a global timeline where they can see activity on anything they are associated with.
Each course has it's own timeline.
Each membership has it's own timeline.
Users can communicate with each other directly on each other's timeline.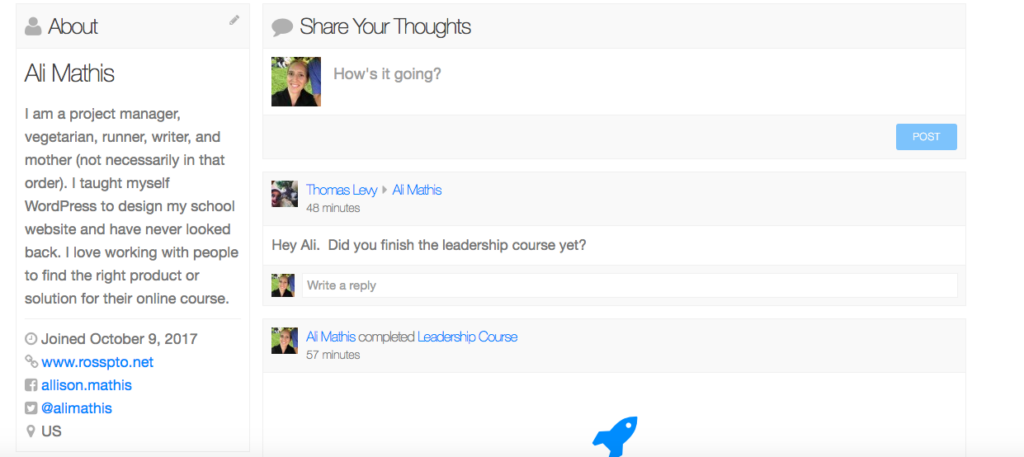 3) Gamification Through Learning Milestone Auto-posting
We've also added some gamification and comraderie by having certain learning milestones post automatically to the timeline like:
Course enrollment
Membership enrollment
Achievement earned
Section completed
Quiz passed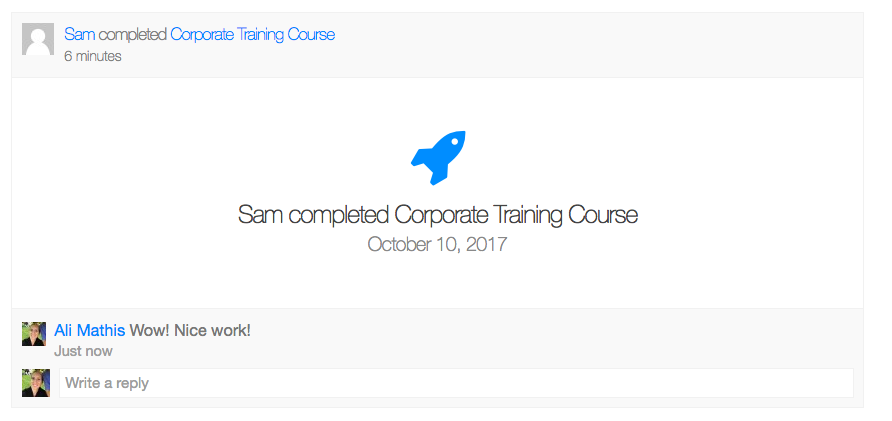 This allows for some friendly competition and an open loop where students become aware and can speak with others advancing through the same courses or memberships.
This helps put an end to the "ghost town" experience that cause so many students to churn out of traditional online education programs.
4) The Ability to Share Profiles and Achievements to the Public Web
Would you like more course or membership sales?
I thought so.
Why not let your students do some marketing for you … for free?
The best marketing is a good product. The best products literally sell themselves through the words of your students who get the results that your training program offers.
Why not make it easy for people to share their successes experienced on your learning platform?
LifterLMS Social Learning can let your users share their accomplishments to the public web.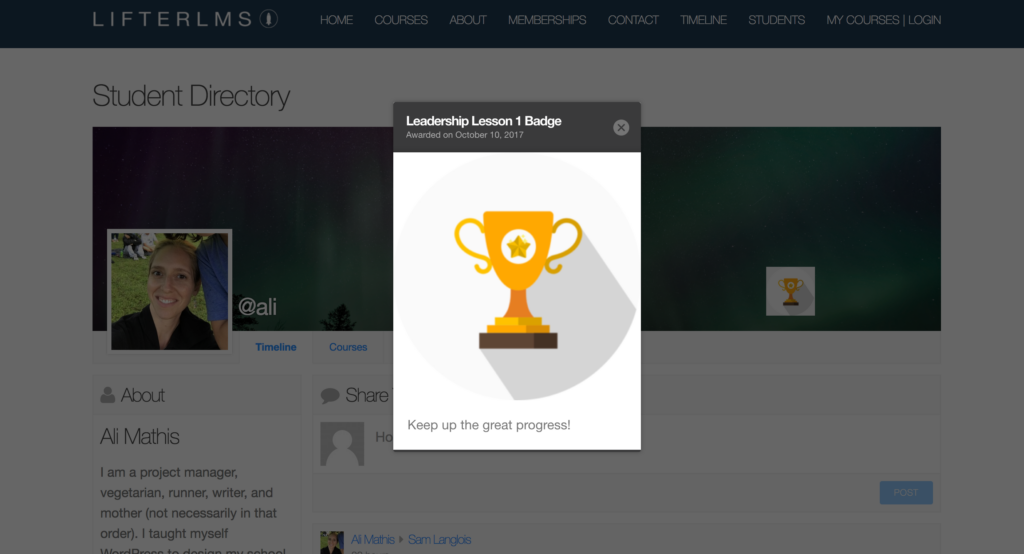 This can open a viral marketing loop that brings more and more people back to your training program.
Part of the mission of LifterLMS is to give you complete control of your learning platform, which is not what happens when you use a hosted online course platform with expensive monthly fees.
In that spirit of giving you complete control, you can of course limit how public profiles can be. The ability to see them can be:
Open to the public web
Limited to users on your website
Limited to users enrolled in the same course or membership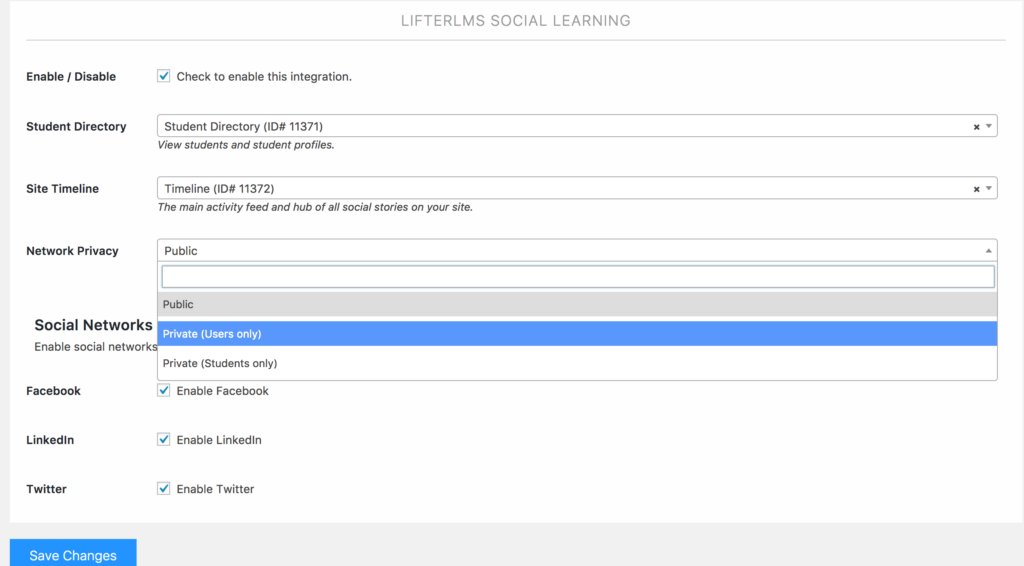 Here is the documentation for getting started with the Social Learning add-on: https://lifterlms.com/docs/getting-started-lifterlms-social-learning/
LifterLMS vs. BuddyPress for Social Learning
LifterLMS has a native integration with the popular "social network in-a-box" WordPress plugin called BuddyPress. People who are already using LifterLMS with BuddyPress can continue to do so.
The main difference is that LifterLMS Social Learning is designed specifically for course creators and membership site owners using LifterLMS.
LifterLMS Social Learning will continue to evolve over time based on feedback from the LifterLMS community and based on opportunities we see for increasing results for your learners.
Social Learning Plugin vs. Social Learning Theme
Philosophically we believe functionality belongs in WordPress plugins. Design belongs in WordPress themes.
You should be able to change the design of your learning site without losing your learning management system functionality or social learning components.
We recommend avoiding LMS WordPress themes and Social Learning WordPress themes for this reason.
This portability is why LifterLMS and LifterLMS Social Learning are plugins.
In our experience, many people change design (themes) on average every two years. With LifterLMS you can change themes or add in a page builder with ease.
Here's what I'd like you to do next …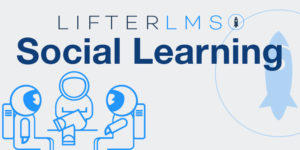 If you think you might be able to better help your students and create a more valuable course with social learning teams, head on over the LifterLMS store to get your copy of the Social Learning add-on.
Keep in mind that Social Learning is included in the Infinity Bundle, so that's the best value.
If you have any questions about Social Learning, click here to send us an email.