Besides making it incredibly easy to build and maintain websites, WordPress has opened up a whole new world of opportunities for those looking to create, sell, and manage online courses.
There are now many Learning Management Systems (LMS) available as plugins for WordPress sites, offering course creators and educators a real choice. But what are the best LMS plugins available in 2023? What should those looking to launch their own learning platform choose as the LMS plugin their educational portal is built on?
What To Look For in an LMS Plugin
WordPress now powers 43.2% of all websites, and for the past decade, its use has increased by an average of 12% every year.
It's no surprise that its widespread popularity, ease of use, and the vast range of plugins and support available have resulted in it becoming the platform of choice for building courses and learning systems.
At LifterLMS, we've long been advocates for using WordPress as a website platform, partly due to the surrounding ecosystem and amazing community. The fact that it is open-source has resulted in a vast network of developers and users working together to create astonishing sites and products (including, of course, LifterLMS!).
As you might expect (or have already discovered after previous research), there's not only a huge range of LMS plugins to choose from but a massive difference in quality, content, price, flexibility, adaptability, and ease of use.
You certainly won't want to feel limited by the range of options available to customize your courses, but at the same time, you won't want to feel overwhelmed by complex systems that require you to spend most of your time doing more learning than your students!
With the right WordPress LMS plugin, you'll be free to host, customize, extend, and build the online course or internal training site you have in mind. And better yet, if you already use WordPress as your content management system of choice for your main website, you won't need to set up an entirely separate site that looks completely different, making it inconvenient for your audience to get access to your course content.
Choosing an LMS plugin should be based on the following 4 core areas – in order of importance, from most to least important:
Balancing Ease of Use with Functionality
It's essential that the LMS plugin you choose is easy to adopt, so that you and your team can get started with it right away.
Being held up by an overly complex tool can stifle creativity and delay the release of your courses. Looking for an easy-to-use LMS plugin will be a top priority (without sacrificing other factors, of course).
Performance
Providing an amazing experience for your students will be essential if you're going to keep them coming back, signing up for new courses, and recommending you on review sites.
Some LMS plugins sacrifice performance by being bloated and slow-running. Your second priority will be to look for an LMS plugin that is able to deliver all of the functionality you need – at scale – while remaining agile and responsive throughout.
Flexibility & Developer Experience
It is highly likely that in the future, you'll want to adapt and change your learning site. Growth and expansion are vital to thriving on the web. It's unlikely that whatever LMS plugin you opt for today will do everything you ever want to do throughout the entire lifetime of your course.
It's, therefore, essential to look for a product that has been purposefully designed to allow people to extend it. This, after all, is at the very heart of what has made WordPress the success it is today, and so open-source solutions are definitely advised.
Price
Affordability should also be one of the top four priorities to consider. This will vary depending upon whether you're an individual teacher wanting to produce online courses for your classes, someone looking to sell online courses nationally or globally, or a large educational organization planning on publishing online courses for thousands of students.
When looking at prices, it's crucial to look at the complete cost of the course. Some LMS plugins entice you with seemingly low prices, only for it to become apparent later that to achieve all of the functionality needed, you'll have to pay considerably more for additional plugins, addons, tools, and features.
This adds up even further when these additional costs are recurring subscriptions rather than one-off amounts.
The Leading WordPress LMS Plugins
With these four key priorities in mind, let's now take a look at the best LMS plugins available in 2023 to see how they compare, how well they meet the priorities you will have, and how to make the right choice for both you and your students.
LifterLMS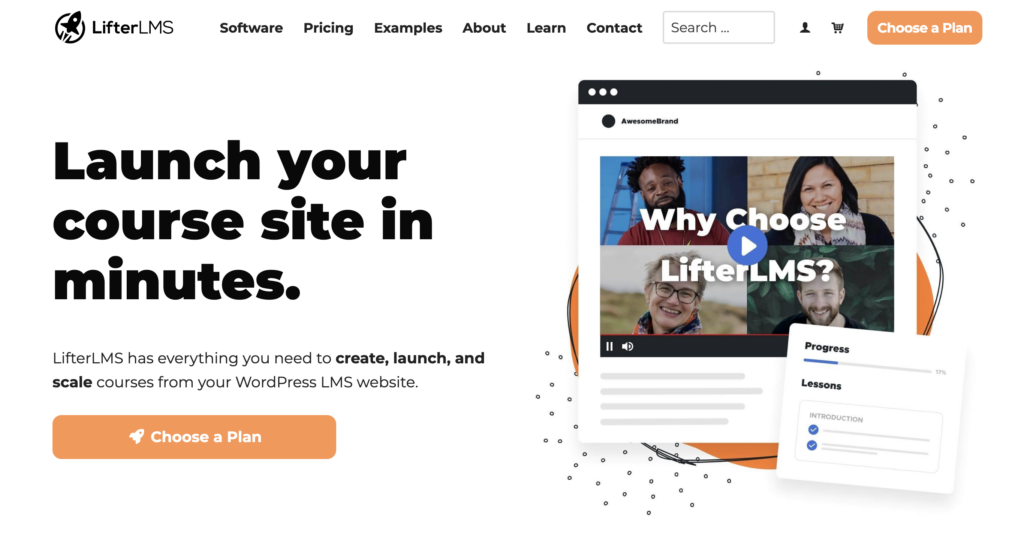 Ease of Use
We could tell you how easy LifterLMS is to use, but we feel it's better to let those who have chosen to install LifterLMS on their own sites, for use by their own students, say how they feel.
One of the first things you'll need to do with any LMS is to create courses. Phil Willson, Managing Principal of Ninjology LLC says, "I've tried dozens of LMS plugins. Everything other than LifterLMS suffers from either prohibitive student user-unfriendliness or clunky course-creation processes. LifterLMS gets my top recommendation." If you've previously encountered this 'clunky course creation' yourself, then rest assured, Phil is not alone in his verdict.
"LifterLMS has a clean, intuitive interface that was easy to set up. I host my Twitter Class on it, and it was much easier putting it together than working with other eLearning software," says Jasmine Powers, Founder & CMO of Twitter Class.
Of course, integration is a key factor, as this can make getting things set up very challenging. This is something that we have worked hard to ensure is not an issue, and Georges Wansek agrees: "LifterLMS is an amazing plugin. It integrates very well with Beaver Builder, and the Astra theme, and makes for a great membership site or online course solution. It's one of those plugins that when you have it, you just don't look anywhere else."
One of the reasons many people like working within the WordPress system is its drag-and-drop functionality. This way of working visually and intuitively is a core element of the LifterLMS design. "The Course Builder is drag-and-drop, which is great, but on top of that, it's easy to visualize your lessons inside the course," says Zack K., CEO of a small online business. "The interface is very powerful while allowing a simple overview. I love the balance they have struck."
For some people, the real obstacles can appear once they start to customize their learning platform. Because LifterLMS is both an all-in-one solution (not relying on multiple third party plugins) and is open-source, easy customisation is also at the heart of its development. "I could not be happier with LifterLMS. The plugin is intuitive to use and very flexible. The team at LifterLMS is constantly innovating and upgrading the plugin," confirms Janet Kennedy, President and Podcast Host of Get Social Health Academy.
But what if things don't quite go the way you want? Perhaps you have a novel idea, and can't quite see how to realize it? What makes an LMS a pleasure to use is when you can reach out for support, and actually get it! Much of the feedback and the many positive reviews of LifterLMS cite the excellent support as the basis for how easy everything was for them to bring their visions to life. "LifterLMS is the best LMS on WordPress. It includes everything you need to create a learning platform in a simple and intuitive way. Very good support and great video tutorials," says Dioni Sánchez (@dioni00).
Janet Kennedy agrees, saying, "…the support is very responsive. Best of all – I love that the mission of LifterLMS is focused on the small or solo business person. I feel very cared for, and about."Dioni Sánchez also mentions, "...very good support and great video tutorials." Jasmine Powers also notes not only the support, but also the other many ways in which users of LifterLMS have found the help and advice they need to make integrating and customizing LifterLMS very easy: "I love that I could just add it to my existing website. LifterLMS also has a blog, YouTube channel, podcast, and Facebook group that I follow closely so I can get the most use out of the plugin. I give them an A+ on ease of use and A++ on service."
Performance
Some learning management systems can really slow down a website, which can give the users a dreadful experience. Having a sleek, well-performing website is critical to the engagement of students. If you're selling courses, then a fast, responsive site will encourage users to purchase additional courses, and write positive reviews and recommendations for others.
Although an LMS may appear to perform well at first, with just a few students registered initially, any lag or degradation in performance is likely to appear only after you have a large number of users. At which stage you've already invested a great deal of time and effort creating and publishing all of your courses and lessons.
Fortunately there are many LifterLMS users who have been running it successfully for many years, such as Hank Cecil, who says, "I have been with LifterLMS for 5 years and have always enjoyed their friendliness, support, and great product."
Alex Standiford is another long-standing user, who also has a technical background, and knows full well the importance of reliability under pressure of use:
"I am a WordPress developer who builds and maintains PressCademy (formerly WP Dev Academy). I chose LifterLMS because I had already used it for a client site in the past and was familiar enough with the codebase to make it an obvious choice for me. My favorite thing about this plugin is that I know it has plenty of room to grow with my site as I go."
Developing and expanding your LMS site in future won't cause any issues with performance when using LifterLMS, as Alex confirms: "WP Dev Academy started very small, just one single course, but I've been able to make the upgrades to the site to turn it into a full-blown course platform, supporting multiple instructors, courses, related lessons, and more – and I feel like I'm just scratching the surface."
Because of the open-source nature of LifterLMS, and the thriving community of educators and developers who have been using it, there are many very technical specialists who have really pushed the system, and would recognise any potential issues with performance and stability. Kirk R is one such user, who said, "…from a technical standpoint, I cannot say enough about both the underlying WordPress platform, the plug-ins and the LifterLMS learning management system and its REST API."
The LifterLMS REST API Kirk mentions is fully integrated with the WordPress REST API, and allows the LifterLMS resources to be created, read, updated, and deleted using HTTP requests in the JSON format. This allows for easy integration with other sites or tools that developers may wish to implement to extend the functionality and versatility of LifterLMS.
A WordPress reviewer going by the name of sonofthoreau wrote on the WordPress plugins review site that: "I tried others and then went to LifterLMS. I have found LifterLMS's customer service to be off-the-map good. The tool itself is solid and flexible. I know from having set up and pulled down learning sites, repeatedly."This echoes a common thread amongst many LifterLMS users – that they have either tried other LMS plugins and found them sluggish and hard to customize compared with LifterLMS, or that they have been using our system for years, and seen it performing every bit as smoothly after all that time as it was when they first launched. The strong performance seen after the initial launch is something that remains for many years, no matter how many courses are created or students enrolled.
Flexibility & Developer Experience
Whether you're a developer, or an enthusiastic and experienced user who enjoys customizing the WordPress experience for your users, knowing how flexible a learning management system is before you commit is essential.
Because the LifterLMS plugin is open-source, and there is already a huge community of users and developers who have been customizing and adapting the tools for years, this is a real strength compared with many popular alternatives.
Nick Usborne teaches conversational copywriting online, and has been a user of LifterLMS for some time. Regarding its flexibility, he says, "I've used a number of course creation and delivery platforms over the years. And they were all fine… right up to the day when they weren't. The trouble is, they all want you to package and manage your course the way THEY think you should do it. THEIR feature set. THEIR way to do it. Now I host all my courses on LifterLMS. TOTALLY different experience, because I'm free to do things MY way."
He goes on to say that he's "…never yet hit a wall where LifterLMS didn't enable me to do things the way I wanted."
If you're not wanting to get your hands too dirty with any coding, there's still a wealth of possibilities when it comes to customizing your courses with LifterLMS, as stated by Isaac Peterson, who says, "LifterLMS is by far the best designed WordPress LMS platform. It's fast, and reliable. I can reuse lessons, and I can drag & drop individual lessons from one course to another. It keeps my content organized and well structured."
But if you are a developer or experienced coder, LifterLMS offers plenty of potential for flexibility. Joost de Valk, Founder & CEO of Yoast said, "We're so far very happy with LifterLMS. [Because we are coders] we did make some changes that we contributed back, and the LifterLMS team was quick to approve and merge those. Open source as open source should be, we love it!"And if your idea of coding and customizing your WordPress experience generally involves custom CSS, then this is also something many people have been doing for years, such as WordPress reviewer ideenlounge, who says, "I've tested a lot of LMS-solutions – Lifter LMS is my favorite one. Because it's easy to set up, comfortable to customize with CSS and has a lot of features you normally get in paid solutions."
Price
Unsurprisingly, given that the open-source LifterLMS plugin is free, there's really not much competition here! This free Core LifterLMS plugin enables you to create an unlimited number of courses, have unlimited student capacity, use a powerful engagement system to make the learning experience fun and rewarding, and get paid using the built-in payment gateway.
Even so, many people will want to take advantage of the additional bundles that take the LifterLMS experience even further with multiple extra addons, such as e-commerce, forms, design, marketing, CRM, quizzes, assignments, advanced video, and private coaching.
Of course, you can start with the free plugin, and upgrade in the future should you feel the need. But even then you can take advantage of an amazing 30 day trial of LifterLMS for just $1!
WordPress reviewer 'knittingtheweb' posted: "I discovered LifterLMS after struggling with a different WordPress LMS plugin for nearly a year. Right off the bat, they were different. A demo site to play with for 30 days for $1? Amazing. Support? Outstanding, the best I've encountered in WordPress! From the pre-sales Zoom to email support to documentation and tutorial videos — everything is first-rate."The additional bundles are available from $149 per year to $1,200 per year. A full breakdown of what's included in the LifterLMS Bundles is available on the LifterLMS pricing page.
Sensei LMS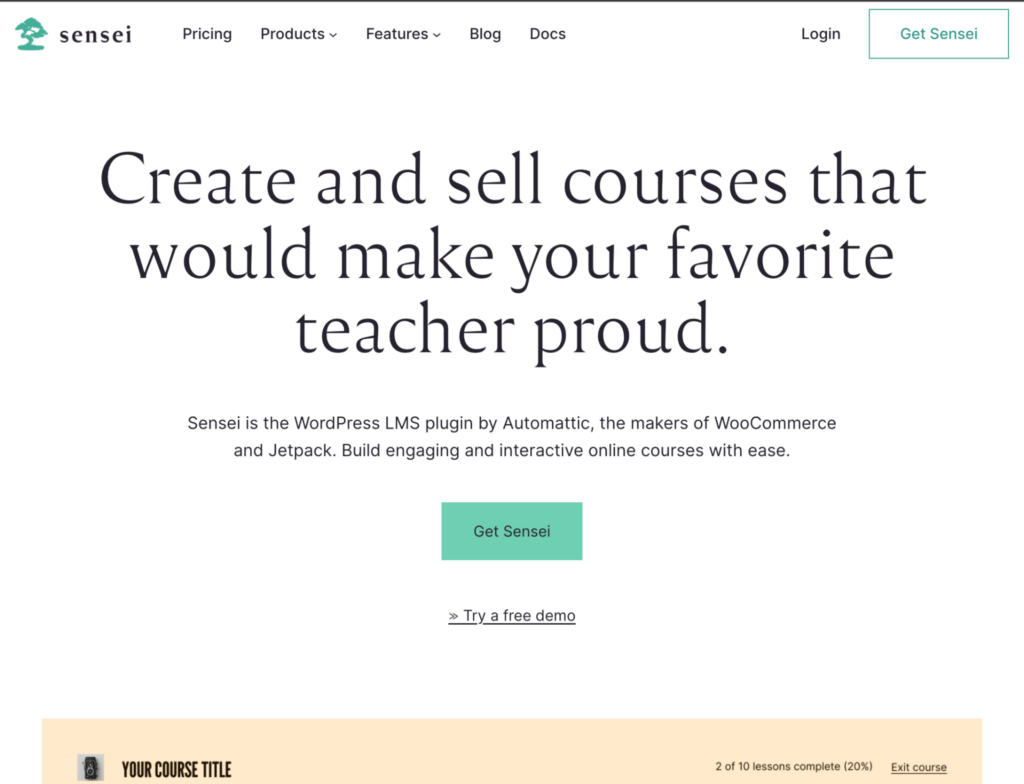 Ease of Use
One of the common themes amongst the many online reviews for Sensei LMS is its ease of use. Perhaps this is unsurprising, given that it's created by Automattic – the makers of WordPress, WooCommerce, and JetPack.
With a strong heritage of rock solid products that combine performance with ease of use, Sensei is a highly popular choice of LMS for many people.
WordPress reviewer TapSuccess said, "Excellent plugin, good support and rave reviews. Also, it's great that we can sell courses through WooCommerce (as we should, since they are both part of Automattic)." Of course, the fact that Automattic built both this LMS and WooCommerce means that setting up your paid courses is extremely easy and simple.
Lauren Magnin agrees, saying that she has "…tested many open-source LMS. For [me], Sensei is the best compromise between simplicity and functionality."
With WordPress providing an easy content development system through its Gutenberg blocks, for many people the fact that Sensei LMS also uses this system makes it a perfect choice. 'NMSchaller' says that it's "a great plus compared to other LMS: Sensei makes use of the full Gutenberg editor height to view the lesson content you are writing."
They go on to mention the easy way in which lessons and courses work together: "The lessons, modules and courses are robustly connected and I have experienced no glitches (like random reordering of lessons that happened with "premium" LMS)."
Finally, they mention that "Sensei offers all the essential functions to create courses. It's a robust solution from the makers of WordPress that is not overloaded with functions; instead, the basics just work."
It's worth noting that this mention of "compromise between simplicity and functionality" and Sensei LMS "not overloaded with functions" is another common theme.
Whilst it is an extremely simple-to-use tool, well designed, and with a user-friendly approach that appeals to anyone wanting to dive straight in rather than reading manuals and following tutorials, this does come at a cost. Compared to many other learning management systems (including LifterLMS) Sensei does have notably reduced functionality, with tools and features often included in other systems simply not present. It's a choice the makers have made that makes complete sense since it's designed for beginners and for people to get up and running quickly. However, if you're looking for a long-term platform, it is possible that the appeal of initial simplicity will stifle some of the growth and creativity needed as the site develops.
Performance
Because of the same company being behind Sensei LMS and WordPress, performance and stability has been a core element from the very start. It's a smooth and responsive system, and just as with WordPress, the creators are continuing to develop and update it for aesthetics, stability, and security.
WordPress reviewer 'contentmeister' explained that they "looked at Sensei, because it seemed like a good idea to go with another Automattic product – the same people behind WordPress and WooCommerce." This echoes many people's feelings, and makes complete sense.
They go on to add that, "Lately the team behind Sensei LMS has been on fire – in a good way of course. They have implemented a lot of new useful features like interactive quizzes and learning mode. The transition to the block editor has been great and made several things easier to use. And they are working on more new features and improvements." This highlights the continual improvements the developers at Automattic are implementing to improve Sensei LMS still further.
Flexibility & Developer Experience
As mentioned before, the ease of use offered by Sensei LMS is fantastic – one of the very best. But this does mean that functionality is rather more limited, and this does translate into more limited options as far as flexibility is concerned.
We noticed that a few developers have been commenting on this. 'Basbuis' wrote that they "…really liked it. And we were able to convert our wpcourseware lessons to Sensei, how wonderful. We nearly bought it for 3 sites." However, they qualified this by mentioning that when it came to functionality the "lay-out [is] not really attractive and not much possibilities [sic] to adjust," and that the "lay-out of [the] course catalog is really hideous."
If you're looking at allowing your courses to reach an international audience then it's worth heeding Basbuis's advice here as they write that "some translations are so bad, that we are afraid to send the messages to our student (Dutch language)."
WordPress developer 'Nebulamedia' also reviewed Sensei LMS, noting that "I have had to alter the code in the lessons module as I kept getting an array error for the quiz questions. Fortunately, I am a developer, so able to do that. Quiz settings don't save correctly to the database, sometimes it takes multiple attempts to have settings saved correctly."
But it's important to reiterate that this is a learning platform that's designed to be extremely user-friendly and very simple to get started with right out of the box. Yes, if you're wanting to develop your platform with more advanced features, you may feel that it's either too limiting or that there are challenges that require the involvement of a developer. But for beginners who just want a straightforward solution, Sensei LMS is a great platform and recommended.
Price
Sensai offers a free, open-source LMS plugin that allows you to use all of the core functionality, including creating courses, building outlines, adding teachers, setting prerequisites, and duplicating courses (useful if you create a template to speed up course development).
To take your learning platform further though, you may wish to sign up for one of their plans, ranging from $49 per year to $349 per year. These plans allow you to include features such as quizzes, flashcards, drip-fed content, course access times, and co-teachers.
Crucially you will need to sign up for either their 'Pro' ($149 per year) or 'Agency' ($349 per year) plans if you want to integrate WooCommerce so that you can monetize your learning platform.
If you're interested in how the full package would work, you can try Sensei LMS for free straight away, giving you a full hands-on experience.
WordPress reviewer 'nmschaller' explains that "Sensei is now being developed continually. Course editing is more comfortable and the courses look great in the Twenty Twenty One theme. Since it's been split into two solutions, the Sensei course software is free, you only pay a WooCommerce subscription if you want to put your courses behind a paywall. That's ideal for ministries like mine who want to offer free courses."
LearnDash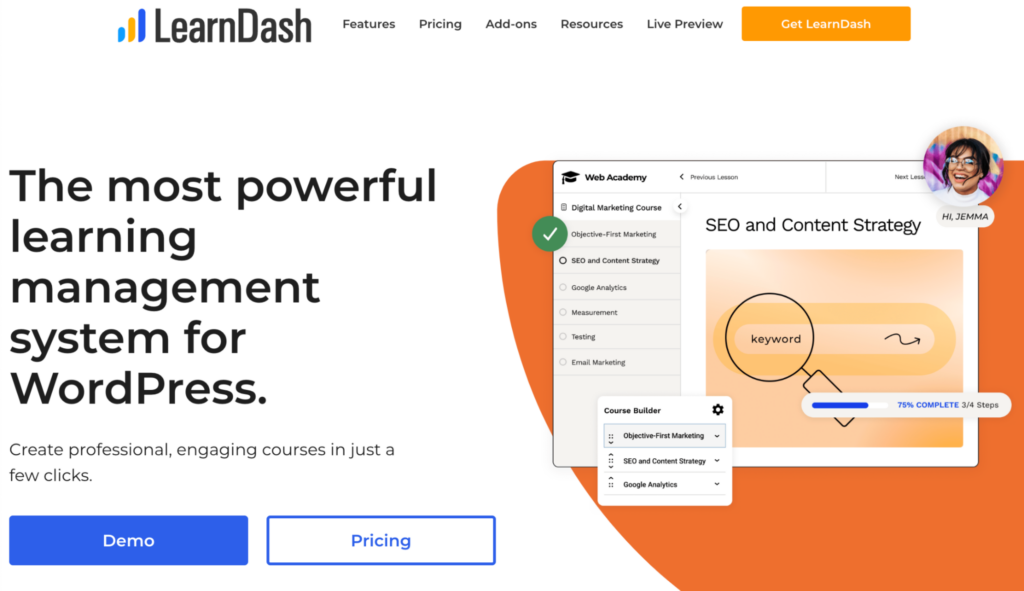 Ease of Use
A regular feature included in comments and reviews of LearnDash is that it's easy to use. As Mohan Lal D. posted, "Learndash has a simple-to-use UI, which makes the course creation process way simpler."
Another verified WordPress user who works in Education Management agreed, saying, "LearnDash is easy for a beginner to get their courses up and running quickly and easily. It integrates with WordPress, which is really nice for bloggers and companies already using the platform."
Getting up and running quickly with any LMS will be critical, and certainly, anyone in education is likely to have limited time to spend learning overly complex systems for delivering what they know. Steven J. comments that "out-of-the-box this ships with more features than any other similar system, specifically advanced quiz types with question types for most situations – certificates, automatic grading."
Brock R. is another user who posted a review of LearnDash, noting that "…the organization system of LearnDash (course, lesson, topic) is pretty straightforward and easy to learn. For most people looking to create an online course, this is a great option."
There are a few reviewers though who feel that there is some room for improvement in certain instances. Chris R. highlights this possible issue: "User experience is somewhat clunky, with multiple, repetitive clicks that detract from the experience. "Click to Mark Complete" is a great example – why doesn't the course know that it's complete?!"
Performance
Generally, the feeling within the LearnDash community is that once it's up and running and your courses are published, the performance is good, and the user experience is positive. With most people feeling that it's easy to set up and get started, there seems only a negligible impact on overall site performance and speed, even with large numbers of students enrolled.
Chi, a LinkedIn reviewer of LearnDash, did spot one possible issue as far as SEO performance is concerned, though, saying, "It has an overall extremely complicated URL structure, which makes SEO hard to achieve. And there is no option to make it shorter." This issue certainly won't impact speed, and generally, this won't be an issue for most people.
The only potential issue with the performance of a site running LearnDash is compatibility with other third-party plugins. The use of such plugins is generally agreed as a standard requirement, as Lynn posted, "It requires an additional plugin to be able to copy or clone courses, lessons, and topics." This is a common sentiment amongst reviewers, with Amira posting, "The need for installing some plugins is a bit annoying," and Jeremy recalled that, "We ran into a compatibility issue with our event software. It ended up breaking the software, and we had to axe the event system we had put in place because we wanted to use this LMS over others."
One point to note with regard to performance is that if you choose the LearnDash plugin, all course and student data will be saved on your own server. However, if you decide to go for the LearnDash Cloud option, then all of your data will be saved with a sister company to LearnDash, called Nexcess. This data will be backed up every 24 hours, which not only means better security, but also reduces the amount of work your own server will have to undertake when processing student interactions.
Flexibility & Developer Experience
Many people we've spoken to, and who have posted their experiences with LearnDash online, generally feel pleased with the flexibility provided, allowing them to customize their learning platforms effectively. Reviewer Barathkumaar said, "I have tried online courses that cost hundreds of dollars, but I have never been able to follow through on them. This is because I found them difficult to put together, but more importantly, they were not tailored to my audience. With Learndash, I can create my own courses, sell them to my audience, and make money."
Having said this, Marc D. commented that, "To get really good customisation for appearance, you might need to purchase a 3rd party plugin."
Stevn J. expressed some concern over the occasional bug he ran into (largely relating to the allocation of roles), saying that users should, "..add additional time into your development and build to cover any unexpected issues when testing the system, and fully test."
We did encounter a few LearnDash users who felt that, with regard to bugs and fixes, the regular updates and releases by LearnDash were sometimes more of an issue than the original bug! This was due to new releases not always being fully compatible with existing themes or plugins, requiring some additional work to get things back on track. Although not a regular cause for concern, we have spoken to several people who felt this was something to be aware of. Of course, this could well be a potential issue for developers, and so our advice would be to keep a close eye on the release log and test themes and plugins regularly. LearnDash also publishes an up-to-date list of known issues which is worth checking from time to time too.
Overall when it comes to people looking at how LifterLMS and LearnDash compare, we don't really view this as directly relevant to us, as we're not in the business of looking at competitors and trying to jostle for position with what they're doing. We have our own vision, and by talking with our customers we aim to understand their needs, and deliver the best solution to meet them.
However, there are a number of people who have used both LifterLMS and LearnDash, and these are better able to provide a view on how the two products compare.
Corrales Cachola had this to say on his experience:
"LearnDash is not anywhere near as customizable as Lifter. LearnDash has a limited ecosystem of third party dev helper tools, and LearnDash lacks community vs. Lifter. This is a key differentiator that comes sharply into focus for a consumer post-sale."
He goes on to add that, "LearnDash's main selling point is that it has stuff like 'focus mode', which is noise and easy to roll out for the novice dev, but a big reason brand-wise a person would even run their own LMS is that you can customize it, and that's when LearnDash falls flat, but Lifter shines."
Corrales finishes by saying that, "Lifter's third party dev ecosystem and user community is what makes all the difference as you grow."
TutorLMS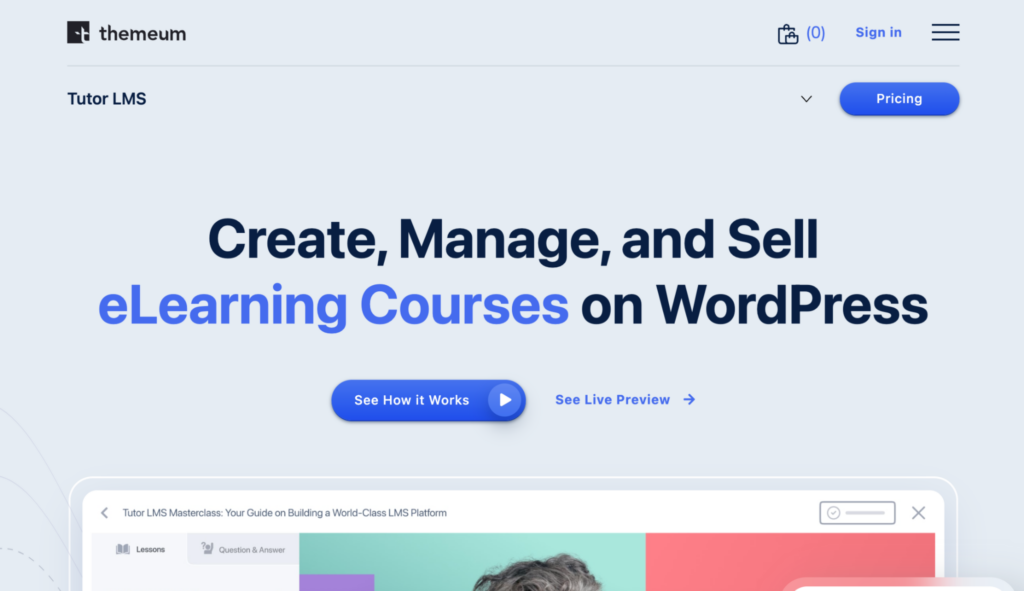 Ease of Use
TutorLMS is firmly aimed at the education industry, with a large proportion of its client base being teachers and educators within schools and colleges. Perhaps because of the already challenging availability of free time, this LMS package has aimed to make the process very easy. Darien, a TutorLMS customer, said that, "Setting up Tutor LMS has been way easier than I ever expected – offering a simple install-and-it's-pretty-much-ready option." He went on to add that TutorLMS gave "…the ability for even tech illiterate people to create courses with only a little bit of training."
Another customer, Tomas, agreed, saying that it was "…easy to install and easy to use. There is no long learning period. In one afternoon you can understand all the secrets of the program."
Performance
Largely because of its fairly simple approach to delivering educational content, TutorLMS is fairly responsive, causing little issue with regard to overall site performance.
Ahmad Z, a TutorLMS reviewer noted that, "…the best thing is that it has only 2 plugins, the main one and the pro one. Other LMS solutions have a plugin for each feature which is not good for speed."
However, we did come across Toni English who said that with 500 concurrent users the quiz feature did begin to lag. We believe that the solution to this potential problem would be to use a caching plugin and image optimizer, as it's highly likely that the lag is caused by the large number of images and other media often served with every question in a quiz.
Flexibility & Developer Experience
We did come across quite a few people who, while noting the benefits of having an easy to use system, suggested that this sometimes came at the cost of certain features available in other learning management systems. Danker, for example, was not happy with the limited range of quiz options, while Tomas would have liked to see features such as evaluations and certifications. He also found that TutorLMS doesn't appear to have a way of deactivating a course after a certain amount of time has passed.
Darien mentioned that, "Tutor LMS is very easy-to-use and offers beautiful pre-built templates for all Tutor LMS pages, however it does not offer much customizability for those pages (without perhaps extensive CSS coding)."
Overall, the feeling is positive about TutorLMS as a simple to use package, but for anyone wanting to implement greater customization, it may not be ideal.
Price
TutorLMS is available for free, and for many people this is enough. Although two-dozen addons are available (including content drip, prerequisites, Zoom classes, and WooCommerce integration), all of these are included at no extra cost, whether you're using the free package or a paid plan.
The paid plans relate to the number of licenses available, the length of support provided, and access to updates. The cheapest paid plan is $199 per year, and includes one site license, and free updates for a year. The top package is $799 per year and allows unlimited licenses.
Choosing The Right LMS Plugin For You
Not all LMS plugins are designed for the same purpose.
Some are incredibly simple, like Sensei LMS or TutorLMS, which is great if you're looking for a free solution to get something simple up and running quickly.
LifterLMS, on the other hand (yes, that's us), is the solution we built, and is now trusted by thousands of the world's leading people in WordPress. This is for good reason:
We're committed to code quality – backporting support, and avoiding pushing changes that will break custom functionality built on top of LifterLMS (something which others are quite notorious for often doing).
We're committed to providing the best support – it's always been our view that providing an exceptional support experience for our users is core to building the best possible product experience. That isn't going to change.
LifterLMS is an ecosystem. Our core plugin focuses on what is essential to an LMS, and what it needs to do. Aside from this, we operate an ecosystem of extensions and add-ons built and maintained by us.

For example – do you want to add support for groups or advanced quizzes? No problem. This isn't core to every LMS user's needs, but it's also nothing more than installing an add-on away.
It would be a gross oversimplification to suggest that choosing the right WordPress LMS plugin for your site is a decision you should base purely on a feature-by-feature breakdown. You shouldn't choose the foundation of your entire course website to be built on top of an LMS solution just because it has one feature that another doesn't. Doing so is very likely to lead to you having to migrate to another solution later down the line.
This is costly, and this is something we want to help you avoid.
The right solution should be rock-solid in its current offering, and developer-friendly.
This is because the chances are that you are going to want to hire a developer to build custom functionality at some stage. Doing so with a solution that wasn't built for developers is going to mean that what you can do when you get to that stage is very, very limited.
That being said, while you can't reliably base your entire decision on just this – here's a feature comparison of the leading WordPress learning management solutions: