"Create a yoga business website" on your mind?
Do you want to teach yoga online and make money online?
"In 2020, the global yoga market size was valued at 37.46 billion USD."

zipdo.co
Embarking on the journey to create a yoga business website is a fun adventure. In this comprehensive guide, we'll be merging the power of WordPress, the versatility of the Kadence theme, and the functionality of LifterLMS to create a stunning, user-friendly, and profitable online yoga business.
This post guides you through each step, ensuring that by the end, you'll have all the tools and knowledge needed to create a powerful yoga business website and flourish in the digital health and fitness space.
Kickstart to Creating Your Yoga Business Website
First things first, we need a strong foundation. The initial step to creating a yoga business website is choosing a suitable hosting provider, setting up a WordPress site, and getting acquainted with the Kadence theme.
Kadence is a modern WordPress theme known for its versatility and ease of use, making it an excellent choice for creating a yoga website with a clean and professional look.
Another WordPress theme for teaching online made by the creators of LifterLMS is Sky Pilot.
Create a Yoga Business Website: Kadence Video Demo
1. Choosing a Hosting Provider and Installing WordPress
Select a reliable hosting provider that offers quick WordPress installations.
Install WordPress to set the stage for where you create your yoga business website.
2. Installing and Activating the Kadence Theme
Navigate to "Appearance" > "Themes" within WordPress.
Search for "Kadence", install, and activate the theme.
Now that we have our foundation, let's start building. Your homepage is the first impression clients will get, so let's make it count!
3. Setting Up a Captivating Home Page
Kadence offers pre-designed templates, but for this guide, we're going to build our home page from scratch.
Create a new page, name it "Home", and set it as your front page.
Use the block editor and the Kadence Blocks plugin to get more design options to build a powerful homepage layout.
Divide your content into sections, making it easily navigable for your visitors.
Ensure to include compelling headers, images, and call-to-action buttons.
Remember to keep your design clean and focus on creating an easy navigation experience for your visitors.
Offering Your Yoga Wisdom When You Create a Yoga Business Website
With your website taking shape, it's time to create the core offering of your yoga business website: Yoga Courses.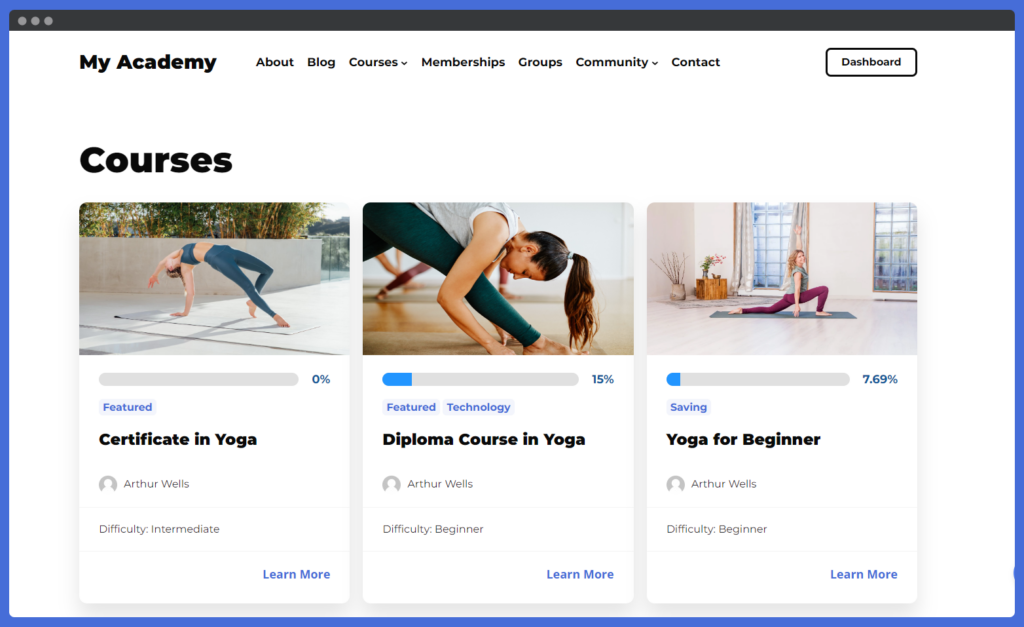 To offer online yoga classes, we're integrating LifterLMS, the best WordPress LMS plugin.
Getting Started with LifterLMS
Install and activate the free LifterLMS plugin from the WordPress dashboard.
Start creating your yoga courses, infusing them with your unique teachings and wisdom.

For a yoga business, you might want to set up different courses for various yoga styles, difficulty levels, or customer types.
Make sure to add engaging content that both sells the course and also serves as an introduction to your logged-in students.
Pricing Strategies and Content Engagement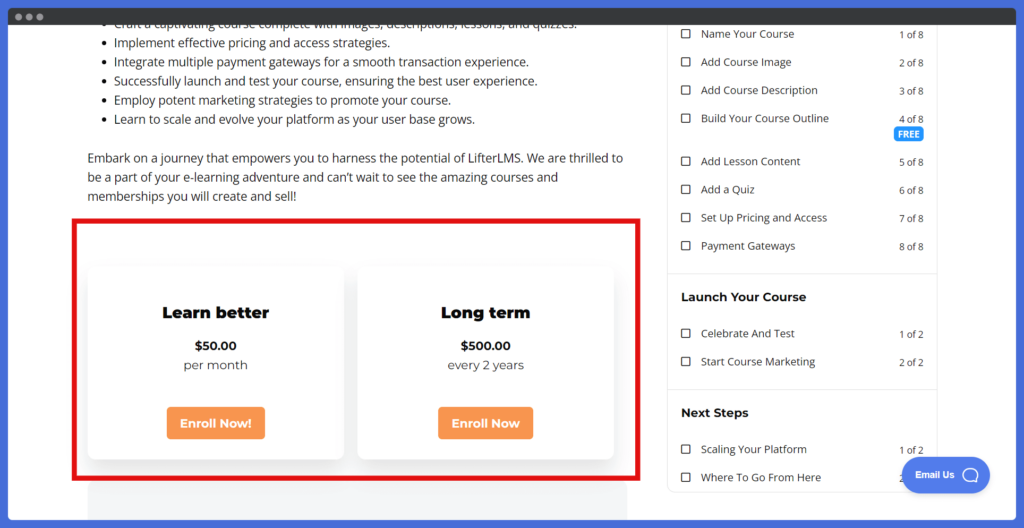 Your pricing page is crucial for conversions. Create a new page and list all your membership options, including in-class sessions, online classes, or a combination of both.
When setting up course pricing and access plans, it's important to strategically price your courses to reflect their value.
Use clear Call to Action (CTAs) and highlight the benefits of each membership plan.
Engage your audience with rich content and helpful resources.
Clarifying Your Yoga Business Site's Offerings
When you create a yoga business website, let's make your pricing transparent and accessible. A dedicated pricing page can help in showcasing your memberships and class packages, guiding potential clients to the right choice.
Sell Yoga Online: Crafting a Comprehensive Pricing Page
Create a new page dedicated to showcasing your memberships and class packages.
Clearly articulate the benefits and value of each offering.
Incorporating Strong Calls to Action
Ensure each yoga package has a compelling call to action, guiding visitors toward making a purchase.
Fostering a Community with Memberships
You can use LifterLMS to move away from one-time purchases and embrace the membership model. The membership model is a powerful way to build a community and ensure a steady income.
LifterLMS allows you to easily set up membership plans. Ensure that your memberships provide clear value and are priced competitively.
You could even add an online community on your website using LifterLMS to make your online yoga business even more compelling and help justify the monthly subscription you are charging your students by adding more recurring value.
Create a Yoga Business Website that Transitions to Membership and a Subscriptions Business Model
Embrace the membership model, fostering a community and ensuring predictable income.
Navigate to "LifterLMS" > "Memberships" to start creating your memberships.
Use the LifterLMS access plans system to set up pricing and access rules.
Adding Value to Your Memberships
Align your memberships with your services, adding immense recurring value to your community.
Create a Yoga Business Website: Ensuring Seamless Transactions
Your platform is almost ready. Now, let's make sure that the financial transactions are smooth and secure for the yoga business website you are creating.
​​To handle transactions on your site, you need to integrate a payment gateway. The most popular choice is Stripe due to its ease of use and low transaction fees.
Integrating Stripe for Payments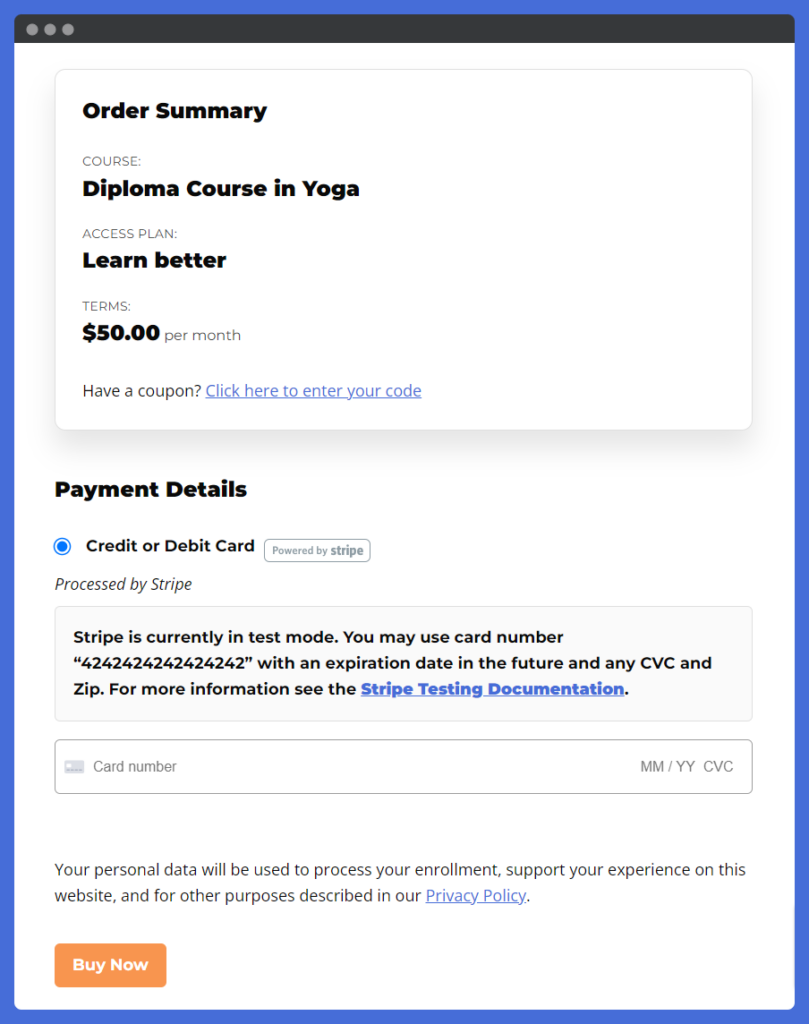 Sign up for Stripe, connect it to your bank, and integrate it with LifterLMS using the LifterLMS Stripe add-on.
Manage transactions smoothly, providing a seamless experience for your clients.
Understanding Transaction Fees When You Creat a Yoga Business Website
Be aware of the transaction fees (Stripe typically takes around 3%) to manage your finances accurately. It's a small price to pay for making the e-commerce magic happen on your website.
Pro Tip: Add PayPal as a payment option as well to give your customers even more choices on how to buy yoga classes from you. There are many PayPal users all over the world. You can even accept crypto currencies like Bitcoin for your online yoga classes as well.
Scheduling One-on-One "Teach Yoga Online" Sessions
Many yoga instructors also offer private sessions, whether delivered online or in-person. Does your yoga business website also offer personal yoga sessions? If so, you'll need a scheduling system.
Let's integrate a scheduling plugin to make booking sessions a breeze.
Implementing a Scheduling System as You Create a Yoga Business Website
Protecting Your Scheduling Page
To create exclusivity and add value to your private sessions, restrict access to the scheduling page using LifterLMS Memberships.
Use LifterLMS's content restriction features to set this up.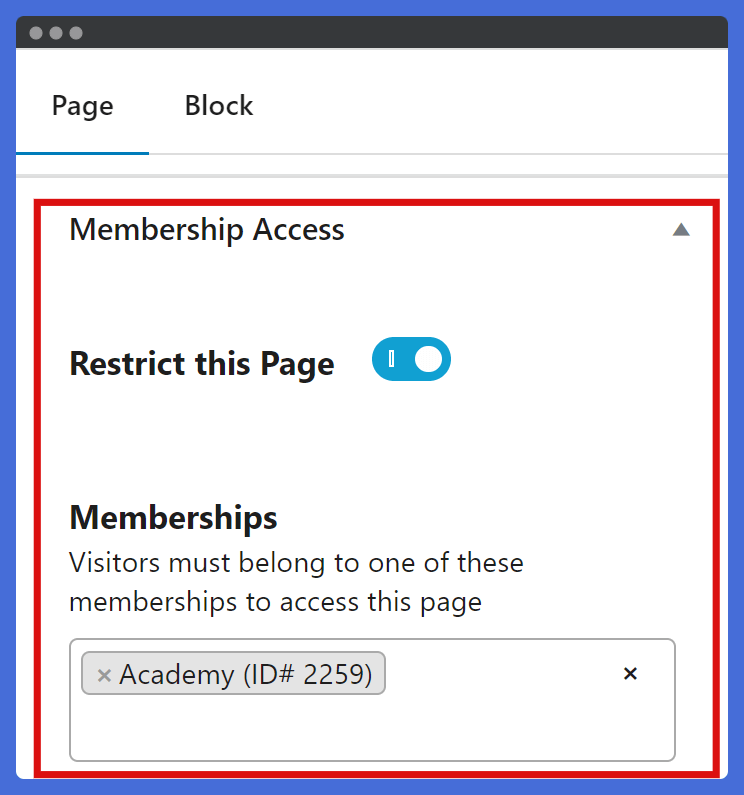 Only members who have purchased the relevant membership should be able to book a session.
Linking Memberships with Scheduling
Directly link the 'Book Now' button to your membership purchase page, guiding clients smoothly through the process.
Embarking on Your Yoga Teaching Journey as You Create a Yoga Business Website
Congratulations! You've successfully created a stunning and fully functional yoga business website. You could expand it more and create a website for yoga instructors and multiple yoga studios.
With courses, memberships, and private session bookings all integrated, you're ready to welcome yogis from around the world.
Remember to continuously engage with your community, add fresh content, and most importantly, share your unique yoga teachings.
Remember, the key to success in the online space is providing clear value that ensures ease of use for all student skill levels.
Best of luck on your journey to creating a successful website for your business.
And if you want to outsource the technical part of creating a yoga business website with WordPress and LifterLMS, just reach out to one of these tech experts.
Namaste!
Get LifterLMS the Best Software for Yoga Teachers to Create a Yoga Business Website
If you don't have LifterLMS yet, choose your LifterLMS demo to discover more about the best software for yoga teachers who sell yoga online.