Medical LMS for healthcare can be created quickly with WordPress on your own customizable website that you own and control. Take control of your healthcare LMS.
Utilizing a Learning Management System (LMS) or a Healthcare Education Platform in your medical business can be extremely beneficial for spreading knowledge, promoting education, and ensuring compliance with Standard Operating Procedures (SOPs).
The healthcare LMS industry operates in a highly complex environment, requiring continuous improvement across various departments. Investing in an LMS that is specifically designed to offer a variety of easily accessible courses can significantly benefit your healthcare audience's development and overall efficiency.
What is a healthcare LMS?
A learning management system (LMS) is a digital platform that stores essential learning materials, courses, and guides. In the healthcare industry, an LMS is specifically tailored to meet the educational needs of physicians, medical staff, and other healthcare professionals by providing courses and modules relevant to their professions.
Building and maintaining a healthcare LMS in your medical organization serves multiple purposes. First, it provides a centralized platform for educating and training your staff, ensuring they stay up-to-date on the latest knowledge and practices.
Additionally, it allows you to track each individual's progress, making it easy to see which courses or modules they have completed in the LMS. By incorporating an LMS, you can streamline staff education and improve the overall efficiency of your healthcare organization.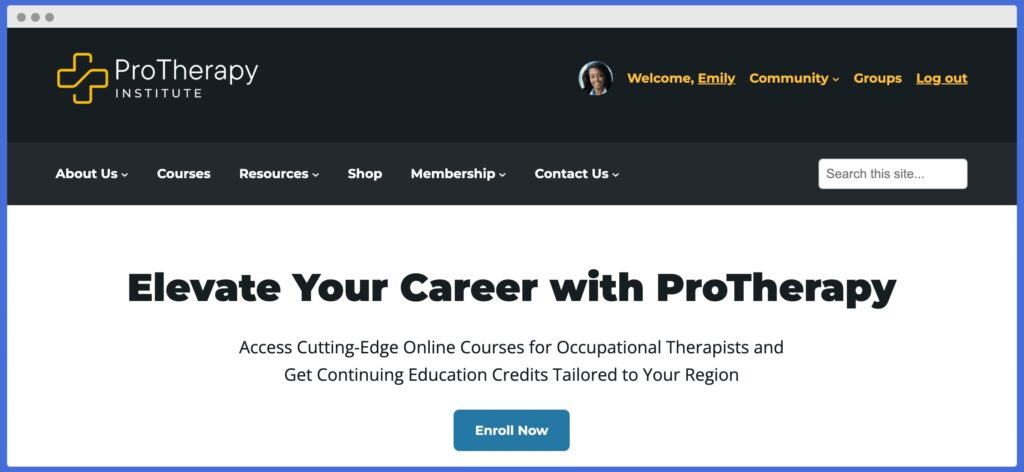 Top 9 Medical LMS for Healthcare Use Cases
Here are some of the best use cases for building a medical LMS for healthcare.
1) Test Preparation for Nurses and Doctors
An LMS can play a crucial role in preparing nurses and doctors for exams and evaluating their knowledge and skills. By storing training materials within the LMS, healthcare facilities can ensure that both new and experienced staff have access to essential resources.
2) Continuing Education for Healthcare Professionals
Continuing education plays a vital role in motivating and upskilling healthcare professionals. By implementing an LMS, healthcare facilities can enable their staff to pursue ongoing education while on the job, unlocking new opportunities for the organization and enhancing the capabilities of the workforce.
3) Medical Device and Pharmaceutical Training
Operating and maintaining medical devices and keeping up to date on pharmaceuticals often requires specialized training with medical training software. An LMS can simplify the process of providing device-specific and drug-specific training materials, organizing them efficiently, granting access to staff members, and tracking their progress in completing the necessary training.
4) Compliance Training in a Healthcare LMS
Ensuring compliance with safety standards is paramount in the healthcare industry. A healthcare training platform can streamline healthcare compliance by offering comprehensive training materials covering workplace safety, patient care, infectious disease management, handling of specialized equipment, and more.
5) Onboarding and Orientation for Medical Team
Efficient onboarding and orientation processes are crucial for integrating new employees into their roles or transitioning employees to different departments. An LMS centralizes and simplifies onboarding training, providing a comprehensive and easily accessible resource for employees.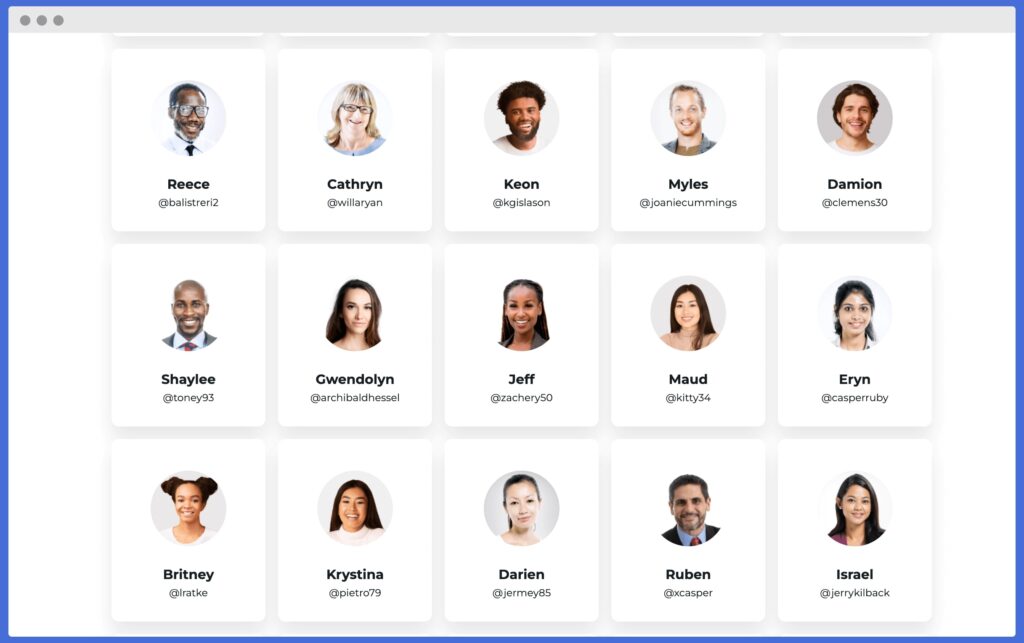 6) Clinical Skill Development
Developing and maintaining clinical skills is essential for healthcare professionals involved in patient care. An LMS can facilitate clinical skills training, ensuring that staff members possess the necessary skills to diagnose and care for patients effectively. Furthermore, the LMS enables regular updates to keep pace with new standards in the medical field.
7) Patient Education
Patient education plays a crucial role in promoting transparency and empowering patients to participate in their own care actively. An LMS can be utilized to provide patients with access to healthcare facility standards, as well as training materials that enable them to better prepare for follow-through on their healthcare journey.
8) Healthcare Administrative Training
Ensuring the efficiency and smooth operation of healthcare institutions requires a skilled administrative workforce. An LMS can serve as a central hub for storing and delivering training materials specifically designed for administrative staff, facilitating their professional development and contributing to the overall upkeep of the facility.
9) Health and Safety Training
Health and safety within healthcare facilities are of utmost importance to ensure the well-being of both staff and patients. A Healthcare Learning Management System can effectively deliver health and safety training materials. It provides consistent and standardized training to all staff members, keeping them informed and prepared to handle various situations.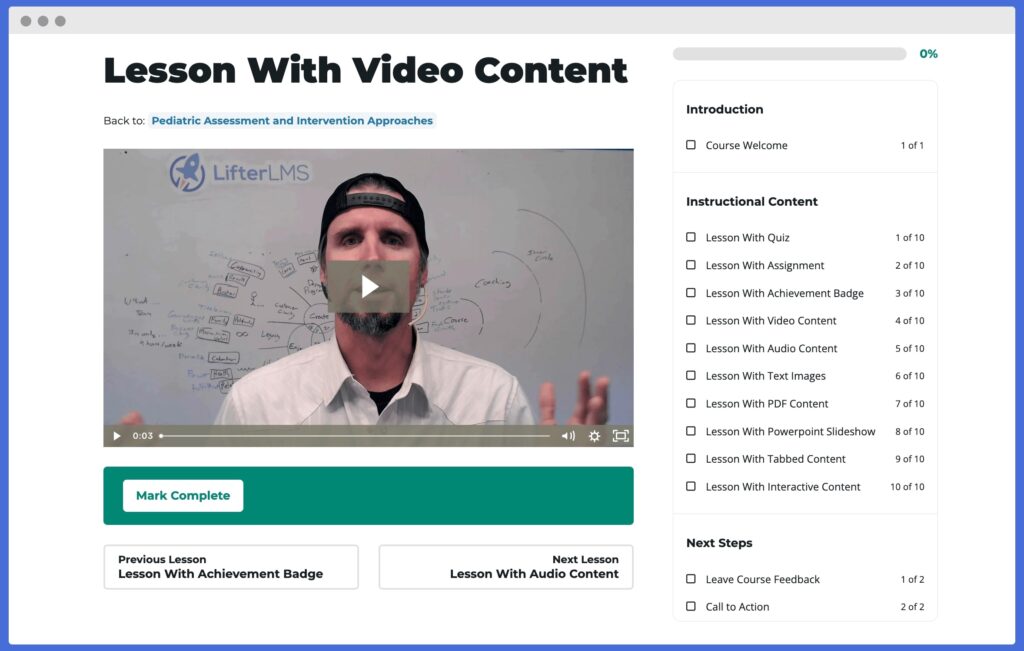 Benefits of Medical Learning Management System
Implementing a Medical Learning Management System (LMS) within a healthcare organization provides many benefits that enhance staff education, streamline processes, and improve overall patient care. In this section, we will delve into the specific advantages of having an LMS tailored to the unique needs of medical organizations.
Cost Reduction from a Healthcare LMS
By investing time and resources in building a Medical LMS, healthcare facilities can experience significant cost reductions in the long run. Hosting courses on an internal LMS offers numerous advantages, including streamlined access to training materials and the elimination of third-party website dependencies. This leads to reduced expenses in various areas of operations and staff training.
Flexible Training Schedules
A Medical LMS offers the advantage of flexible training schedules, allowing staff members to access training materials anytime from various devices and locations. Each individual will have their personalized login credentials and profile, enabling them to tailor their training schedule to suit their specific needs.
Improved Compliance Management
A Medical LMS offers an effective solution for managing compliance in healthcare facilities. By centralizing training materials, standard operating procedures (SOPs), guidelines, and more, the LMS enhances transparency and ensures that all staff members are on the same page when it comes to compliance.
Enhanced Learning Experiences
A Medical LMS offers numerous built-in features that enhance the learning experience for all users. With improved user interfaces, progress tracking, lesson modules, assignments, and collaboration capabilities, staff members can benefit from a range of interactive tools and functionalities while using the LMS.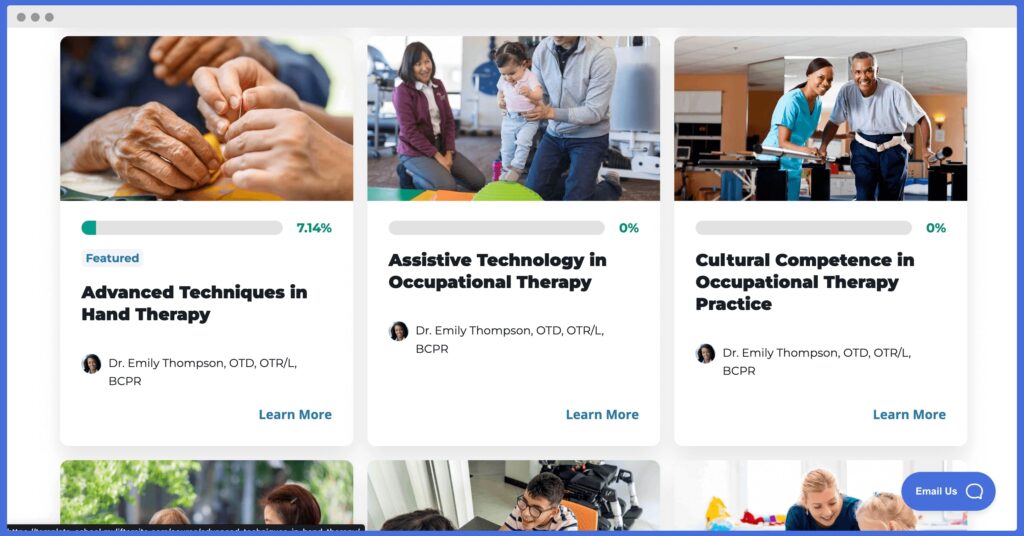 Efficient Record-Keeping
An important benefit of using a Medical LMS is the ability to efficiently keep track of staff members' training progress, certifications, and qualifications. The LMS serves as a central platform to maintain records of training materials and track completion status for each individual.
Why Choose WordPress for a Healthcare Education Platform
When it comes to building a healthcare education platform, WordPress emerges as a top choice due to its extensive capabilities, integrations with essential services, and thriving open-source community. In this section, we will explore the reasons why WordPress is an ideal platform for creating your own privately hosted Learning Management System (LMS) site.
Open-source platform advantages
WordPress, being an open-source Content Management System (CMS), offers numerous advantages when it comes to building a WordPress LMS for Healthcare. The open-source nature of WordPress provides a solid foundation and ongoing updates without any licensing fees. This makes it an excellent choice for creating your healthcare LMS site.
Extensive plugin ecosystem
One of the notable advantages of using WordPress for building a healthcare education platform is the availability of an extensive range of free themes and plugins. From contact forms and SEO plugins to performance, e-commerce, and security plugins, WordPress offers a diverse selection of tools that can enhance the functionality and features of your LMS site. The WordPress.org repository serves as a valuable resource for discovering and utilizing these plugins and themes. Even the core LifterLMS plugin is completely free.
Community support
The WordPress community, consisting of numerous contributors and users worldwide, plays a significant role in the success and continuous enhancement of the platform. This community-driven support system offers valuable resources and assistance for individuals building their healthcare education platform using WordPress, its plugins, and themes.
Scalability and customization
WordPress offers exceptional scalability and customization capabilities, making it an ideal choice for building a healthcare education platform. With proper optimization, WordPress can handle increasing website performance demands, efficiently host a large volume of content, and provide extensive customization options for both the front end and the back end of your WordPress LMS for healthcare.
Easy maintenance and updates.
WordPress offers a user-friendly maintenance process, ensuring that your healthcare education platform remains up-to-date and optimized. With regular free updates to the WordPress core, themes, and plugins, maintaining and updating your platform is straightforward and hassle-free.
Key Features of Medical Training Software
When selecting a medical training Learning Management System (LMS), it is crucial to consider the key features that will ensure a seamless and accessible learning experience for your staff. Additionally, robust reporting capabilities for administrators are essential to track progress and monitor training effectiveness. In this section, we will explore the key features that make medical training software effective and efficient.
Online Medical Course Management
An essential feature of medical training software is efficient course management, allowing administrators to easily add, organize, and customize the courses offered on the platform. This feature helps in maintaining an organized and user-friendly learning environment for staff members.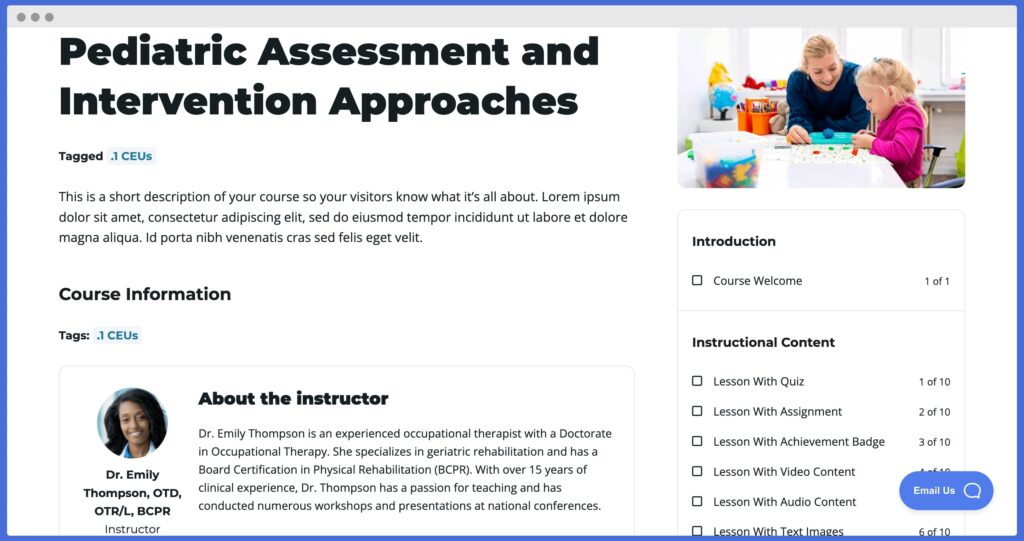 Reporting
Reporting is a vital component of a medical training Learning Management System (LMS), enabling administrators to track key events and gather actionable insights. From course completions and progress tracking to user and enrollment analytics, robust reporting features provide valuable information for effective monitoring and evaluation.
Secure Student Dashboard
A secure student dashboard is a crucial component of a medical training Learning Management System (LMS), providing students with a personalized and private space to access their courses, track progress, and manage their learning journey. This feature enhances user experience and facilitates seamless course navigation for enrolled students.
Certification
Certification is a crucial feature of a medical training Learning Management System (LMS), recognizing the achievements and progress made by students. The ability to award certificates upon course completion or reaching significant milestones is essential to showcase the skills and knowledge acquired by learners.
Ecommerce (If You're Selling Medical Training)
For training facilities in the healthcare industry, monetizing courses is crucial for sustainability and growth. By integrating an ecommerce solution, such as native LifterLMS Stripe, PayPal, or WooCommerce, into your medical training Learning Management System (LMS), you can easily offer courses for sale on your website. This feature enables seamless payment processing and provides a platform to sell courses directly to students.
Quizzes and Assignments
The inclusion of quizzes and assignments within a medical training Learning Management System (LMS) offers multiple benefits, such as testing student knowledge, fostering engagement, and reinforcing essential concepts. By implementing quizzes and assignments, you can enhance the learning experience and facilitate effective knowledge retention.
Group Training and Reporting
Facilitating group training sessions and providing comprehensive reporting capabilities are essential features of a medical training Learning Management System (LMS). These features enable collaborative learning experiences and provide administrators with valuable insights into group progress and performance.
How to Set Up WordPress and LifterLMS for your Healthcare LMS
Building a robust Learning Management System (LMS) using WordPress requires a few essential components. By understanding the necessary elements and plugins, you can create a powerful LMS site tailored to the medical industry. This guide will outline the key components you need and provide recommendations for a successful setup.
Selecting a WordPress Hosting Provider for a Medical LMS for Healthcare
There are many web hosting companies that specialize in hosting WordPress websites. These companies provide better support, speed, and security to WordPress websites.
However, for an LMS WordPress website, you will need a reliable hosting provider; we have written a helpful guide here on how to select a web hosting for an LMS site. An LMS site is more complex, dynamic, and database-heavy and has a lot of processes running concurrently for logged-in users.
To select a WordPress hosting company for your LMS site, it is best to check out some reviews and recommendations and, better still, to go with a hosting provider that specializes in LMS hosting. E.g., Pressidium, Nexcess, Convesio, and Cloudways are some companies we recommend.
Installing LifterLMS Plugin and Add-Ons
After you have signed up for your hosting provider, the next step is to launch a WordPress website on your domain name; it is usually a simple process of launching your WordPress website using a WordPress hosting provider.
Next, log in to your WordPress dashboard and install the LifterLMS plugin; the core plugin is completely free to use. You can easily install LifterLMS by going to Plugins > Add New and search for LifterLMS, click Install, and then Activate.
The free version of LifterLMS comes with all the core functionalities that you will need to build an LMS site for a Medical facility. You can upgrade your LifterLMS plugin with add-ons anytime and access many useful features.
There are other WordPress LMS plugins in the market; we have written a comparison post of the best WordPress LMS plugins that you can read here. It also talks about why our plugin, LifterLMS, is among the most feature-rich LMS plugins.
Basic Configuration
After activating the LifterLMS plugin, you will be taken to a setup wizard; going through the steps will help set up the basics needed for the LMS site.
Step 1: Setting up pages
The first screen you will see is a welcome screen; after continuing, you will see the necessary pages needed to be created. LifterLMS will create these pages if they aren't found already on your WordPress site.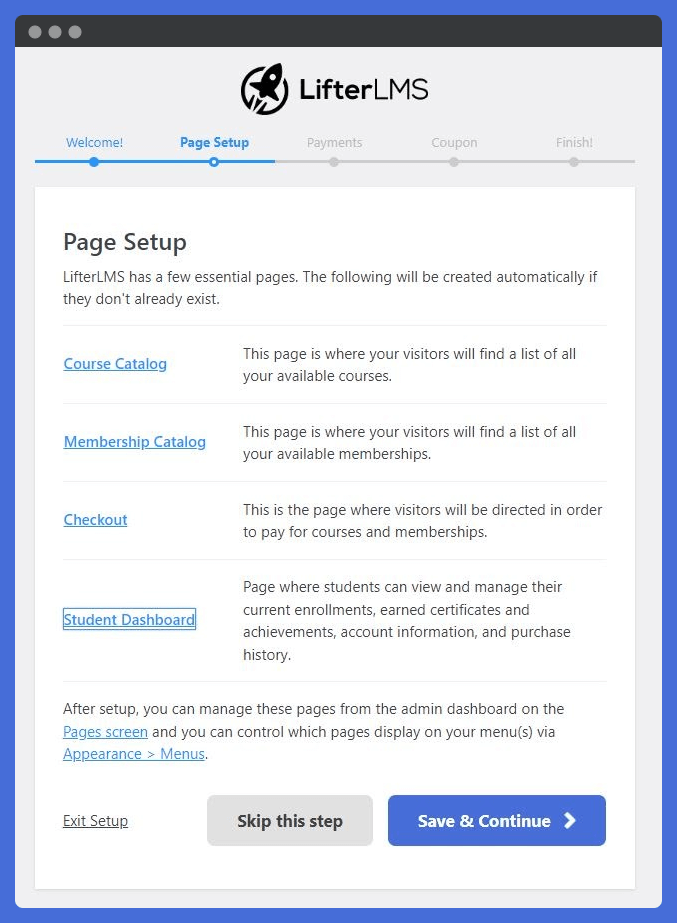 Step 2: Setup Payment Details
In this step, you will be able to select the default country and currency of your LifterLMS site.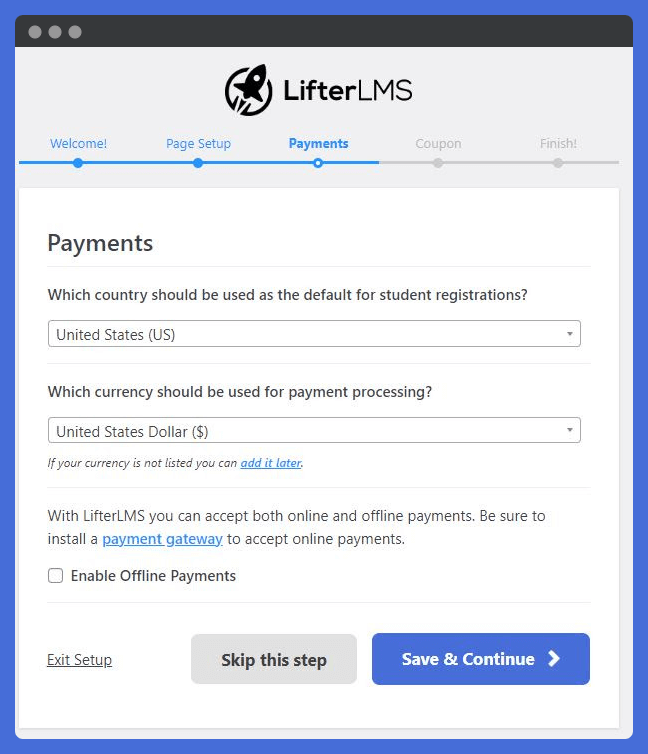 Step 3: Importing a Sample Course
If it is your first time using LifterLMS, you can import a sample course that you will see in the last step. It will give you a good idea of what a complete course looks like on a LifterLMS WordPress site.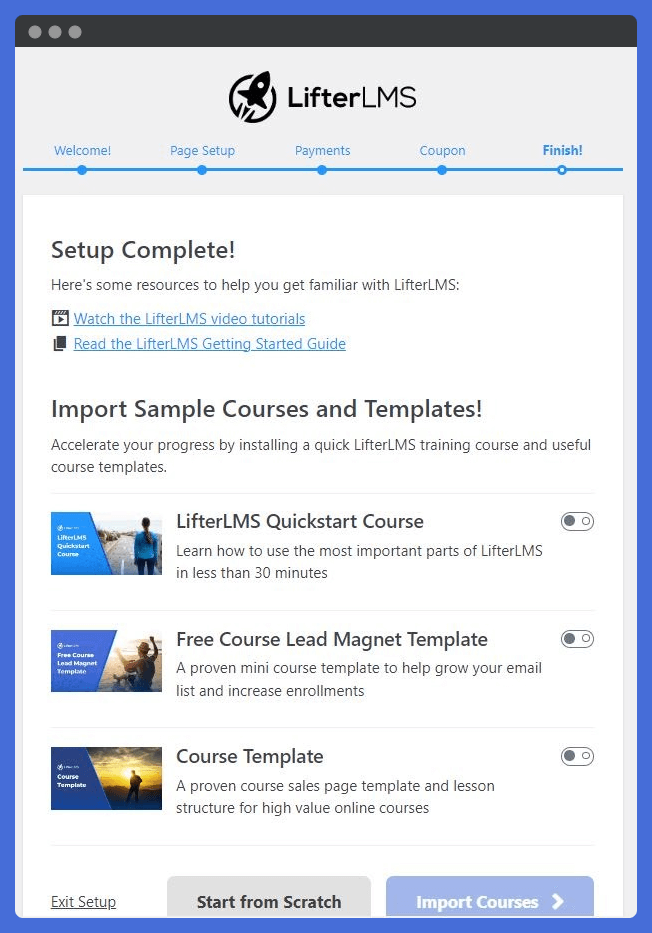 Adding Initial Course Content to a Medical LMS For Healthcare
To add new courses, you can go to WordPress dashboard > Courses and click "Add New" to start adding a new course.
You can also edit previous courses or clone them. In order to edit the course, you will need to add content just like you would in a simple WordPress post. But to build a course, you will use "Launch Course Builder" and create a course for the post you are editing.
Step 1: Edit the course

Step 2: Add the content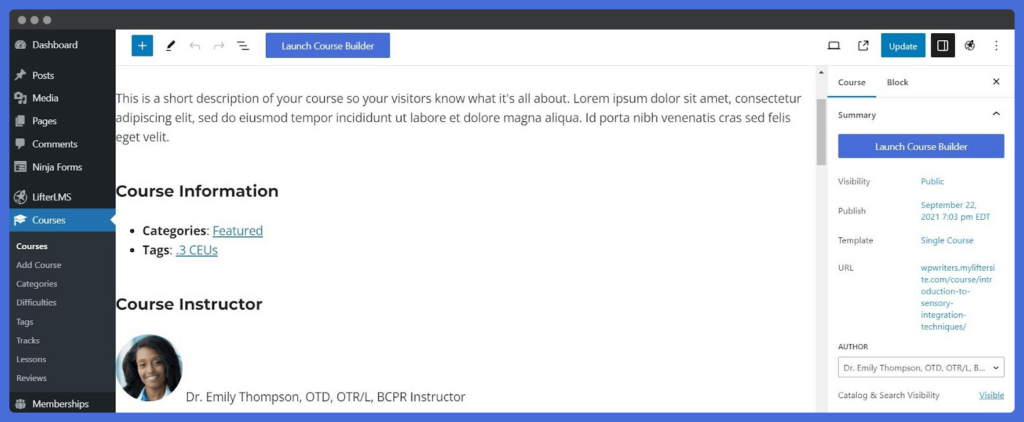 Step 3: Using the Course Builder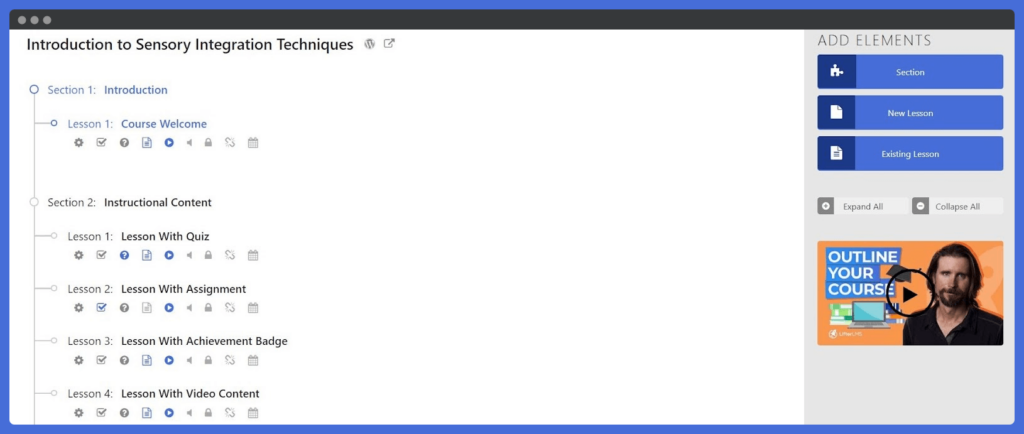 Step 4: Customizing Options for Lessons Within Courses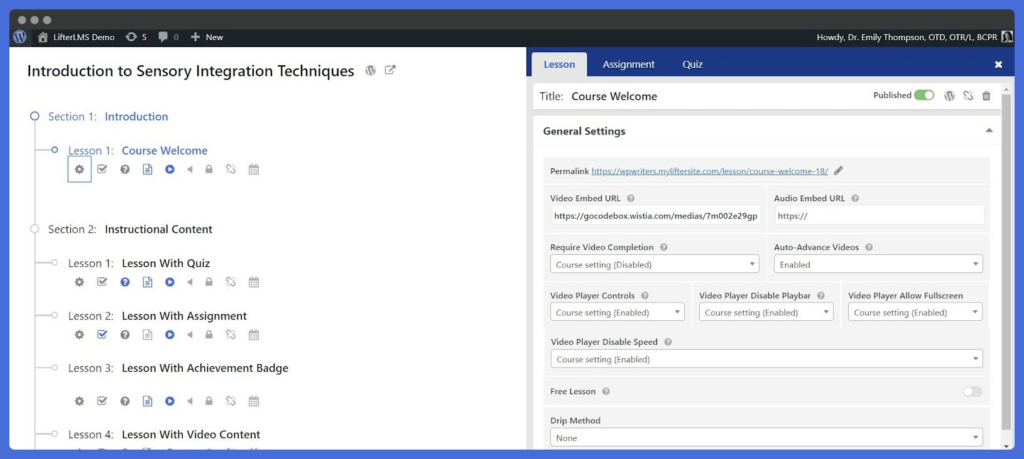 LifterLMS comes with a convenient Course Builder that will help you keep a course organized and build lessons and quizzes easily all from one screen.
Maintaining Compliance and Security in a Medical LMS for Healthcare
Maintaining compliance and security is paramount when running a medical LMS for healthcare website. To protect the privacy of your users and safeguard sensitive data within the LMS, it is crucial to implement rigorous compliance procedures. Here are a few compliance procedures you should take care of.
Regular Updates
Regularly updating the software components of your medical Learning Management System (LMS) is critical to maintaining a secure and reliable online presence. Taking proactive measures to keep your WordPress core, themes, and plugins up to date is crucial, especially in the healthcare industry, where data security is paramount.
You can ask your hosting provider to help in this regard, hire a maintenance service agency, or easily do it yourself.
Secure Student Accounts
Ensuring the security of student accounts is critical for maintaining the integrity and confidentiality of your Learning Management System (LMS). By implementing strong security measures, such as robust password and username practices, you can mitigate the risk of unauthorized access and protect sensitive student data.
User Role Management
Properly managing user roles within LifterLMS is a top priority for maintaining a well-structured and secure Learning Management System (LMS). By reviewing and adjusting user privileges, you can ensure that each user has appropriate access levels and prevent unauthorized modifications or access.
The default user role privileges that LifterLMS creates for users are well-designed. But still, you can increase or reduce permissions as needed.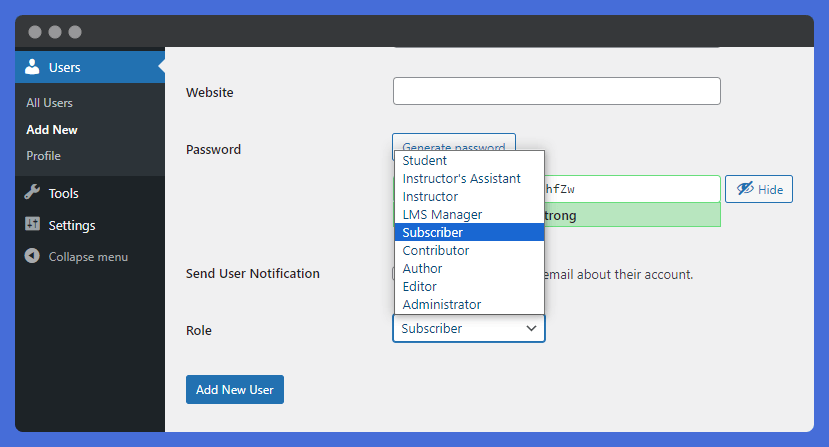 Monitoring and Improving Your Medical LMS
To ensure the success of your medical Learning Management System (LMS), it is essential to continuously monitor and improve your LMS site over time. By leveraging the reporting capabilities provided by LifterLMS, you can gain valuable insights into the engagement levels of your audience and make data-driven improvements.
Review LifterLMS Student Reporting
Head over to your WordPress dashboard> LifterLMS > Reporting, and you will see detailed reports of each student.
Details like their last login, course progress, grades etc. will help you give a quick overview of where each student stands.
Collect User Feedback
Collecting feedback from students in your medical LMS for healthcare is crucial for improving your medical Learning Management System (LMS) and ensuring that it caters to their needs effectively. By actively seeking input and suggestions, you can make informed decisions to enhance your LMS and provide an exceptional learning experience.
You can collect feedback by running email broadcast campaigns or automated email engagement communications whenever a student finishes or reaches a certain milestone in his course.
Add Training Based on Demand
Thinking about which course to add can take a lot of work. You can ask the staff and students which specific courses they would like to take next.
Building up an entire series of high-quality courses for the healthcare or medical field can take time, so let your students and staff speak and know what is in demand.
Get Started with Your Medical LMS for Healthcare Today
Creating your own LMS focused on the healthcare industry is easy with WordPress and LifterLMS. You get all the features and support you will need to run a successful LMS site. Get started and try LifterLMS for free.