Adding a course to WordPress?
Discover how you can use the free LifterLMS core plugin to make adding a course to WordPress fast, fun, and easy.
You can create a professional online course website with WordPress using the LifterLMS plugin, even if you're not a tech expert. We'll outline exactly what you need in order to master the skill of adding a course to WordPress.
"Start where you are. Use what you have. Do what you can."

Arthur Ashe
Key Takeaways from the Post
WordPress is a great platform for creating and selling online courses. To add a course to WordPress, you can use a course plugin such as LifterLMS, which provides all the necessary features and functionality to create and sell online courses. With LifterLMS, you can create a course structure, add lessons and quizzes, set up course prerequisites, and configure course settings like pricing, access, and drip content.
To sell your course, you can integrate LifterLMS with a payment gateway like PayPal or Stripe, and set up pricing options like one-time payments, subscriptions, or memberships.
You can promote your course using various marketing strategies like email campaigns, social media, affiliate marketing, and SEO optimization.
This guide provides a comprehensive explanation on how to add a course to WordPress using LifterLMS, and highlights the key features and benefits of using a course plugin for course creation and management.
What do you need to create an online course website with WordPress?
You will need the fundamentals of a WordPress website like a domain name, web hosting package*, and SSL certificate. We can take a look at the products we'll add to turn the website into an interactive LMS application.
WordPress out-of-the-box is a platform used for creating blog content along with an ability to create pages to display content. WordPress has a focus on community and ecosystem. Plugin companies over the last 15 years have built functionality to extend the options of what can be created on a WordPress website, for example:
WooCommerce is a plugin that allows you to build a storefront to sell physical and digital products.
Gravity Forms is a plugin that allows you to build and display forms to enable user interaction via contact forms.
LifterLMS is a plugin that allows you to build courses, lessons, and quizzes, along with other features to support a learning website.
We'll be taking a look at how you can leverage the power of LifterLMS as a plugin to build an online course inside WordPress in this guide.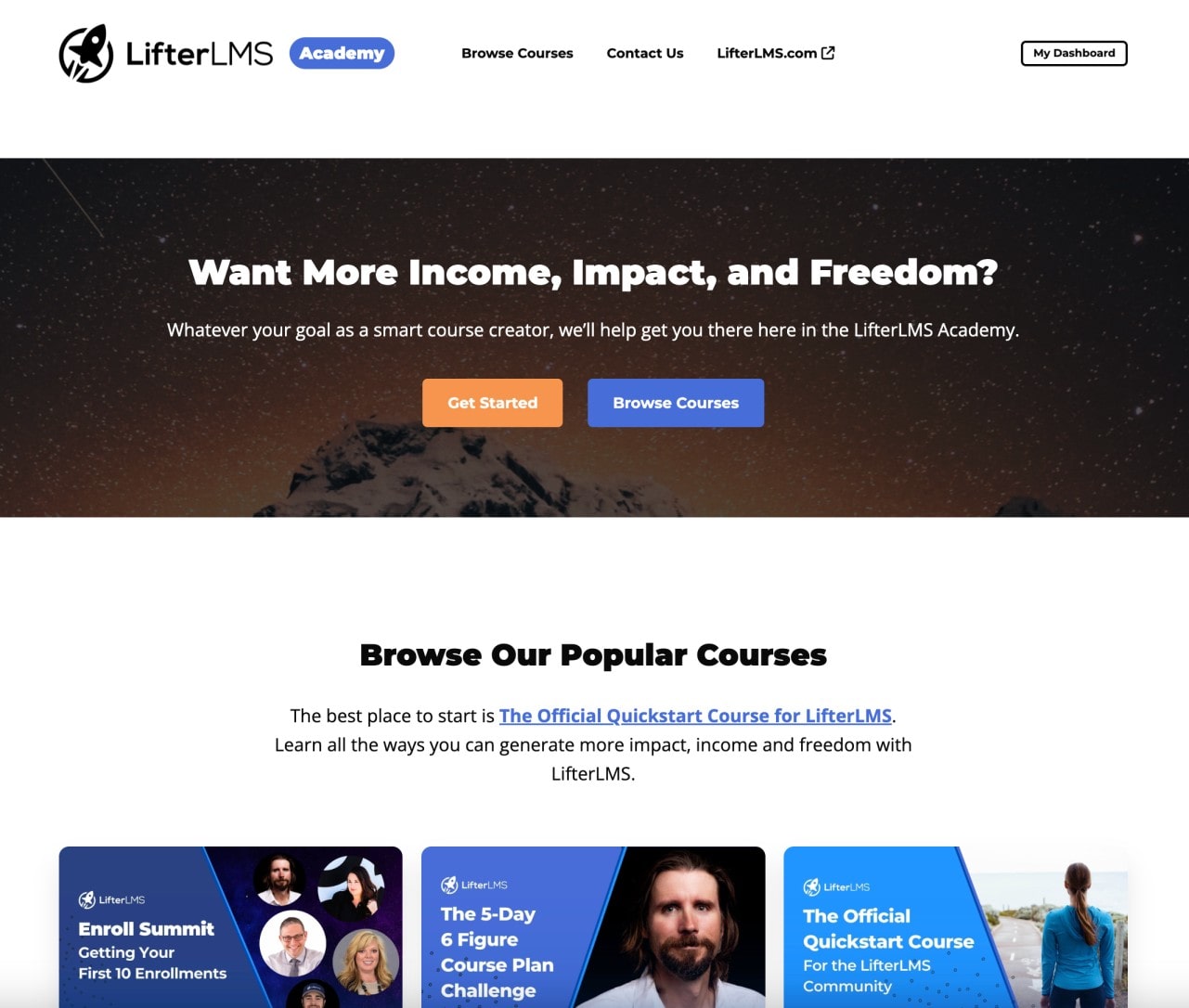 *We recommend choosing a high quality website host for your project that offers support for dynamic content. Dynamic content is frequently seen in an online course website where the user may see different content based on whether they're logged in or not and whether they're enrolled in specific courses or not. Caching is a frequent issue with sites trying to show content that changes based on the user's actions. For an online course website, avoid hosts that optimized via aggressive caching.
Best Online Course Plugin for WordPress to Create an Online Course
The LifterLMS plugin is a learning management system plugin (LMS) for WordPress that allows you to create, sell, and manage online courses. We'll be using LifterLMS in this tutorial to show how you can transform a regular WordPress website into an online course website that supports logins, enrollments, and payments.
We believe LifterLMS emerges as the best option for course creators looking to leverage the extendability and customizability of WordPress. Below are some key reasons why LifterLMS stands out among other plugins:
Comprehensive features: LifterLMS includes a complete set of tools to create, manage, and sell online courses. From content creation and course management to student engagement and progress tracking, LifterLMS has it all covered.
Ease of use: LifterLMS is known for its user-friendly interface and straightforward setup process. Making it easy for beginners to create and manage courses without the need for extensive technical knowledge.
Integration capabilities: LifterLMS seamlessly integrates with popular tools like WooCommerce, Stripe, and PayPal, making it easier to sell your courses and accept payments from students.
Gamification and engagement features: LifterLMS offers features like badges, certificates, and achievement systems, which can motivate students to progress through courses and ultimately improve retention rates.
Support and documentation: LifterLMS provides extensive documentation, video tutorials, and an active support community to help users make the most of the plugin.
Scalability: LifterLMS can support both small and large-scale course offerings, making it suitable for individual instructors as well as organizations.
Pricing: LifterLMS offers a free LMS plugin with essential features, allowing you to test the system and see if it meets your needs. Premium add-ons and bundles are available for those who require more advanced features, but the overall cost is competitive compared to other online course plugins.
How do I create a WordPress-powered online course for free with a certificate?
A WordPress theme defines the style of your website. Choose a theme that is compatible with LifterLMS to ensure that your course content displays correctly. We have some popular theme options for LifterLMS here.
Step 1: Download and Install the LifterLMS Plugin
You can find the LifterLMS plugin in your WordPress dashboard by navigating to wp-admin < Plugins < Add new < Search 'LifterLMS'
Go through the LifterLMS setup wizard when it installs to set your currency. Create the default LifterLMS pages (course catalog, membership catalog, student dashboard, and purchase), and install any sample courses.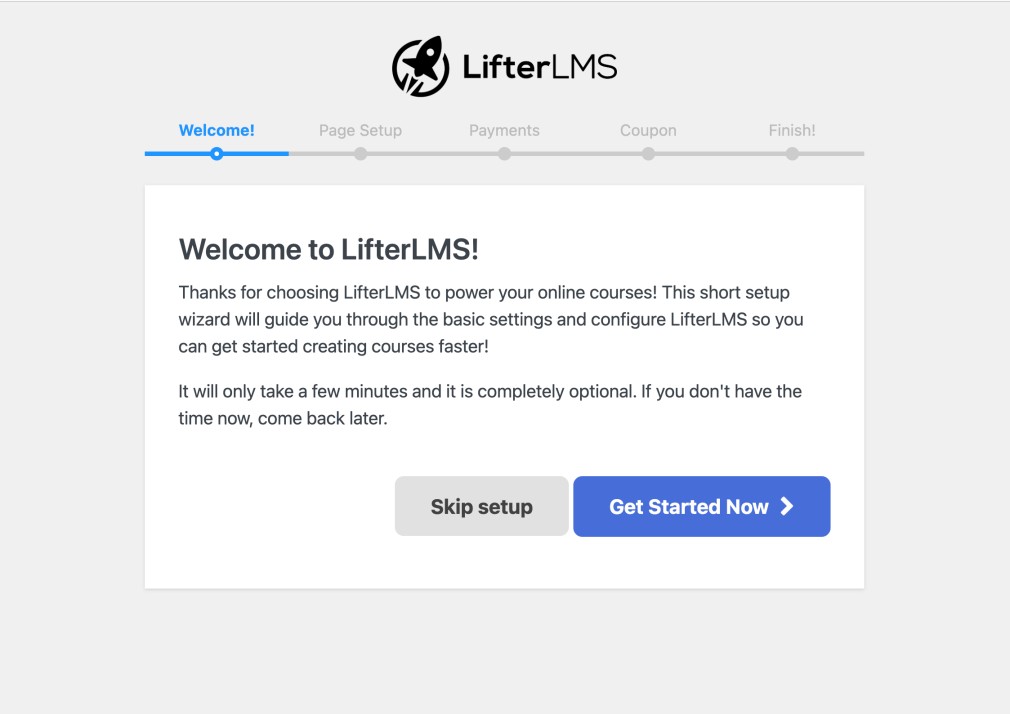 Step 2: Create a New Course
Now we have the LifterLMS plugin installed. You've unlocked a new layer of functionality in WordPress to add courses, head to wp-admin < Courses < Add New to create your first course.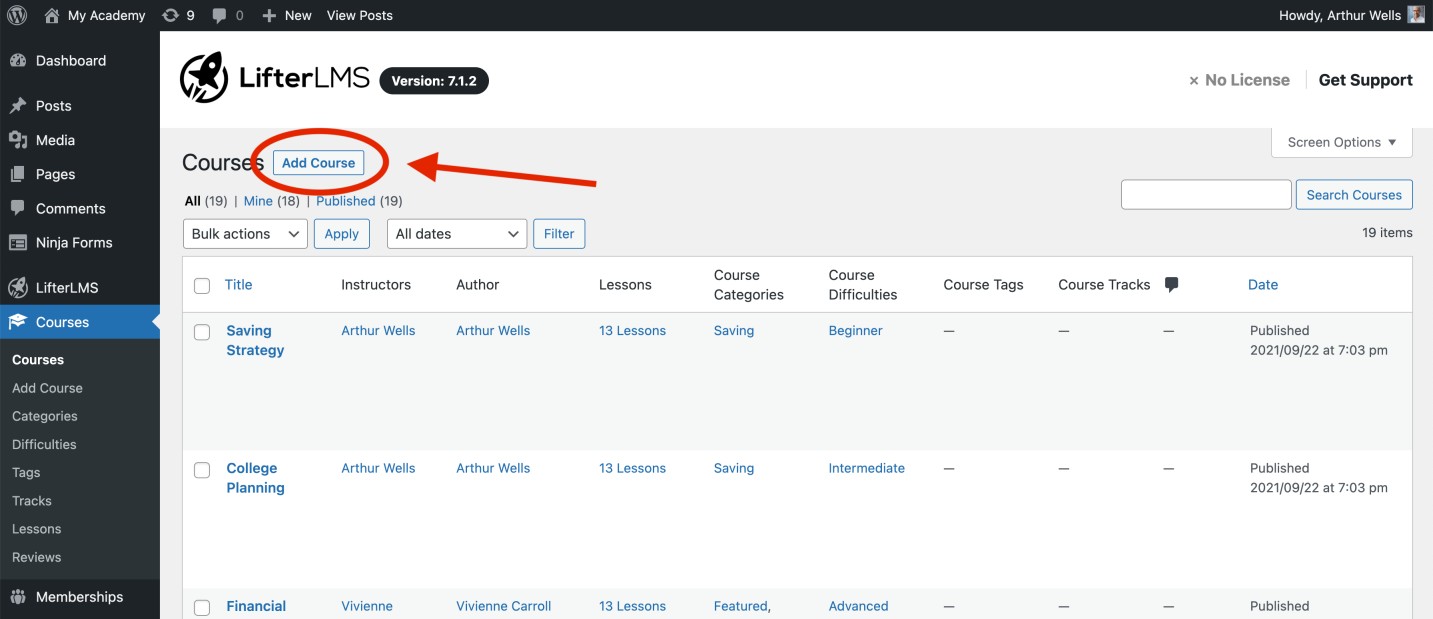 Step 3: Configure the Course Settings
Each course has a few key settings. The main ones we'll look at are the Course Title, Course Information, and Access Plans. In the LifterLMS Quickstart Course, we dive into some more content restrictions and other available options, but these are the basic ones you'll want to know about.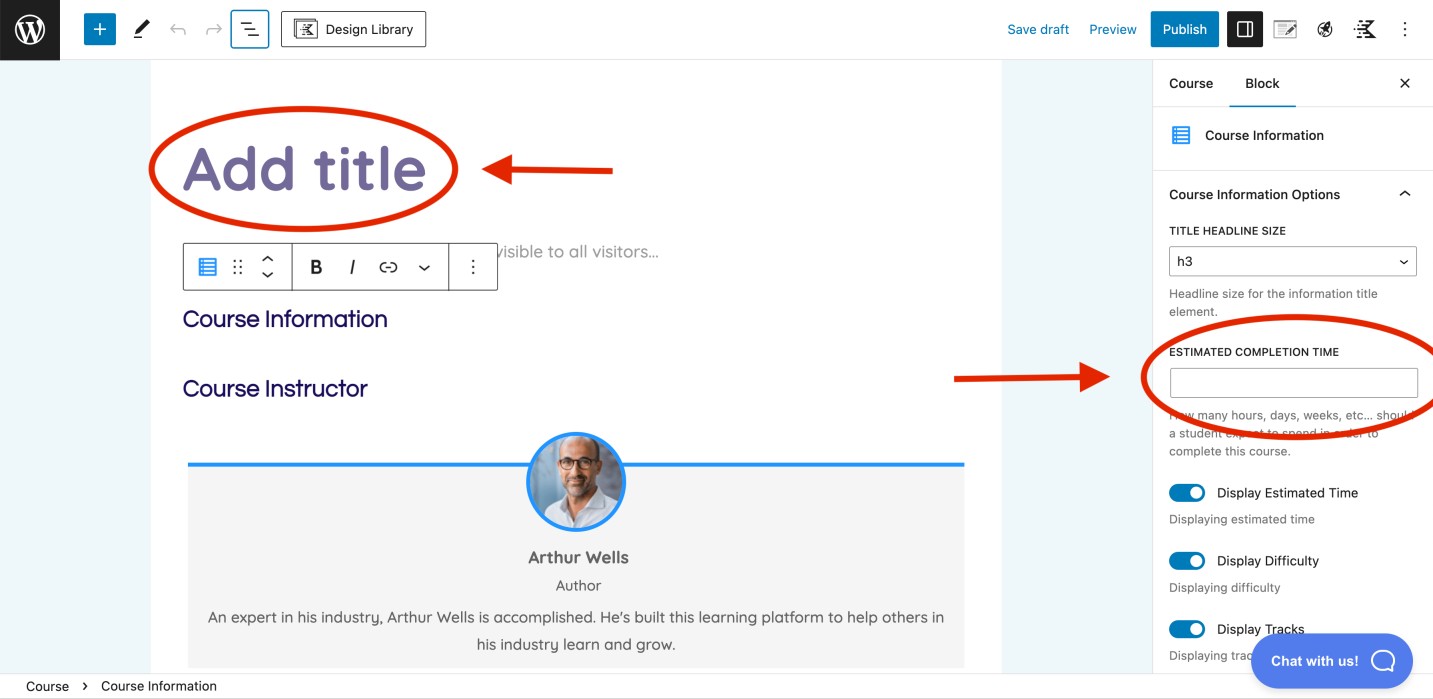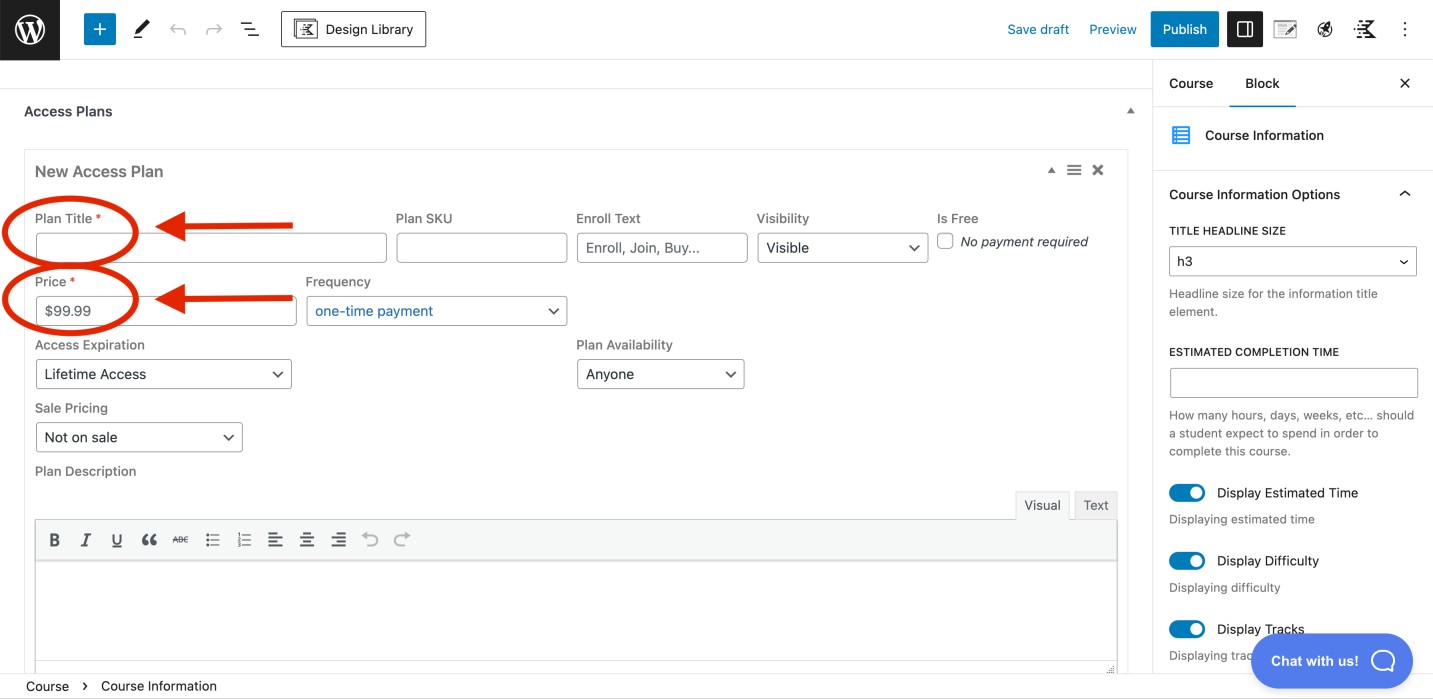 Step 4: Add the Lessons to Your Course
You can activate the LifterLMS Course Builder by locating the button on the right-hand sidebar of your 'Edit Course' page, then Course Builder is where you'll add in your lessons & sections.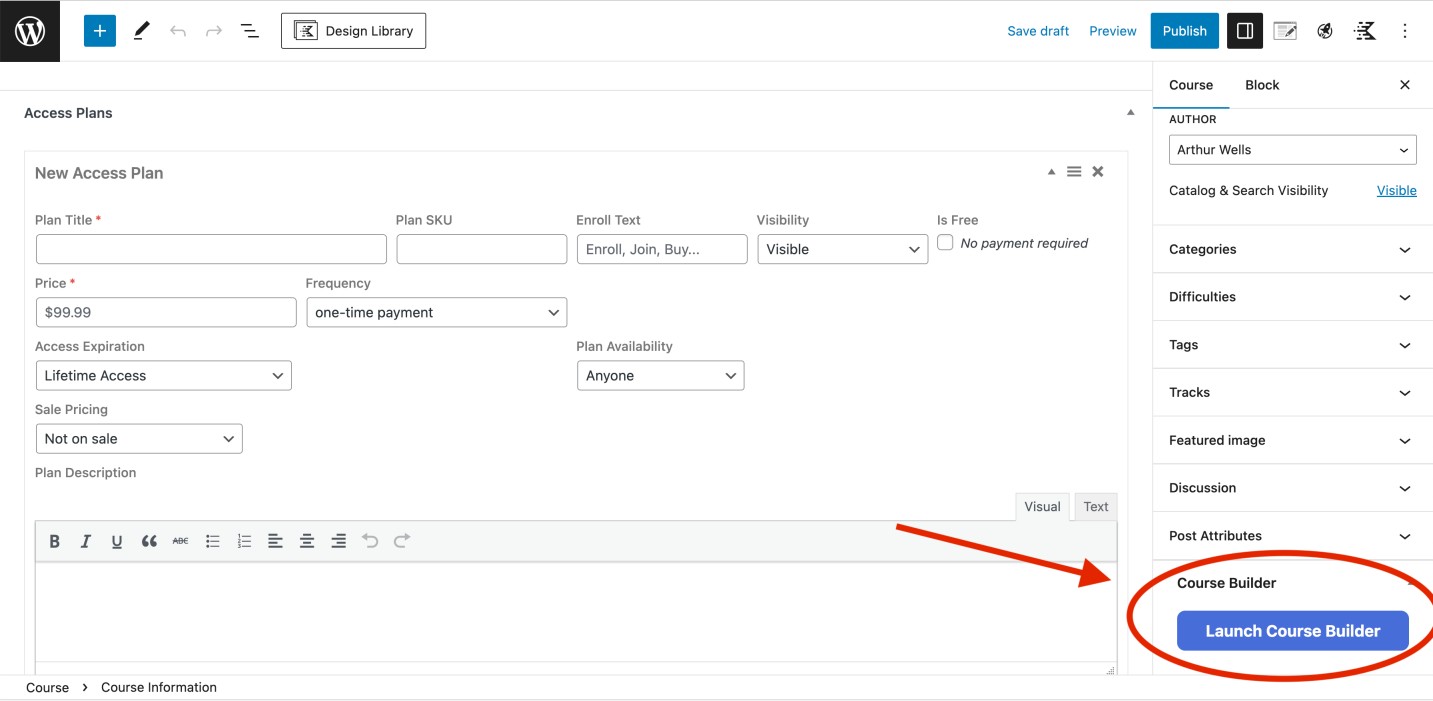 Click the WordPress icon next to each lesson title to edit that lesson specifically.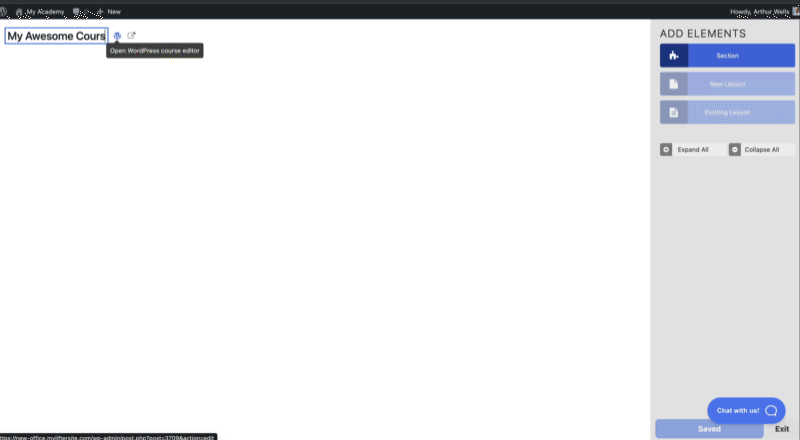 Step 5: Preview and Publish Your Online Course
Now that we have a course with a few lessons, we can preview and publish what we have. (make sure to include this page in your course menu so users can find it).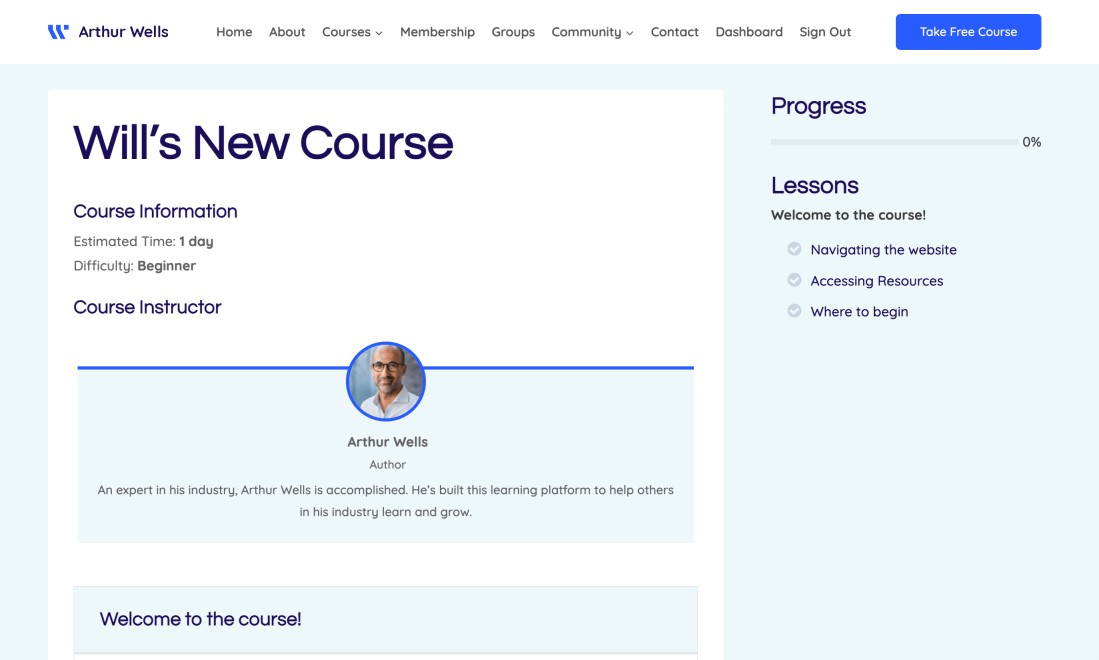 Step 6: Create a Certificate
LifterLMS offers student interaction features such as Certificates to engage students as they complete your course. Navigate to wp-admin < Engagements < Certificates, then create a certificate using the WordPress block editor and click 'Publish' when you're done there.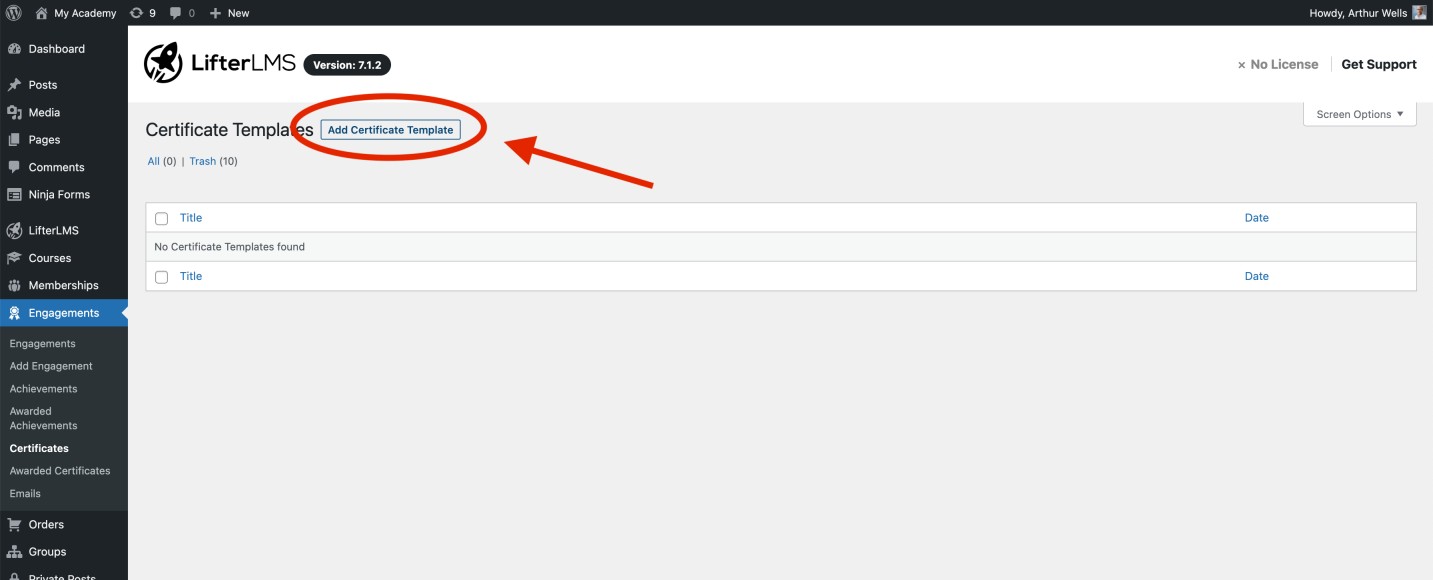 Step 7: Create an Engagement
Now we can create an engagement to trigger our certificate to be awarded to students when they complete the course. Head to wp-admin < Engagements < Add New and set up your triggering events for your course.
We've put together an infographic below you can download and follow along with to help with the course creation process in WordPress: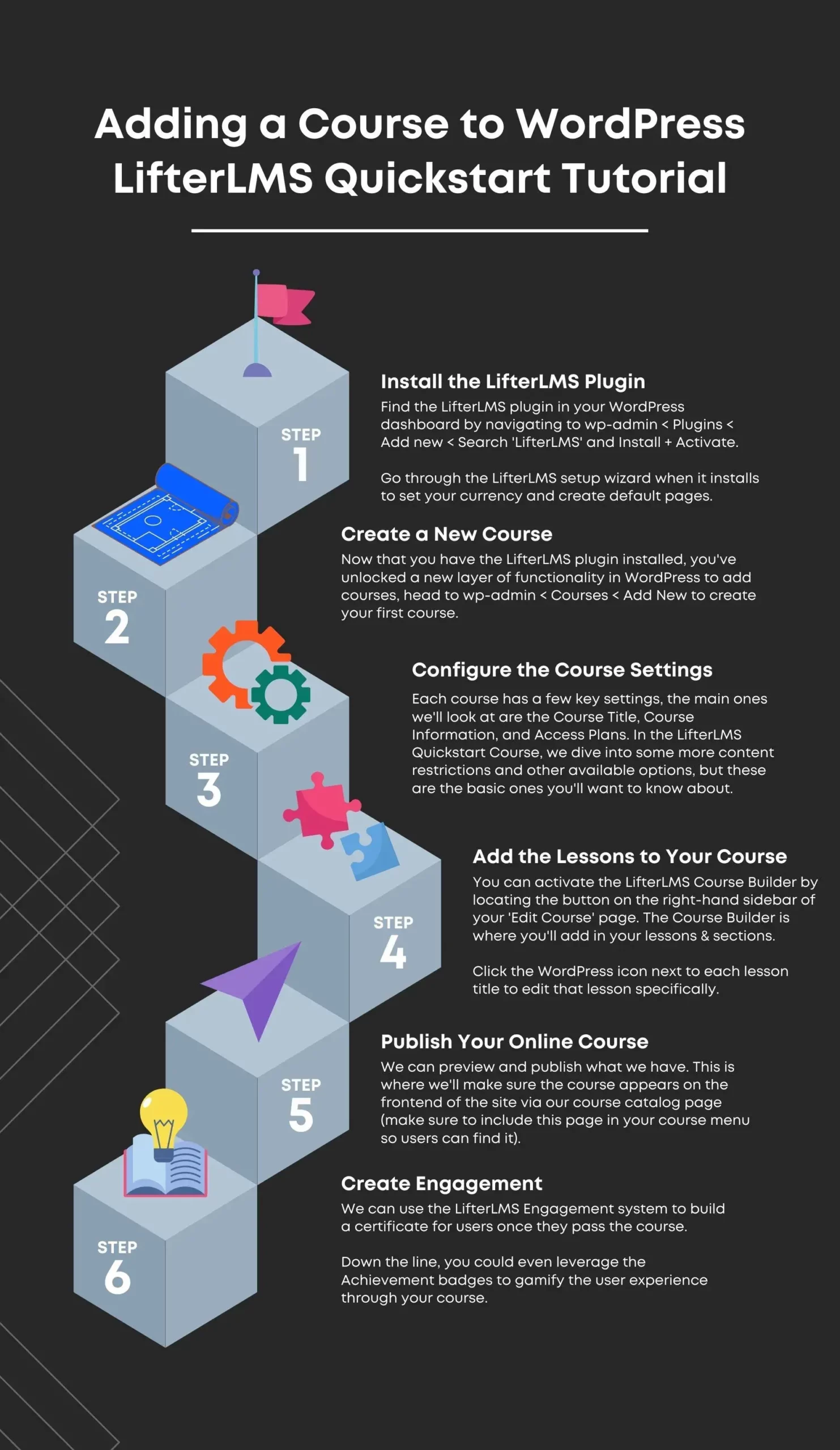 Selling Your Online Course
In order to sell a course with LifterLMS, we'll need to configure a Payment Gateway.
Manual Payments are included in the free core plugin. This allows customers to place orders and pay via a third-party source such as a check, direct PayPal transfer, etc. Using the manual payment gateway provided by LifterLMS requires an admin to manually track payments then manually complete orders to allow students access to courses.
Alternatively, LifterLMS offers Payment Gateway add-ons including Stripe, PayPal, Authorize.Net, and WooCommerce. These paid add-ons allow course creators to integrate with a payment processor via an API key in order to automatically collect payments and enroll students in courses. Payment gateways are useful for automating the process of student enrollment so be sure to check out those gateways.
Unlocking the power of a payment gateway in your LMS platform is a huge advantage when selling your online course or membership. LifterLMS Case Study Ziv Raviv has built a 6-figure online course business for himself leveraging the power of the LifterLMS gateway integrations. Check out Ziv's story here.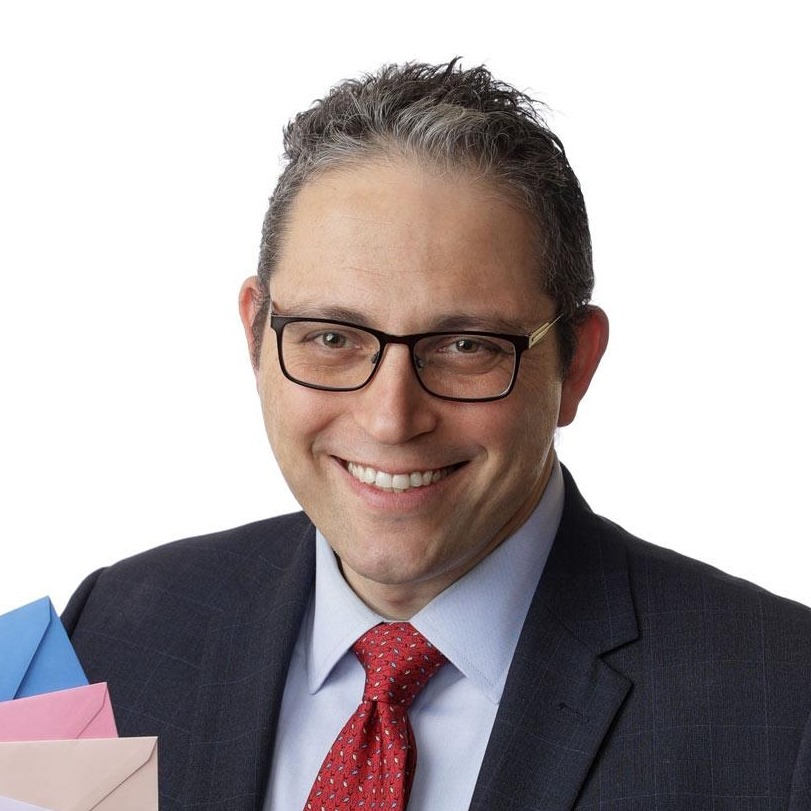 Frequently Asked Questions about Creating an Online Course (FAQs)
How do I promote my online course website?
Promoting your online course website can be a challenging process. Even if you are new to creating courses and don't have an existing audience. However, there are several effective ways to promote your online course website and attract potential students.
Social media is a powerful tool for promoting your online course website. You can create a business page on Facebook, Twitter, Instagram, and LinkedIn, and post updates about your course. You can share testimonials from previous students, and once you have established social media as a source of leads, you can run ads to target your ideal audience.
Collaborate with influencers and create valuable content: Creating valuable content on your blog or YouTube channel can help you attract potential students. You can create blog posts, videos, or podcasts that offer tips and advice related to your course topic. Interviewing and promoting influencers your niche builds relationships as well.
Offer a free trial or demo: Offering a free trial or demo of your course can entice potential students to sign up. You can create a demo video or a sample lesson and share it on your website or social media platforms.
Use email marketing: Email marketing is an effective way to promote your online course website. You can create a lead magnet, such as an ebook or a checklist, and offer it in exchange for email addresses. You can then send targeted emails promoting your course to your email list.
Overall, promoting your online course website requires time and effort. By using a combination of these strategies, you can attract potential students and build a successful online course business.
How much does it cost to make an online course?
The cost of creating an online course can vary significantly based on several factors, including the complexity of the course, the quality of the content, and the tools and resources required. Here's a rough breakdown of some common expenses associated with creating an e-learning course:
Planning and research
Time spent in planning and research may not have a direct monetary cost, but it is essential to factor in the value of your time.
Content Creation
This includes writing scripts, designing slides, creating videos, and other multimedia content. If you create the content yourself, it will primarily cost you time. However, if you hire professionals such as writers, graphic designers, or videographers, the cost may range from a few hundred to several thousand dollars.
Learning Management System (LMS)
An LMS is a platform that allows you to host, deliver, and manage your online courses. LMS pricing can range from free (for basic, open-source platforms) to several thousand dollars per year for premium solutions.
Course Authoring Tools
There are many course authoring tools available, ranging from free options to premium tools that can cost between $100 and $1,000 per year. You don't need an authoring tool to create courses in WordPress, however they are an option if you already have content in that format.
Audio and Video Equipment
If you decide to create high-quality video and audio content, you may need to invest in equipment such as cameras, microphones, and lighting. This can cost anywhere from a few hundred to several thousand dollars, depending on the quality of the equipment.
Stock Images and Media
If you choose to use stock images, videos, or audio, you may need to purchase licenses for these materials. This cost can range from a few dollars to a few hundred dollars per asset.
Marketing and Promotion
Depending on your marketing strategy, promoting your course may include running ads, creating a website, or employing social media campaigns. Marketing costs can vary widely, from minimal for organic efforts to several thousand dollars for paid campaigns.
Given these factors, the cost of creating an online course can range from a few hundred dollars for a basic course created with limited resources to tens of thousands of dollars for a professionally-produced, comprehensive course. It's essential to carefully plan your budget and consider which aspects of course creation are most critical to your target audience and the success of your course.
How to Create an Online Course for Free?
You can always teach on a platform like Udemy to validate your course offering and build a course with $0 cost, and over time you may want more independence, flexibility, and freedom over your platform and that's when you'd likely consider a solution such as WordPress + LifterLMS. It is even possible to build a Udemy-style website of your own inside WordPress. We have a guide on how to do that here.
By following the steps above and using the LifterLMS free plugin on your website, you can create a course with just the cost of web hosting and a domain.
At LifterLMS, we have a lot of great free video content to help you through the process of learning the platform and building the learning material you want to share with the world.
Learn exactly how to start adding a course to WordPress now in this free training by clicking the button below:
P.S. The LifterLMS Facebook group is the best place to connect with other course creators online, ask questions about LifterLMS, and share wins in the community. Check it out via the link below:
https://www.facebook.com/groups/lifterlmsvip