There are many WordPress LMS themes that you might think would be the best pick for your LMS business website, but in reality, they are not all created equal. You need to know the true potential and compatibility of a theme before you pick one to use on your WordPress site. More importantly, not all Learning Management Systems (LMS) themes offer the best option for LifterLMS and its capabilities.
Over the past 7 years, we have focused primarily on developing the most stable and secure LMS platform! But honestly, themes are not our forte, and we happily promote the best ones best utilized with the LifterLMS platform in the community.
At the end of the day, we should leave the tasks to the best people to do them. We are best at developing features that empower and help your sustainable teaching business. We have curated a list of themes that would make the job easier for you.
Let us introduce you to some of the best WordPress e-learning themes our 13,000+ users have installed on their platform over the last couple of years and are happily using without issues.
Best LMS Themes for WordPress
We picked & listed these themes, not considering any particular order of popularity or recommendation. Still, we believe they feature in the best of their respective categories, mainly for LifterLMS. We hope you assess your needs, then make an educated decision based on these options.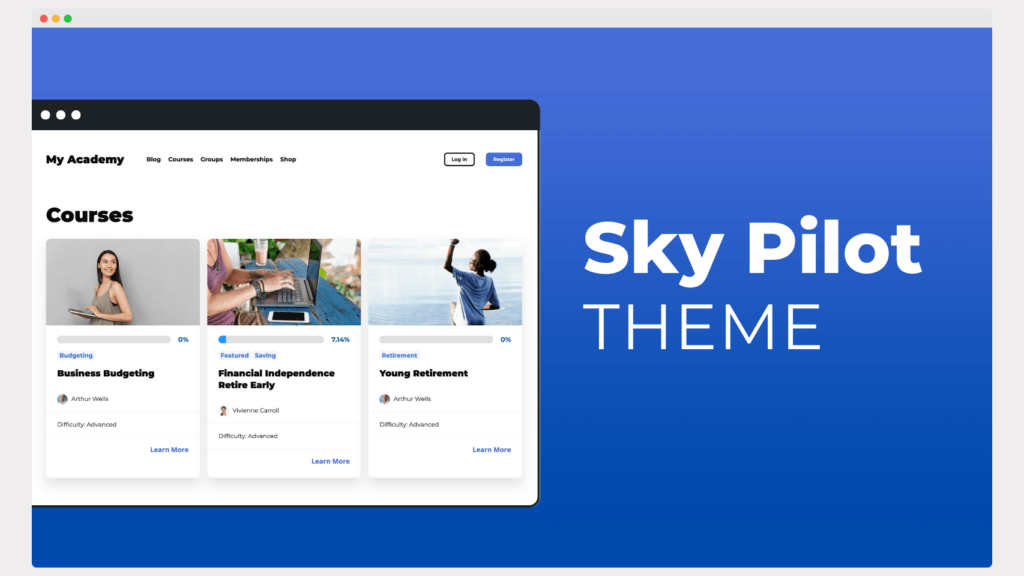 Sky Pilot is the best WordPress LMS theme built for speed using modern technology and optimized for beautiful eLearning experiences.
It's built for course and membership sites. Sky Pilot provide the best learner experience and responsive design to enhance course content. It integrates seamlessly with WooCommerce. You can use any well coded page builder to design your website with Sky Pilot.
Sky pilot is a user-friendly theme that you can modify the design the color to match your brand and needs with few clicks. If you are looking for a stylish and user-friendly WordPress LMS theme with affordable budget, Sky Pilot is the best choice.
Key Attributes to Choose Sky Pilot Theme
A fully responsive theme for WordPress LMS site.
Design to create custom Layout for Courses, Lesson, quiz and other course content with few clicks.
Easy to modify the design to match your brand.
Ability to create beautiful custom header, footers with Sky Pilot's native customization options.
Provide a stunning eLearning optimized design just by installing and activating Sky Pilot
Freedom to use a page builder to add an even more eye-catching look.
Affordable to add this theme to your cart.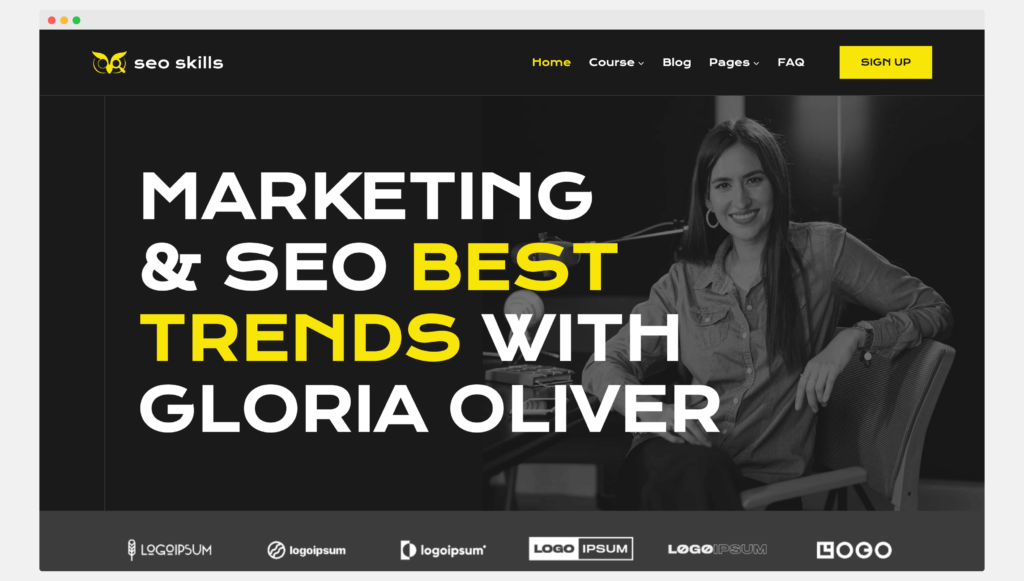 Kadence is one of the most popular WordPress themes designed to work with Gutenberg. It is known for its speed and reliability. The theme is also available on GitHub.
As Kadence and LifterLMS have similar goals and specialties, we suggest our newbie users first try LifterLMS with the Kadence theme. In addition, we use the Kadence theme in our internal testing projects and documentation. So, you can blindly trust this theme to begin your new eLearning and LMS websites.
We are happy with this eLearning theme because it offers many collections in this category. You should check these designs out to see what offerings are available as its features.
Key Attributes to Choose Kadence Theme
A fully responsive theme with built-in support for LMSs
Designed to provide a complete and engaging user experience
Provide a quick and easy way to create a unique website
An extensible framework for website customization
A wide choice of color schemes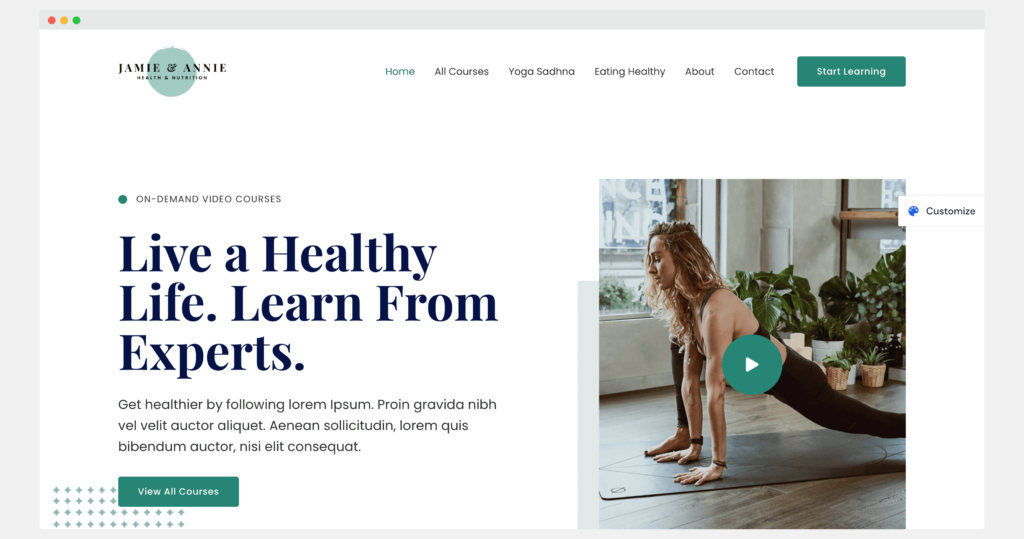 As the most downloaded theme on WordPress after the official WordPress theme, Astra is a trusted reference for testing new themes. Many companies rely on this theme to test their integration relentlessly.
Some of my colleagues laugh that if there's a bug on Astra, it'll be the same on any other theme.
Yes, I am not joking! Astra has proven their quality, reliability, and passion for its work since the beginning.
We think it's the most cost-effective solution, given its low cost and great value. You won't find another theme with this range of starter templates, compatibility with Gutenberg, Elementor and Beaver Builder, or any other contemporary page-builder tool.
Key Attributes to Choose Astra Theme
Flexible and fully integrated WordPress theme
Powerful universal design options with specialized Astra widgets
Customized WooCommerce features and advanced integrations
Represents businesses and brands perfectly
Optimized for search engines and includes top-ranking elements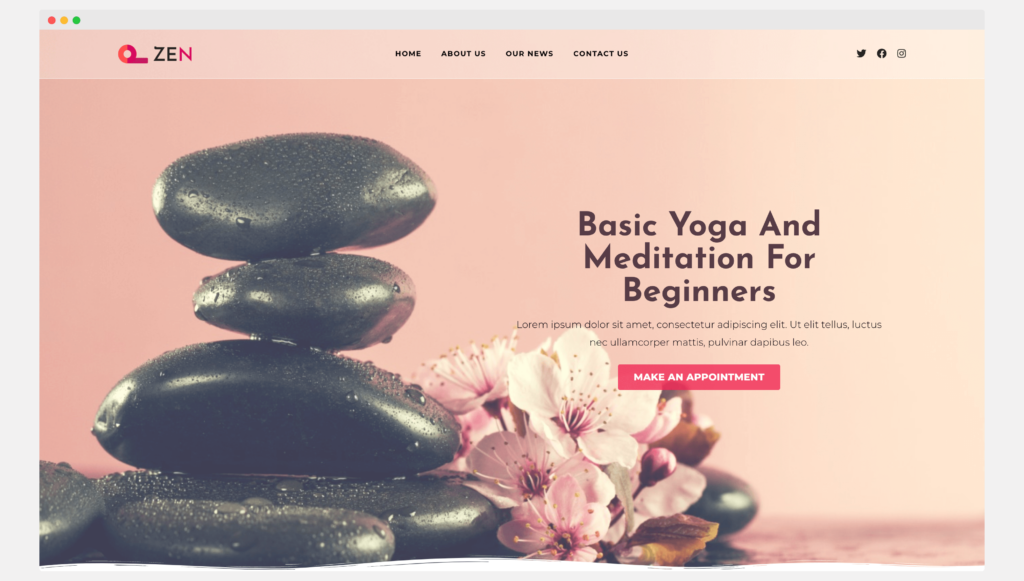 If we talk about great support and consistently delivering quality work, OceanWP will get an important place in the discussion. Over the years, it served customers with incredible support and excellent design quality. In addition, the website's development team has excellent knowledge of WordPress and is always committed to delivering the best results.
We didn't find any issues with the design quality and the support service OceanWP offers. The team is very hardworking and provides some natural options for you.
So if you are looking for a WordPress LMS theme that offers you all the necessary tools to build a unique site in minutes, then this theme is an excellent option for you. More essentially, you greatly value the money you pay, providing the easiest way to make responsive and beautiful designs that work across all devices.
Key Attributes to Choose OceanWP Theme
Highly responsive & SEO ready
Well documented and easy to customize
Compatible with popular plugins such as WooCommerce, bbPress & Contact Form 7
User-friendly theme options to change website look without touching any code
Translation and Right to Left (RTL) language ready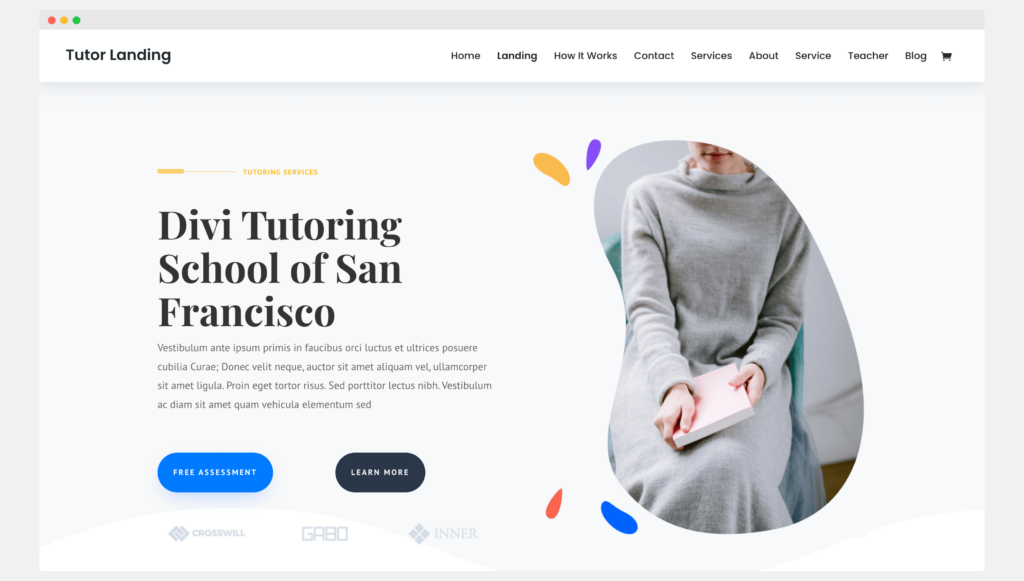 The Divi theme builder is becoming more popular among freelancers, agency owners, and intermediate WordPress users who have a little experience with it. Divi is an old player that has been around for a long time. It is one of the most popular themes on the market today. A colossal support team also backs it to help you with any issue you might have.
This theme gives you complete control over how your content looks with an easy-to-use drag & drop building system. It offers one of the largest libraries of both starter templates and total elements.
Some of their course templates are for e-learning. The website is quite plain, but they're a great structure to start designing from. So, if you build sites for clients often and need the option to edit their landing pages, this is the best option.
In case you haven't noticed, we also have an integration with the Divi builder. You can find that on the Elegant Modules website.
Key Attributes to Choose Divi Theme
A simple yet powerful solution to crafting unique websites
A responsive design & beautiful visual builder
Includes an easy-to-use drag & drop building system
Design built from the ground up to have extensive custom CSS option
User-friendly interface that is clean, intuitive, and distraction-free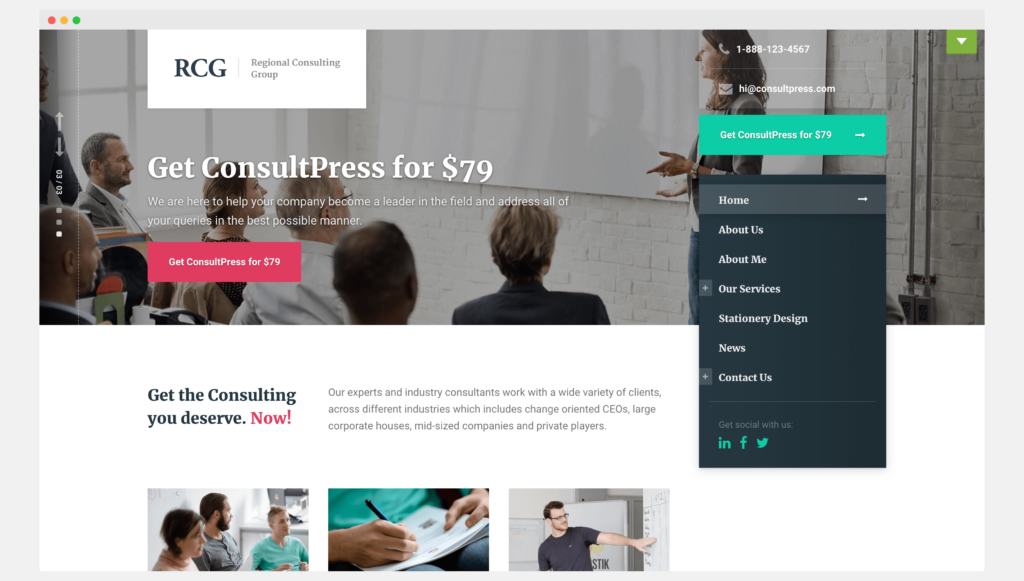 This theme was originally made for corporate agencies and business professionals. But as you know the beauty of WordPress is you can use anything for any purpose if you are willing to invest a little bit of time and effort. A lot of our users are utilizing this theme for their business-related professional courses and certifications. This theme also serves the purpose of having your own agency and training the workforce of the future. So, if you want to keep all your options open, then this could be a great theme for your corporate training website.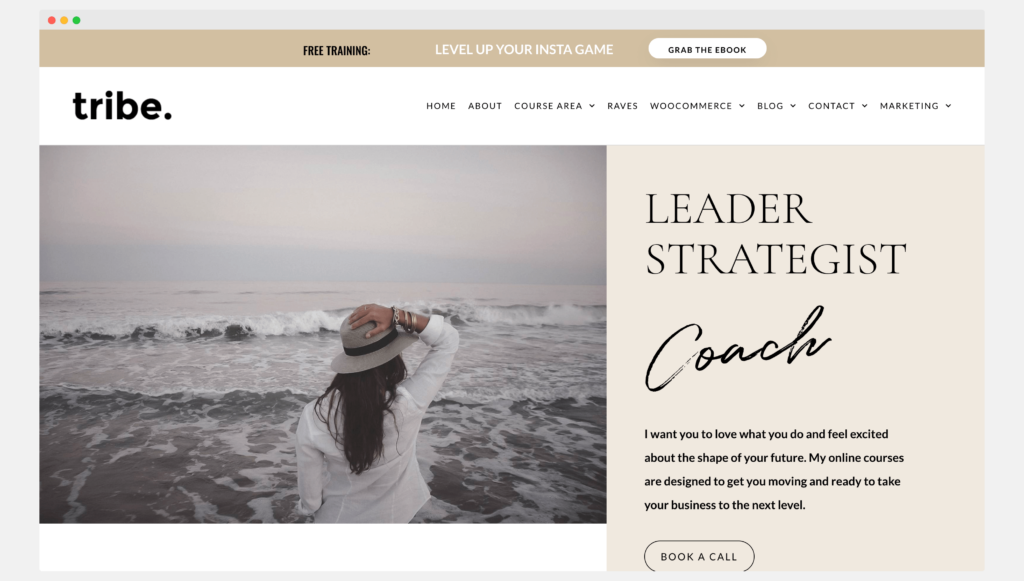 This theme has a creative vibe that we personally liked. It goes with most courses Instagram influencers, makeup artists, and fashion professionals seek for.
With a comprehensive set of marketing pages, including sign-up and thank-you templates, and a beautiful sales page with professional copy prompts, this theme makes building your business or course website an absolute breeze. Most importantly, this theme supports Kadence, Elementor, and Divi. It checks all three of the popular checkboxes, and you have the freedom to use it with whatever builder you like.
It has a clean, modern, and elegant WordPress theme with subtle colors and fantastic typography. In addition, it comes with custom theme builder templates that allow you to style all of your courses & online content to perfection.
Key Attributes to Choose Tribe Theme
Elegant theme with subtle tones, stunning typography, and beautiful layout
Simple drag & drop builder to create your landing page in minutes
Easy to setup and customize
Dedicated support team to get help with any issues that arise
Advanced theme customizer with fully responsive design
More LifterLMS compatible themes in the market
LifterLMS want to ensure that each compatible theme caters to its customers' tastes. We also like to ensure that the themes are fully customizable so customers can design them to their liking. Besides the popular themes we mentioned above, there are other LifterLMS compatible themes like:
Neve is a clean, responsive, and fully customizable WordPress business theme. This stunning theme has an elegant design, making it an ideal choice for businesses with a long history. Its functionality ranges from simple to complex requirements, allowing you to choose what suits your needs best.
This theme is fast, lightweight, & flexible. More importantly, the theme is super easy to set up and customize. You can expect regular updates from its development team.
It includes clean & quality code with full dedicated customer support to address any issues you might face. With its unique design and powerful features, you can expect that it will help you build an effective website that will get results.
A perfect theme to serve the use case of LifterLMS users with a solution that allows anyone to quickly and easily create their own online learning community. It's like having your own private school. You can have unlimited courses, memberships, and add-on services on one site using BuddyBoss's powerful web-based interface.
Not to mention it's the most popular solution for creating your own membership site on WordPress! Furthermore, being an open-source solution, it has the potential to match your brand color and identity with ease.
Customize it according to your project's needs and ensure you get the most out of it. You can easily import demos anytime you want. It features rich templates, multi-language, and branding options with easy-to-use page builders. A perfect all-in-one toolkit to manage our LifterLMS platform.
Genesis Pro is one of the most powerful WordPress themes on the market from Studiopress. With a sturdy set of features, it's perfect for any website, even building our LifterLMS platform. In addition, it's easy to use and has a beautiful design that will make your site stand out from the crowd.
Its theme has one-click setup functionality that quickly lets its user load the demo content, plugins, and perfectly-designed Gutenberg blocks onto the home page. Moreover, this premium site builder enables you to customize your site with the powerful features of Genesis Framework and 10 StudioPress-made premium child themes.
The genesis framework comes free with the Genesis Pro. So you get to quickly set up a variety of page layouts with the layout selector, use the content blocks to add custom content to any page, and create beautiful full-page designs using pre-built content sections. Indeed a widely adopted theme by designers and professionals worldwide that even you can apply for building your LifterLMS site.
Tutorque is a WordPress theme built with the sole purpose of helping you create a professional educational website. It is perfect for online courses, academies, schools, and training centers. Tutorque has all the features you need to get started with the LifterLMS platform and is easy to use.
It has a clean and professional design with various features that will set you apart from your competitors, such as an easy-to-use customizer, unlimited sidebars, WPML compatibility, and much more.
All layouts on this theme are optimized for search engine optimization and page loading speed. So it has all the technical ingredients to make it an ideal LMS business website.
All these WordPress themes discussed above should work well with the LifterLMS platform without any compatibility issues.
These themes offer very detailed design and community features as well. So, if you are willing to invest a little time, you can surely get the most suitable WordPress LMS theme for your website.
Get The Best WordPress LifterLMS Compatible Theme To Run Your LMS Site Like a Pro
There is nothing like one-size-fits-all when it comes to eLearning or LMS themes. Each site and client has different needs and purposes, so you must choose the best theme that matches our requirements.
It would help if you also kept in mind the required technologies, expertise, and costs associated with each theme to ensure you make the best choice.
Do let us know your feedback if you have used any of these themes for your LifterLMS site. Also, if you know any other themes that work perfectly with LifterLMS, then feel free to share them with us, and we will update the list on this post.