I'm excited to let you know that the LifterLMS Assignments add-on rolls out at the end of this month into beta.
This completes 9 months of execution on the vision we laid out for the benefits now available for your website inside the Infinity Bundle.
The Infinity Bundle includes everything in the Universe Bundle plus:
This is the last chance to lock in lower pricing on the Infinity Bundle before it climbs to a $999 annual subscription price.
The Office Hours product also has a new name, and the price of it is increasing dramatically at the end of the month.
What benefits are coming in Assignments?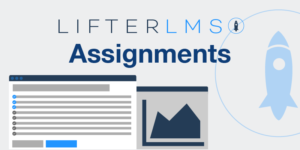 The philosophy behind assignments is simple.
Get your learners taking action.
Content is great, but it's important to recognize that most students don't actually want content. They want results and lasting transformation.
Assignments are a way for your learners to:
Clearly see what they need to do from an action perspective
Verify actions that they have taken
Get feedback on action
Prevent forward progress until action is taken
Prevent forward progress until action is taken and graded
Communicate their understanding before moving on
Assignments don't have to be complicated from a technology standpoint. With LifterLMS Assignments, you can present:
A task or task list that needs to be completed and checked off to complete the lesson
An upload requirement
A long answer requirement
The end of month release will be the first version of the Assignments software and the product will evolve based on your feedback, so if you're using Assignments please share any feedback or requests with us here.
The Assignments add-on release is a "beta." What does that mean?
The Assignments add-on is releasing at the end of March in beta status. That means that customers who buy it individually or gain access to it because they have the Infinity Bundle can start using the first public version.
The purpose of a beta period is for a large group of users to test the software and provide feedback.
When software is in beta, just like when testing new plugins or updates, we recommend testing the tool in your staging environment.
We are developing a stronger beta program to improve software quality and get to community feedback as soon as possible in the software production cycle.
If you choose to participate in the Assignments beta, we appreciate your feedback! Please submit a ticket from your account here with any Assignments feedback.
The evolution of Office Hours Mastermind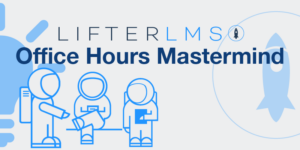 LifterLMS Office Hours was the first product added to the Infinity Bundle 9 months ago.
It was created to provide an opportunity for leading course creators and membership site builders to ask us anything live about technical, strategic, or tactical support.
We do that, but it has organically evolved into something more powerful … a mastermind.
I quickly realized I was not the guy with a monopoly on all the best knowledge, experience to share and answers. Call attendees started helping each other and engaging in high value round table discussions. Some people just come to listen in, which is fine, too.
A mastermind was born … by accident.
A mastermind is a group of people unified by a common interest with a desire to support each other and openness to ask for help.
Moving forward, the LifterLMS product we are offering is called Office Hours Mastermind.
The weekly Zoom call format will still open with the office hours style of offering an opportunity for live LifterLMS technical support. It will then transition (like it naturally has) into a more strategic mastermind that we fascilitate.
I will also on occasion bring special guests to add even more value to the Office Hours Mastermind call. On this week's Thursday March 29th call at 1pm Pacific we will be joined by Adam Preiser from WP Crafter. Adam has a wealth of knowledge on running a successful online course and membership site powered by LifterLMS. And he is well known for teaching people how to get the most out of WordPress through teaching people how to use powerful tools like the Astra theme, LifterLMS, Elementor, and Custom Templates for LifterLMS.
By the way, Adam just did an excellent interview with us for our podcast LMScast. If you have Office Hours or the Infinity Bundle and want early access to the recording of Adam's call, so you can get the most out of his appearance at Office Hours, please check out the early release of the video in the LifterLMS facebook group.
Office Hours Mastermind is so much more than just live technical LifterLMS support. The price of Office Hours Mastermind will be increasing from $199 at the end of this month to $699. All existing Office Hours customers will be grandfathered in at their current pricing. The price increase will happen at the same time the Infinity Bundle increases to $999 at the end of the month.
The Infinity Bundle includes Office Hours Mastermind, but if you want to get access to these weekly calls without the Infinity Bundle, you can lock in your pricing at $199 for just a few more days.
To share with you personally, I would not still be in business if it weren't for different masterminds I have participated in.
Masterminding is a critical key to my success.
When I look at the Infinity Bundle today at $899, and divide that by 12 months, I get $74.92.
You can have your online training program for $74.92 a month.
That's just $2.47 per day.
In that price you can offer memberships, private coaching, and even a community on your website.
In that price you can mastermind with course creators, membership entrepreneurs, and community builders like you.
LifterLMS is not just a software.
It's a support system.
It's a movement.
Will you join us?
But wait, there's one more thing …
We have an update coming in the core LifterLMS software.
In our vision to make it possible to build an online course from 1 screen, we have added the lesson settings to the course builder. Lesson settings are things like prerequisites and drip content.
This data is still available and editable on the individual WordPress lesson post where the lesson content is and will always be.
No matter where you update it, it will reflect the same in both places.
So if you like to build courses quickly, you will appreciate this option to tweak the lesson settings from the course builder. But you can also still of course manage these settings by the lesson content area in the traditional metaboxes as well.
Here's what I'd like you to do next …
If you haven't already gotten on the Infinity Bundle rocket ship, now is the last chance to lock in cheaper annual subscription pricing than $999. You can get it now for $100 less.
You can grab the Infinity Bundle here right now and let us take all the risk with a 100% 30-day refund policy.
If you would like to upgrade into the Infinity Bundle from an existing product, here's how to do that.
Also if you are just interested in Assignments by itself, that's cool. You can grab it here for $169 before the price increases to $199 at the beta release in a few days.
I hope to see you in this week's Office Hours Mastermind!   😉

"Together we go far." ~Chris Badgett, LifterLMS CEO