Have you ever wondered what an online learning system would look like that was so engaging your current students would stay engaged until the end? Have you ever wondered how to increase sales into your learning platform through email marketing, sales and marketing automation, and intelligent automated follow ups?
You can have this ideal powerful system when you combine LifterLMS with ActiveCampaign.
LifterLMS + ActiveCampaign solve the same problem, but in 2 different areas.
These software solutions help small business entrepreneurs reduce overwhelm and chaos from disjointed software tools strung together. They are all-in-one solutions that are intuitive and powerful and are designed to get real world results.
I like to say that these tools scale the human touch with robotics.
LifterLMS does this in the online education space for online courses, membership sites or learning management systems.
ActiveCampaign does this through marketing and sales automation, while also giving you a powerful small business CRM (Customer Relationship Management) platform.
What Does LifterLMS Do?


LifterLMS makes it easy to create, sell, and protect engaging online courses.
LifterLMS has the following 4 main feature areas:
1) Learning Management System (LMS)
A LMS gives you the ability to build courses, review student progress and analytics, deliver quizzes, create learning tracks or degree programs, set up prerequisites, pace your course with drip content and prerequisites, and more.
2) eCommerce
LifterLMS has it's own built in eCommerce system, designed specifically for selling courses or groups of courses via memberships. You can accept one-time and/or recurring payments.
3) Membership
Sell groups of courses, bundle in non-LMS content (like other posts or pages), or lock down your entire site with memberships. You don't need a separate membership system to protect your content.
4) Engagement
Automatically reward students based on their behavior in your platform with personalized achievement badges, certificates, and emails.

What Does ActiveCampaign Do?


ActiveCampaign is a marketing platform design to grow your business. It's a fully integrated solution for intelligence-driven marketing and sales.
ActiveCampaign has the following 3 main feature areas:
1) Email Marketing
Send newsletters, design beautiful email campaigns, and keep in touch with your contacts and customers. When you use ActiveCampaign for your email marketing, you can do advanced segmentation, create subscription forms, do split testing, and more.
2) Marketing Automation
Automate your marketing channels using personal and behavioral data about your contacts. You can create automation sequences, gather date through site and event tracking, create segmentation within your automations, set automation goals, do SMS (text messaging to mobile phones), and more.
3) Sales and Customer Relationship Management (CRM)
Get more leads and close deals faster with their refreshing new take on customer relations. You can create sales process automations, manage contacts, leverage lead scoring, sync data from your ActiveCampaign to your Gmail, and more.

What Will LifterLMS and ActiveCampaign Do Together?
In addition to all the powerful things LifterLMS and ActiveCampaign do separately, it gets really interesting where they overlap in the LifterLMS ActiveCampaign Integration.
There is a segment of the LifterLMS user base that are super passionate about ActiveCampaign. I don't blame them, because we at LifterLMS use ActiveCampaign for our email marketing and CRM and LOVE it! Our community members that want deeper integration with ActiveCampaign have told us what they want the integration to look like and how it should function. We're currently crowdfunding on Kickstarter the development costs of this integration so we can devote resources to it. Keep reading to discover how you can benefit from this and see the no-brainer way to get involved.
Here are the 2 main ways the LifterLMS ActiveCampaign integration will work:
1) When a user purchases or enrolls in a course or membership, the contact details are added or updated in ActiveCampaign
This sets up your student and customer database in ActiveCampaign and logs what courses and/or memberships the user is in. This is the first key step in being able to do advanced engagements, sales, and marketing. You need your LMS data synced with your CRM.
If you want to send an email broadcast to all your students, now you can with ActiveCampaign!
If you want to send an email broadcast message to only students in certain courses, now you can do that too with ActiveCampaign.
2) Apply or remove an ActiveCampaign tag based on user behavior in the online course or learning management system
LifterLMS has a unique engagement system where once a behavior trigger happens, you could set up certain things to happen like awarding an achievement badge, delivering a certificate, or you could apply a tag in ActiveCampaign. These are the behavior triggers in LifterLMS:
Lesson completed
Section completed
Course completed
Course purchased
Membership purchased
New user registration
Days since user last logged in
Course track completed
Applying or removing a tag in ActiveCampaign is where it gets interesting. A tag is a way to trigger an automation in ActiveCampaign.
Here are some example automations you could create:
After course purchase, send an email sequence designed to help students get oriented and started successfully on a specific course
When a student finishes certain lessons, send them a personalized email that encourages them to keep up the progress
Send a congratulatory text message after a student completes a particularly challenging section
Notify a teacher or a tutor when someone joins a course
Notify the teacher when someone completes a course so the teacher can personally call or email to congratulate the student
After a course is completed, begin a series of marketing emails designed to sell that student new courses they might be interested in
Notify the teacher if a student hasn't logged in over 7 days
Send reminder emails about your live event or online office hours
There is really no end to the number of personalized adaptive automations that you could create with the LifterLMS ActiveCampaign integration.
Our goal is to help you build the most engaging online courses, membership sites, and learning management systems in existence.
If you want to create an engaging online education platform, LifterLMS and ActiveCampaign together are a powerful combination. Click here to bring this powerful integration to life and get some valuable no-brainer incentives for your investment.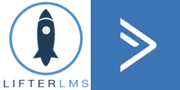 What if You Don't Leverage the Power of LifterLMS and ActiveCampaign?
At LifterLMS we work with a lot of education entrepreneurs who are building online education platforms around their passions, skills, and life experience.
LifterLMS allows anyone with a basic WordPress powered website to create a first class training site that rivals the functionality of hosted education platforms. Did you know that LinkedIn recently bought online education training site Lynda.com for $1.5 Billion? Training sites are valuable, and anyone can build one these days with LifterLMS.
If you don't leverage the power of LifterLMS to create a simple online course or a more advanced learning platform, you might end up stuck with one of these painful outcomes:
You never create impact and income from your knowledge; it remains trapped inside of you
You get stuck in a hosted solution with hidden fees on a platform you can't control
You give up on teaching online with the mistaken concept that it's too difficult and expensive to get started
If you don't leverage the power of ActiveCampaign to create more personalized and adaptive engagement with your students and prospective students, you might end up stuck with one of these painful outcomes:
You have a great online training program, but your marketing systems have not been developed so your potential reach is a fraction of what it could be
You miss the opportunity to create systems to keep your learners engaged so you end up trapped with the industry standard of a 10% online course completion rate
You are unable to execute professional mass or segmented email communications to your community of learners
LifterLMS and ActiveCampaign together allow you to scale the human touch through robotics in online education.
Here's What I'd Like You To Do Next …
Click here and go pick a pledge that works for you to bring the LifterLMS ActiveCampaign Integration to life. The pledges range from $3 to $10,000. Go see what you get at the various incentive levels. The $50 pledge is a no-brainer where you are paying 50% of what the integration will cost to the public. That helps you get a great discount value and helps the LifterLMS team fund the development of the integration.
Let's build the most engaging online learning experiences on the web with LifterLMS and ActiveCampaign! Click here to help make it happen.