As course creators we have big dreams and visions for the future of our online training platforms.
We can see our online training business in our mind's eye before it exists. That's what makes us education entrepreneurs.
When we bring form to these visions and pull them into reality …
It's important to build solid technology foundations under these castles in the air.
Enter Course Maker Pro
We are thrilled to announce the arrival of the Course Maker Pro theme by brandiD.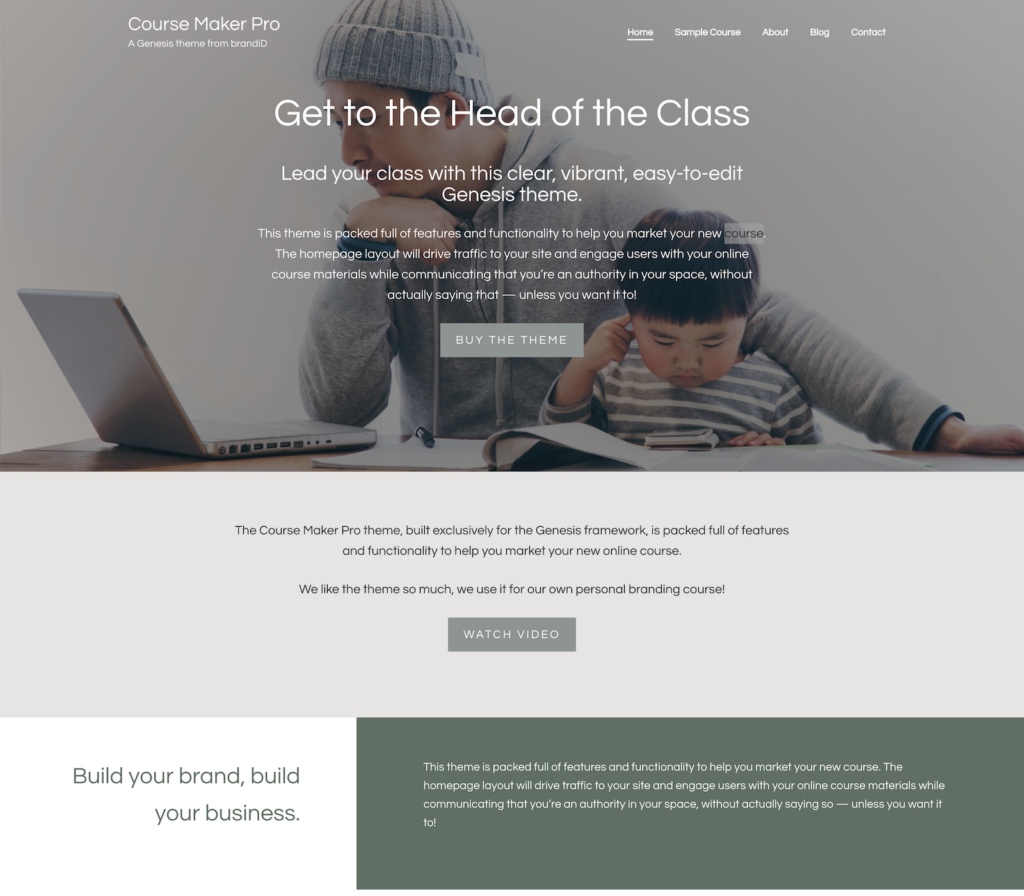 Course Maker Pro is a Genesis child theme. That means the Course Maker Pro theme builds on top of the solid Genesis Framework.
In 2009, Nathan Rice, along with Brian Gardner, released the Genesis Framework for WordPress — fundamentally altering the way themes are designed and implemented on WordPress.
Also, as a piece of LifterLMS history …
When LifterLMS first launched in October 2014, we used the Genesis Framework as the theme for our demo site for the LifterLMS plugin.
Genesis is a solid platform. It's been around for a long time. And it has an incredible community around it.
Fast forward to today …
Innovators like the team at brandiD have built on top of this foundation to create a beautiful WordPress theme for the course building community.
Course Maker Pro is designed to meet the style and organizational needs for your online course site.
And it's easy for non-techies to launch, because it comes pre-loaded with various demo content settings and starter packs that launch beautifully-designed and easily-editable content blocks in a few seconds.
Course Maker Pro is also enabled with One-Click Theme Setup, which makes it even easier for users to install the theme and get started building their online courses immediately with less friction.
Choose a Rock Solid Technology Stack for Your WordPress LMS Empire
The technology choice decisions we make at the beginning of our website projects are crucial.
It's always harder to change later, and there is an opportunity cost if you make poor technology choices at the beginning.
This is WordPress where there are a lot of options out there for themes, plugins, hosting, etc.
Different technology stacks work better for different people and projects. So choose what looks best for you.
My advice is to spend some time exploring options before you commit.
Here's What I'd Like You To Do Next …
If you are at the beginning of an online course website project or are considering switching from a suboptimal technology stack, consider this rock solid combo:
If you want tools that work well together out of the box, that have a shared commitment to removing technology hassles, and are beautifully designed … consider this stack.
Together let's build the most engaging learning experiences on the internet!