The much anticipated LifterLMS quiz builder and Advanced Quizzes add-on just rolled out for you to use and enjoy.
These are the highlights.
First Let's Take a Quick Tour of the Quiz in Action
An all new app-like quiz building experience
LifterLMS exists to make a useful tool for course builders to quickly and intuitively create learning programs from the vision they have in their minds.
We do this with the course builder, which now integrates the quiz builder, so you can create a curriculum or course architecture from one screen.
This allows you to rapidly lay out your course structure so you can quickly get to the point where you just have to "add content."
The new quiz builder provides improvement light years beyond the old quiz system so that you can build an entire quiz from one screen.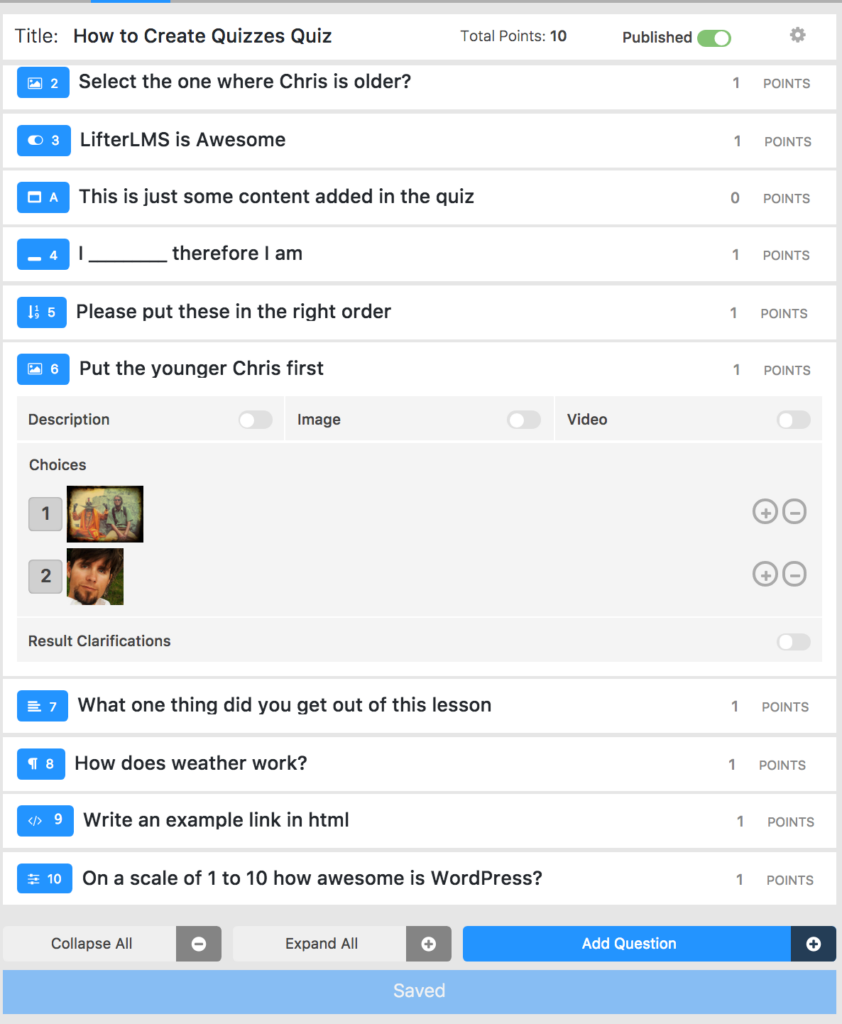 This app-like experience is something we are very proud of as we push the boundaries of what's possible with web application development in the WordPress environment.
As WordPress democratizes publishing, LifterLMS extends that vision, democratizing education in the digital classroom.
Sometimes in the LMS industry, course creators to go to the "cloud" and pay expensive monthly fees for the right to have their training program on another LMS company's platform with limited flexibility.
LifterLMS champions a different narrative.
YOU get to own your platform, have no financial penalties for success (no limits on students, teachers, or courses), and get to enjoy the freedom that comes from platform ownership and the incredible extendability of the WordPress ecosystem.
New question types

Here is a list of all the new question types in the Advanced Quizzes add-on:
Short answer (manually graded)
Long answer (manually graded)
File upload (manually graded)
Fill in the blank
Fill in the blank (manually graded)
Code (manually graded)
Until now the base LifterLMS quiz system included only the automatically graded multiple choice single answer question type. At LifterLMS our philosophy is to give away as much as we possibly can to the startup education entrepreneur in the free core LifterLMS plugin. In that spirit, here are the new question types we added to the base quiz system in the core LifterLMS plugin's quiz system:
Text multiple choice multiple correct answer
True / False
Picture multiple choice single correct answer
Picture multiple choice multiple correct answer
* Also note that when you update your version of the LifterLMS plugin to the most current version, your existing automatically graded multiple choice single correct answer questions will migrate automatically into the new system.
Manual grading and remarks
Manual grading allows the instructor to review answers and leave remarks.
Remember those old-school tests where it had a grade on it and the teacher wrote some comments? That's what we're talking about here, but in a more modern, digital way.



Many different question types could have manual grading, like short answer, long answer (essay), fill in the blank, file upload, etc.



Manual grading can also be used to prevent forward progress or course completion until something has been graded and the grade is above the minimum passing score set by the course creator.
An easter egg …
Thanks to some feedback from a member in the LifterLMS community on one of our weekly Office Hours calls, we added a secret feature into the Advanced Quiz add-on.
We're not big on secrets, so allow me a moment to describe a way you can use the quiz system for something completely separate from graded tests…
If you set a question's weight to 0, you can also collect survey and assessment data from students.
How might this be helpful?
If you've followed us for any period of time, you know how committed LifterLMS is to your student engagement, course completion rates, and learners' real-world results.
Having feedback loops are critical for gauging course effectiveness, personalization, and giving course creators direction on how they can improve their program.



Here are some specific examples of how you might use zero weight questions for assessment or survey purposes:
Ask your students to rate your course or a specific lesson on a scale from one to 10 for helpfulness
If you are a coach and your course is about a behavior change, you can collect success metrics
Collect testimonials
Collect instructor, coach, or overall course feedback
If you have a membership site with multiple courses, you could request suggestions for new courses that would be helpful to add.
How might you use assessments or surveys?
Here's what I'd like you to do next …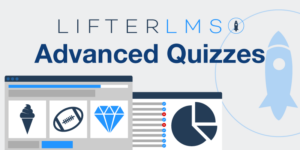 Update your version of LifterLMS so you can use the new quiz builder! When you update, it's always a best practice to make a backup first, clear your cache, and flush permalinks. Also keep in mind this LifterLMS upgrade includes a database update, so you'll need to click on the the blue update database button after you update LifterLMS.
If you're not using LifterLMS yet, I invite you to test out the free core LifterLMS plugin here or test out Advanced Quizzes in your very own 30 Day Demo site.
If you have preordered Advanced Quizzes or are an Infinity Bundle customer, you can download Advanced Quizzes inside your account here.
If you'd like to purchase Advanced Quizzes you can invest in it here or get it through the Infinity Bundle.
If you are a current customer and would like to take this opportunity to upgrade into the Infinity Bundle, while getting the status of your existing license prorated, here's how to do that.
"Thank you for being a part of the LifterLMS story. The real world learner results I see our course creators and membership site builders facilitate for their students inspires me every day. Great to be with you on the journey!"
~ Chris Badgett, LifterLMS CEO