Learning often happens in groups.
You just might be leaving a lot of money and opportunity on the table if you're only focused on offering training to individuals.
At LifterLMS we created our Groups add-on to help you take advantage of offering training into groups.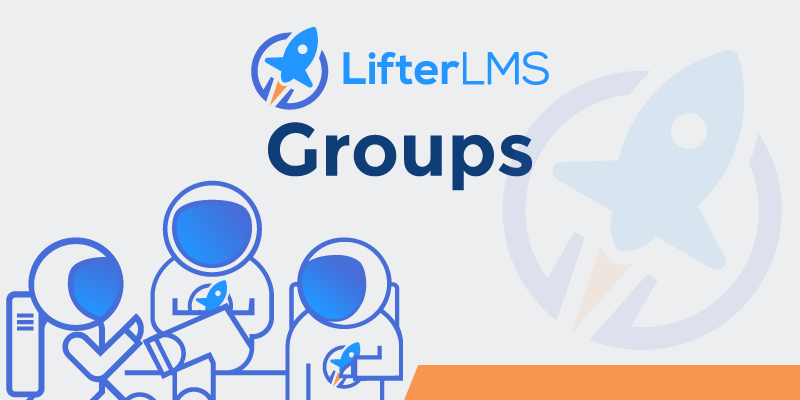 Now you can offer courses and memberships in volume or via bulk seats into a group.
What Is a Group Really?
A group is more than one person united around some common attribute or purpose.
With LifterLMS Groups you can now offer training into any kind of Group.
Here are some examples of different types of group markets that want and need training:
Businesses
Governments
Nonprofits
Companies
Corporations
Sports teams
Families
Spiritual communities
Romantic couples
Homeowner associations
B2B SaaS companies
Agencies
College classrooms
Community college classrooms
Elementary classrooms
Middle school classrooms
High school classrooms
Membership site members
Veterinary offices
Chiropractic offices
Massage therapist offices
Alternative healthcare offices
Mainstream healthcare offices
Real estate offices
Investment advisor offices
Military units
Spouses
Therapist offices
Facebook interest groups
Masterminds
Music bands
Comedians at a certain club
Retreat or conference attendees
Associations
And many, many more
This list is not exhaustive. I had to stop in order to not make this blog post too long.
My goal is to get you thinking at a bigger scale.
Bigger than individuals.
What kind of group or groups could you sell your courses or memberships into?
The Economics of Group Selling
Which sounds easier?
Selling one course to one thousand people.
or …
Selling one person one thousand seats in a course.
I'm not saying that individual sales are not important. Keep doing that.
But look at the economics.
Even if you have a "cheap" course let's say that retails for $100.
For example let's use a Sexual Harassment in the Workplace training course.
If I sell my Sexual Harassment in the Workplace training course to a HR manager at a big corporation, I just made $100,000 with ONE sale.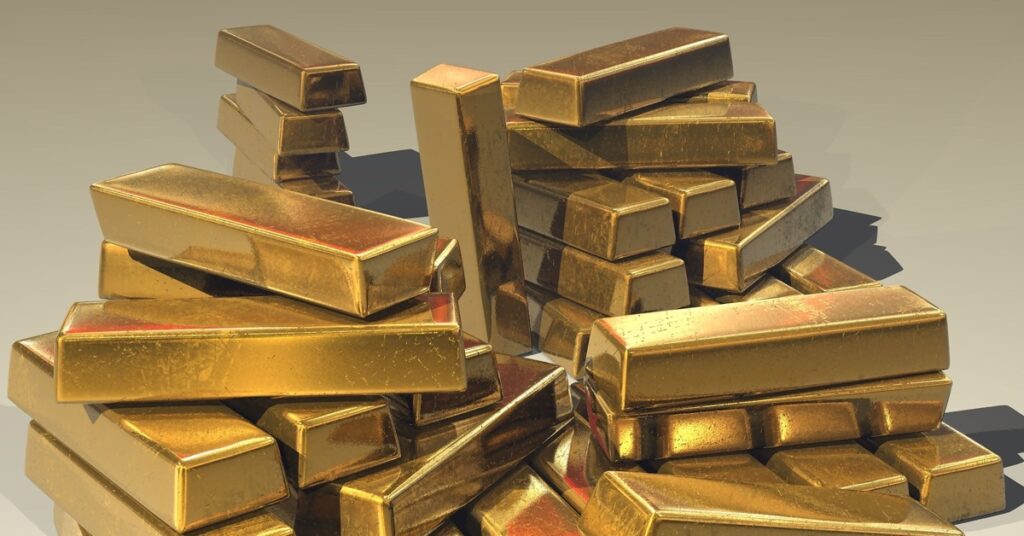 Think about the economics and efficiency of that example.
How can you get into the bulk seats game?
So How Does this Work on My WordPress Website?
First, you need to have the LifterLMS plugin installed on your website.
Second, you need to have the LifterLMS Groups add-on installed.
LifterLMS Groups 1.0 phase 1 rolled out into public beta earlier this week.
Phase 1 is about the Group experience on your WordPress LMS website.
Phase 2 of LifterLMS Groups, which is in development right now, is all about the automated ecommerce group selling piece.
Phase 3 of LifterLMS Groups is integrating our other add-ons into the Group experience where applicable. Our Social Learning add-on is an example of one we would focus on for deeper Groups integration.
You can of course still start using LifterLMS Groups add-on today! You would just want to get paid through some means like an invoice, paper check, bank transfer, or via any other ecommerce capability.
Once you have the money, you can create a group, select the number of seats you sold to the customer, and set the Group administrator so they can start inviting their people in.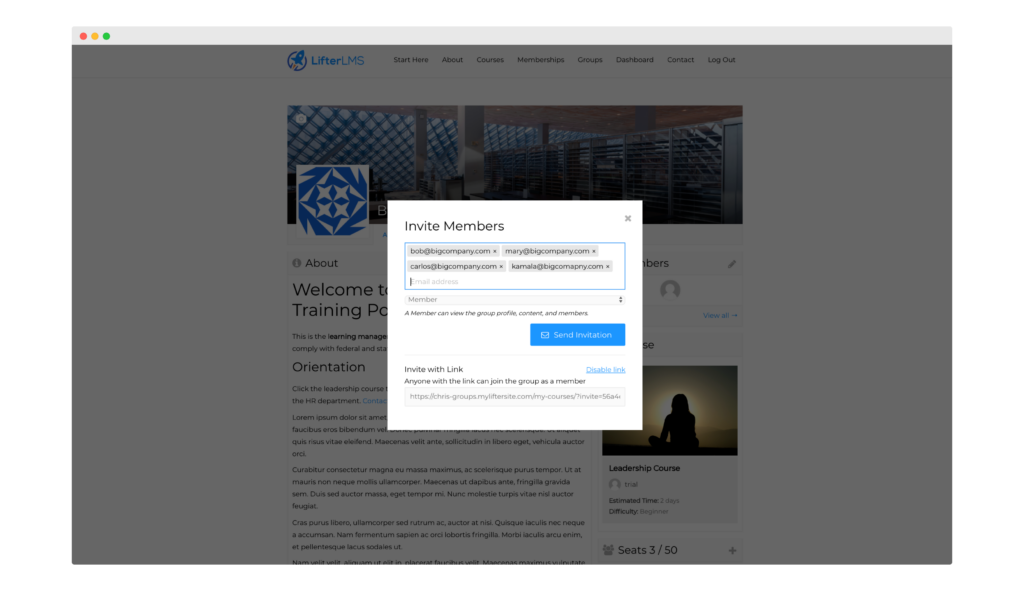 What Are the All New Group Roles?
LifterLMS Groups introduces 3 new user roles:
Group administrator
Group leader
Group member
Group admins can invite other admins, leaders, and members. Group admins can view the progress tracking and other reporting on their group members. Group admins will ultimately be able to upgrade or downgrade more or fewer seats for the group if needed.
Group leaders can invite other leaders and members. Group leaders can also view the reporting on the group members.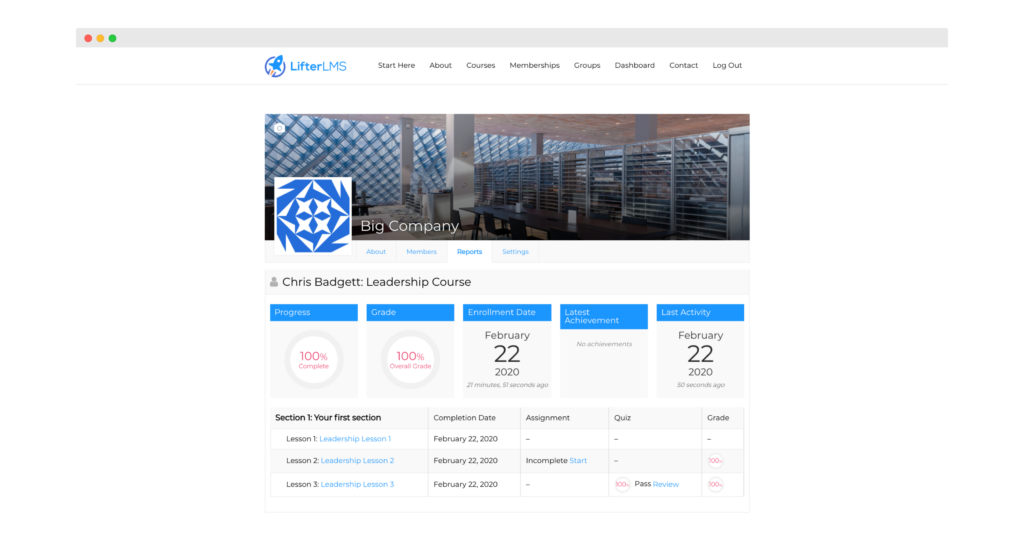 Group members can access the group page, but not invite anybody else nor view group reporting.
As an example, let's use a Forklift Safety Training Course that is sold into companies that use forklifts in their warehouses. The CEO of the company may buy 200 seats in your Forklift Safety Training Course. She would be a Group Admin role. But she is going to delegate the training management to her head of HR. The head of HR would be invited as a Group leader. The Head of HR would then do the work to invite the 200 employees into the certification course and manage their progress.
The Top 5 Benefits of LifterLMS Groups
Benefit #1: You can offer training at scale. There is a huge business and impact opportunity here.
Benefit #2: Group admins and leaders manage everything from the front end of the website. It doesn't matter if they know what WordPress is or not. The group experience is entirely on the front end of the website.
Benefit #3: The member invitation system is super easy and intuitive. People can be invited through a mass email sent by the website or by receiving a "magic link."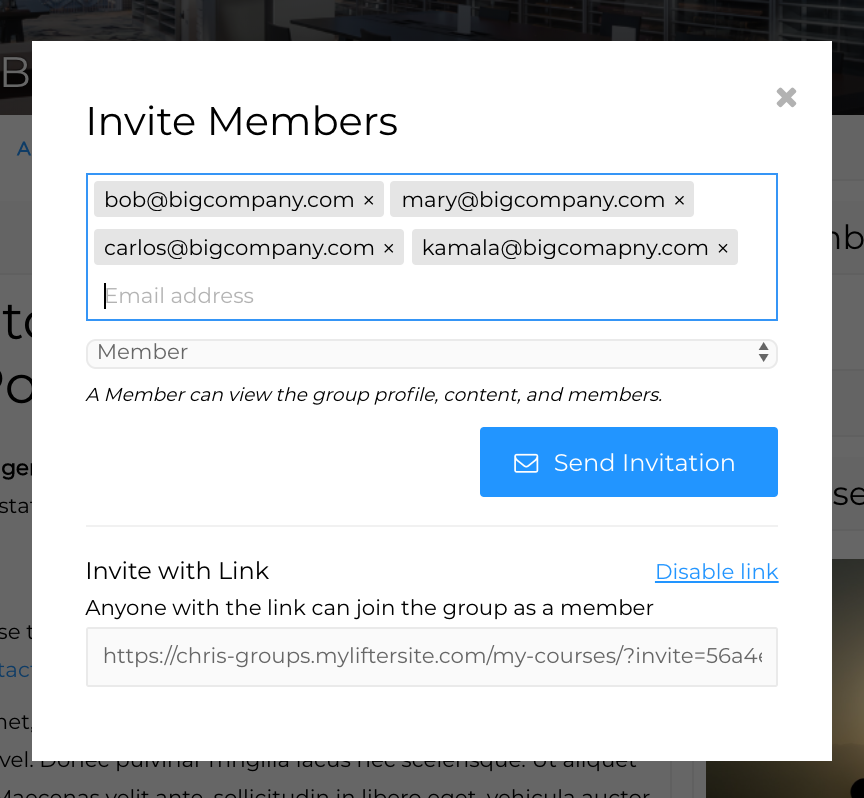 Benefit #4: You don't have to call Groups "Groups." You can call them "Teams." You can call them "Units." You can call then "Families." You can call them whatever you want. LifterLMS adapts to you, not you to it.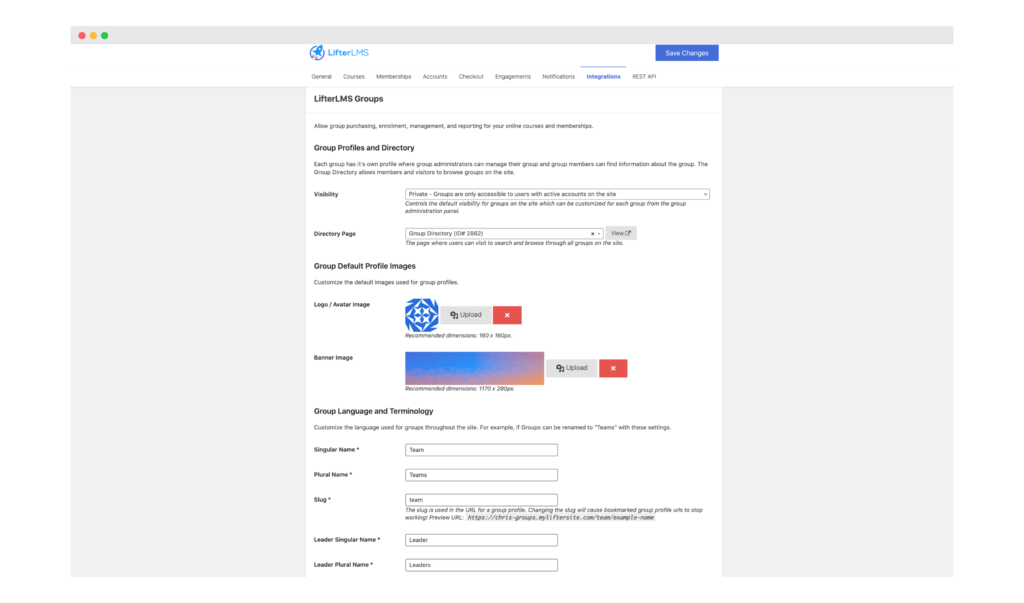 Benefit #5: Attention web developers … Group management and administration is powered by REST API endpoints. As a developer you can interact with and manage groups using API requests from your external application or software.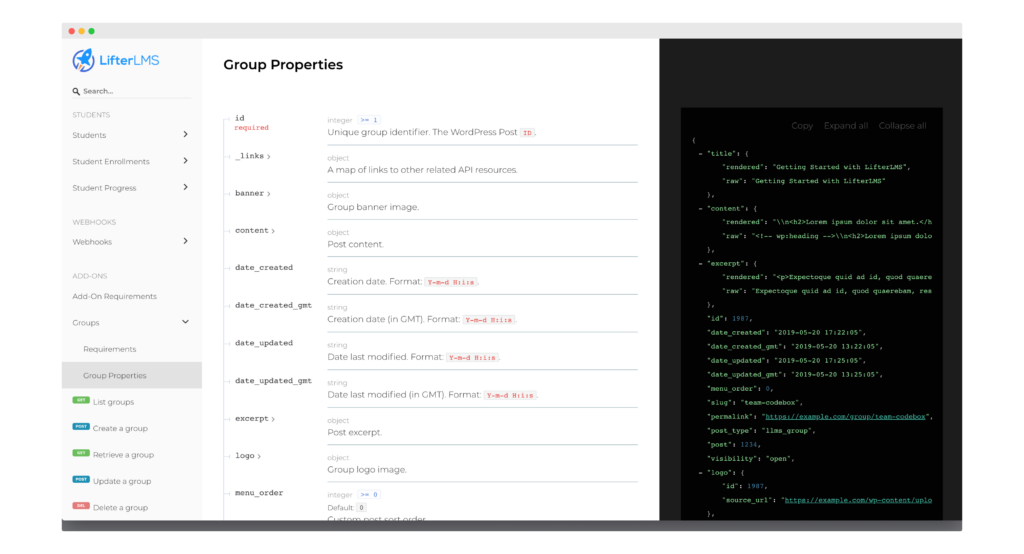 To Help Clarify Your Thinking, Let's Get on The Same Page with Our Words…
"Groups" is a big topic.
When you hear the word "Groups," what does it bring up for you in the context of learning platform design?
Here's how we communicate at LifterLMS to help make sure we're on the same page and understanding each other …
Groups – A group of people who enroll into a course or membership on your website. This involves group access, group member management, and group reporting. LifterLMS Groups fulfills this aspect of "Groups."
Social Learning – This involves the mixing of social networking (similar to concepts that Facebook has) with learning management system features. Social networking includes more advanced user profiles, user generated content timelines or "social feeds," and the ability for learners to interact with each other. If you would like social learning options, explore the LifterLMS Social Learning add-on and the LifterLMS integrated theme made by BuddyBoss.
Cohorts – This involves a group of learners moving through time together. The classic example of a cohort is like a spring and fall semester version of an in-person class. Some people create cohorts by cloning courses with the LifterLMS one click course cloning feature. There is also a tool made by Aspen Grove Studios called Course Scheduler that address the desire to have cohorts.
A Moment of Celebration …
Entrepreneurs rarely slow down to celebrate their wins.
Typically it's about moving right on to the next opportunity or problem.
Can you relate?
I'm breaking that pattern today.
I've wanted wanted Groups inside of LifterLMS since it launched to the world on October 14, 2014.
It took so long, because we build software based on the needs of the customer, and there were a lot of features and foundational infrastructure we had to get right before adding something this powerful that allows a professional WordPress powered learning management system to really scale up. Getting our robust REST API out is an example of something that had to happen first. These things take time.
We believe Groups is such a critical feature that it should be developed, maintained, and supported by the company that makes the LMS. It needs to be tight and well integrated, and continuously improved.
So here we are taking a pause.
I am celebrating with you the community of WordPress LMS website builders, course builders, and training based membership site entrepreneurs.
I am celebrating with the very talented LifterLMS team that makes the magic happen with you.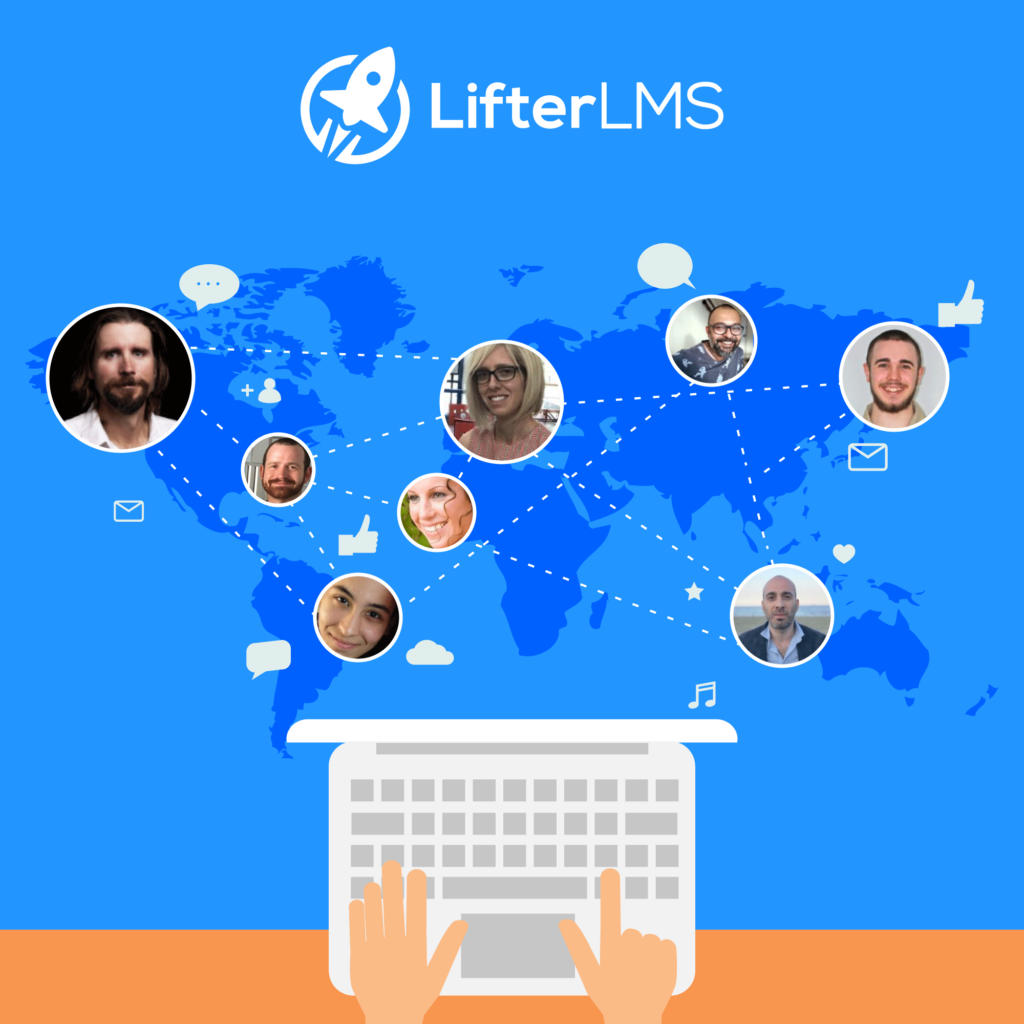 We did it.
Groups is born.
Here's What I'd Like You to Do Next …
Consider offering your training into groups if that's not already on the table.
Invest in LifterLMS Groups by getting a license for the add-on or gain access to it through the Infinity Bundle. If you would like to upgrade into the Infinity Bundle from another product, here's how to upgrade.
This is a unique point in time in the early days of LifterLMS Groups. When you use it we want your feedback. You can help guide the product by submitting feature requests here.
Your voice matters to us.
"I can't wait to see what you build with LifterLMS Groups and how you leverage groups to impact your business and the world in a bigger way."

Chris Badgett, LifterLMS CEO