In the WordPress arena overall, Learning Management Systems with course builders other than SCORM authors are well regarded. With the new methods and tools for course building, does WordPress Support SCORM? At LifterLMS, we think it's awesome. In fact, being a big fish in the eLearning pond and providing excellent service for Agencies, Freelancers, and Course Builders alike is our bread and butter. However, there is another pond… a pond full of SCORM users, dependent upon SCORM Cloud to test their learning content.
This other pond (a large pond) is also part of the eLearning ecosystem. Many in this pond have a background in corporate eLearning from an early inception or have been indoctrinated into a situation where their company has been utilizing a proprietary, custom, or very expensive Learning Management System in order to run — SCORM. They may also test their eLearning content in SCORM Cloud prior to uploading to their site or use SCORM Cloud to help diagnose the issue when the upload fails.
What is SCORM?
The biggest benefit of SCORM is interoperability.

SCORM.com
This is a great question. SCORM is a file format and grouping of content to be interactive, and have the ability to perform functions. A SCORM content course can display animation, give the user a "Pick Your Path" learning experience, provide quizzing within the course or lesson, and forward reporting for the results. There are currently four versions of SCORM that are supported.
SCORM 1.2
SCORM 2004 2nd Edition
SCORM 2004 3rd Edition
SCORM 2004 4th Edition
By default, participants in this pond may have a feeling that their SCORM Packages require special sites, other than WordPress, to display their products properly. For a deeper dive into SCORM, I would recommend this site.
The people in this pond will be using eLearning authoring tools like – iSpring, Articulate 360, Storyline II, Captivate, Rise, and others. You may remember our recent post on H5P. H5P is a great workaround to create similar outputs, in WordPress, without the large capital investment these other tools can cost. Any of these tools can output a SCORM Package that is then uploaded either to the site or to SCORM Cloud for troubleshooting.
For example, if you were to load the package to SCORM Cloud and receive a javascript error, that may be a sign that you incorrectly chose some export options in your course authoring tool.
There is also a tendency by people in this pond to assume that WordPress is not an option for them. They'll say "Yeah, that's a great site but it wouldn't work for me. I create my learning in SCORM". The conversation is similar to Architects and Earthship Builders… they both build really cool houses but assume there is no alignment in their methods. But there is.
Does WordPress Support SCORM?
Now that we've taken a look at what SCORM is and platforms you can use to export SCORM content, does WordPress support SCORM?… Yes! You Can Run SCORM Packages in LifterLMS on WordPress! Here is some great news, and news we want to promote as much as possible. That big huge pond of eLearning professionals does not need an overpriced hosting solution. They do not need a web-development team to build and maintain a proprietary site, or individually licensed course authoring tools that run thousands of dollars per year. They just need LifterLMS and a couple of third-party Plugins to join the party over with the WordPress folks.
How Do I Add SCORM to WordPress?
So You Want to Display SCORM in LifterLMS on WordPress. Let's get started! The first thing you will want to do is add LifterLMS to your WordPress site. If you are new to WordPress or LifterLMS, we have some great resources as well as an Academy to get you up to speed quickly.
Now let's add a great third-party tool to our plugin list – Grassblade. With full disclosure, there are other ways to get SCORM material to display on your site. After all, it is the Open Source nature of WordPress that lends itself to flexibility. However, for the purpose of consistency, quality, and the ability to also add in their sister reporting feature… Grassblade is our go-to recommendation.
The method that I use to direct clients in this path may seem backward to some, but I have found that it adds clarity to go in this order.
Steps to Set Up SCORM in WordPress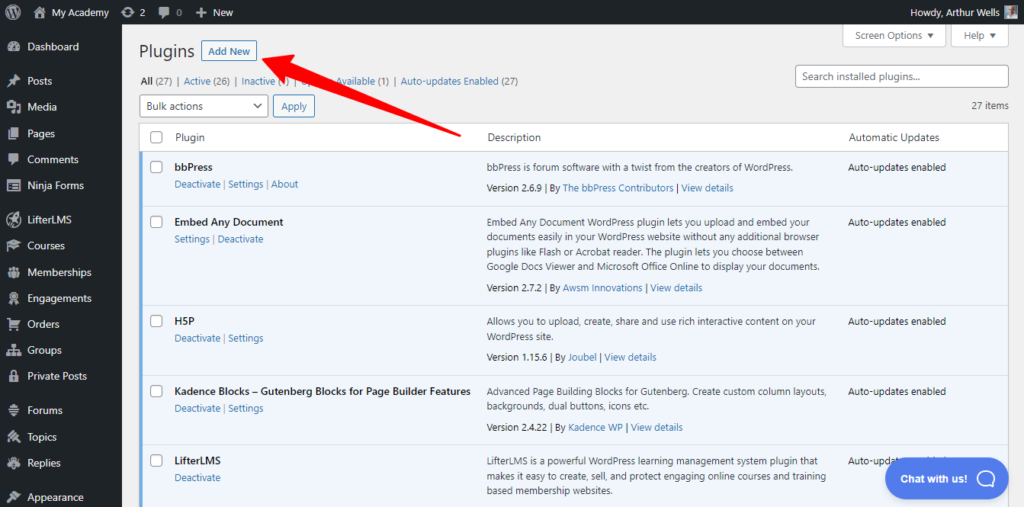 Go to the Plugins Menu on your site and "Add New"
---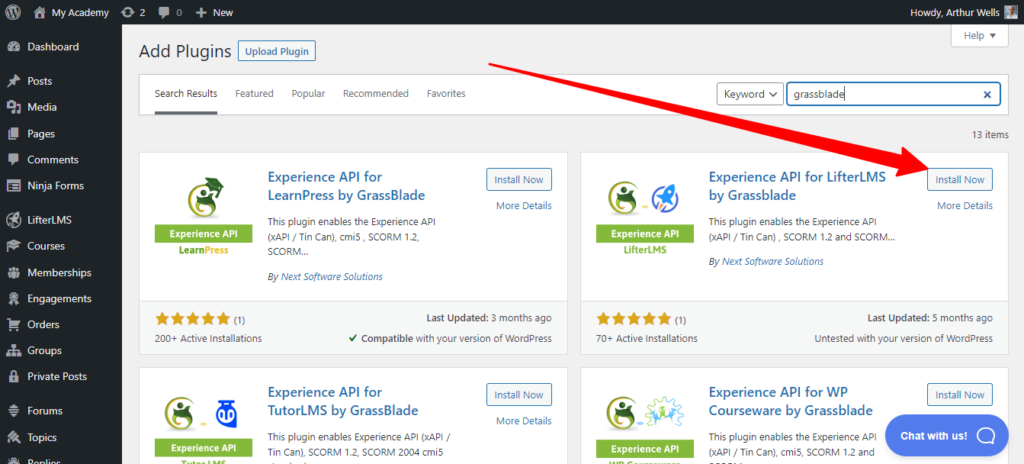 2. Search for Grassblade. Now, Grassblade itself is not in the WordPress repository so what you will see is the Experience API for LifterLMS by Grassblade. Select this.
---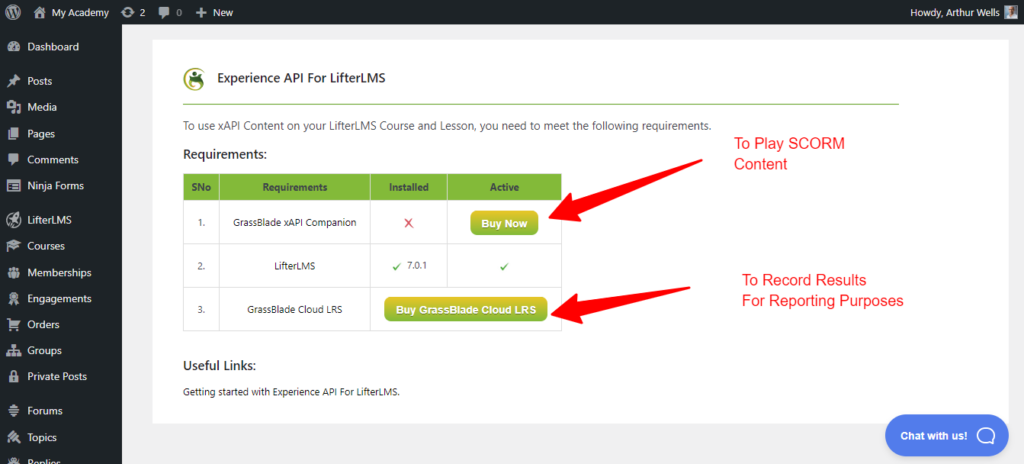 3. Install and Activate the plugin and when you open the notification, the dialogue box will tell you what you need to purchase from the Grassblade site.
---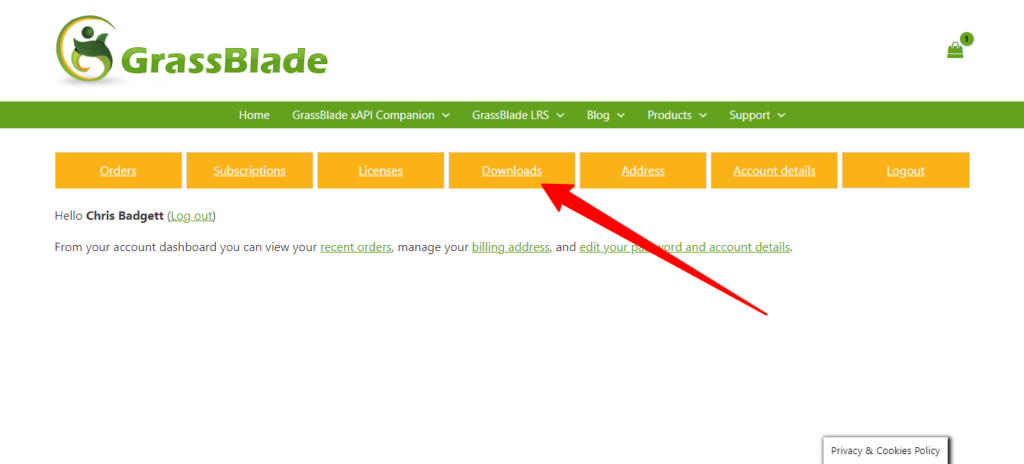 4. Once you assign yourself an account and purchase your Plugin(s), you can go to "My Account" and access your downloads. Download the ZIP files.
---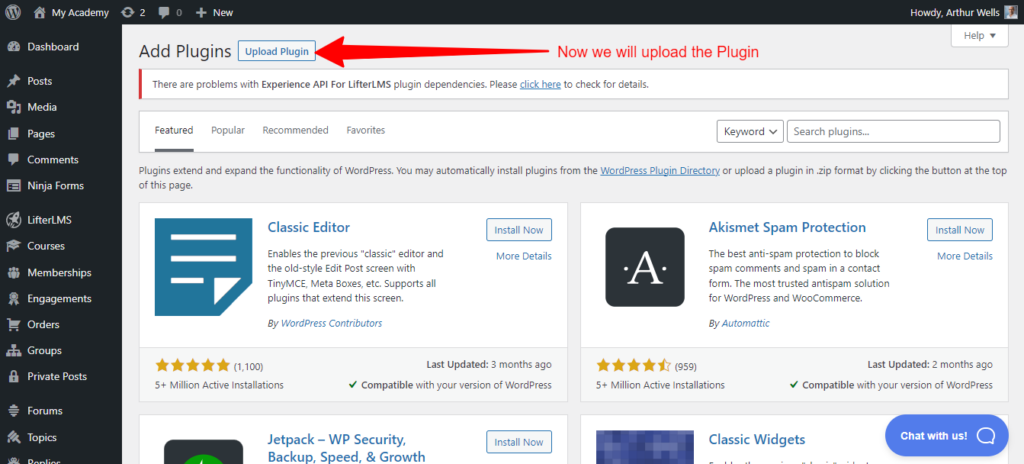 5. Return to the Plugins Menu on your site again. This time, in the Add Plugins screen you will select "Upload Plugin".
---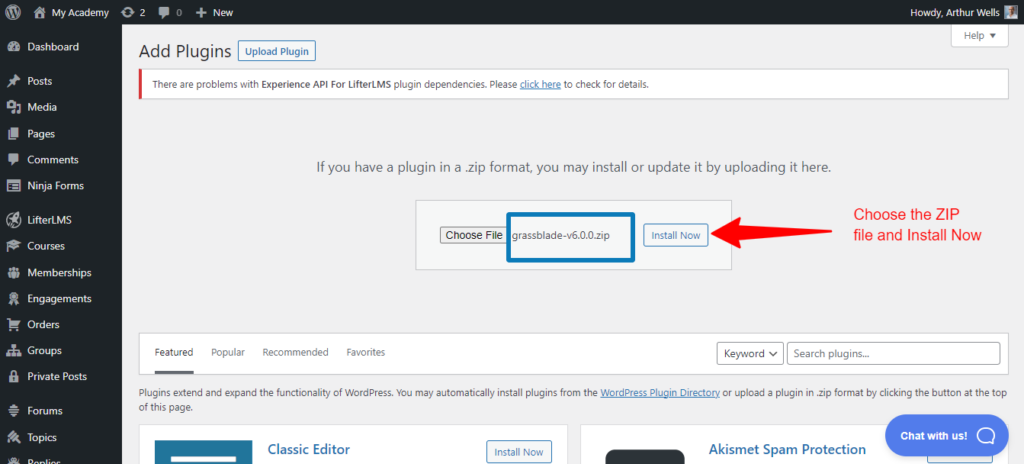 6. A dialogue box will appear that allows you to select the ZIP file you previously downloaded from your Grassblade account and select "Install Now". When it installs, you then select "Activate".
---
After going through your settings and inputting your license information, you will now be able to upload complete SCORM Packages and have them operate within your site. You will be able to embed these SCORM files throughout your lessons and courses, and if you prefer to use LifterLMS for quizzing and testing… you would not require the LRS
How Do I Embed SCORM in WordPress?
Earlier, I had mentioned the expense that corporate learning providers had endured to get this far. We have heard of specific cases of OEM Distributors in Powersports and Automotive industries paying upwards of $400,000.00 annually to host and manage their online training content. That does not include the cost and investment to create the learning or originate content.
Other non-WordPress examples of SCORM-centered LMSs can run tens of thousands of dollars, past 6-figures annually. Many of these options operate on a licensing plan that meters the access of students and charges the client for "Monthly Active Users".
With LifterLMS You Have Unlimited Users.
Let's Take a Look Inside
Once installed and activated, we can open the Grassblade menu in the dashboard and start checking things out. Here you will see Settings, Event Tracking, Integrations, and a couple of menus that will work if you choose to install the LRS – Learning Records Store.
There are options to modify the Notification messages. You can adjust the display size of your player in the Main Settings menu and you can also select the events you want to track as your users move through your content. You can even use the settings to adjust the colors and interface for your content to be displayed in.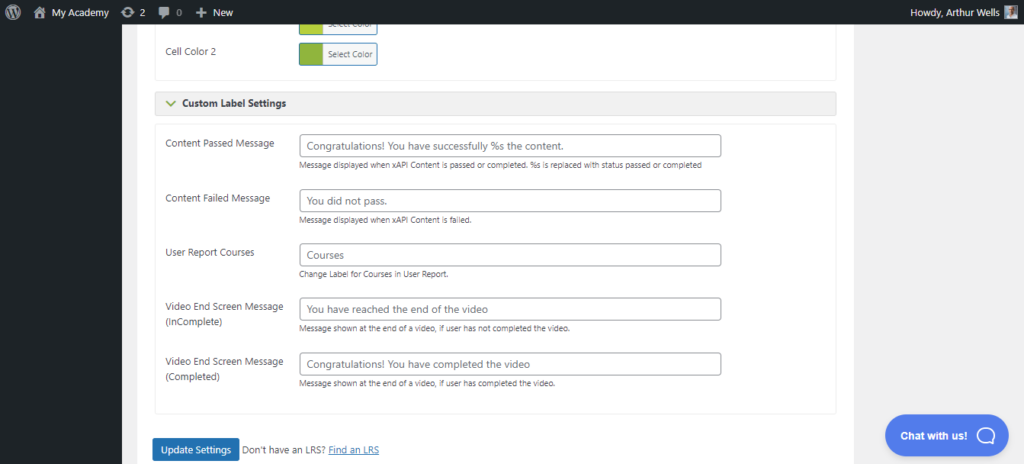 How Do I Upload SCORM to My Website?
Remember the site I mentioned earlier – SCORM.com? They have sample SCORM packages you can use to test your platform. You can also upload SCORM packages to their site to test them before loading them to your own site. This is a great tool for those "other pond folks" as they have to sometimes troubleshoot their proprietary site with limited support.
I am going to download a sample course and load it up to our working WordPress example here.
Next, I will access the xAPI Content plugin menu, to add our content. It looks similar to a blog post entry, where you fill in the Title, and additional content you'd like in support of your uploaded content, then upload your SCORM ZIP file. (note your file size against your file upload limits)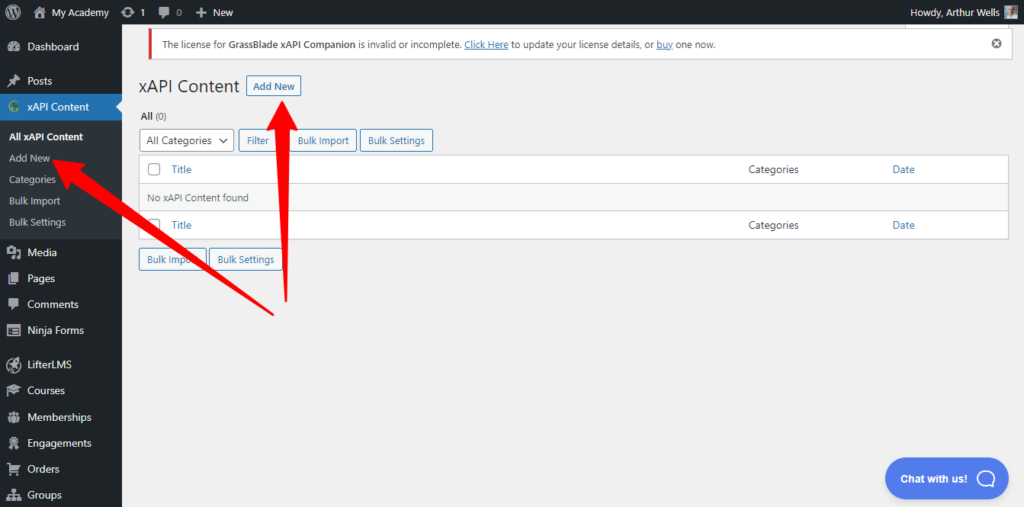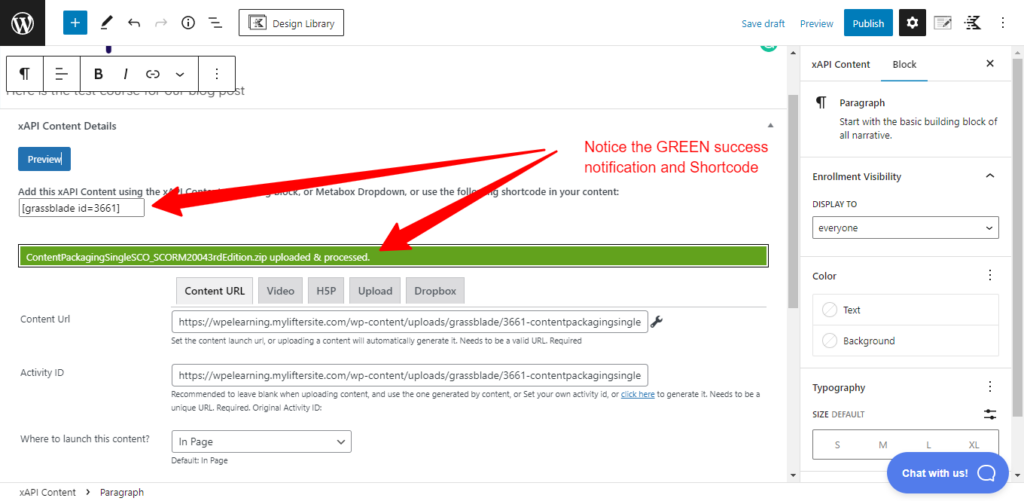 From here we can hit publish and view our content.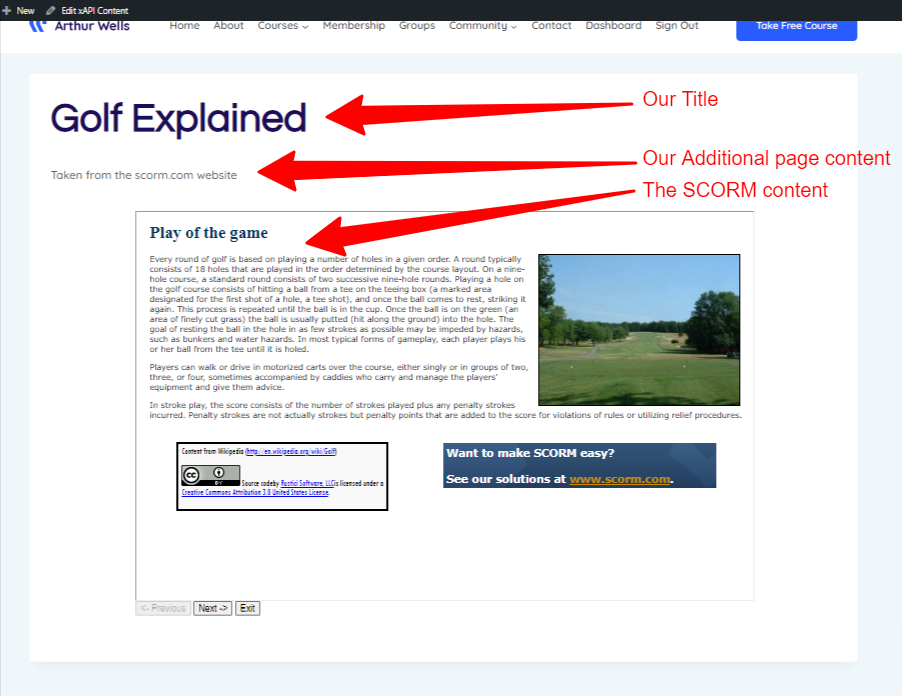 Can I Use WordPress as an LMS?
Now that we've covered questions such as "Does WordPress Support SCORM?" and "How Do I Embed SCORM in WordPress?", Can we really use WordPress as a platform to deliver a full LMS solution to bring it all together?
You can absolutely display your existing SCORM packages within the WordPress ecosystem using just the Free Core LifterLMS Plugin and the tool from Grassblade. You can also bypass depending on SCORM Cloud as you have direct control over your WordPress website for testing. In many corporate examples of eLearning, this solution will crush that departmental budget you've been giving away to overpriced vendors.
Imagine replacing that dated, clunky, custom learning website with something that is modern, user-friendly, and affordable.
Which LMS Is Best for WordPress?
If you like the sound of that, but have additional needs like Marketing, Selling, and bringing in a Social aspect to your training presentation… LifterLMS is still the right choice. Our Bundles and single Add-Ons allow the course creator to provide the perfect platform for their community.
If you already have an LMS that's established on another platform: LearnDash LMS, Sensei LMS, WP Courseware LMS, Tutor LMS, or MasterStudy LMS – there are available options for you to display SCORM by visiting the integration page at Grassblade.