Getting Started with LifterLMS Notifications
LifterLMS notifications are either email, basic "pop-up", or SMS (text messaging)  messages that happen when a certain event happens in your LifterLMS powered site.
Notifications can go to course authors, students, and others.
The LifterLMS notifications system is part of the free core LifterLMS plugin
Notifications of all types have stock messages, with personalized data merged in, and these messages can be modified from the defaults.
Navigate to the LifterLMS Notifications area in WordPress > LifterLMS > Settings > Notifications
These are the engagement types:
Course Complete
Course Track Complete
Enrollment
Gateway: Manual – Payment Due
Lesson Complete
Payment Retry Scheduled
Purchase Receipt
Quiz Failed
Quiz Passed
Section Complete
Student Welcome
Subscription Cancellation Notice
Upcoming Payment Reminder
To customize the default notification content, click the "Basic", "Email," or "SMS" links in the configure column.
Note that SMS (text messaging) notifications are only available if you have the LifterLMS Twilio add-on.
Some basic notifications (like course enrollment, lesson completion, and more) allow you to upload a custom icon to be displayed next to the image.
To upload a custom image, navigate to the notification settings and click "Basic" for the notification you'd like to customize.
From here you can use the "Upload" button to upload a new image to your media library for use as the notification's icon.
You can also disable the icon completely by checking the "Disable Icon" checkbox.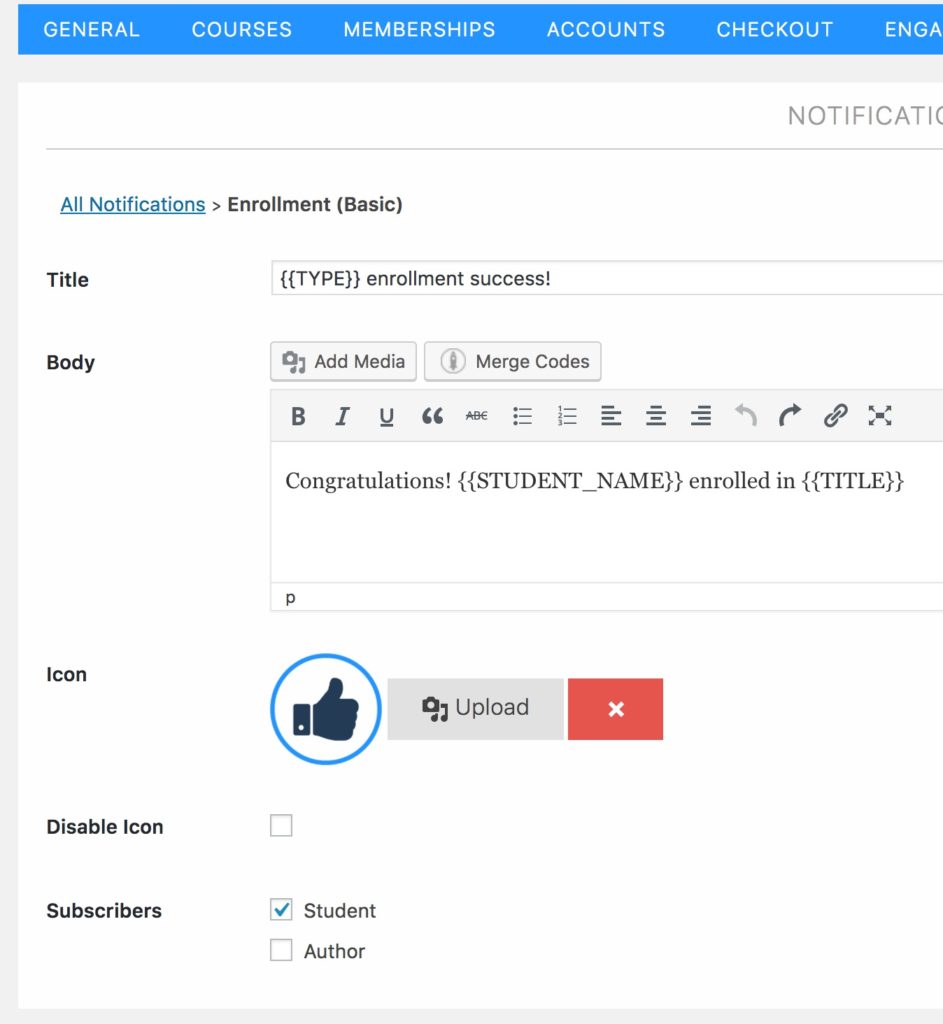 Check out this blog post with more info and screenshots about the LifterLMS Notification system.