Introducing LifterLMS WooCommerce 2.0 …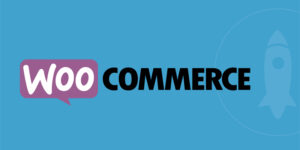 Say hello to the most powerful WordPress based learning management system (LMS) that integrates with WooCommerce:
LifterLMS.
LifterLMS has always had integration capabilities with WooCommerce, but the all new LifterLMS WooCommerce 2.0 makes the best WordPress LMS and the most powerful WordPress ecommerce system even more powerful together.
Who Uses LifterLMS and WooCommerce Together?
There are many types of people, businesses, schools, and organizations who combine traditional ecommerce with online courses and memberships.
Here are some of them:
Online stores that sell physical products, other digital products, courses, and/or memberships
Entrepreneurs, coaches, and consultants that offer services, products, events, in-person classes, online courses, coaching, and/or memberships
Universities, schools, continuing education businesses, and learning companies
Others who already have a WooCommerce powered store up and running
Explore the Top 9 New Features and Benefits of LifterLMS WooCommerce 2.0 …
1) Instead of relating courses and memberships to WooCommerce products, you can now relate access plans to WooCommerce products (and product variations!).
The LifterLMS access plan system revolutionized what was previously possible in WordPress when it was introduced 3 years ago.
LifterLMS access plans bring together all the needs of LMS, enrollment, ecommerce, membership, and content protection into one place. In the old days, people would string together many different plugins made by many different companies to make this intersection of functionality happen.
Now with LifterLMS, it's never been easier to associate an access plan to your course or membership with WooCommerce products for sale.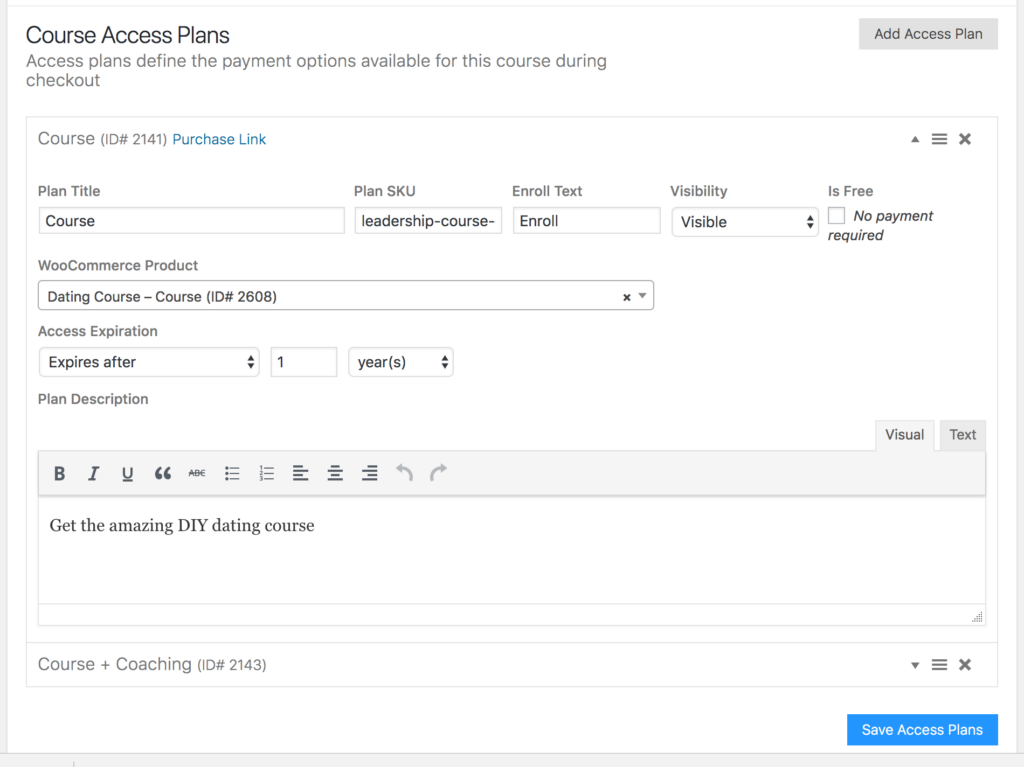 2) Course and membership pricing tables will now look like native LifterLMS pricing tables, except pricing information will be pulled from the WooCommerce product. The buy now buttons will link into the WooCommerce checkout flow.
We got a lot of feedback that people preferred the native LifterLMS pricing tables to a simple WooCommerce add to cart button, so we made it happen.
Keep in mind that your website visitors can enter a buying flow from the LifterLMS course or membership catalog …
AND/OR
the WooCommerce shop catalog.
It's up to you how you want to shape the shopping and buying experience on your website with LifterLMS and WooCommerce.



3) It's now possible to create one-time payment products which EXPIRE by utilizing access plan expiration functionality!
Not every course or membership is meant for lifetime access.
Create access plans that expire on specific dates or after a certain amount of time passes.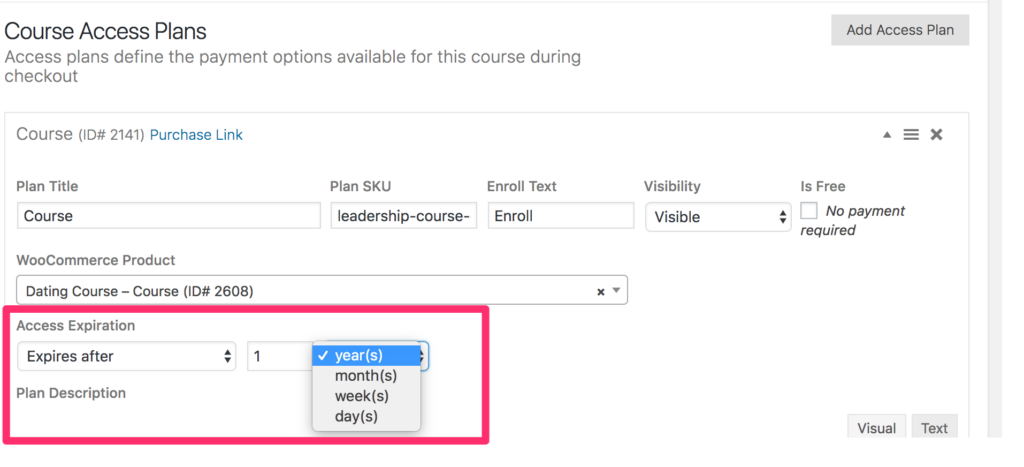 4) You can now use FREE access plans which will move students through the native "free enrollment" checkout process provided by the LifterLMS core instead of having to create a $0.00 WooCommerce product. This allows a free "checkout" to feel like a simple opt-in enrollment rather than a "checkout." It is still also possible to do things the old way and link an access plan to a $0.00 product if you prefer that user experience.
Free courses are often used to demonstrate the quality and the results-getting capability of your training. It's like a "free sample" of your training. As we like to say at LifterLMS…
"The best marketing is a great course."



5) All of the above is also possible with subscription products (and subscription variations) when using WooCommerce Subscriptions. You will still need the WooCommerce Subscriptions plugin if you choose to sell LifterLMS courses and/or memberships via WooCommerce and require any kind of recurring payments.
Also keep in mind that if you use Woo Subscriptions with WooCommerce, enrollment status can track with subscription status.
As an example, you could have a monthly payment to a membership site with lots of courses and group coaching calls that's running forever where if a recurring payment fails or is cancelled, access to the course or membership would be revoked automatically.



6) Members Only product functionality has been re-worked and extended to product variations.
A "membership" in LifterLMS is helpful for offering course bundles or even access to everything the website has to offer through one transaction.
With LifterLMS memberships you can offer other benefits, like access to other content or areas of the website in addition to courses.
You can also pursue other membership models, like reduced course pricing if the customer has already purchased some kind of monthly "club" membership.
For more information on course creator and membership site business models, please read this post on pricing models and this post about access models.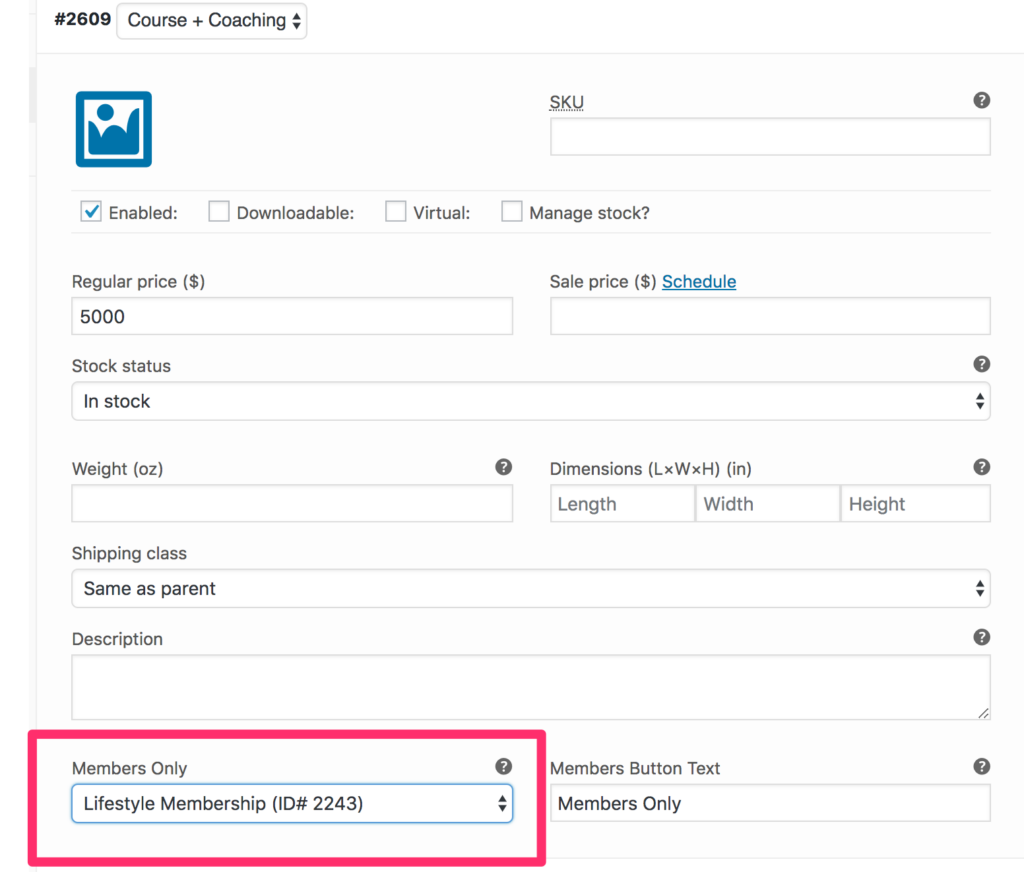 7) We added the ability to customize the language for the "Members Only" button displayed when the visitor/user doesn't meet the product restriction requirements. Each product/variation can be customized to be unique or to use the site-wide default "Members Only."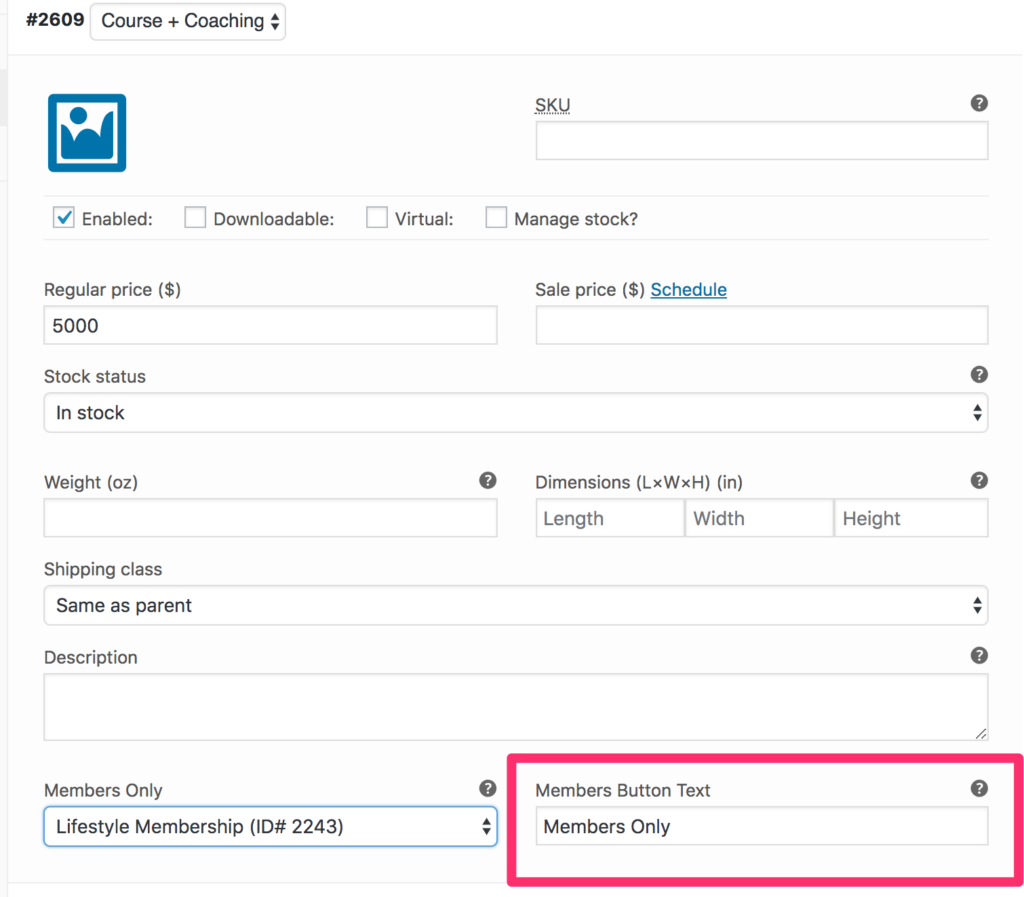 8) We added an option to redirect non students from a course or membership page to a WooCommerce product. This allows you to funnel all course or membership prospects who are not enrolled directly to the WooCommerce product pages to buy from you.
This is helpful if you primarily use the WooCommerce store and not LifterLMS pages for selling purposes.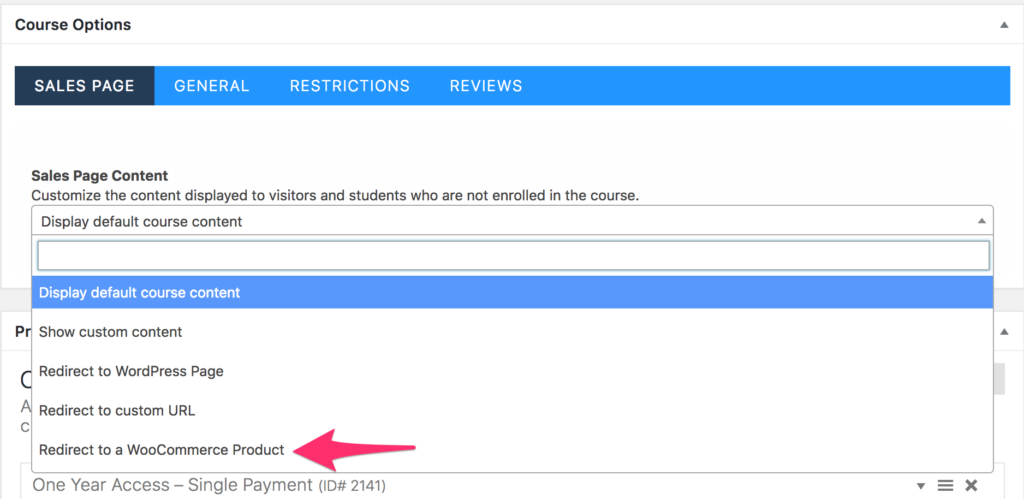 9) We added a way to return to the LifterLMS course or membership page from the associated WooCommerce product. The reality is that some people don't buy right away, so we give you the option to allow people to return to the course or membership home screens if they are just browsing your training offers.
This is helpful if you do use the LifterLMS course or membership home screens for selling purposes.


Why Use LifterLMS with WooCommerce?
LifterLMS has it's own full-featured ecommerce system for selling courses and memberships for one-time and/or recurring payments.
LifterLMS has it's own Stripe, PayPal and Authorize.Net payment gateways.
But we also offer the ability to sell LifterLMS courses and memberships through WooCommerce.
Here are the 3 main reasons to use LifterLMS with WooCommerce instead of selling through LifterLMS native ecommerce by itself:
Other Recommendations when Building a World Class WooCommerce Site…
At LifterLMS we value community on many levels.
There is our awesome user community. Some of them are on Facebook and some of them are on Slack.
There is our community of Infinity Bundle customers and power users that get together weekly to help each other out and share ideas.
And there is also a community of other great companies in our industry that can serve you, the education entrepreneur!
If you are serious about using WooCommerce and LifterLMS together, then I can't help but recommend these 3 other high quality technologies to help you build a beautiful, world class store that is optimized for sales:
Liquid Web Managed WooCommerce Hosting – Liquid Web specializes in hosting for WooCommerce-based websites. But they don't just offer fast, stable, scalable hosting. They provide tools that store owners need, like cart abandonment recovery, and so much more. Click here to explore their pricing.
Astra Theme (Pro Version) – Astra is one of the most popular themes in the LifterLMS community. It has LifterLMS specific features. It has WooCommerce-specific features. It's a no-brainer theme option to check out if you are using LifterLMS with WooCommerce. Click here to get Astra Pro.
CartFlows – CartFlows enables you to turn your WooCommerce website into a selling machine using one-click sales funnels with frictionless checkout, order bumps, upsells/downsells, and more. Click here to get CartFlows.
Here's What I'd Like You To Do Next …
If you have access to LifterLMS WooCommerce 2.0, upgrade and enjoy the new features!
If you aren't yet using LifterLMS and WooCommerce together, try it out by purchasing the LifterLMS WooCommerce add-on.
Keep in mind that you can also get access to LifterLMS WooCommerce through both the Universe Bundle and the Infinity Bundle.
WooCommerce and LifterLMS are better together.
Enjoy!