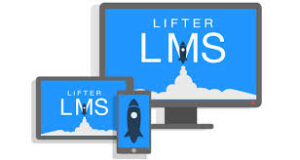 Let's give a warm welcome to LifterLMS 3.0!
Today LifterLMS 3.0 is now available for you to use and enjoy for free.
I hope to see you in today's LifterLMS 3.0 Launch Party Webinar today (October 11, 2016) at 10:30 AM (GMT-7:00) Pacific Time (US and Canada)! In the webinar we'll be going over some of the top new features, and there will be ample time for Q&A.
Update: Click play on the video below to watch the replay of the LifterLMS 3.0 Launch Party Webinar:

Now I recommend you read this whole post …
The purpose of this post is to guide you through what's new in 3.0 and guide you on how to proceed.
Besides the Launch Party Webinar, what else is going on here from a party perspective?
For the next 7 days everything we make at LifterLMS will be on sale. This discount will be available to anyone.
LifterLMS Pro members received an email with an additional discount coupon that can be used on anything over the next 7 days.
The sale and the LifterLMS Pro coupons will be valid until 11:59 p.m. Monday October, 17 Pacific Standard Time.
What are the top new features in LifterLMS 3.0?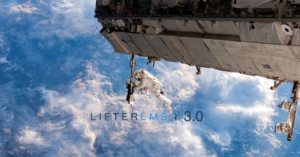 You can read about the top new features in the LifterLMS 3.0 changelog.
Some of the biggest developments in LifterLMS 3.0 were in the eCommerce and membership parts of the software.
There have also been significant design updates to LifterLMS elements to align with the latest design trends.
I'm an existing LifterLMS user, how do I upgrade to 3.0?
The best way to upgrade to LifterLMS 3.0 from a previous version is to follow the instructions in the official LifterLMS 3.0 upgrade guide.
If you would like a web developer to assist with your upgrade, we recommend these development resources.
I'm new to LifterLMS, where do I start?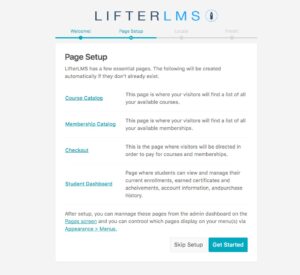 If you're new to LifterLMS, and ready to give LifterLMS 3.0 a test drive for the first time, go to the LifterLMS homepage and click on the "Download Now" button. You'll get your free copy of the LifterLMS software, and you will receive an email with everything you need to know to get going.
There is also a quick setup wizard inside the plugin that walks you through the initial set up of everything when you first install LifterLMS on your website.
I understand there were changes in the pricing model in LifterLMS 3.0. Can you explain that clearly?
The best way to understand LifterLMS pricing is to review the LifterLMS pricing table.
From a pricing perspective, three things happened with the release of LifterLMS 3.0:
The free LifterLMS became more powerful.
A few features became more expensive (the optional PayPal and WooCommerce integrations).
A new product bundle called the Universe Bundle has been introduced, which makes leveraging all the third party integration add-ons and design tools that LifterLMS offers now and in the future much cheaper.
LifterLMS is a free plugin that allows you to create, sell, and protect engaging online courses. You can download it for free at LifterLMS.com.
With LifterLMS 3.0, two integrations were moved out to premium add-ons and were given more advanced functionality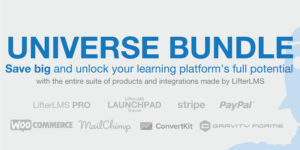 With the release of LifterLMS 3.0, the Universe Bundle rolled out. This allows users to save big by offering all the third party integrations and design tools that LifterLMS makes as one package at big savings from the products' combined retail value.
People with existing active licenses can upgrade to the Universe Bundle and get their active licenses prorated. See the next section about that.
We also launched a software scholarship program. If you need financial support because of geography based currency issues or exceptional life circumstances, click here to explain your situation and apply for a partial or full software scholarship.
I am an existing customer, can i upgrade to the Universe Bundle from my existing purchases?
Yes!
We will prorate the status of your existing active license/s.
Simply send an email through the contact form from the email address associated with your account on LifterLMS.com. Please put "Universe Bundle Upgrade" in the subject and the body of the email.
I need support. Where can I get help?
Lots of places.
Be sure to work through the entire LifterLMS demo course.
The LifterLMS documentation is a great place to go next.
Here is how to get free and premium support from the LifterLMS team.
You can also post your questions to the community in the LifterLMS VIP Facebook group. Please use the search first, because someone before you may have had a similar question that has already been resolved.
If you need more than LifterLMS product support, we have these developer recommendations available for you to explore adding new functionality or troubleshooting issues that are originating outside of the LifterLMS products.
LifterLMS 3.0 is amazing! How can I get more involved in the community?
Come join the conversation in the LifterLMS VIP Facebook group.
Become a LifterLMS affiliate today. We'd gladly pay you to help us with marketing.
Share this post with your friends.
"Thank you, and I can't wait to see what you build with LifterLMS 3.0!"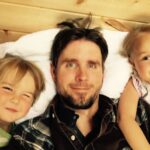 Chris Badgett, LifterLMS CEO and cofounder