LifterLMS just released new version 7.1. It's a major release that introduces new features and improvements to the platform, giving you a new look in your LifterLMS backend.
Why Choose LifterLMS?
User-Friendly: LifterLMS has a user-friendly interface that makes it simple for creating courses, memberships and many more online learning experiences.
Flexibility: It is highly flexible and can be customized to meet the needs of different types of online courses and other types of learning environments.
Integration: LifterLMS works easily with other WordPress plugins and services, making it simple to add features and functionality to your online learning platform.
Support: LifterLMS offers excellent support, documentation and tutorials, as well as the most helpful facebook community.
Download the free version of LifterLMS directly from WordPress.org. Also explore our bundles and add-ons.
Video Tutorial: LifterLMS Release 7.1: A Complete Overview of the Latest Update
New Features
1. LifterLMS Dashboard
We've added a LifterLMS "Dashboard" for a new intuitive user experience. The dashboard helps you get started, view key LMS analytics, and access reporting.
You can also create new courses, memberships, course and engagements quickly from the dashboard.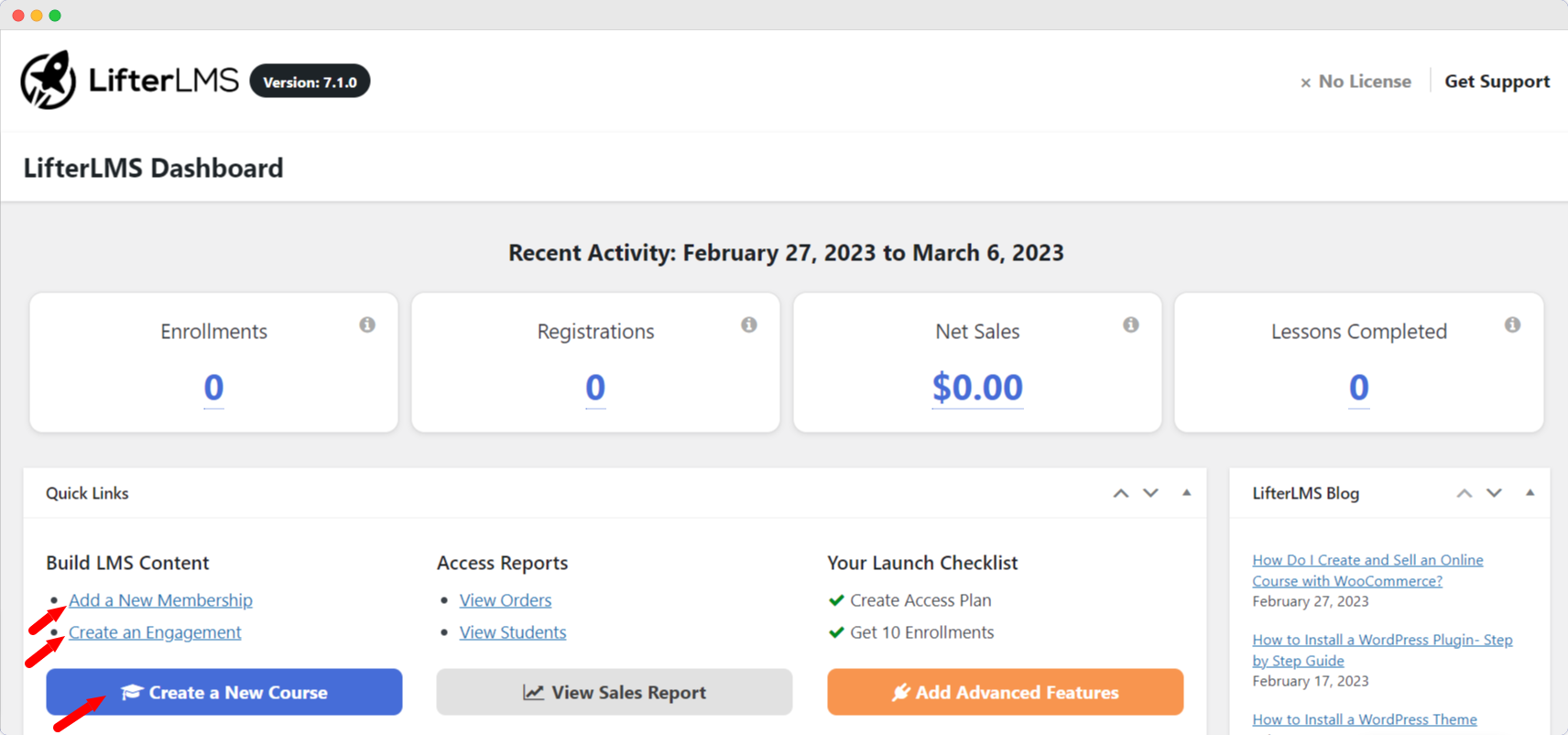 You can see the number of student enrollments, registrations, lessons completed, and sales from your Dashboard.
Also, you can view and access the latest LifterLMS blogs and podcasts directly from your dashboard.
Another great upgrade is that you can easily connect with our support team with LifterLMS 7.1. From your LifterLMS Dashboard (and now all LifterLMS pages in the WordPress admin), at the top right side, you get an option to "Get Support." When clicked, Get Support will redirect you to your account page, where you can submit a support request to get assistance from the most helpful humans on the internet.
At LifterLMS, customer support is not a cost to be minimized and outsourced. High quality customer support is a feature of the product.

Chris Badgett, LiferLMS CEO
In the new Dashboard, you can also quickly learn about our pricing, add-ons, documentation, etc. You can access everything from your Dashboard with one click.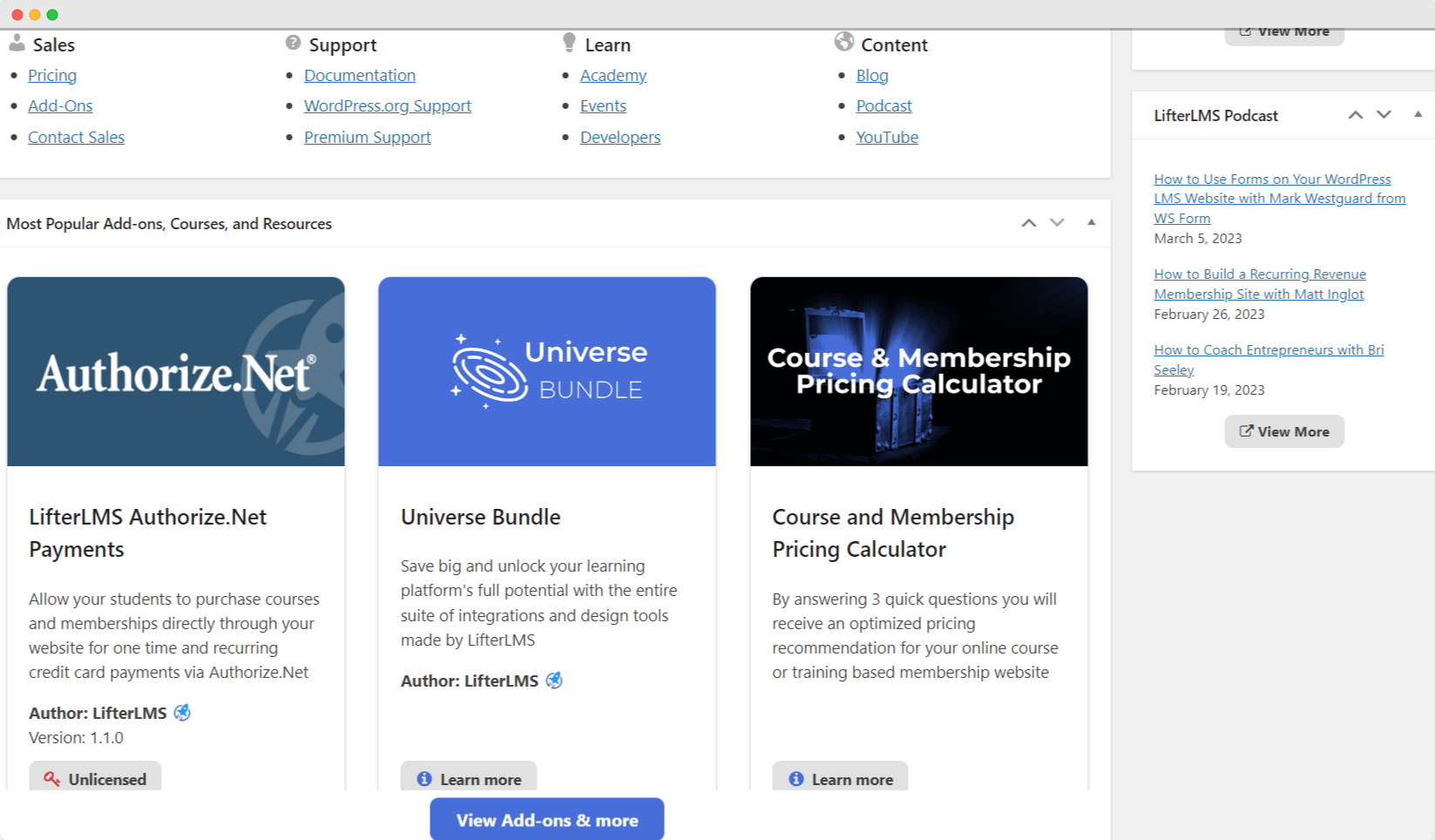 2. Lesson Count
Lesson count is a new feature on the courses page in the WordPress dashboard. Now you can see the number of lessons on specific courses.
For Example, if you click on 13 lessons, it will redirect you to the lesson page, where you can see all the lessons contained within a specific course.
Many LifterLMS users requested this, so we added it.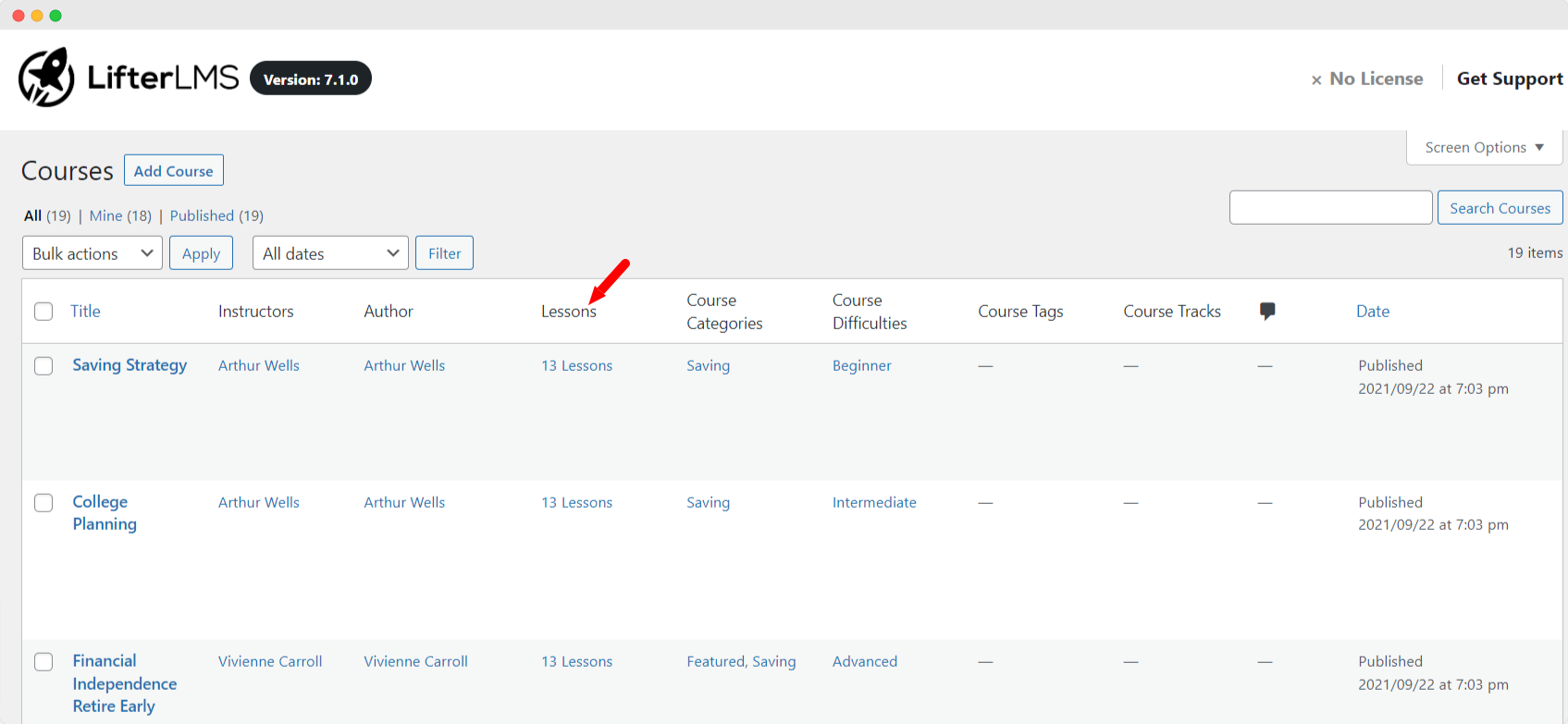 3. Builder and Quiz on Lesson
Also, you can now "launch the course builder" from any lesson. To make it even easier and more intuitive, we've also added the "Add Quiz" option on the lesson page so that you can easily create a new quiz from an individual lesson too.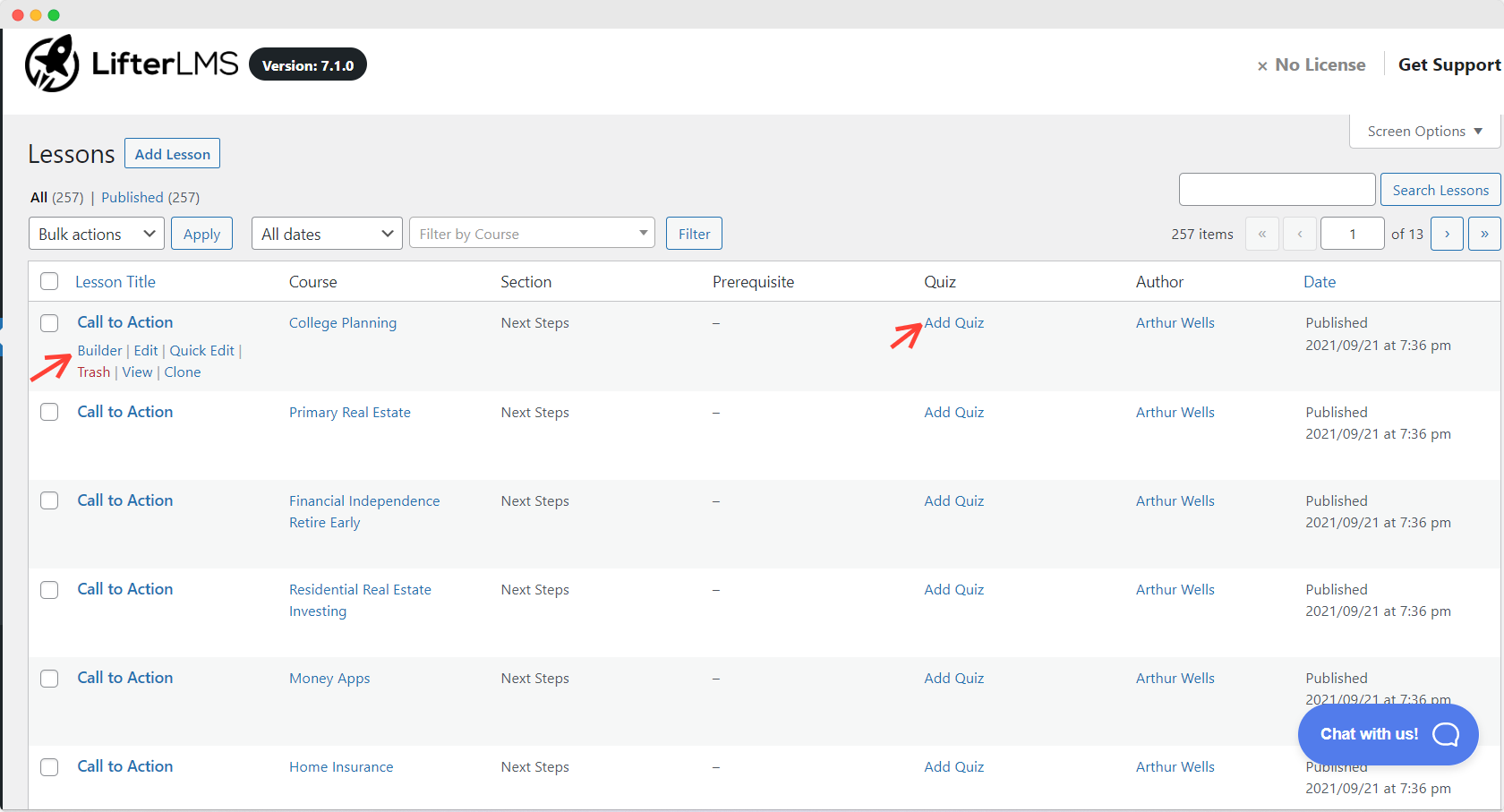 When launching the course builder from an individual lesson, it takes you to that specific lesson's settings area.
More Updates and Enhancements
Menu
With the latest version of LifterLMS, you also get the LifterLMS default menu options activated and ready to be used. Now you can easily add the default LifterLMS pages and endpoints of your choice to your website's menu.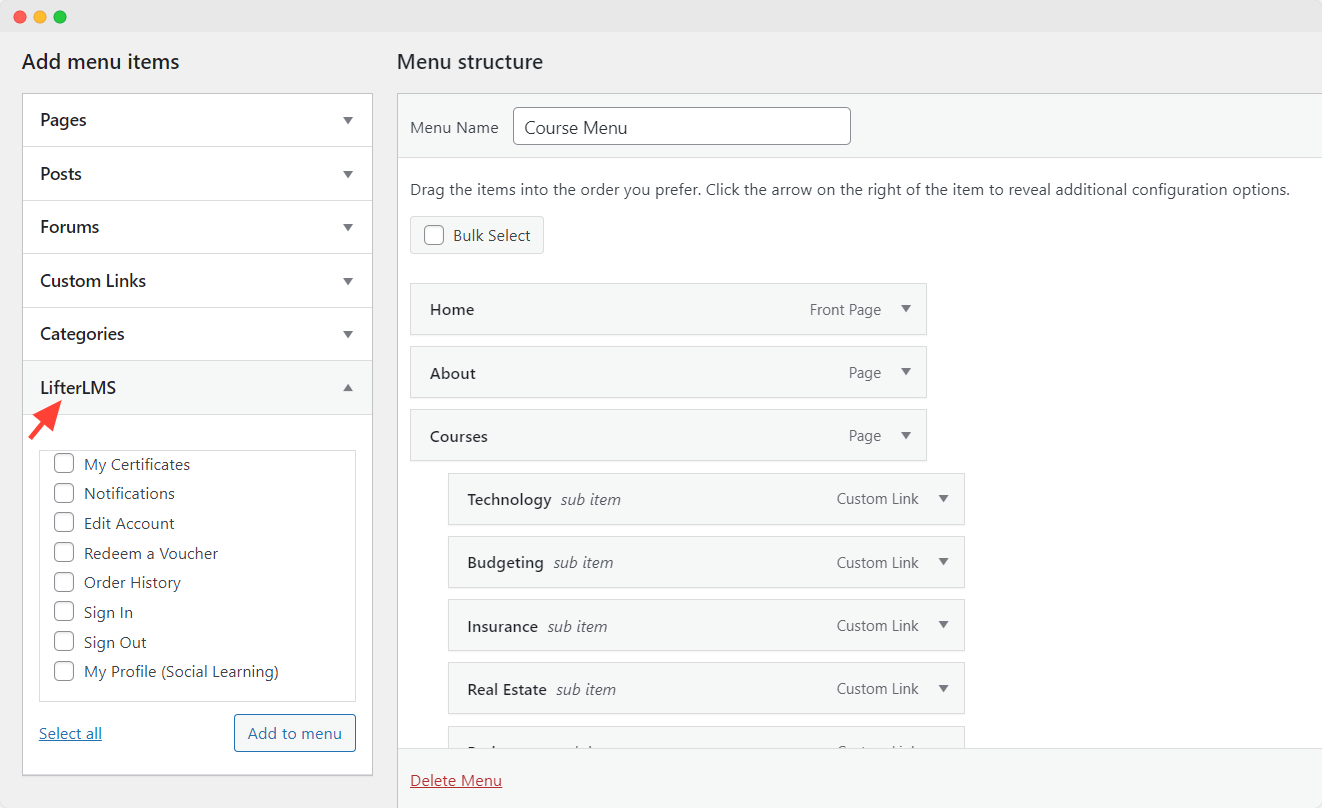 License Key Drop-down
In our LifterLMS 7.1 release, we improved the appearance and location of the license key drop-down button so you can more easily find it and easily upgrade the power of your LMS with premium LifterLMS add-ons by activating your license key.
Upgrade your LifterLMS website to 7.1 today to access this upgraded user experience.
If you're new to LifterLMS, don't forget to check out our 30 day demo site offer, where you can get every advanced feature of LifterLMS on a demo site with demo content so you can test drive LifterLMS before making the decision to purchase the software.