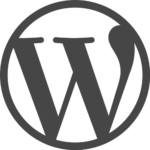 The mission of WordPress is to democratize publishing and development.
The mission of LifterLMS expands further to democratize education in the digital classroom.
LifterLMS version 3.25 just dropped for you to enjoy. WordPress 5.0 has also just arrived, along with the new editor called Gutenberg.
Welcome to the next evolution of WordPress and the modern LMS (Learning Management System) website that you own and control!
LifterLMS is WordPress 5.0 compatible and Gutenberg ready. The most current version of LifterLMS also has a lot of new features available so you can build custom course layouts with Gutenberg's "block based" system.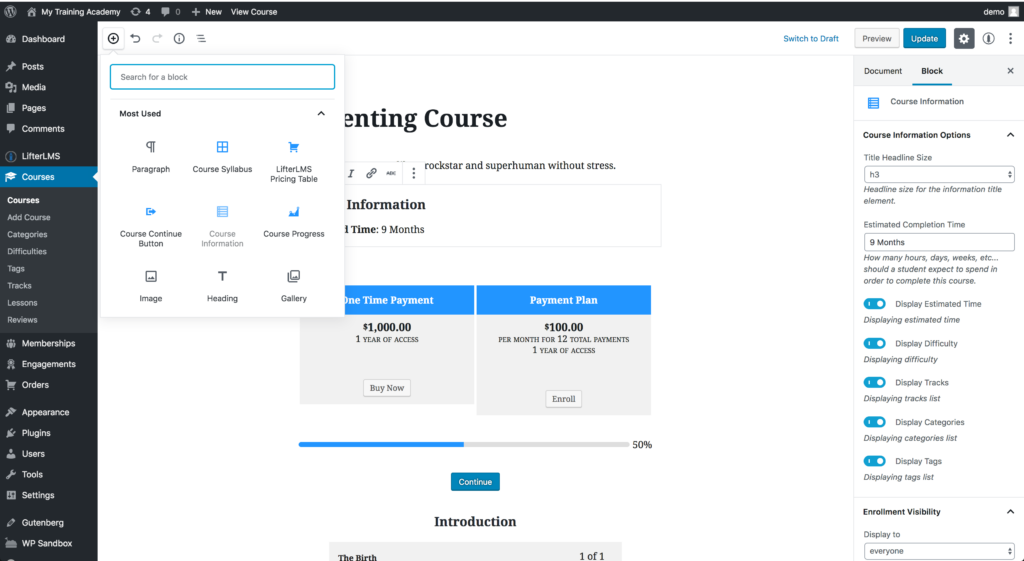 You will also continue to see new Gutenberg related features rolling out in LifterLMS as time goes on. More blocks are coming like the ones you see here: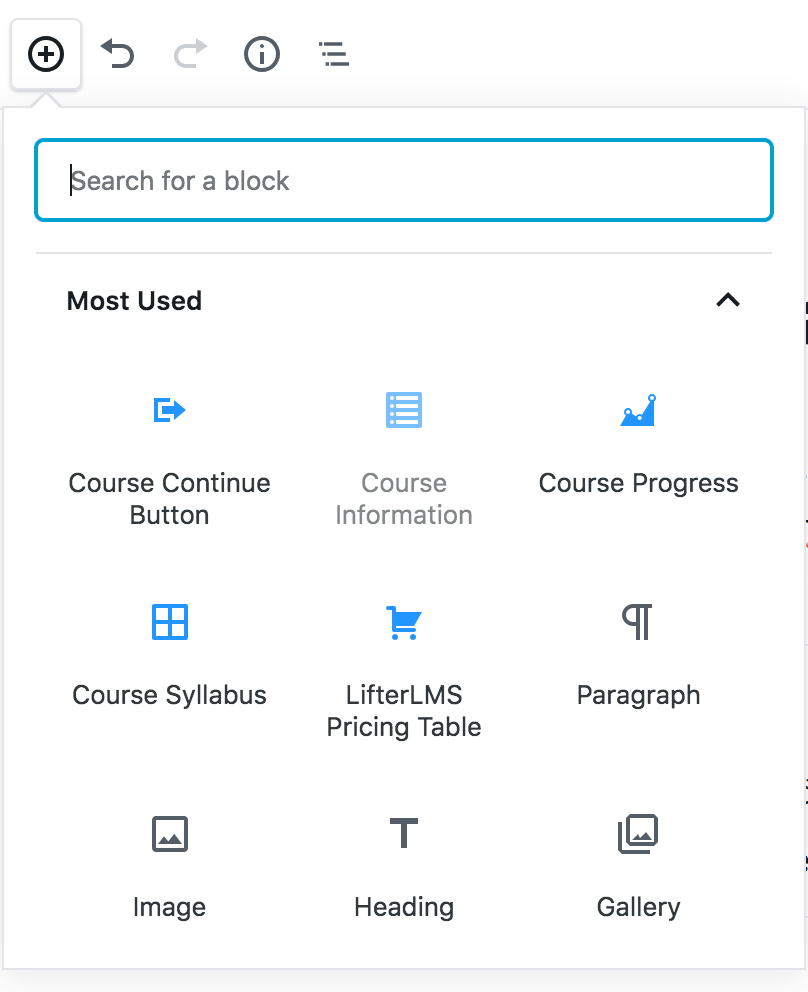 What are Gutenberg and WordPress 5.0 exactly?
In the words of Kinsta, "Gutenberg is a new take on a new editor for WordPress. It is named after Johannes Gutenberg, who invented a printing press with movable type more than 500 years ago. The current visual editor requires a lot of us to utilize shortcodes and HTML to make things work."
Thomas Levy and I from LifterLMS discussed what Gutenberg is and how it's relevant to LifterLMS users in this LMScast podcast episode below:

How does LifterLMS work with and add new features to WordPress 5.0 and Gutenberg?
The LifterLMS development team has been working on adding Gutenberg compatibility and new features for LifterLMS for months.
In this free webinar training, we demo these new features and how you can benefit:

Should I update to WordPress 5.0 right now?
It depends…
Which is more like you?
I'm an "early adopter" and like testing new software that is very new and just now made publicly available to the masses.
I'm a "non-techie, busy course creator" and prefer to let software stabilize and mature before I start using it.
I'm a "futurist but cautious WordPress power user" who wants the new WordPress 5.0, but I'm not ready to change my workflow to the new Gutenberg editor just yet.
Now that you've identified with a particular type of WordPress user group, follow these steps.
Here's what I'd like you to do next …
Step 1) Educate yourself further about Gutenberg and WordPress 5.0
You can learn about Gutenberg and WordPress 5.0 from WordPress expert instructors on the internet (who happen to use LifterLMS to power their platforms) like:
Shawn Hesketh's WP101 training website with courses taught by him and others.
Adam Presier aka WPCrafter also recently did this great interview with WordPress cofounder Matt Mullenweg on YouTube:
Step 2) Decide on your software update style and take action … or not
If you are an early adopter, go for it! Update WordPress and LifterLMS in your staging environment. Test it out. Contact LifterLMS support if you have any questions on how to use LifterLMS with Gutenberg and WordPress 5.0. If you spot an opportunity for a new feature that could make LifterLMS even more powerful with Gutenberg, please submit a feature request here.
If you are a non-techie, busy course creator, hang back and wait a couple of weeks or a month before you commit to Gutenberg and updating your website. You can always wait a while to update WordPress, your plugins, and your theme. You don't have to be on the "bleeding edge" of innovation.
If you are a futurist but cautious WordPress power user, go ahead and update to WordPress 5.0 after testing everything in your staging environment, but have the free WordPress Classic Editor plugin installed and activated first. This will allow you to get all the new 5.0 updates, but have the new Gutenberg editor off by default. It also has an option to let you choose to use Gutenberg on a case by case basis. WordPress has committed to maintaining the classic editor in this way until 2022!
Step 3) Consider giving back to the WordPress community by helping others with the transition to WordPress 5.0
WordPress is a community.
Part of that community functions as a support system for each other.
If you see someone struggling to understand what this is all about, please consider helping them.  As an example you could lend a hand in the official LifterLMS facebook group by simply answering someone's question.
If you need help, that's okay, too. You can ask for help in the LifterLMS Facebook group, Slack community, WordPress community forums, submit a support ticket to the LifterLMS developers, or come to the next live, screen-sharing Office Hours Mastermind call.
Welcome to WordPress 5.0, LifterLMS 3.25, and beyond!
Together let's build the most engaging learning programs on the internet.
Onwards…