When people ask me why most online course projects fail, I have a simple answer.
Most online courses, learning managements systems and membership site projects fail because people spend too much time focusing on the wrong things.
Teaching and marketing are more important than mastering the software tools
It's ironic coming from me as the CEO of LifterLMS software, but please hear me when I say:

"The LMS software is the least valuable part of building a learning platform online. Your ability to teach to real world results and communicate effectively about your offer are the most important uses of your time."
Of course you need the right tools. You need to wrap your course in technology. But the biggest value comes from your teaching and communication abilities.
What you can learn from the world of climbing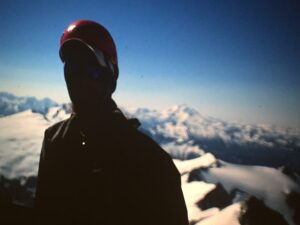 I've spent a lot of my life living outdoors, hiking, climbing, running sled dogs, and exploring the remote corners of the earth.
There was a time in my life when I used to do a lot of climbing and mountaineering.
I remember one time I was climbing the north face of Mount Baker in the North Cascades. This involved hiking several miles through the forest, scrambling over rocks, and traversing a glacier to the base of the climb. It was tough to pull off in a single day, so we spent a night on the ridge below the final steep part of the climb.
My climbing partner and I were intentionally traveling light. We didn't even bring a tent or sleeping bag. We just slept on the ice under the stars in our down jackets with our legs stuffed in our backpacks. We got up just before sunrise to climb the steep hanging glacier ice face while it was still frozen hard.
We summited around lunch time and descended down an easier, less steep side of the mountain.
This type of climb was not for beginners.
We were experienced.
We moved fast, light, and with keen awareness of environmental conditions.
So what does climbing fast and light have to do with online courses?
In climbing if you focus on the wrong things, you won't make it to the top, and you might encounter serious problems.
If you bring too much gear or don't have someone on your team who knows how to use the gear and guide the journey, you will never make it to the top.
The outdoors have a really raw feedback loop. It becomes clear quickly if something is working or not.
A classic beginner climber mistake is to focus too much on the gear and not actually climbing.
Someone who has way too much climbing gear and plays around with it at home is known as a 'gear head.'

What does getting to the top of the mountain mean to you as an online course creator? What does success look like for you as an education entrepreneur?
Successful online course creators launch their course. Their courses sell, and they're able to build a real business around that. They create courses that their students actually finish while delivering the promised results.
To get to the top of the mountain, it's more important to have a great course and launch it sooner rather than later. Teaching is critical.
It's important to have an understanding of how to use the course building tools, but the message is more important than the messenger. Marketing is critical.
So how do I avoid becoming an online course 'gear head?'
Learn the basics of how to use the LMS software, but launch quickly.
Know that you don't have to configure everything from scratch if you are not a 'techie.' Help is out there.
Remember you can  try LifterLMS for $1.
Please be careful not to lose out on launching your course, helping people, and generating income because you got side-tracked on becoming a do-it-yourself LMS software technician.