When you're running a complex and demanding online course website, there are a lot of processes to handle. Trying to manually master all of the administrative, marketing, and sales tasks is both time-consuming and expensive.
Fortunately, automation tools such as AutomatorWP can help. By connecting all of your WordPress plugins and tools, and integrating them with your Learning Management System (LMS), AutomatorWP lets you streamline repetitive tasks to improve your overall workflow efficiency. 
In this post, we'll briefly discuss the importance of automation in LMS platforms before introducing you to the AutomatorWP plugin. Then we'll explain the key benefits of using it in combination with LifterLMS to streamline and simplify your workflow and website. Let's get started!
The Importance of Automation in Online Learning Platforms
WordPress is a flexible Content Management System (CMS) that is ideal for creating online course websites. When used with LifterLMS, scaling, launching, and maintaining your membership or online learning site is significantly easier.
However, although LifterLMS simplifies the creation, management, and delivery of online course content, there are also a ton of administrative, marketing, and sales tasks to consider. Staying on top of all the activities happening across your WordPress website can be challenging, to say the least.
This is particularly true when the plugins and third-party tools you're using aren't integrated. Rather than waste an inordinate amount of time (and money) trying to manually handle every task, the more sensible approach is to leverage automation.
Automated tools can help boost your productivity by eliminating redundancy in your workflow. They can also help you establish a more connected environment that results in a better User Experience (UX) – not just for you, but for your students as well.
An Introduction to AutomatorWP
AutomatorWP is a powerful open-source tool you can use to connect your WordPress plugins and create automated workflows:

In a nutshell, this plugin lets you build what are called 'automations' based on your website activities, then use them to streamline processes. You can use it to add complex integrations between your plugins without any coding knowledge.
These automations use a trigger and action system. Basically, a 'trigger' refers to an activity that happens on your site, and the 'action' is what happens as a result of that trigger.
AutomatorWP lets you automate a wide range of activities and tasks on your online course website. For example, you could create an automation that automatically enrolls users in a LifterLMS course when they join a BuddyPress group.
It isn't just for one-on-one interactions, either. You can create custom automations using an unlimited number of combinations. For instance, you could configure it so users who join a BuddyPress group are not only enrolled in a LifterLMS course by default, but are also sent an introductory email as well.
AutomatorWP is an effective workflow automation solution for WordPress sites of all kinds. However, there are a handful of advantages that make it particularly useful for LMS and online course websites.
How AutomatorWP Can Benefit Your Online Learning Website (4 Ways)
Now we've covered some of what AutomatorWP is and how it works, it's time to dive into how it can help with your online learning platform. Let's take a look at some of the key ways you can benefit from using AutomatorWP for your LifterLMS powered site.
1. Save Time and Money by Automating Repetitive Tasks
The primary benefit of using AutomatorWP is that it saves you time by eliminating repetitive tasks in your workflow. Whether it's for user registration, course enrollment, email marketing, or other processes that you typically dedicate a lot of time to, you can configure automations so the plugin automatically handles them for you.
Transforming manual processes into automatic ones frees you up so you can focus your time and attention on other critical aspects of your business. Plus, thanks to the easy-to-use editor with drag-and-drop functionality, setting up these automations in AutomatorWP is simple and straightforward, even if you're not technically savvy: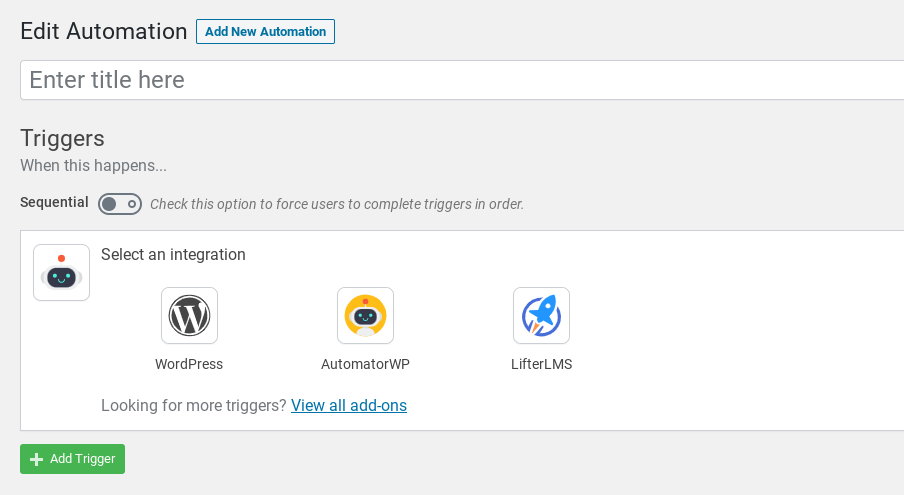 In addition to saving you time, AutomatorWP can also save you money. Not only is the basic plugin free to download and use, but it lets you connect your WordPress plugins, tools, and services in ways that might otherwise require expensive custom development solutions.
2. Enhance and Personalize the Student Experience
AutomatorWP integrates seamlessly with LifterLMS to make setting up automations for your online learning website quick and easy. Not only can combining the two let you streamline your workflow, but it can also help you deliver a better and more personalized experience to your students.
Once you have the AutomatorWP and LifterLMS plugins installed on your WordPress site, you'll also need the AutomatorWP – LifterLMS Integration:

Then you can configure triggers and actions based on the interactions users have with your LMS site. This includes:
Enrolling users in a course after purchasing a plan
Sending an email when a user enrolls in a course
Unrolling users from a course after they earn a course completion certificate
Resetting quiz attempts after a student passes a lesson
Sending a certificate when a user completes a course
Rewarding students for certain achievements or activities, such as posting in a discussion
Essentially, AutomatorWP automations enable you to put your LMS-related tasks on autopilot. This lets you dedicate more time to improving the online learning experience you're providing.
3. Integrate LifterLMS With Other WordPress Plugins
Another way AutomatorWP can benefit your online learning website is by letting you link LifterLMS with other plugins, which means more options for the tasks you can automate. There are over 60 integrations available, including:
WooCommerce
Gravity Forms
Ninja Forms
Formidable Forms
Vimeo
YouTube
WP Fusion
Events Manager
Elementor
AffiliateWP
If you search the WordPress plugin repository for "AutormatorWP integration", you'll find a full list of available add-ons. As long as AutomatorWP offers integration for it, you can create triggers and actions between that plugin and your LifterLMS plugin.
Let's say you want to connect LifterLMS and WooCommerce. After you add the WooCommerce add-on, it's listed as an integration option for your AutomatorWP automations.
You can select a trigger, as well as an action to link it with. For example, you can automatically enroll a user in a LifterLMS course once they purchase a WooCommerce product: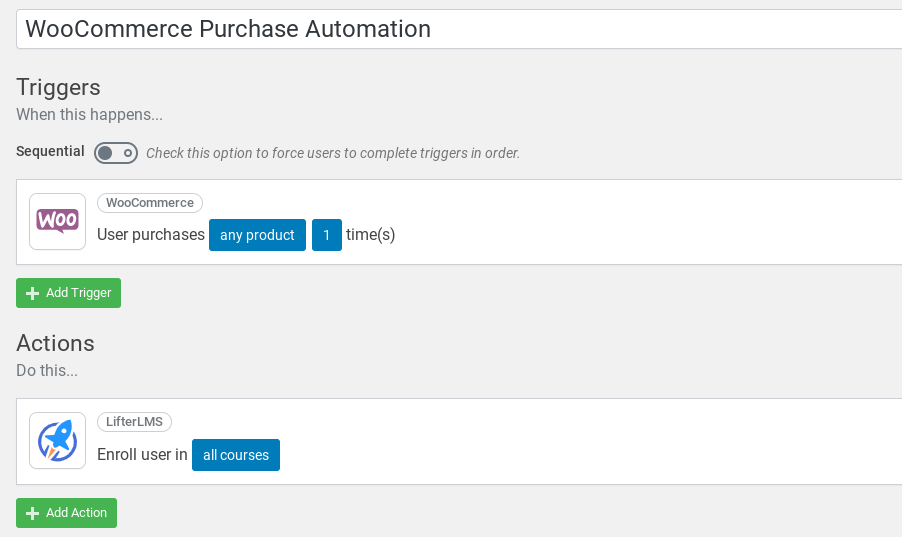 Of course, the list of triggers and actions vary depending on which plugins you're using. For example, with the Vimeo add-on, you could set it up so that the user is enrolled in a course after they watch a video.
4. Connect LifterLMS to External Web Services
Another unique benefit of AutomatorWP is its flexible, premium Webhooks add-on that lets you transmit data between your plugins and third-party platforms without any coding:

This means you can use it to connect LifterLMS with external web services such as Zapier and Integromat. These are popular tools you can use for integrating WordPress with third-party services, such as Google Sheets, Slack, Zendesk, Mailchimp, Dropbox, and more.
Using AutomatorWP Webhooks can significantly increase the number of automation opportunities available on your LMS site. With Webhooks, the triggers send data and the actions receive it: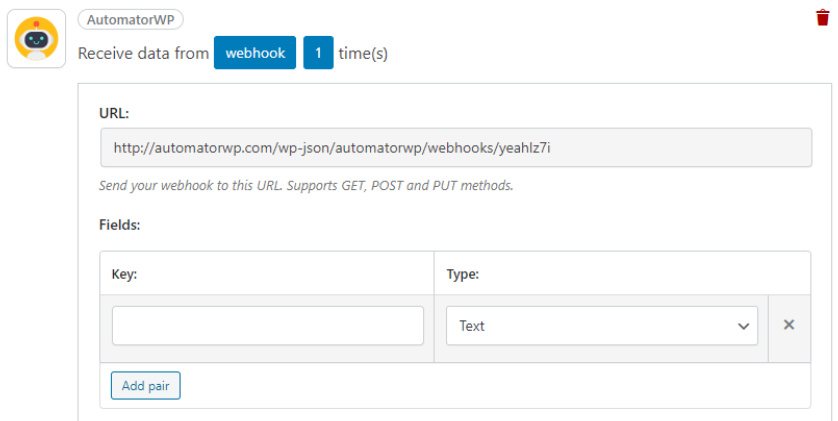 For example, you could set the 'trigger' as receiving data from Zapier and the 'action' as enrolling the user in a specific LifterLMS course. Conversely, it could also be set up so that when the 'trigger' is someone enrolls in a course (the trigger), data is sent to Zapier (the action).
This functionality isn't limited to these platforms, either. You can use it for any sites that support webhooks, as well as to create your own API for custom applications. For example, if you have an LMS app that you use for managing course content or user information, you can configure and integrate it with AutomatorWP to send and receive webhook requests.
Conclusion
Managing an online learning platform can be time-consuming and challenging. However, in addition to using a robust LMS solution such as LifterLMS, one of the best ways to simplify and streamline your workflow is by leveraging automation through AutomatorWP. 
As we discussed in this post, this plugin lets you connect your WordPress plugins to create complex automations. Among the many ways it can benefit your LifterLMS site are that it lets you:
Save time and money by automating repetitive tasks.
Enhance and personalize the student experience.
Integrate LifterLMS with other WordPress plugins.
Connect LifterLMS with external web services, such as Zapier.
Do you have any questions about using AutomatorWP in combination with LifterLMS? Let us know in the comments below!