The LifterLMS 6.0 beta is live giving you the most powerful modern certification system in WordPress, certificate templates, achievement badge enhancements, and much more.
Certificates are a great way to create:
Degree programs
Remote universities and colleges
Online high schools and adult learning
For profit continuing education companies
Gamify any learning site
Justify higher course or membership pricing
Much much more
Here's what's new…
Top 9 benefits of LifterLMS 6.0…
1) LifterLMS certificate builder now powered by the WordPress block editor
Now you can create certificates with the powerful "Gutenberg" editor. Certificates are easier to create with the block editor, leveraging columns, all the block components, shortcodes, and user data mergecodes.
If you can imagine a certificate of any kind, you can create it with LifterLMS.
Existing certificates built the legacy way will continue to exist as is, but can also be migrated into the modern system with 1 click.
2) Certificate templates
We've added certificate templates so you can now accelerate your certificate creation process by leveraging templates. You can also create as many certificate templates as you like.
So if you have a lot of different certificate opportunities on your learning management system, you'll love the efficiency of certificate templates!
3) New certificate settings

A number of new settings are available to certificates when using the block editor. Now you can:
Set the certificate's display (and print) size using common paper sizes such as US Letter, US Legal, A3, A4, and more.
Set the certificate's display orientation: portrait of landscape.
Set the certificate's inner margins.
Set the certificate's background color or keep it transparent
This allows you to create whatever certificate you imagine.
4) All new certificate title block
We created a new block for you to use on certificates called a title block.
The title block gives you options to choose a unique font and sizing of the title area.
Often certificates in print have a fancy eye-catching title text area, and this new title block allows you to create a similar design.
5) Awarded certificate and achievement syncing
Ever wanted to update already awarded certificates and achievement badges globally? Now you can.
This comes in handy if you made a spelling error, wanted to change out a logo, or switch out a certificate background at scale for already awarded certificates.
6) Advanced certificate and achievement edit and awarding capabilities
We've added new capabilities where website administrators and LMS managers can now edit individual already awarded certificates and achievements from the student reporting screen.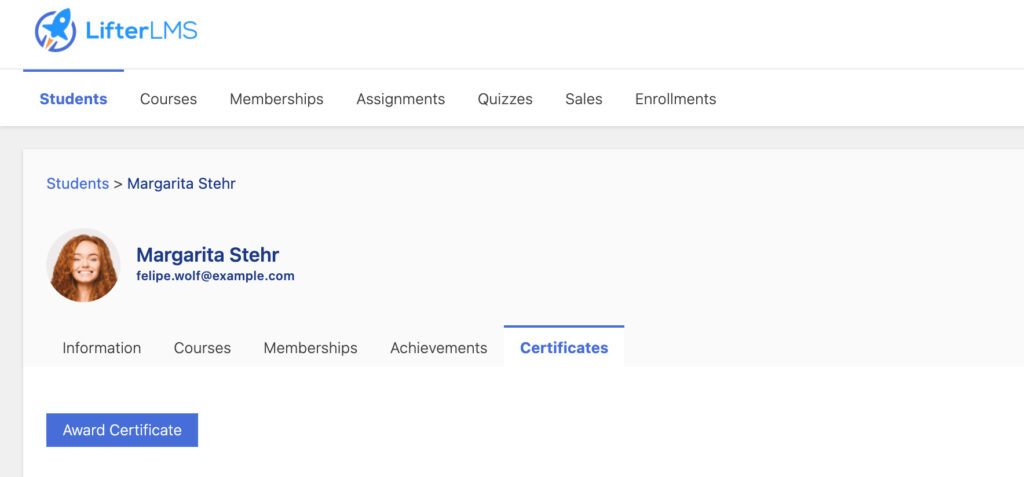 This comes in handy if you ever need to update an individual learner's certificate or achievement for any reason.
We've also given you the ability to award a certificate or achievement manually to any user for any reason at any time.
7) New certificate and achievement defaults
We've also upgraded the default certificate and achievement default designs for a modern easy way to get started.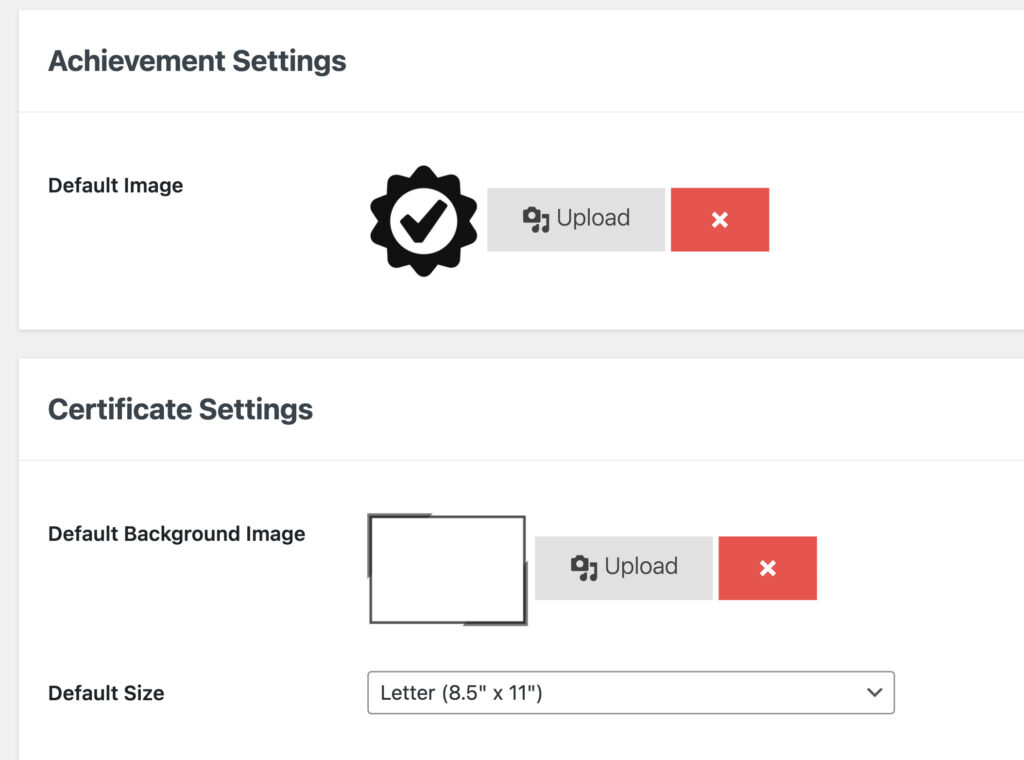 You can of course set your own defaults in the LifterLMS engagements settings.
8) 17 All new certificate backgrounds added to graphics pack
With all the new certificate features we have also added many new certificate background designs, colors, and sizes to fast track your ability to make beautiful certificates quickly without having to design the backgrounds yourself.
A gorgeous background is what makes a beautiful certificate the learner is proud of, and LifterLMS makes it easy to create beautiful certificates fast.
9) LifterLMS PDFs add-on gets upgraded
The LifterLMS PDFs add-on makes important elements of your LMS platform, like earned certificates, more portable and beautiful with powerful PDF generation technology.
Before LifterLMS 6.0, LifterLMS PDFs added PDF generation functionality through a third-party PDF generation API, pdflayer.
In LifterLMS 6.0 we removed this dependency on pdflayer in the LifterLMS PDFs add-on, so now if you have LifterLMS 6.0 and LifterLMS PDFs, you can generate certificate PDFs from your website without a dependency on a 3rd party service. This saves you money and removes any limits on the number of PDFs you can generate.
What happens in the LifterLMS 6.0 beta period?
All these new LifterLMS 6.0 benefits will be publicly released very soon. Today they are available now in "beta."
A beta period generally begins when the software is feature complete but may contain a number of known or unknown issues. During this beta period the LifterLMS team, users, experts, and 3rd party integration partners have an opportunity to test out the new features and report any issues they may find and otherwise prepare for the public release.
All LifterLMS 3rd party integration partners and experts have been notified about the upcoming LifterLMS 6.0 release and have been encouraged to participate in the beta period to insure their products and services are ready and compatible with LifterLMS 6.0.
If you have any questions or concerns about your 3rd party integrated theme, plugins, or service provider's readiness for LifterLMS 6.0, please reach out to them to see where they stand.
Here's what I'd like you to do next…
If you would like to participate in the 6.0 beta period of LifterLMS, grab your beta version of LifterLMS 6.0 like this.
If you don't own LifterLMS yet, get the world's most powerful, customizable, independent learning management system for WordPress here.
Stay tuned for the public release of LifterLMS 6.0!