This new version of LifterLMS brings you the power to build and customize your student information forms using a simple point and click interface constructed on top of the WordPress block editor. Customization like the removal of default fields, changing the text of field labels, or reordering fields within a form is all possible without any code or professional help.
Student information forms
LifterLMS 5.0 introduces a revolutionary new approach to managing user forms during:
Registration
Checkout
Edit account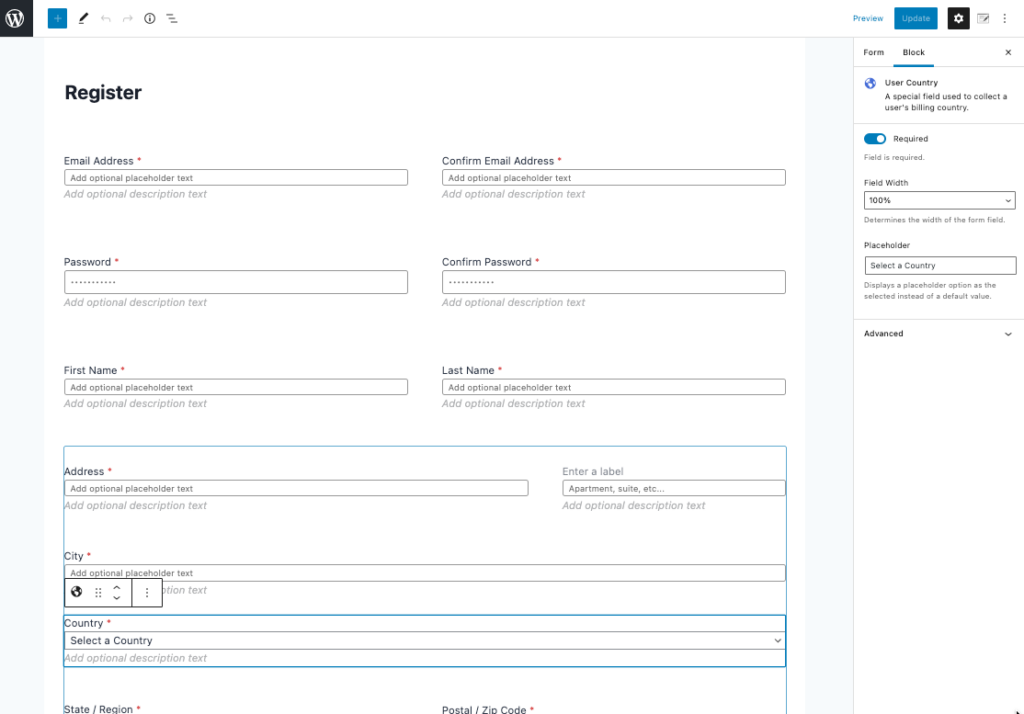 User dynamic field data shortcodes everywhere!
LifterLMS 5.0 also introduces an innovative new shortcode system so you can easily display your dynamic form data in places like:
Web pages
Emails
Certificates
Achievement badges
SMS text messages
And anywhere else on your WordPress LMS website that accepts shortcodes
One more thing…
There is a companion release of the LifterLMS Custom Fields add-on rolling out a week from today that gives you unparalleled customizability of your forms and their data…
LifterLMS Custom Fields 2.0 introduces the ability to:
create custom form fields to collect whatever user data you would like
display custom field collected data wherever you like via shortcode
The following LifterLMS Custom Field types are available:
Checkboxes
Radio buttons
Dropdown
Textarea (paragraph-style text)
Input Confirmation Field (single-line text with requiring a confirmation field)
Text (single-line text)
Email (only accepts an email address. This is different from the email used for the WordPress account)
Number (text field that only accepts numeric values)
Phone Number (text field that only accepts phone numbers)
Website URL (text field that only accepts a URL)
LifterLMS Custom Fields allows you to collect and display custom data via any global or course / membership specific form.
Documentation links
Review the documentation to learn more about these new features:
Here's what I'd like you to do next …
If you are an existing LifterLMS user, simply update to the current version of LifterLMS so you can enjoy the new forms system in 5.0!
If you have not yet purchased LifterLMS, grab yourself a license and experience the world's most customizable learning management system for WordPress!
If you have any questions, just reach out.