At LifterLMS we believe in the power of community.
We are known for listening to our community and innovating based on what we hear.
A true Zapier integration has been something people have wanted for years, and we're proud to announce that today it's available!
LifterLMS is also known for being an all-in-one solution … saving WordPress website building pros and course creators from the all too common pain of a website "Software Frankenstein" experience. This chaos happens when people use too many plugins, made by too many different companies, that don't integrate well together.
With LifterLMS you can get ecommerce, memberships, engagement, courses, quizzing, assignments, reporting, social learning, private coaching features, and much more all from us. These tools are designed to work together and are developed and supported by one company.
But …
Despite LifterLMS's leading all-in-one approach, there are still times when you may want to integrate other best in breed tools.
There are some incredible companies out there building great products that add additional value and capabilities like these.
And …
There's a whole word of other apps outside of WordPress that you may want to connect your training website to.
Some of these other applications might include:
Google Sheets
Gmail
Twitter
Slack
Google Calender
Trello
Facebook
Asana
Calendly
Dropbox
YouTube
Acuity Scheduling
Google Docs
Zoom
ClickFunnels
And many more
Now that connection between LifterLMS and 1,500+ other apps is possible via Zapier.
LifterLMS is one of only 11 WordPress plugins available to work with inside the Zapier app directory. LifterLMS is the only WordPress learning management system available for you to work with in the Zapier app directory.
But What is Zapier?
Zapier is a tool that allows you to connect apps you use every day to automate tasks and save time. You can connect any of their 1,500+ integrated apps together to make your own automations. What's more, it's quick and easy to set up, and you don't need to be a developer – anyone can make a Zap!
Here's a video to explain …
So what are some possible Zapier uses for LifterLMS?
The options are staggering and only limited by your creativity, but here are a few examples …
You could use a different ecommerce system to market and sell, but then have a WordPress LMS site powered by LifterLMS for the online course or membership. So for example you could sell with ThriveCart, SamCart, ClickFunnels, etc. but use LifterLMS on your WordPress website to deliver the training program and protect access.

You could update a project management tool when a new student enrolls. So for example when someone enrolls in your course on your LifterLMS powered website, a new task for your assistant could be created in Asana, Trello, etc. for them to engage in a welcome and onboarding process.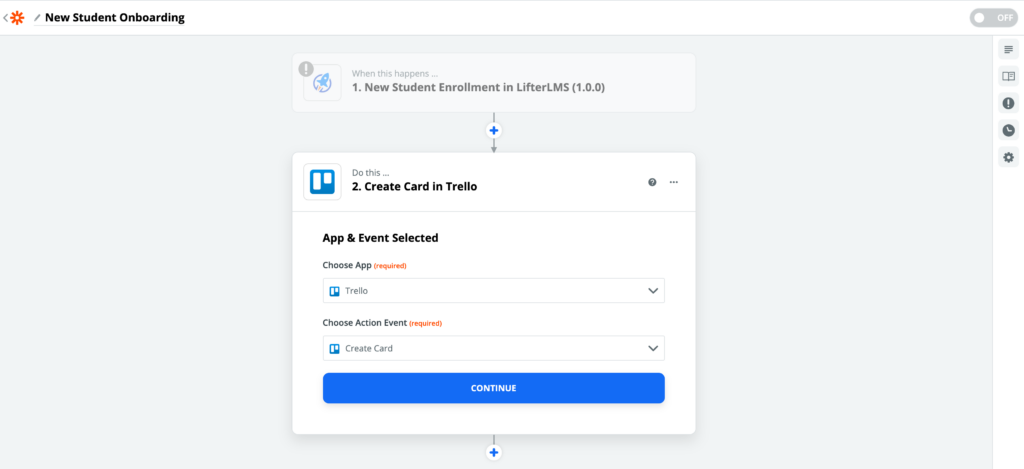 You could enroll someone in a free course on your LifterLMS powered website when they register for your training webinar in Zoom. So for example when someone enrolls in your sales webinar in Zoom, you can instantly create a user on your WordPress LMS website and enroll them in your free "lead magnet course." This is helpful to give them more training, which builds trust and gives them results before you sell them your paid program. And when they do decide to buy, they are already logged in on your website with an active account which reduces friction in the buying process.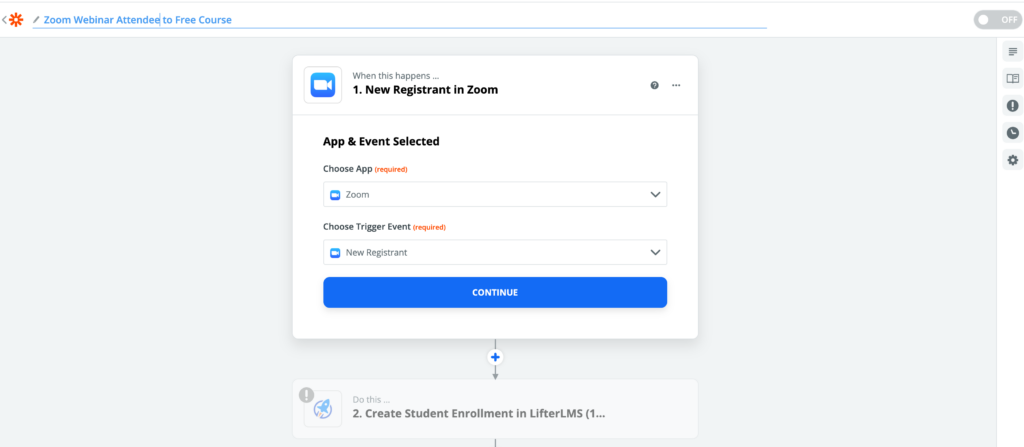 The automation possibilities between LifterLMS and other apps are endless.
Currently with LifterLMS and Zapier there are "triggers" for new course, new student, and new enrollment. There are actions to create students, create (or update) a student's enrollment, and create courses.
How Much Does LifterLMS Zapier Cost?
We developed the LifterLMS Zapier integration as a free benefit to the LifterLMS community so you can connect to the apps you need to.
LifterLMS has no premium Zapier add-on to sell you.
Your LifterLMS powered website is simply now available for you to connect to via Zapier.
As of this writing, Zapier gives you 5 Zaps for free. If you need more than 5 types of app connections (Zaps), then you can explore Zapier's pricing here.
Since the LifterLMS Listing in the Zapier App Directory is So New, What Can I Expect?
LifterLMS was just listed inside Zapier.
When Zapier accepts an app it goes through a 3 step process:
You can get access to the LifterLMS Zaps right now through this link.
Once the LifterLMS Zaps have 10 users with 10 Zaps, the directory listing moves to "early access." LifterLMS will then be discoverable in the Zapier app directory.
After there a 50 users using LifterLMS Zaps, the LifterLMS app moves to regular public status
All this is to say, you can start using LifterLMS with Zapier today through this link.
Also, your help in getting us to 50 people with LifterLMS Zaps activated is greatly appreciated.
How is it Possible to Use LifterLMS with Zapier?
It's possible to use LifterLMS with Zapier through LifterLMS's newly released REST API.
"API" stands for Application Programming Interface. Basically an API allows one piece of software to talk to another piece of software.
What are the other benefits of the LifterLMS REST API?
A few examples of things you could use the LifterLMS REST API to build are a:
Mobile App that syncs seamlessly with your WordPress LMS website.
Reporting application that exists somewhere else on the internet that pulls data from your WordPress LMS website
Bridge to another application that you want to integrate your LMS with
LifterLMS add-on of your own that fulfills some market need
This LifterLMS REST API allows developers to more easily and quickly connect, work with, and extend LifterLMS.
Here is the user documentation on getting started with the LifterLMS REST API.
As a side note, we are asked frequently for recommendations for developers or agencies that can build mobile applications that work with a LifterLMS powered website. If that's you, I would encourage you to apply to join the LifterLMS expert program here so we can send clients your way.
If you are a web developer and are interested in exploring the REST API Reference, the documentation is here.
Here's What I'd Like You To Do Next …
Step 1) Update your LifterLMS plugin to the latest version, so you have the LifterLMS REST API functionality on your website.
Step 2) Explore what's possible with LifterLMS and Zapier by clicking here. Remember if you're new to Zapier and don't have any zaps yet, you can get started for free.
Step 3) Leave a comment on this blog post and let us know how you might use Zapier!
Happy automating!