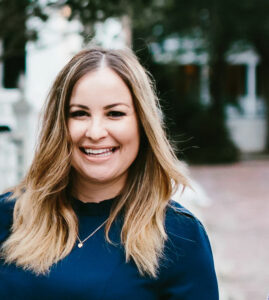 It's time to Spotlight another one of our LifterLMS Experts.  Here's a quick rundown on Monica Garrett from Margaux Agency.  Monica specializes in Full Site Builds, Custom Development, Web Design Specialties, Branding, and Logo Design.
What are your hobbies and interests outside of the internet?
I love to spend time with my daughter Gianna, who's middle name was the inspiration for Margaux. Any time that I can spend with my family and my pup Stella, my heart is full! My husband and I enjoy attending Improv and Comedy shows, too. We love exploring new cities, and seeing what new experiences and restaurants they have to offer.
3 words your best friend would use to describe you…
Motivated, Driven, and Optimistic
What first made you interested in web development or design?
I have always felt that anything can be made to look better with a little attention. It all started while working on wedding invitations. I took it further than just the initial invite. I looked at it as branding their wedding leaving no detail unlooked at. Once I got into branding for businesses, this same approach amplified my love for visual styling for businesses.

On to some fun stuff…what's a little-know fact about you?
Since today's world is so digital, you don't often meet your community in person. But if we were to meet in person, it might surprise you to know that I am a whopping 5 feet tall. Because of that, my spirit celebrity is Kevin Hart. He just 'gets it'!
What's your favorite flavor of ice cream?
I don't like to complicate my meals or my desserts. Vanilla bean all the way.
What part of the world do you live in?
Beautiful, sunny SoCal!
Famous last words (anything to add)…
Make every detail perfect, and limit the number of details to perfect. — Jack Dorsey