The gadget screens have taken over the blackboards and whiteboards. Online learning is the new normal.
Set up courses and allow users to learn them at their convenience. Learning is so flexible these days.
And when it comes to creating courses with ease for WordPress, LifterLMS is the preferred choice amongst thousands of users.
However, managing courses is quite difficult. You need a dedicated tool to manage and edit courses on the go.
Smart Manager is that tool that can help you manage all your LifterLMS courses from one place. Whether you want to edit any course details, reduce course prices in bulk, search for students enrolled in a course, export courses…you can do it with ease.
This article will help you better manage your courses so that you can save quite a lot of your time and cost.
What makes LifterLMS the preferred tool amongst course creators?
When you think about a WordPress LMS (learning management system), LifterLMS is the first one that comes up.
These powerful features make it a trustworthy tool amongst thousands of course creators:
Create beautiful online courses, quizzes and more from one screen using a drag and drop course builder.
Sell memberships without the need for any separate e-commerce or membership plugin.
Accept payments and enrollments instantly without limits.
Keep your learners focused and on track with gamification, assignments, quizzes, coaching, online community, and more.
Powerful customizable reporting to better understand learners.
All the security features to stay in full control of the training assets – individual user accounts, personalized student dashboards, course access rules, drip content, prerequisites, start dates and launch windows. Decide who can see what, when, and at what price.
Refer to this for more details
Managing courses, lessons, quizzes and more from an Excel-like spreadsheet
Now, as your business grows, you'll have tons of data for courses to manage. Lessons, quizzes, assignments, content, images and more.
If you want to make an edit to any data, you need to search and enter each course to make it. Imagine editing for hundreds of courses. The tedious and frustrating steps to deal with each time.
Enter Smart Manager and all your edits can be made in just a few clicks within seconds. Easy and quick, from one place.
In a nutshell, Smart Manager allows you to manage all your LifterLMS courses, blog posts and pages, WooCommerce products, orders, posts, coupons, users…any WordPress post type and custom fields using an Excel-like spreadsheet.
For all the courses and all post types, you can:
Make edits directly to the data and save them at once
Make edits in bulk
Apply search filters and then make edits
Add or delete records
Duplicate records
Export data to CSV
and much more…
In a similar way, for all your courses, lessons, assignments, quizzes, memberships…all your LifterLMS components can be managed with Smart Manager.
Here's how:
Add and manage new courses directly

Add 'n' number of courses directly to your website using Smart Manager's spreadsheet editor. Set all the parameters like course title, SKU, course length, course capacity, course difficulty level, price, images, categories, drip…and you are done.
Add and manage lessons and sections for courses
For the courses, you can add the lessons and sections directly. You can add text/image content, video and audio files. Set permalink, featured image, excerpt and more without using the Gutenberg editor.
Duplicate courses for bulk generation
If you want to create courses that have the same duration, categories, price and some similar content, use the 'Duplicate' option in Smart Manager. Then, make the edits as required to the courses like SKU, title and lesson content.
Add and manage engagements
Create engagements and certificates, achievements and emails for the engagements. Also set engagement triggers. Edit and modify them as you like.
Add and manage forms, quizzes, assignments, transactions…
Add as many quizzes and assignments to the courses you wish to.
Inline edit courses
Directly make changes to your courses, lessons, sections, forms, quizzes, questions, etc. and save them at once using the spreadsheet.
Whether you want to change questions, modify choices for the quiz, edit course duration or content, you can edit it without going to individual courses to make edits.
Bulk edit courses for the price, duration and more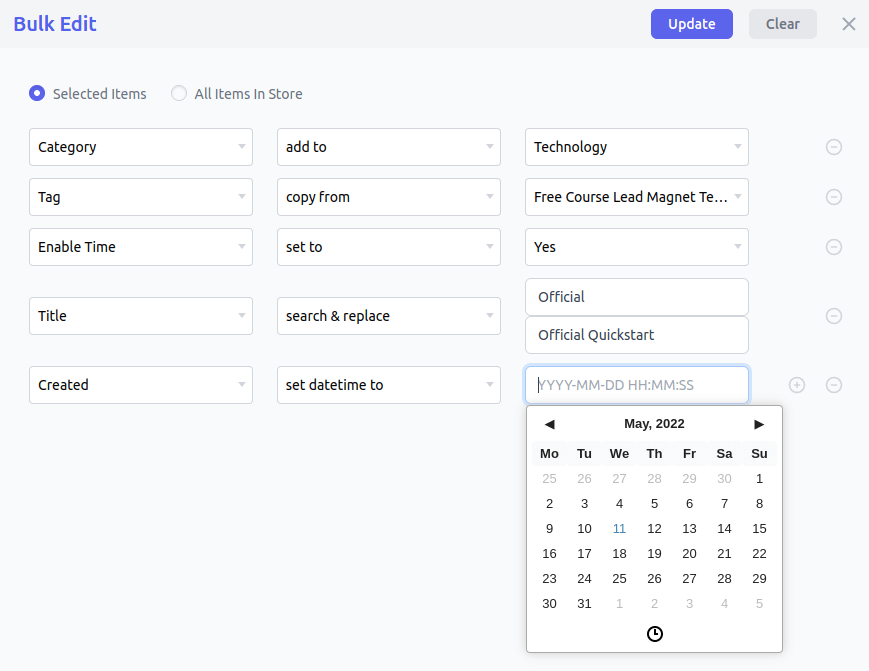 If you want to set a category to hundreds of courses, set creation date, course difficulty and other parameters to courses at once, Smart Manager's bulk edit and advanced search filters will help you get the above accomplished within seconds.
Search for the courses using Smart Manager's advanced search filters.
Once the desired courses are in front of you, select the header checkbox to select all the courses in the search results.
Click on the Bulk Edit option on the Smart Manager dashboard.
Set the required parameters as shown.
Click on Update.
That's it.
Similarly, you can bulk set certificates and achievements for courses, modify course duration, set drip for courses, set private areas for selected students and much more.
Search for courses based on categories, tags, difficulties, tracks…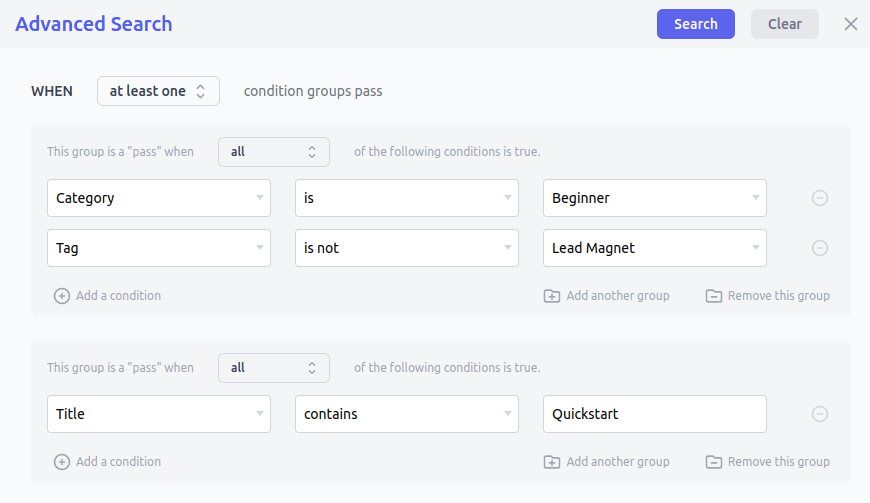 Smart Manager allows you to filter courses based on multiple conditions. However complex the conditions be, Smart Manager will fetch you the desired results within no time. For example:
Find all courses belonging to the Marketing and Coding categories.
Find all courses belonging to the Beginner category but the tag is not Lead Magnet.
Find all courses whose duration is more than three months.
Find all courses whose price is greater than $100 but less than $500.
Find all courses that carry the Simple tag.
and so on…
Search for students/customers based on courses and take further actions
Using Smart Manager, you can search for all the students/customers who have enrolled for a particular course or membership.
You can then decide, what actions to take for these students:
Award a certificate
Set drip content for a few users among selected users
Assign discount coupons to redeem on the next course
Enroll top achievers in another course for free
Delete courses
You may have created some test courses, test quizzes, test assignments and more before going live with the main ones.
So, you can easily search for these courses with Smart Manager and delete them or move them to trash.
You can also enable viewing of all such `trash` courses in Smart Manager and then delete them permanently.
Manage memberships
Like courses, you can also manage memberships from one place. With Smart Manager, you can:
Upgrade memberships in bulk.
Cancel membership status in bulk.
Filter memberships based on categories and tags.
Add/edit coupons to the membership plans.
Export all the membership data or filter it for future reference.
Export courses to CSV

You can export all your course data to CSV. Or you can apply smart filters to export only the required data for export (advanced one).
You can apply search filters, column filters (keep only required data columns and hide others) and date filters before making export to CSV.
For example, export all the courses belonging to the 'Technology' category, which has quizzes in it, show info about the course content, duration and created in the last twelve months.
Manage keywords/ SEO for posts and pages
No course is complete without SEO. You want to rank courses in the search engines. However, you may have to modify keywords, change URLs and apply redirection, add media material to courses, modify content and much more.
Smart Manager allows you to manage all your SEO-related work for your courses. For example, you can:
Find similar keywords used if any using search and make edits
Redirect poor converting blog posts
Export SEO fields
Noindex non-performing posts in bulk
and much more…
Video tutorial of Smart Manager
Winding up
LifterLMS is definitely one of the best WordPress LMS plugins. It includes a depth of functionality that most others just don't offer, and it also nails the membership aspects of online courses, which not all plugins do well.
However, if you are using the LifterLMS plugin, then to manage courses and save time, that too from one place, Smart Manager is a valuable addition. 20K+ users are trusting Smart Manager since 2011 to accomplish their store management work. You're next.