LifterLMS just released a powerful question bank feature into their Advanced Quizzes add-on.
What is a question bank?
A question bank helps prevent cheating by allowing instructors to create assessments with randomized questions pulled from a bank of questions.
Since different students receive different sets of questions from the same question bank, sharing answers or collaborating during exams becomes difficult. This ensures the integrity of the assessment process and promotes a fair evaluation of a student's knowledge and skills.
For learning situations where quizzes can be taken repeatedly to reinforce learning, randomized question banks also allow students to broaden their assessment sources for subject competency.
How to Create a Question Bank in WordPress
Create a question bank by using the most powerful customizable learning management system for WordPress, LifterLMS.
Step 1) Install LifterLMS
The core LifterLMS is completely free and includes the powerful quiz builder containing 3 question types:
Multiple choice
Picture choice
True or false
Get the LifterLMS free core plugin.
Step 2) Install the LifterLMS Advanced Quizzes add-on
The LifterLMS Advanced Quizzes add-on gives you manual grading, question banks, and 8 more question types:
Fill in the blank
Reorder items
Reorder pictures
Short answer
Long answer
File upload
Code
Scale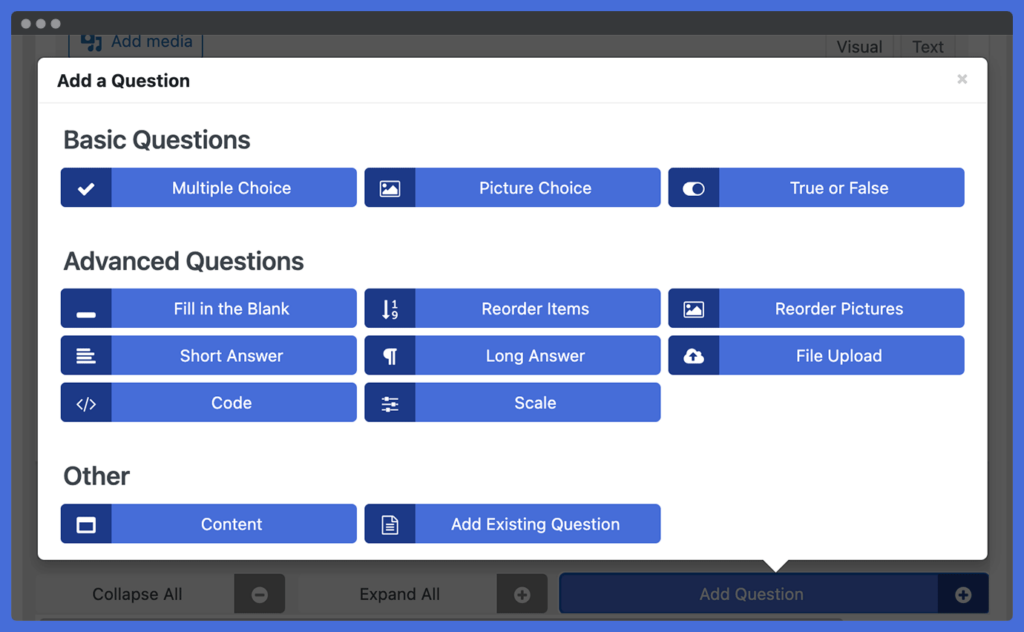 Step 3) Create a Quiz
Use the LifterLMS quiz builder inside the course builder to create your quiz questions.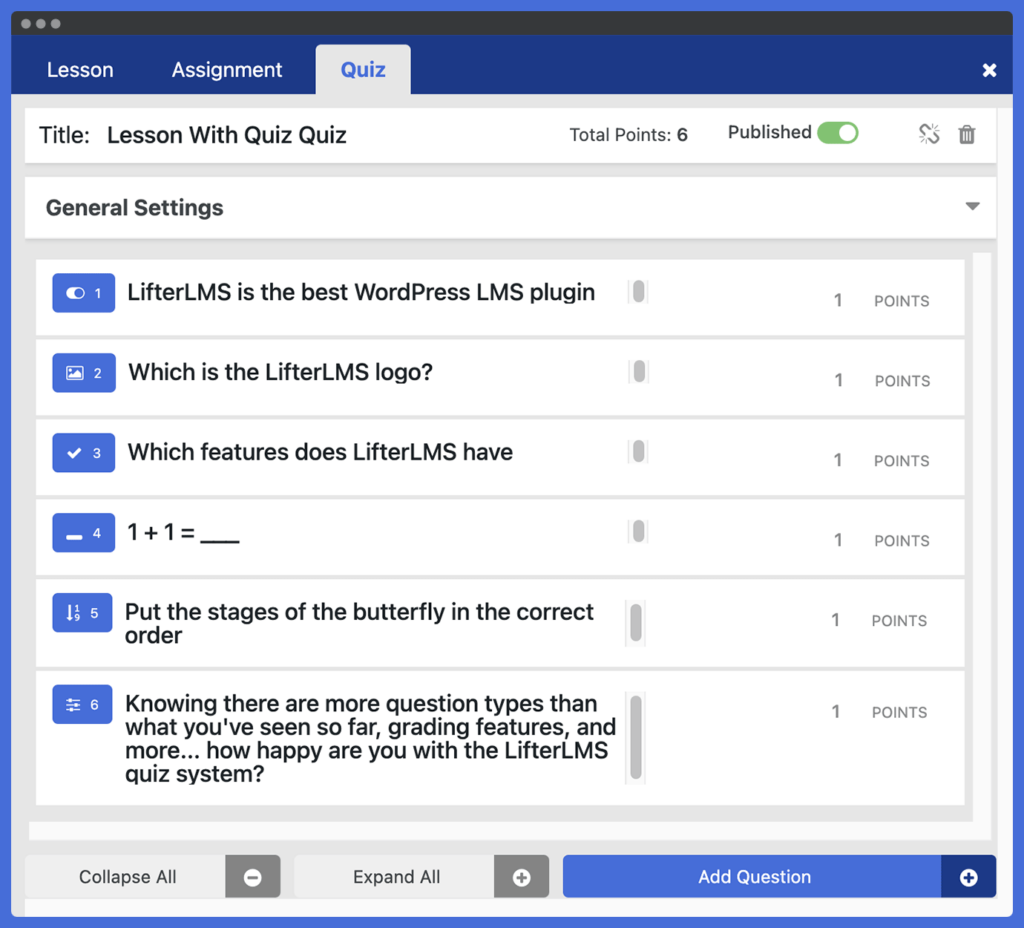 Step 4) Create a Question Bank
To allow a question bank on a quiz, first, enable the "Question Bank" option on that quiz.
Second, select how many questions you want to pull from the question bank from each question type.
As an example, you may want all learners to have the same final essay but pull 10 multiple choice questions from a bank of 20 multiple choice questions.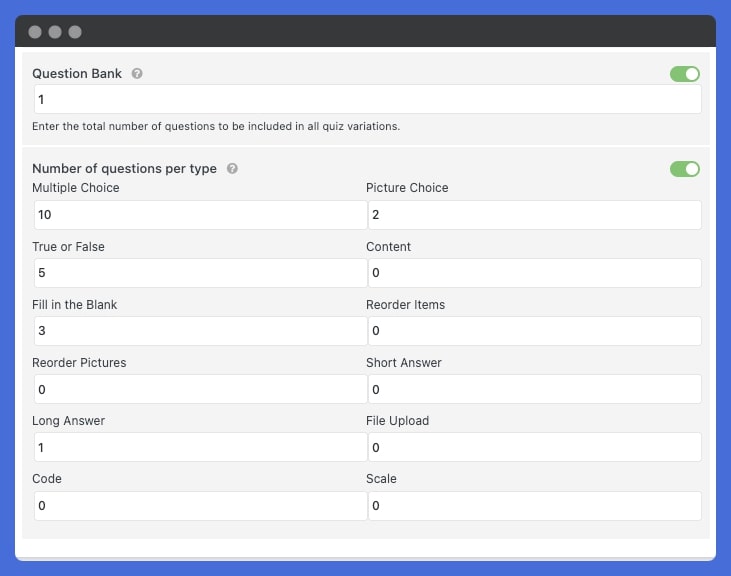 Step 5) Enjoy a Dynamic Quiz System on Your LMS Platform
With question banks you dramatically reduce opportunities for cheating and create more dynamic learning experiences.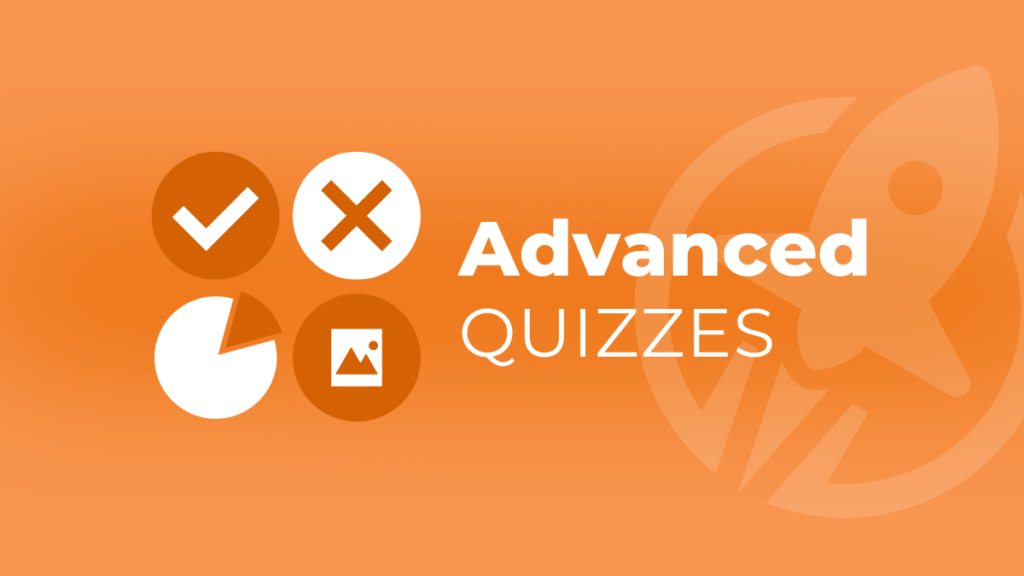 Leverage question banks in your WordPress LMS website by purchasing the Advanced Quizzes add-on. The Advanced Quizzes add-on is also included in the Infinity Bundle plan.