LifterLMS just released a new premium add-on called Private Site.
Now you can limit access to your entire online learning platform exclusively for internal training and other 100% private eLearning scenarios.
What makes LifterLMS Private Site different from existing LifterLMS access controls?
A LifterLMS-powered Private Site basically hides your entire LMS platform from the public web except for the login screen.
Locking down your entire learning management system website with the Private Site add-on is a higher level of restricted access than using the LifterLMS course and membership access plans to control access to courses and members-only content.
For example, a regular WordPress LMS website will have these visible pages on the public internet, but a Private Site-restricted LMS website would not have these pages viewable to the public:
Course catalog
Course unenrolled description or sales page views
Membership catalog
Membership unenrolled description or sales page views
Checkout or free enrollment screens
Homepage
Any other pages on the website
Blog and individual blog posts
Just think of a LifterLMS Private Site as restricting access to absolutely everything except a login.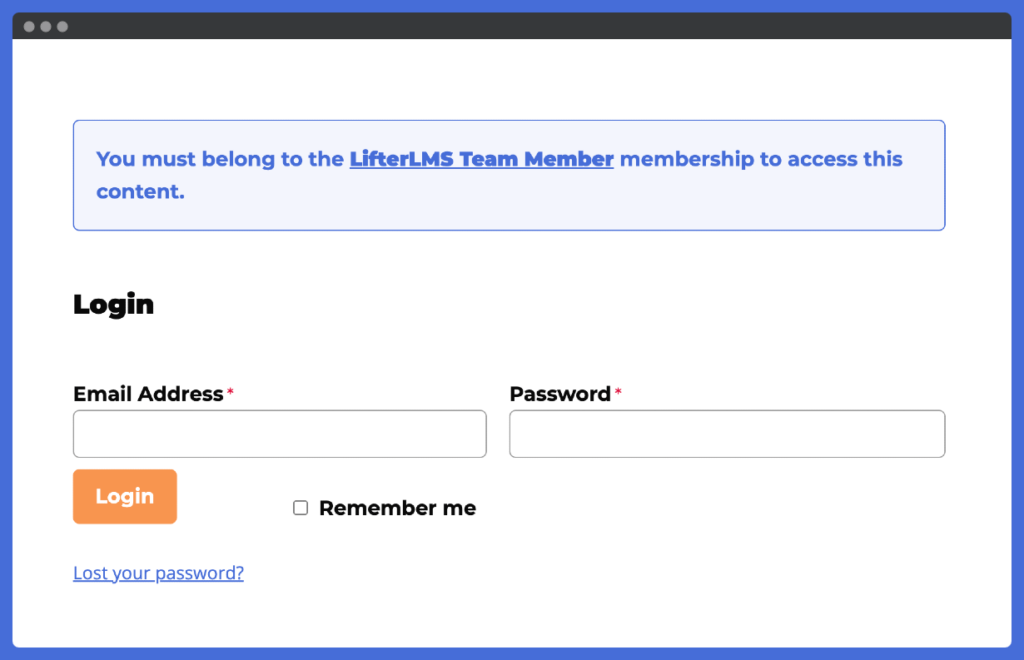 What are the primary benefits of LifterLMS Private Site?
Restrict Access to Your Entire Website
A Private Site protected LifterLMS website allows you to lock down your entire eLearning website, granting access only to authorized users whom you choose. By restricting access behind the login page, you ensure that your private training content remains exclusive and 100% confidential.
Control User Access
Managing learning management system user access is now easier and more secure than ever before. With Private Site protected LMS, you have full control over who can enter your online learning portal. You can invite specific individuals or groups to courses, memberships, and other non-LMS content while completely hiding the website from the wider public. This level of user access control ensures that only the right people can access your eLearning website.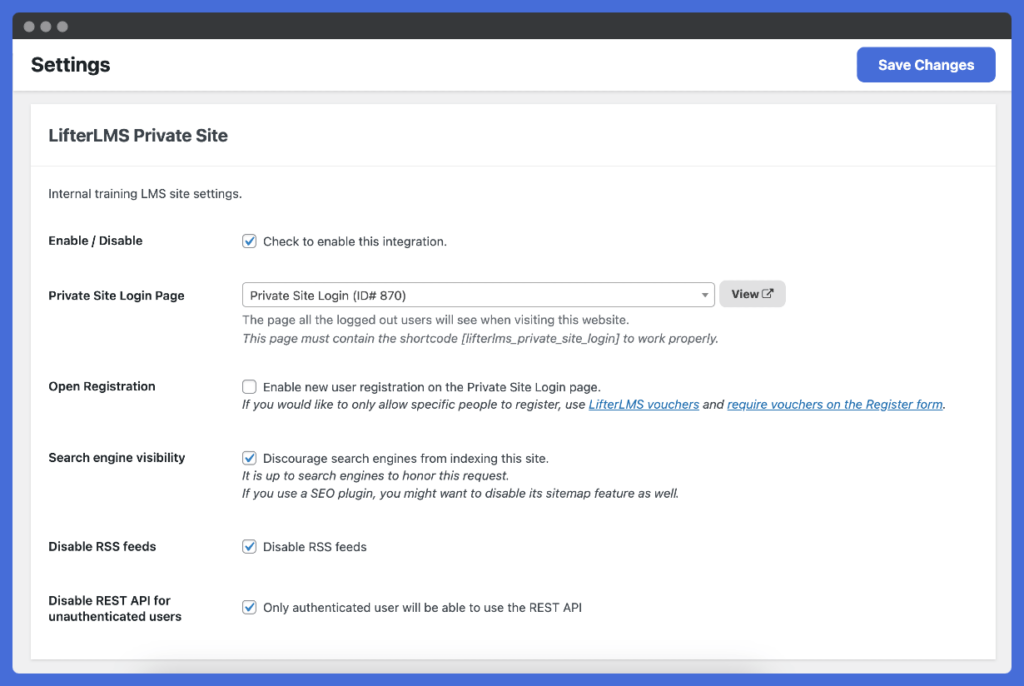 Deploy Internal Training Effortlessly
A Private Site is a perfect solution for deploying internal training programs within your organization.
Whether your goal is to train your employees, managers, leaders, or partners, you can provide them with a secure virtual environment for learning. Ensure 100% confidentiality while improving performance, profitability, and organizational excellence.
Capture and Curate Intellectual Property
A LiferLMS Private Site empowers you to capture and curate robust training materials which makes your organization stronger. When your top performers contribute to your training assets, you create a culture of learning within your organization. Your eLearning platform becomes a valuable repository of intellectual property and becomes one of the most valuable assets within the organization.
"If you can't describe what you are doing as a process, you don't know what you're doing."

W. Edwards Demng, Quality Management Expert
As an example, the LifterLMS company Internal Training website protected by LifterLMS Private Site is here on a subdomain of our public-facing website. Using LifterLMS Private Site to create an Internal Training portal we:
Make it easier and more profitable to onboard new team members
Create a culture of learning as the full team contributes
Capture intellectual property
Increase our company valuation by having documented systems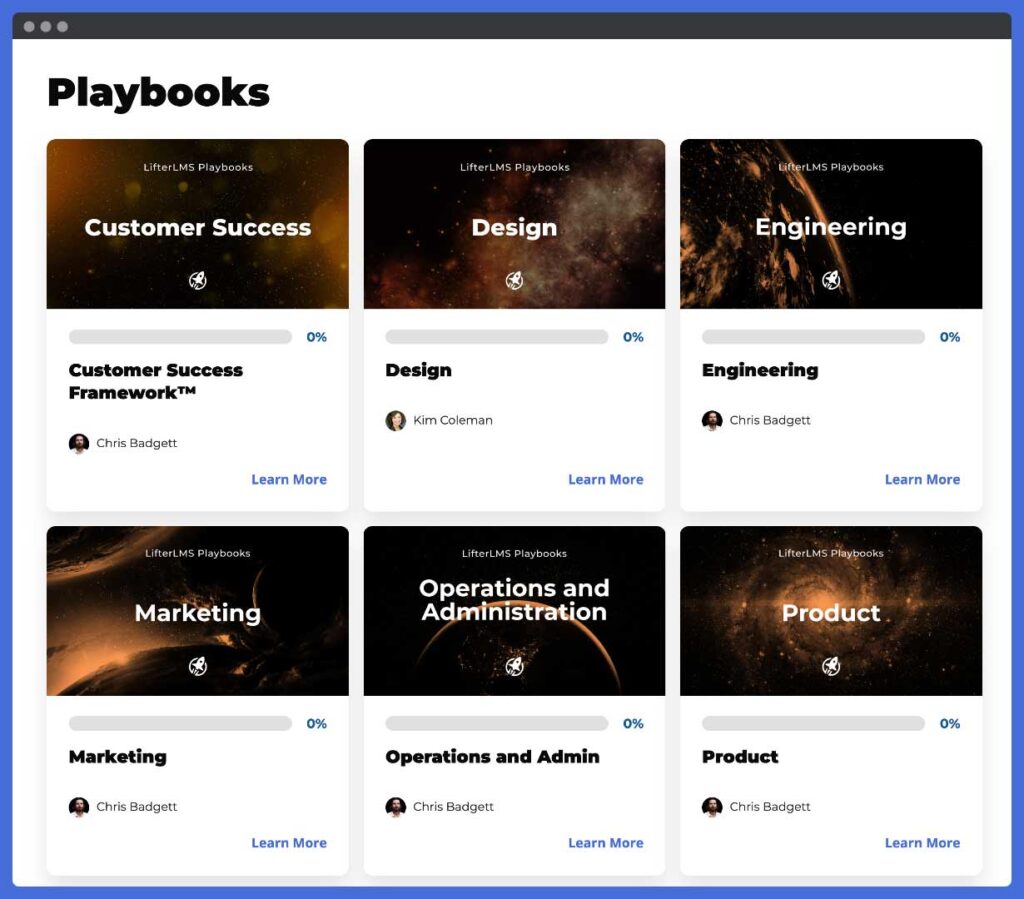 Would your organization benefit from an Internal Training private website?
Here's What I'd Like You To Do Next…
Get the Private Site add-on for LifterLMS individually or with the Infinity Bundle.
And feel free to contact a LifterLMS product specialist with any questions.