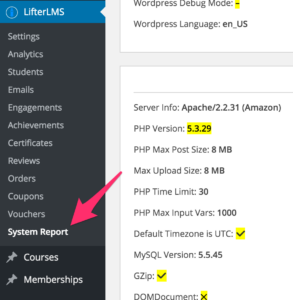 Since making LifterLMS 2.0 completely free and open source this week, we've had several new releases.
Today's release has something new that will help any serious education entrepreneur that uses LifterLMS be more confident in the health of their online courses platform.
Say hello to the new LifterLMS System Report.
The Top 2 Benefits of the LifterLMS System Report
You get to find out why your site might not be working at 100% without wasting your time or money
If you are a LifterLMS Pro customer, you can empower your support team to help you much faster with less back and forth by sending a copy of your current system report with your issue
A Word of Thanks …
I'd like to thank the WordPress Community, our old users, and new users for a warm welcome and words of encouragement as we enter the free, open source space.
And in the spirit of the open source community, I'd like to thank the WooCommerce project for their leadership in the system reporting space and their influence on this small new feature in LifterLMS.
Next Steps for You
Make sure you have a current version of the LifterLMS software
Click the new System Report WordPress menu item under LifterLMS to generate your current system report
When you submit a support request inside your LifterLMS account, include a copy of the system report
Smile, because you just gave the support team a realistic view of your unique situation, which means you've empowered them to help you at the highest level
Please let us know in the comments if there's anything we can do to further improve the system report or LifterLMS support in general.