Managed WordPress hosting company WP Engine just released LMS Site Templates powered by LifterLMS.
A LMS site template allows do-it-yourself eLearning website builders and WordPress professionals to accelerate development times with a preconfigured site featuring LifterLMS.
What's Included in the Technology Stack of a LMS Site Template?
WP Engine's LMS site template includes these components:
How do I Launch a LMS Site Template?
Using the "Create from template" option is the easiest way to build a new LifterLMS powered site on WP Engine. This article provides a step-by-step guide for creating a new Environment with LifterLMS on the WP Engine platform. All WP Engine hosting plans will support the LifterLMS "Create from template" option.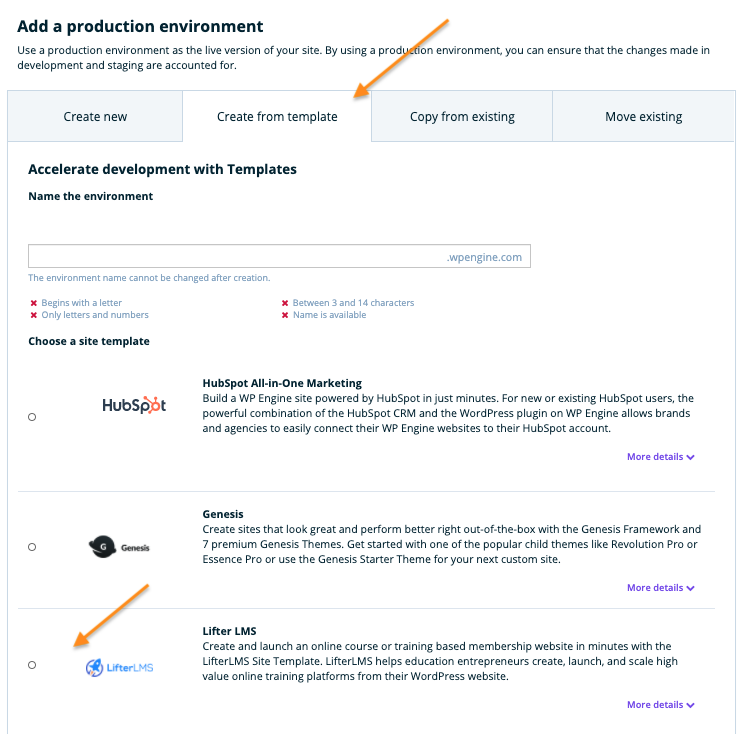 WP Engine LMS Site Templates Demo
2 WordPress Companies with Shared Community Focus
One of LifterLMS's 6 core values as a company is being community focused.
It's an honor to collaborate in a partnership with a great WordPress focused company like WP Engine to innovate in service to DIY course & membership site creators, WordPress professionals, companies, and institutions looking to create world-class digital education experiences.
Our job as technology creators is to create powerful digital platforms for education entrepreneurs to create learning, value, and opportunity in the world.
WP Engine's LMS Site Templates in partnership with LifterLMS is here to remove friction and empower education platform creators worldwide.