We're just days after the release of the all new LifterLMS Private Areas add-on into the Infinity Bundle.
But wait there's more …
Today we announce the arrival of the new LifterLMS Lab for Beaver Builder!



LifterLMS Labs is a free plugin you can add to your site that has optional features you can turn on. The labs add some niche benefits or third party compatibility enhancements like this new lab for Beaver Builder.
What is Beaver Builder?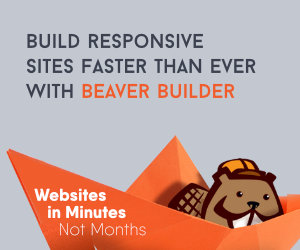 Their page builder plugin works with your existing website. You can build beautiful, professional pages and it's as as easy as dragging and dropping.
So instead of working on your website in the WordPress "back-end," you work right on top of the "front-end" by clicking what you want to edit and dragging and dropping various elements around.
The main benefits of BeaverBuilder are:
Dozens of predesigned templates you can use as a starting point
You can position images and text with precision, and build column based layouts quickly
Ability to separate your page builder from your theme so you can easily switch themes later
Why use Beaver Builder with LifterLMS?
LifterLMS is a plugin that brings you incredible learning management system tools, course creation abilities, ecommerce functionality, membership options, and engagement facilities.
Your WordPress theme is there to give you the general design of your site.
A page builder like Beaver Builder is there to give you the ability to create beautifully designed content areas, overall content structure, and professional custom layouts.
When you use Beaver Builder on a LifterLMS site, you can build great looking pages outside of the LMS. But you can also enable Beaver Builder on the LifterLMS custom post types like courses, memberships, lessons, quizzes, and quiz questions.
Pro Tip: My personal favorite technology stack for a brand new LifterLMS project is:
WP Engine Hosting + LifterLMS Plugin + LifterLMS LaunchPad Theme + Beaver Builder Page Builder Plugin + Whatever Else I Need in the Infinity Bundle
I'd also like to note for you that the Beaver Builder theme is also quite good, of course in combination with their page builder plugin, and especially with Beaver Themer.
Also there are a lot of great themes out there. So if you like the Beaver Builder and LifterLMS plugins, but prefer to use a different theme, that is perfectly fine. That's the beauty of LifterLMS and Beaver Builder being plugins … they are portable.
So what does the LifterLMS Lab for Beaver Builder actually do?
Before we get into that, to be clear, Beaver Builder has always been a great page building plugin for a LifterLMS site. We've used Beaver Builder on the LifterLMS demo site for years.
It's using Beaver Builder that allowed us to create the dynamic layout you see below with all different kinds of content, background images, multi column layouts, buttons, and even subtle animations:



The LifterLMS Lab for Beaver Builder simply adds even more functionality on top of what was previously possible.
1) You can now build custom course and lesson layouts with specific LifterLMS modules
When enabled, the following modules are available for use in the page builder:
Course Author: Displays the author information for the selected course. Information includes the author's avatar, name, and, optionally, biography
Course Continue Button: Displays a button linking to the next uncompleted lesson in the selected course. If the course is complete, displays "Course Complete" text
Course Information: Displays course meta information (length, difficulty, tracks, categories, and tags).
Course Progress Bar: Displays the current student's course progress in a visual progress bar
Course Syllabus: Displays the course syllabus for the selected course
Lesson Mark Complete Button: Displays the Mark Complete / Incomplete button for a lesson. If a quiz is attached to the lesson, will display a "Take Quiz" Button instead
Pricing Table: Displays the pricing table (access plans) for a course or membership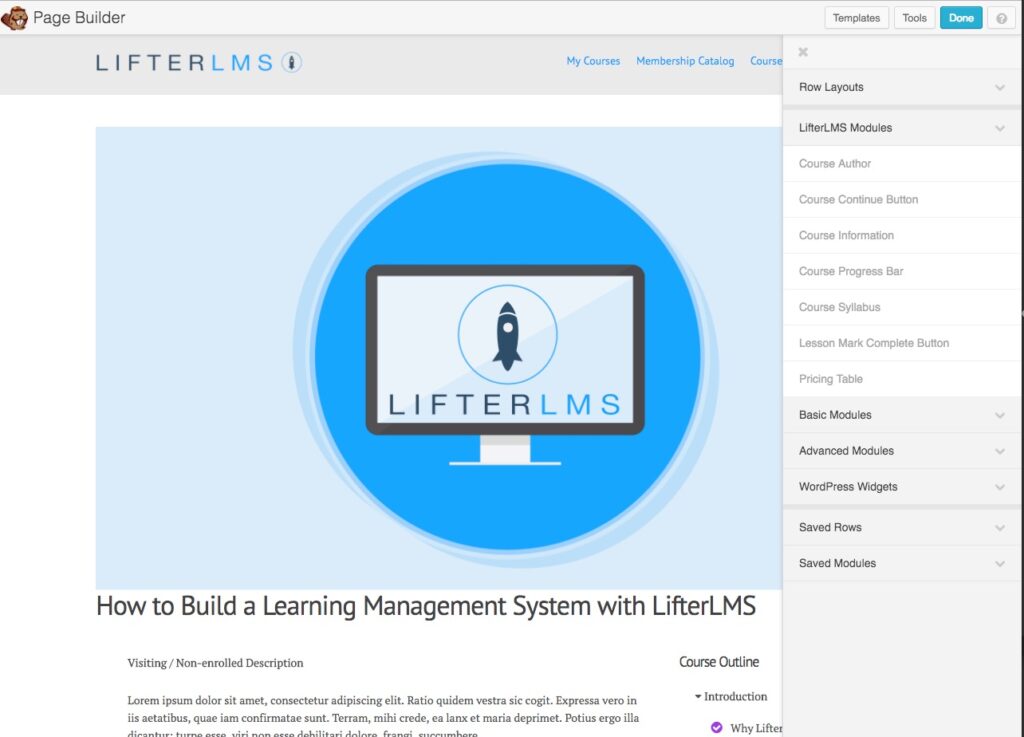 LifterLMS Lab for Beaver Builder module documentation: https://lifterlms.com/docs/lab-beaver-builder/#modules
2) You can now hide or display certain Beaver Builder rows or modules of content based on specific course's or membership's enrollment status
The most common use of conditional content like this is so that you can make 2 versions of the course page in 1 Beaver Builder view of the course:
Unenrolled view (sales page)
Enrolled view (enrolled student only content)
Everyone (content that everyone can see regardless of enrollment status)
For example, you may show testimonials to people who are not enrolled, student only resource download links to enrolled students only, and a short description of the course objective to everyone.
You can of course do all of this with LifterLMS memberships in addition to courses.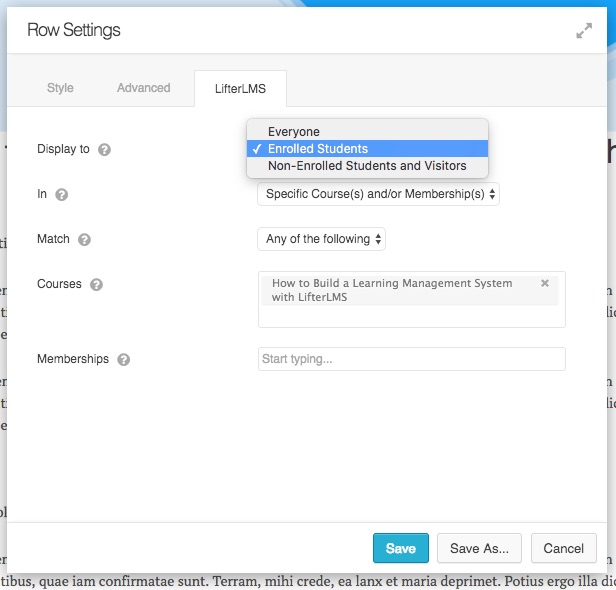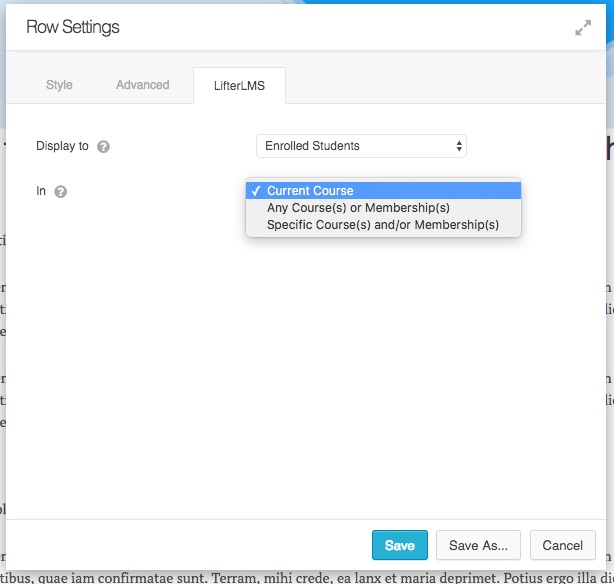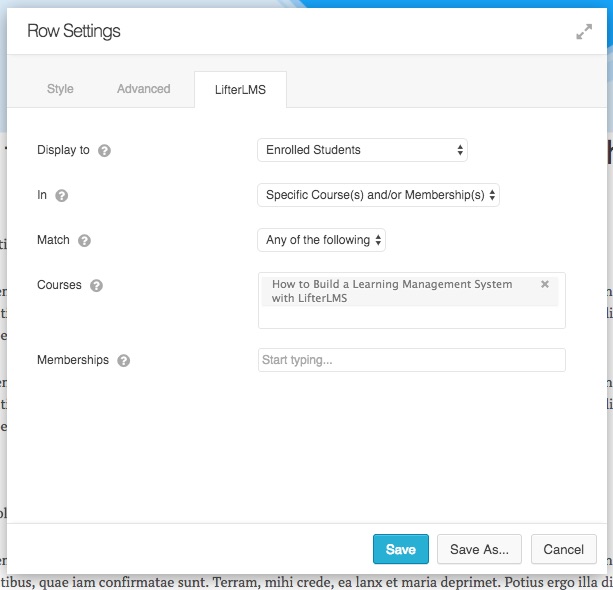 LifterLMS Lab for Beaver Builder row and module visibility documentation: https://lifterlms.com/docs/lab-beaver-builder/#visibility
3) You can now build custom course layouts, but start with a basic course layout that we provide you with
This lab also comes with a prebuilt Beaver Builder course template you can load into your courses to achieve a default layout very similar to the standard LifterLMS course layout. This layout can be found under "LifterLMS Templates" when you click the "Templates" button from within the builder.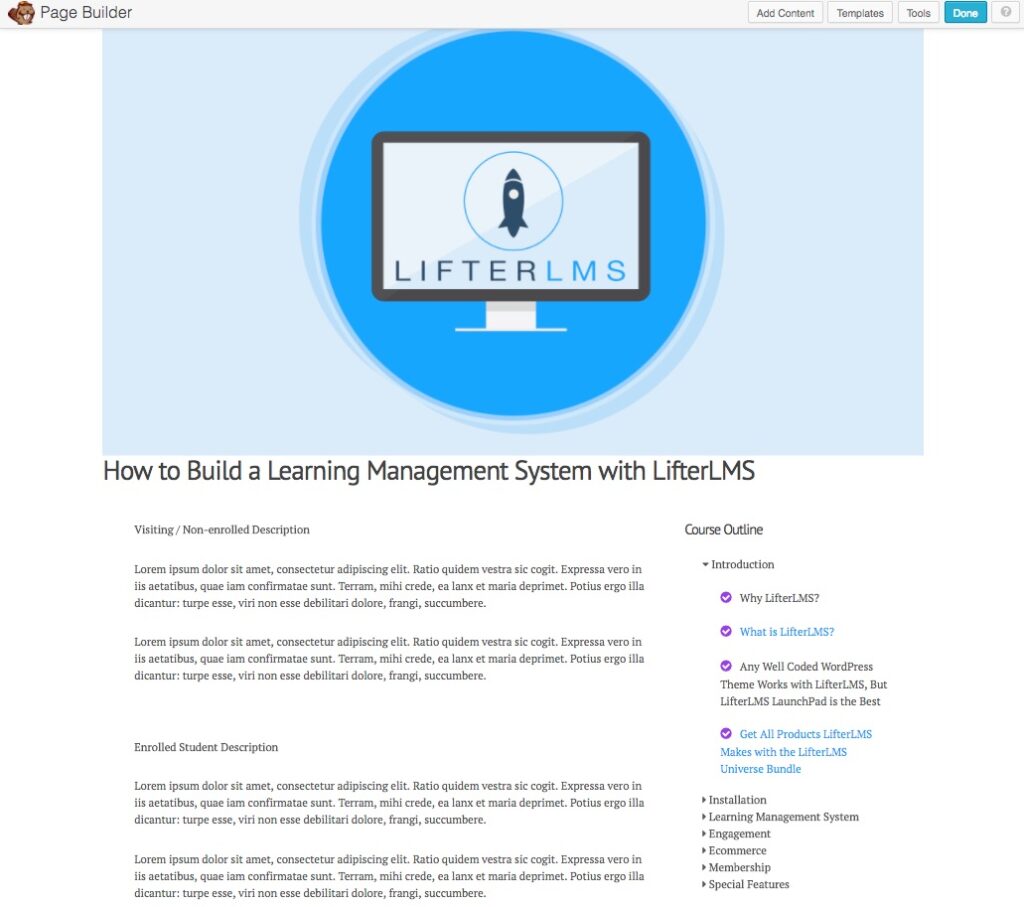 LifterLMS Lab for Beaver Builder course template documentation: https://lifterlms.com/docs/lab-beaver-builder/#template
Do you want to give all this a try for free?
At LifterLMS part of our mission is to empower education entrepreneurs around the world as much as we can for free, especially when it comes to validating their course idea before choosing to invest in more of our premium tools.
Here is how to try LifterLMS and Beaver Builder for free on your WordPress site. You simply need to download these 3 plugins and start building your course:
If you appreciate these free tools brought to you by LifterLMS and Beaver Builder, please consider leaving a review while you're there. If you took a minute to do that, it means a lot to any team that creates and maintains these kinds of powerful free plugins.
But Chris, I want it all. I'm a WordPress, designer, teacher, and entrepreneur power user. I want all the superpowers …
No problem.
Step 1) Click here to get the LifterLMS Infinity Bundle
Step 3) Click here to get the Beaver Builder Pro or Agency Package
LifterLMS and Beaver Builder have strong user communities and you're invited …
Step 1) Click here to join the LifterLMS Facebook group
Step 2) Click here to join the Beaver Builder Facebook group
Happy Course Building!