Adding quizzes is like questions that you can ask your course participants to verify whether they have paid attention to your lessons or not. Besides, it is good for identifying various stuff that can help you or other course creators to polish their courses.
Although, only adding quizzes won't help you much, if you don't observe quiz results from time to time.
On that note, here we have made use of the best and most user-friendly WordPress LMS plugin that will let you learn how to add quizzes and check their results in WordPress. But, before that, let's explore the general benefits of adding quizzes on WordPress.
Why Do You Need to Add Quizzes to Your eLearning Website?
Adding quizzes is one of the most effective options to boost course engagement. Besides, it is also the determinant of many things. For example, you can get to know how much your students learn from your courses along with how to make your courses more effective. Besides, quizzes come with other opportunities too.
Let's take a look at the opportunities of adding quizzes to your eLearning website:
You can assume the overall performance of your courses.
It helps you to detect the lacking of your courses.
Easy to collect feedback regarding courses.
Quizzes boost engagement and help your students to keep focused.
It motivates students to participate in courses more.
Students can polish their knowledge through quizzes.
You can also promote your upcoming courses through quizzes.
So, these are the advantages of adding quizzes to your eLearning website. Since you know why adding quizzes is a good practice, let's learn how to add a quiz and find its answers in WordPress.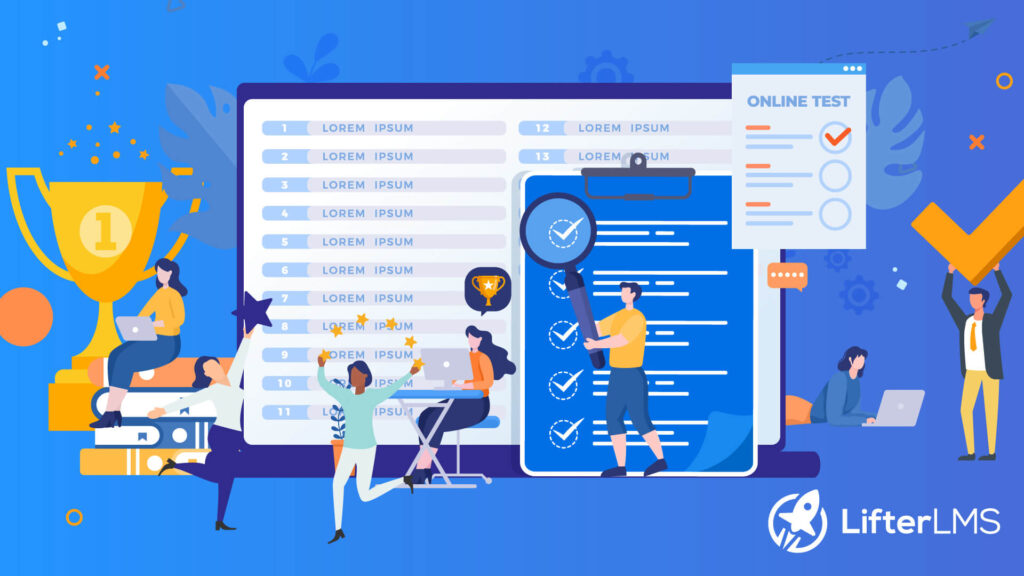 Integrate Quizzes and View Quiz Results in WordPress
If you want to know how to check quiz results, you must add quizzes in WordPress first. And the prerequisite to add quizzes and check their results is selecting a WordPress LMS plugin. Nevertheless, having different LMS plugins, we are using LifterLMS. Because it offers the simplest option to add and find quiz results in WordPress. So, without further ado let's get started with integrating and viewing quizzes in WordPress:
How to Integrate Quizzes
You don't have to write code to integrate quizzes in WordPress. Because with the right LMS plugin like LifterLMS, you can add quizzes in WordPress in less than a few minutes. Now, to educate students through quizzes, go through the below three steps and your quizzes will be ready to live:
Step 1: Edit Courses through Builder.
To add quizzes in WordPress, you need to edit courses. To do that, press (2). courses option under courses and from there, click (2). "builder" of the course to which you want to add questions.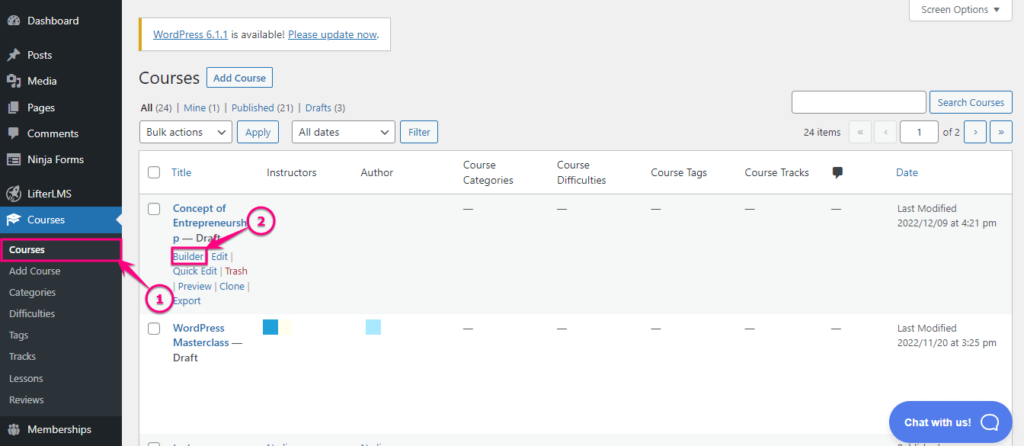 Step 2: Add Questions to Your Quiz.
After clicking the builder option, you will be redirected to the page from where you can add quizzes. To add questions to the quiz, press the "+" icon to expand the section.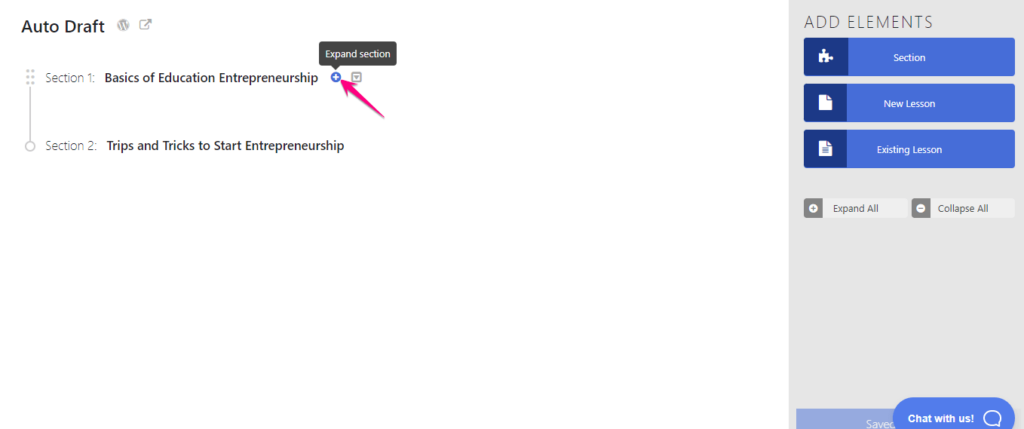 Now, click the (1). "question" option and press (2). "Create New Quiz" button to add questions to a new quiz. Or else, you can also add questions to your existing quiz by pressing the (3). "Add Existing Quiz" button.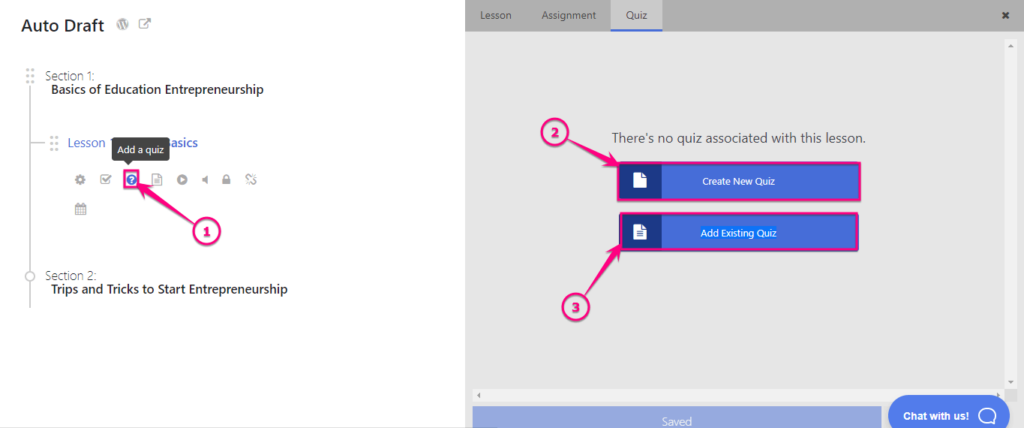 After that, insert a "Title" for your newly added quiz.
Then press the "Add Question" button to specify the type of questions you want to add.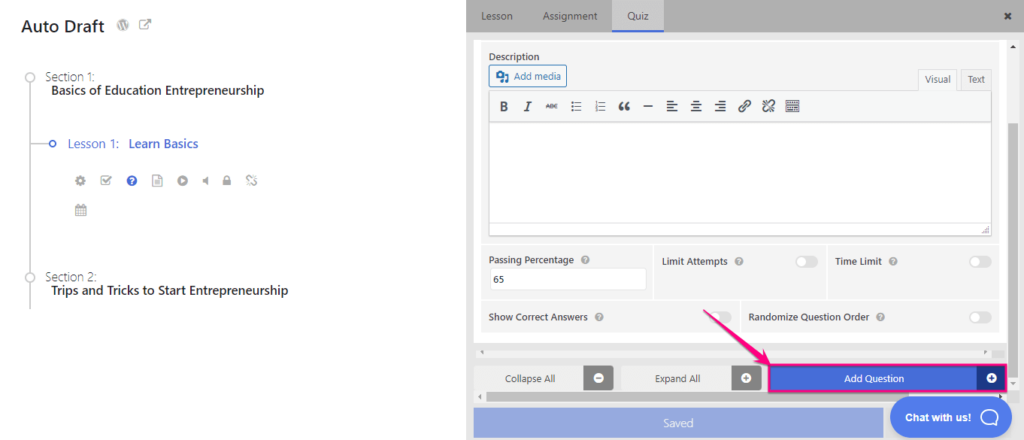 After clicking the button a new tab will pop up from where you have to select the question type. Here you can enjoy adding three types of questions. Those are Basic, Advanced, and Other questions.
To choose the question type, just simply click what you like to add. For example, here we are showing the process of adding multiple choice. Click the "Multiple Choice" option to add multiple questions.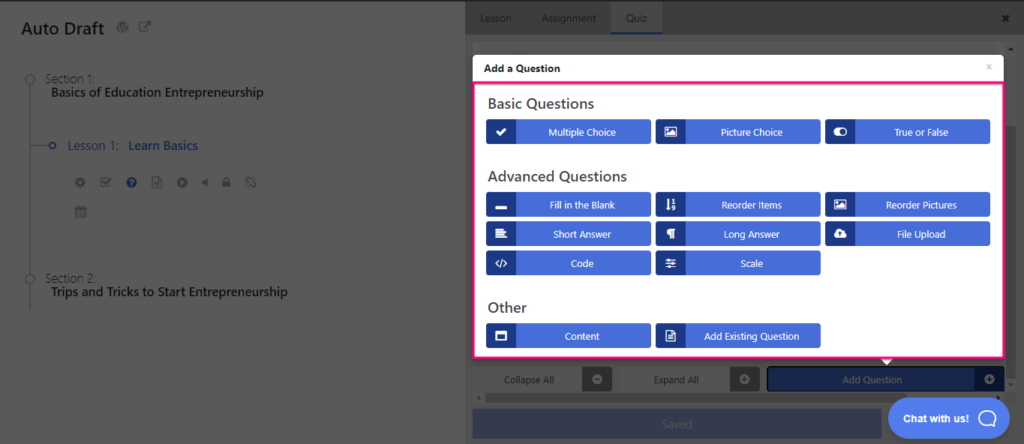 Then, write your question in (1). Marked area and add (2). Choices for your question. After adding all the choices, highlight the correct option like the below-added image.
Here, if you want to add a multiple choice that has more than one correct answer, simply enable the (3). "Multiple Correct Choices" button. Then, you will be able to add multiple correct answers for your multiple choice.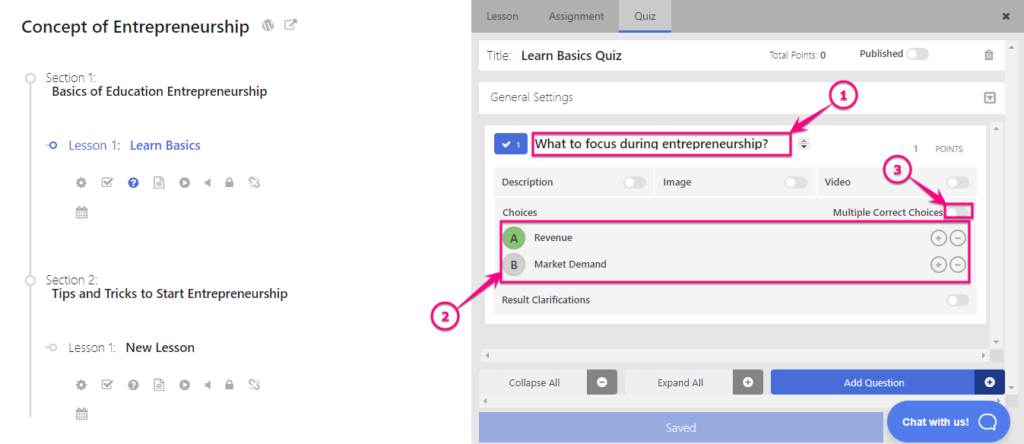 If you want to add clarifications to your quiz results, enable the (1). "Result Clarifications" option and write it inside the (2). Marked box.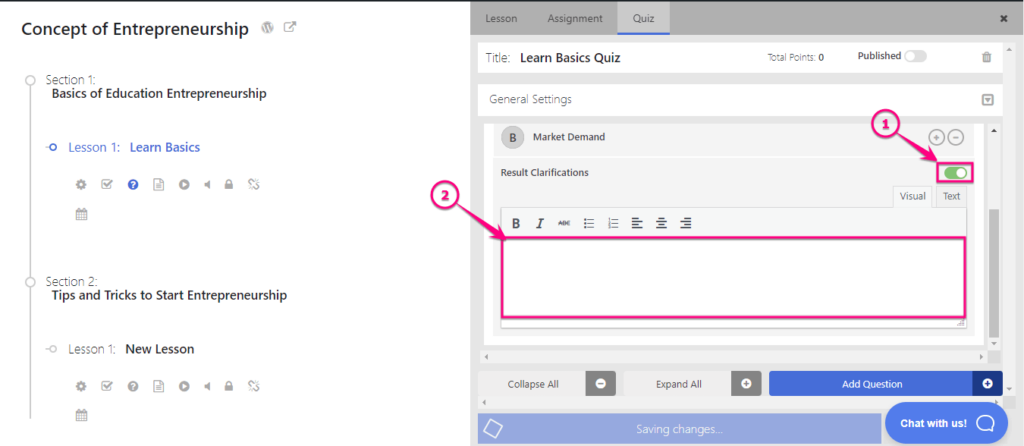 Step 3: Publish quizzes for Your Course.
Finally, after making every possible customization, enable the "Published" button to make quizzes live.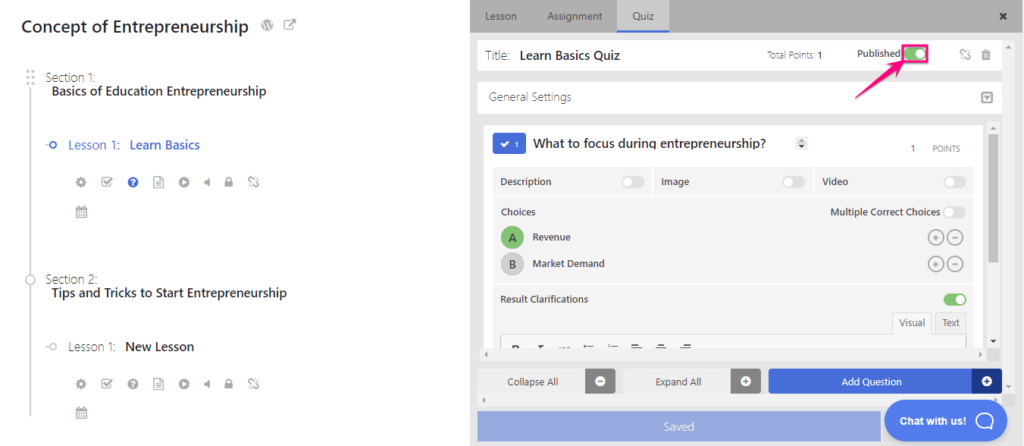 Are you still confused? Check out the following tutorial regarding adding quizzes in WordPress:
How to Check Quiz Results
After publishing quizzes, the second thing that you would want to check is how your students are performing. LifterLMS has an easy option to check quiz results in WordPress as well. All you need to do is follow the below-added step to view quiz results using LifterLMS:
Step 1: Check Results from Reporting.
In this step, click (1). "Reporting" section under LifterLMS and press the (2). "Quizzes" tab to find all the quiz performance reports of students.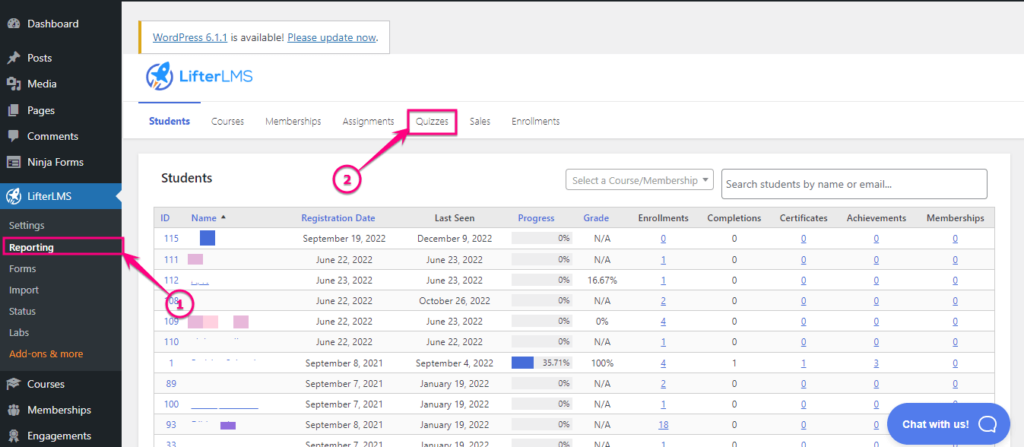 Finally, press the "ATTEMPTS" tab, and your students' quiz performance results will be in front of your eyes. This whole process won't take more than a few minutes.

Make Courses Engaging with Quizzes
No matter how much effort you put into creating your courses, they might get lost in the run of achieving business goals, if you don't consider adding quizzes to them. Because quizzes come with different business opportunities that are hard to ignore and you already know what those are.
Hence, add quizzes to your eLearning courses by following the steps of how to add quizzes and check quiz results using LifterLMS which will take less than a few minutes. This is the easiest process that you could ever follow as LifterLMS is one of the user-friendly learning management plugins in WordPress. So, use LifterLMS to integrate and find quiz results.