What is ConvertKit?
ConvertKit is a powerful email marketing tool, and at LifterLMS we invite you to consider integrating with it through the official LifterLMS ConvertKit integration to help grow your course sales and give you more tools to communicate with your learners.
There are a lot of email marketing tools out there, so why did we choose ConvertKit?
It has a beautiful, well designed interface that just makes sense. There are a lot of confusing interfaces in the email marketing space, and ConvertKit is not one of them.
ConvertKit's sequence or "autoresponder" system is perfect for creating email mini-courses to help you earn the trust of potential learners and ultimately close the sale into your main LifterLMS powered online courses.
Nathan Barry, the entrepreneur behind ConvertKit, is a seasoned email marketer and creator of successful online courses and other digital products. He gets where you're coming from, and he knows what you need to be successful.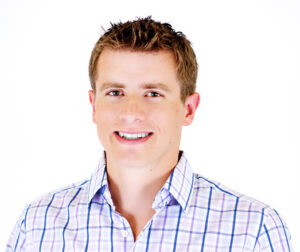 Nathan Barry, ConvertKit Founder
How to Use ConvertKit to Get More Course Leads and Sales
ConvertKit has something called sequences that you can trigger.
A sequence is a series of emails that go out over a period of time or "drip" that you define.
We recommend you use ConvertKit sequences to deliver an email based mini-course.
This email mini-course helps you get more leads and sales because…
People get to know you. They may have found you for the first time, and it's important to build rapport before you ask for the sale. As a general rule, people like to do business or learn from people they already know.
People get to see if they like you as a teacher. We all have memories of teachers we loved and others we did not enjoy. A free email mini-course in exchange for an email address gives people the opportunity to test the waters and find out if they like working with you.
People get an opportunity to see if they trust you. This is the most important factor and driver of sales. Once you have the trust as a likable authority that can deliver valuable educational material, you have the greatest likelihood of moving that student from "interested" to "paying student."
So we recommend you find a place on your website, like the blog sidebar or the top of the home page, and have a ConvertKit opt-in form where you ask for an email address in exchange for a free email mini-course.
Give people the opportunity to know, like, and trust you. Then at the end of the email sequence, send them some information and give the learner a link so they can explore your paid courses or memberships.
How to Use ConvertKit for Intelligent Email Broadcasting to Students
One of the best things about the LifterLMS ConvertKit Extension is the ability to segment your email list.
After you have earned the trust through your email mini-course and the student buys a course from you, you can now add them to a specific "tag" and apply additional sequences if you'd like.
An example of a sequence you might want to send out is some general "getting started" or "onboarding" emails designed to remove any friction on getting going. For example, you might send out an email with a link to a video that has a behind the scenes tour of your course platform. It's important that you take advantage of the moment right after purchase when interest, attention, and excitement is the highest.
Even more powerful than the global tagging and sequences you can trigger is the ability to add users to a specific tag or tags and/or trigger automated email sequences based on which course or membership they buy. So you could have a general "getting started" email series designed for a specific course or membership. And you can also have a specific tag or tags for each course so that you could send broadcast emails to specific course members or groups of them if you need to.
Take a Behind the Scenes Look at How Easy it is to Set Up the LifterLMS ConvertKit Extension
Ready to Grow Your Online Course Business? Here's What I'd Like You to Do Next…
Go grab a copy of the LifterLMS ConvertKit Extension here
Go grab a copy of ConvertKit here
Cheers to your online course success!
When you invest in integrating an email marketing tool like ConvertKit into your LifterLMS, you are transitioning from beginner to intermediate. I'd like to personally congratulate you on your growth and progress.
Let's build great things together!