The dirty little secret of learning based membership sites is that the majority of students don't complete the course. They don't get results.
Why is that?
One big reason is that learners get into content consumption mode but don't do anything with this new information.
Learning ideas without action = no results = declining motivation
With LifterLMS Assignments there are 3 ways to get your learners taking action …
Assignment type #1: Tasks
With tasks you can create a single or multiple item task list for learners to complete before they can complete the lesson associated with the assignment.
Tasks are about guiding the learner into specific action.



Tasks are about laying out clearly designed steps for the learner to execute before they move on.
The lesson video might contain the core ideas and explanation, but the tasks tell your learners exactly what to do in order to get results and holds them accountable.
Assignment type #2: Uploads
Sometimes you might want your students to upload something as an assignment.



If you have a yoga course, it might be a photo of them in a specific pose so you can critique and give them a grade on form.
If you have a business course, you might request them to upload their business plan as a PDF for review.
If you have a parenting course you might ask your parent to upload some pictures or a quick video tour of their kitchen for a baby-proofing check.
Graded uploads open up a powerful feedback loop for learning and accountability.
Assignment type #3: Essays
Sometimes you might want a student to write an essay to apply the learning from the lesson content.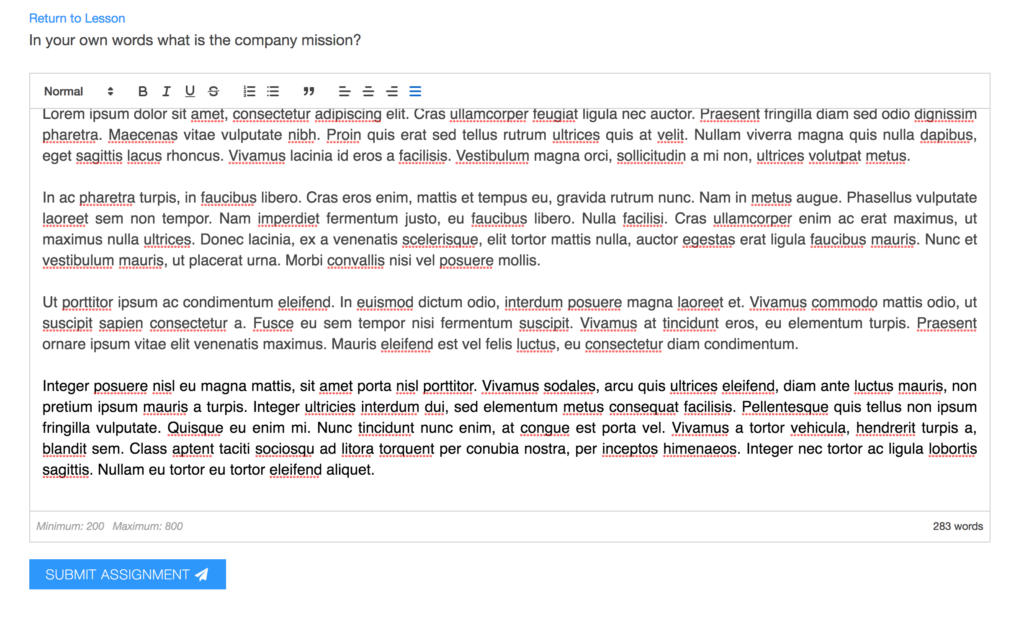 If you have a writing course you may use essays for writing submissions to be graded.
Essays are old school, but are still very valuable for the learning process. Essays can be especially useful when the instructor provides detailed feedback on the submission.
Video tour of the student experience …
Here's what I'd like you to do next …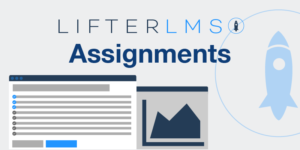 Go grab your copy of the LifterLMS Assignments add-on here or get it through the Infinity Bundle.
LifterLMS Assignments is in beta, so if you have any specific feedback or feature requests for it, please submit that through the ticket system here. We are listening.
I'd encourage you to consider an assignments strategy for your course.
I'd encourage you to get your learners taking action.
Learning ideas without action = no results = declining motivation
Let's build the most engaging learning experiences on the internet together!