The abundance of hosting platforms may have many user choices, but it also tends to confuse them.
In the battle of the best cloud hosting providers, Cloudways emerges as a top contender and claims to resolve all cloud hosting complexities with its flexible services. With its managed WordPress hosting, Cloudways is considered an ideal solution for maximizing the ease of use and intuitiveness.
Course creators, coaches, and entrepreneurs building online courses via WordPress LMS plugins value ease of use over everything, so Cloudways seems to be a perfect choice for them. In fact, we've partnered with them to help you launch an LMS website instantly.
But is Cloudways worth the praise it gets from the hosting industry? Let's find out in this in-depth review.
What is Cloudways?
Cloudways is a managed hosting platform that combines ease of use, budget-friendliness, and intuitiveness to deliver exceptional hosting for your WordPress websites. With Cloudways, you can bid farewell to slow speeds and inconveniences that can ruin your WordPress hosting experience.
Packed with tons of useful features, they offer a pay-as-you-go pricing model that every user can afford, regardless of their business's scale. Cloudways sets itself apart from its competitors with its economical pricing plans and exceptional performance.
What I like the most about Cloudways is that it offers all its users a free 3-day trial that allows them to experiment with Cloudways's features and assess if it works for them or not.
Sure, other hosting providers also offer trials, but the catch here is that you won't have to give any credit card details to sign up with Cloudways, which speaks for the company's confidence in its services.
Cloudways offers its users a choice of their preferred platform from the following top options:
DigitalOcean
Linode
VULTR
Google Cloud Platform
Amazon Web Services
Cloudways: Features Overview
Cloudways is rich in features and offers all the salient features needed for an impeccable hosting experience, and obliterates all the restrictions that may limit a user's control.
Let's look at some noteworthy features that make Cloudways an excellent choice:
Ultra-Fast Performance
Performance is the primary deciding factor for a hosting platform, and Cloudways is known for its high performance in the cloud hosting industry.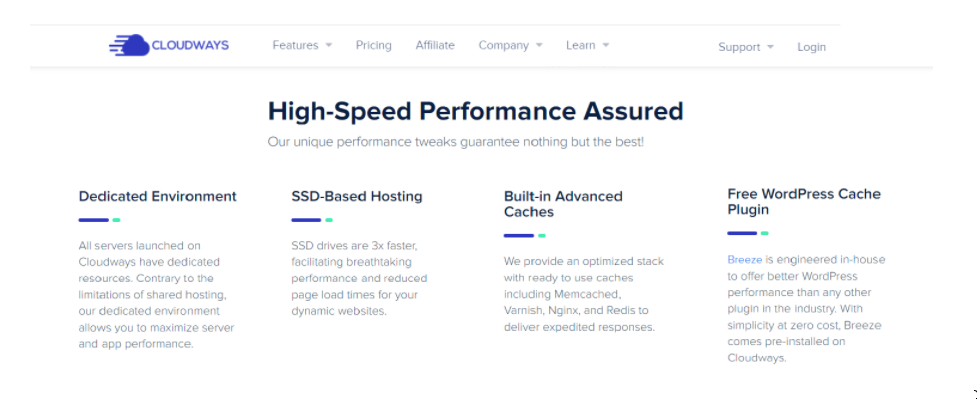 Unlike other hosting solutions, Cloudways has a dedicated environment to ensure ideal server and application performance. With its updated PHP 8-ready servers and SSD-based hosting, your websites live in a performance-focused environment.
To top it all, Cloudways allows easy integration of CloudwaysCDN to achieve exceptional performance and response times. Adding more to the bargain, you'll get FREE WordPress and Magento cache plugins for an even better user experience.
Real-time Monitoring
Monitoring is crucial, as it enables you to see what's going on with your servers. Cloudways offers real-time server monitoring and facilitates the users to monitor 16+ metrics from their console.
The real-time insights help the users optimize their servers and applications using the CloudwaysBot, which sends notifications to the users via email or Slack.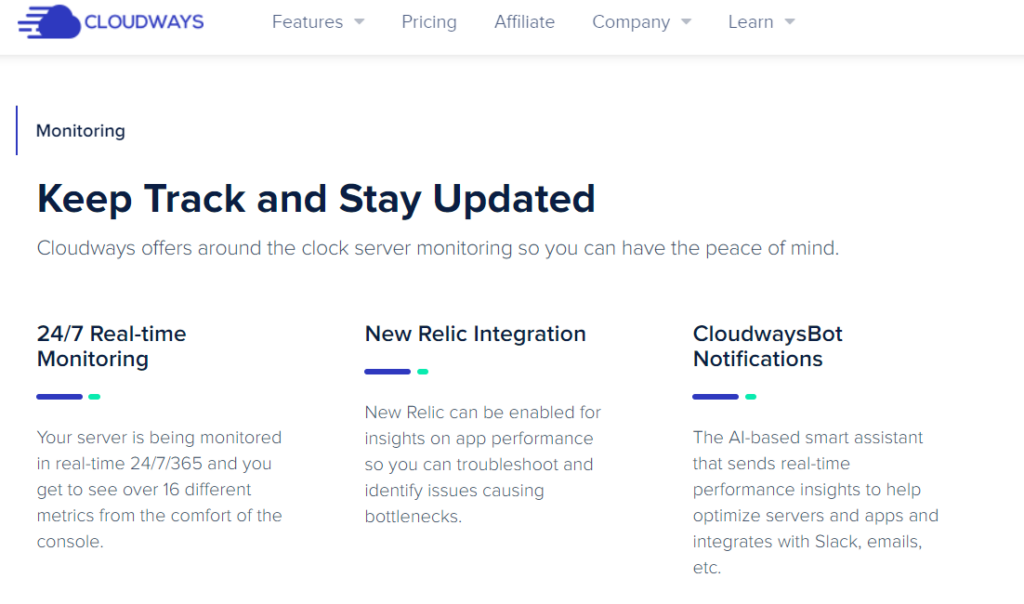 Moreover, you can also get help in finding out new issues, troubleshooting, and gaining insights, thanks to the New Relic integration.
Managed Security
Cloudways understands the significance of security and observes the best security practice to offer its users a secure hosting environment. The dedicated firewalls combined with the SSL encryption help the user safeguard from malicious traffic and hacking attempts.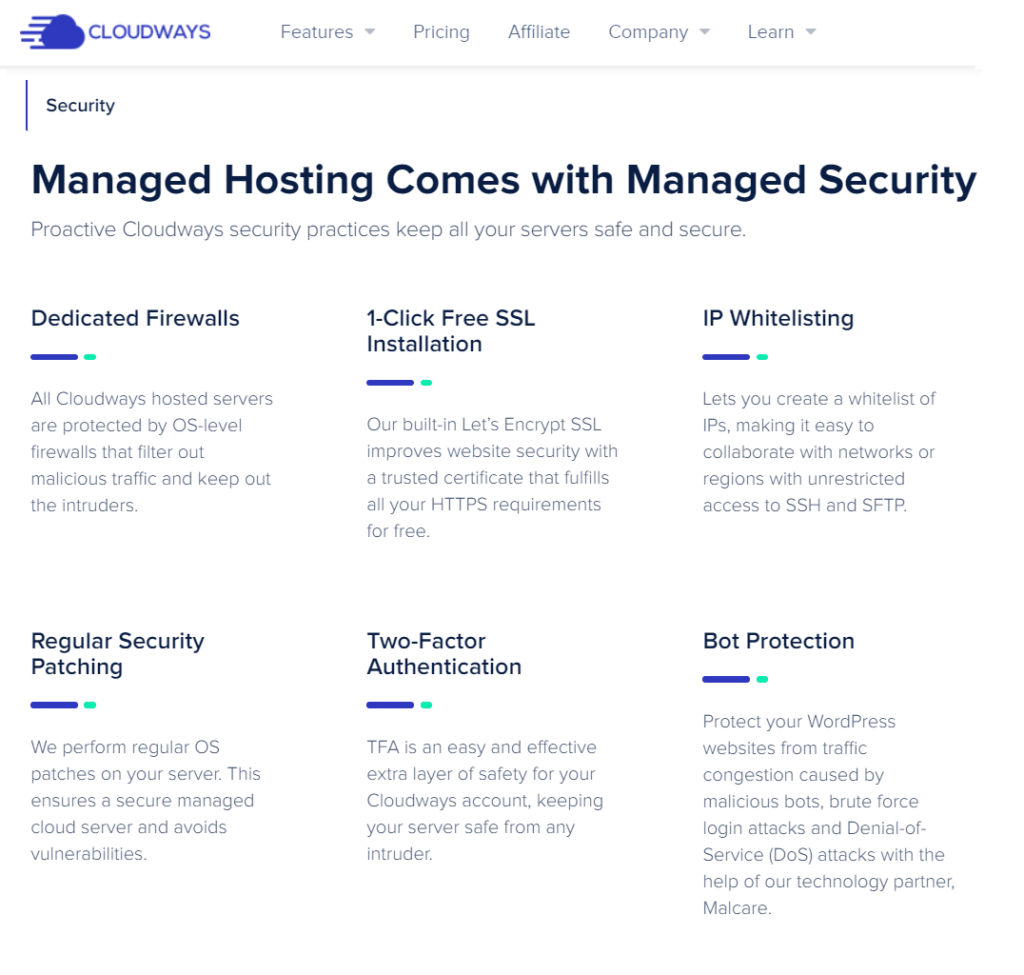 You can further solidify the security with regular security patching and two-factor authentication. Moreover, Cloudways also allows its users to whitelist IP addresses for easy collaboration and to restrict access to unidentified users.
Team Collaboration
With Cloudways, team collaboration is a breeze. They make it so through Git's auto-deployment, which ensures that the user's live servers are deployed with updated code whenever there's any change in the remote repositories. Accessing servers and updating files can also be securely done via SSH or SFTP.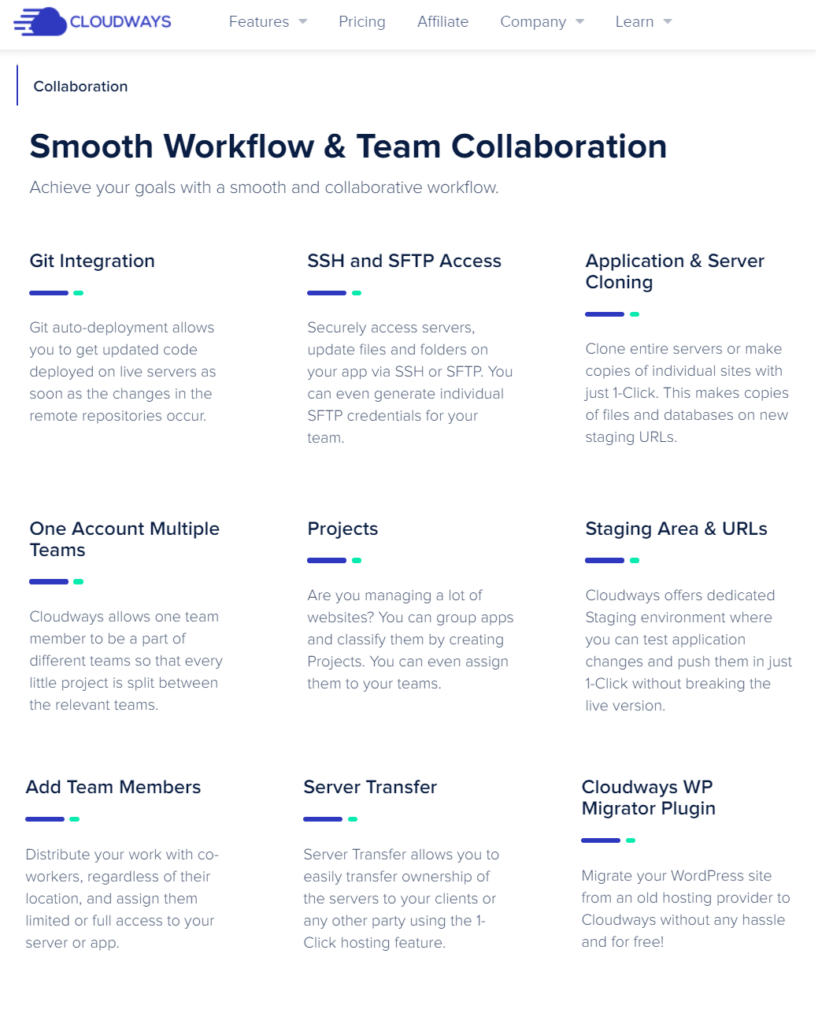 Furthermore, copying files and databases get much more manageable with Cloudways, as it allows the users to clone entire servers and websites with a single click.
The synchronization lets the members of different teams get full or limited access. This allows the users to use the dedicated staging environment for testing out application changes.
Also, the 1-Click hosting feature enables the users to transfer the server's ownership to anyone. Considering all of the aforementioned features, it is safe to say that Cloudways values collaboration.
Customer Support
No matter how efficient a platform or service becomes, it is still vulnerable to complexities that may confuse a user. Gone are the days when people had to email their problems and wait for days for the company to reply to their queries. In this fast-paced era, everyone expects instant replies.
Cloudways offers 24/7 live chat support where users get assisted by highly trained professionals. And because complex problems can often be time-consuming, the cloud hosting provider also offers direct contact via Slack or phone calls with senior, most experienced support engineers via their premium support add-on.
Multiple Integrations & Add-ons
Furthermore, users can integrate other popular add-ons and enhance their managed cloud hosting experience.
Cloudways offers the following add-ons:
Application Migration
Application Upgrade
DNS Made Easy
Gmail SMTP
Rackspace Email Hosting
Support Add-ons
Cloudways: Pros & Cons
No matter how extraordinary, every hosting service has its pros and cons, and Cloudways is no exception.
I tested all of Cloudways' services, analyzed its performance, and researched how it differs from its competitors. After a thorough evaluation, I have concluded its strengths and weaknesses and have divided it into the sections as follows:
Pros:
One-click deployment.
Superlative performance.
Customized control panel.
Fast speeds.
Free website migration.
Easy monitoring.
Managed security.
Easily scalable.
A 3-day free trial with no credit card requirements.
Cons:
No email hosting.
No domain registration.
Cloudways Hosting: Pricing & Plans
Cloudways offers a free 3-day trial which, unlike other hosting platforms, does not even ask for any credit card details.
So any user can kick-start their hosting journey with Cloudways involving zero risks and upscale the plan once the trial finishes if the service meets their requirements.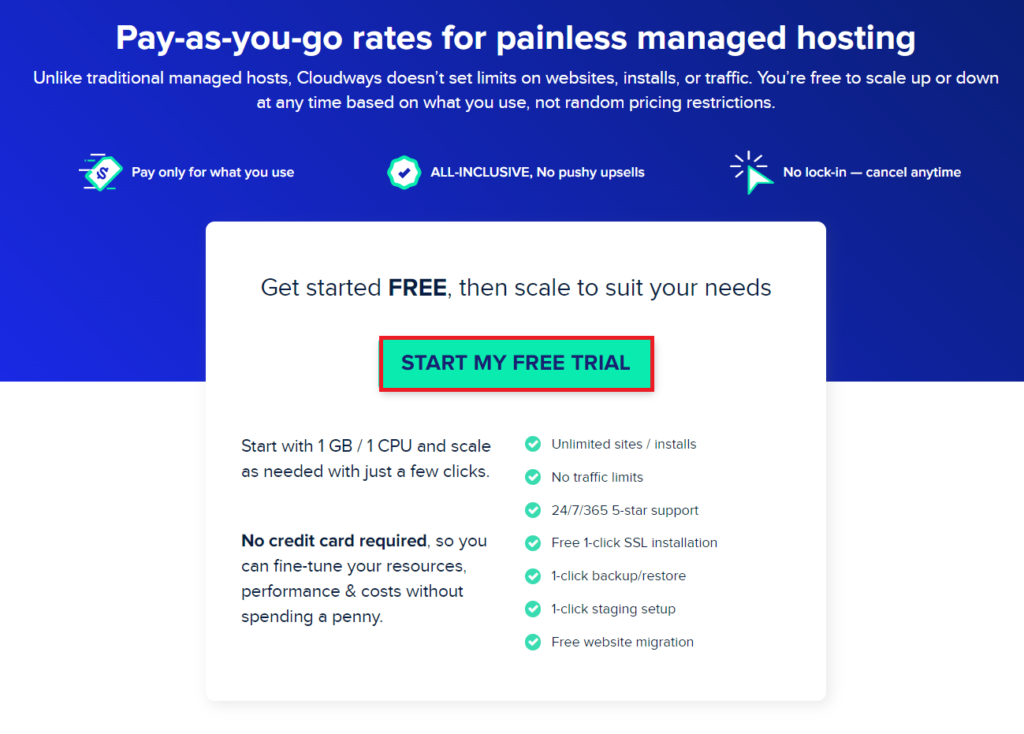 Cloudways' pricing plans are versatile. Depending on their needs, users can select their server size, location, and pricing that suits their needs the best.
Offering both hourly and monthly packages, their pricing is an adaptation of the pay-as-you-go model, which ensures that users only pay for what they consume—no less, no extra.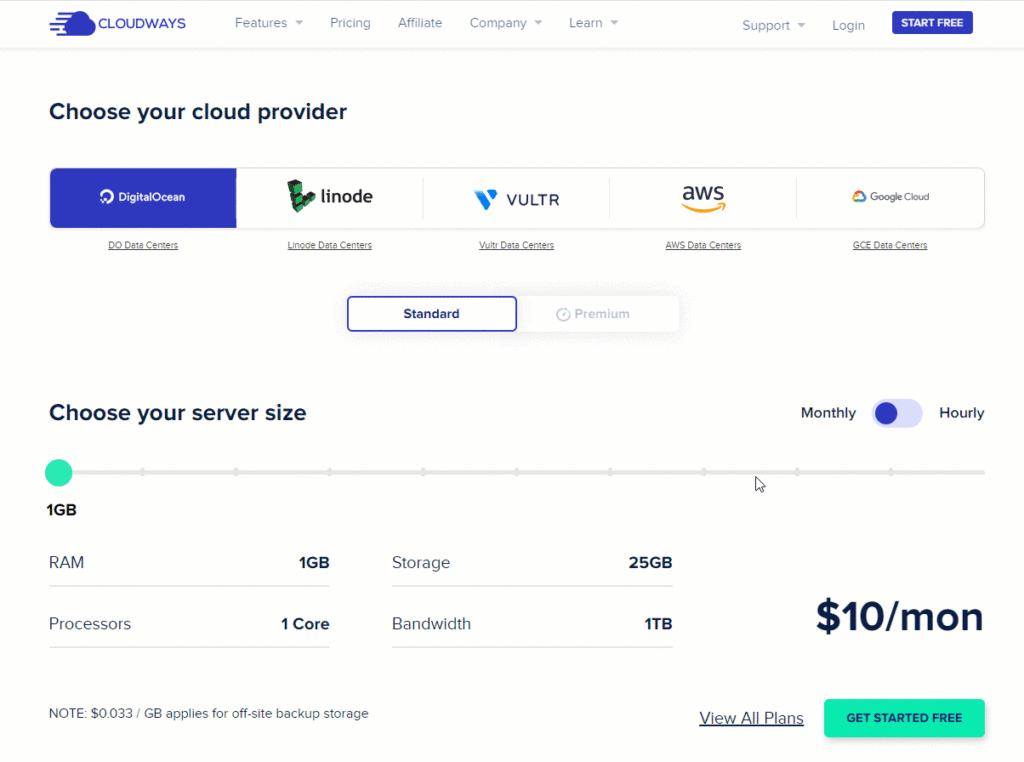 Cloudways's hourly billing feature is another factor that differentiates it from all other hosting providers. If a user opts for the hourly plan, they have the liberty to use Cloudways for as many hours as they want and pay only for the consumed time.
With other hosting plans, it does not matter if you use their service for an hour or for weeks; you are bound to pay the monthly price.
Are these fancy and customized plans not your thing? You can go for Cloudways's monthly plans. They start at $10 per month and extend to higher amounts as per the user's cloud provider selection and server size.
How to Install LifterLMS on Cloudways
Integrating LifterLMS and Cloudways can be overwhelming for non-techie users.
We have collaborated with Cloudways to bring a quick 1-click solution to help non-technical users get past the steps with just a few clicks.
Step 1: Visit the LifterLMS x Cloudways partnership page and click on Get Started For Free.
Step 2: Sign up with Cloudways, and get its 3-day free trial. If you already have a Cloudways account, the setup will redirect you to the server configuration page.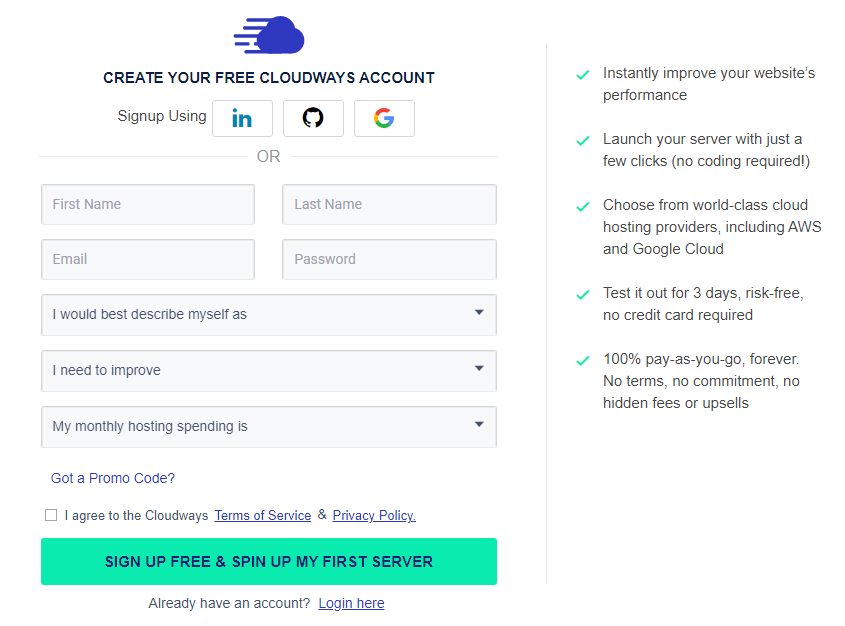 Step 3: Name your managed server and application.
Step 4: Choose your preferred IaaS provider from the list of five top providers.
Step 5: Select your server size and location.
Step 6: You'll see the monthly and hourly costs as per your chosen configurations. Click the Launch Now button to integrate LifterLMS with Cloudways.

Our Partnership + Final Thoughts
Here at LifterLMS, we believe good services make for a better user experience, and better user experiences lead to better businesses. So if you've been planning to start a learning or educational website and have been looking for a solution, our partnership with Cloudways is the answer to your search.
Cloudways is a high-quality cloud hosting platform, and LifterLMS is the most powerful LMS plugin for WordPress. Together we've created a 1-click solution for people like you looking to launch an educational website. Thanks to this partnership, getting started has never been easier. So head over to the Cloudways + LifterLMS page and get started right away.