How to Create a Recurring Revenue Membership Site While Becoming Completely You
Kay Peacey Launched ActiveCampaign Academy with LifterLMS and Divi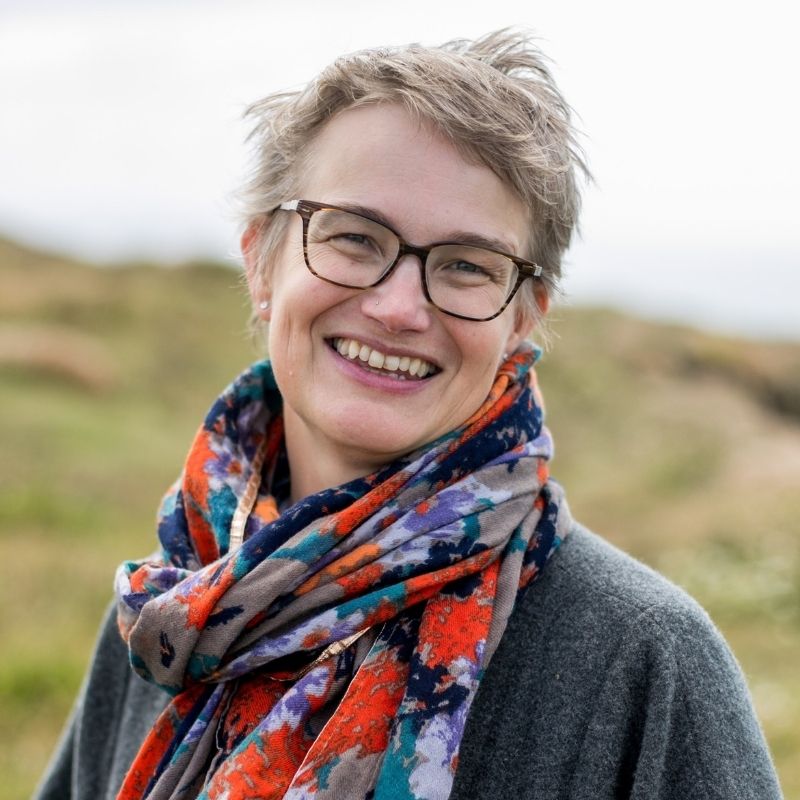 Kay Peacey, Slick Business
Success Story Highlights
9 Months: From idea to launch a full-fledged academy
100+ Members: On initial launch
11 Courses: At launch, each with about 10 lessons
In 2020 we interviewed Kay Peacey of SlickBusiness.co on how to use the well known CRM (Customer Relationship Management) tool ActiveCampaign with a membership-based online course using using the best WordPress LMS plugins, LifterLMS. Since then, Kay, the UK's leading ActiveCampaign specialist and certified consultant, has revamped Slick Business to offer her own comprehensive, multi-level ActiveCampaign academy using LifterLMS, so that users can learn how to use the valuable marketing automation platform.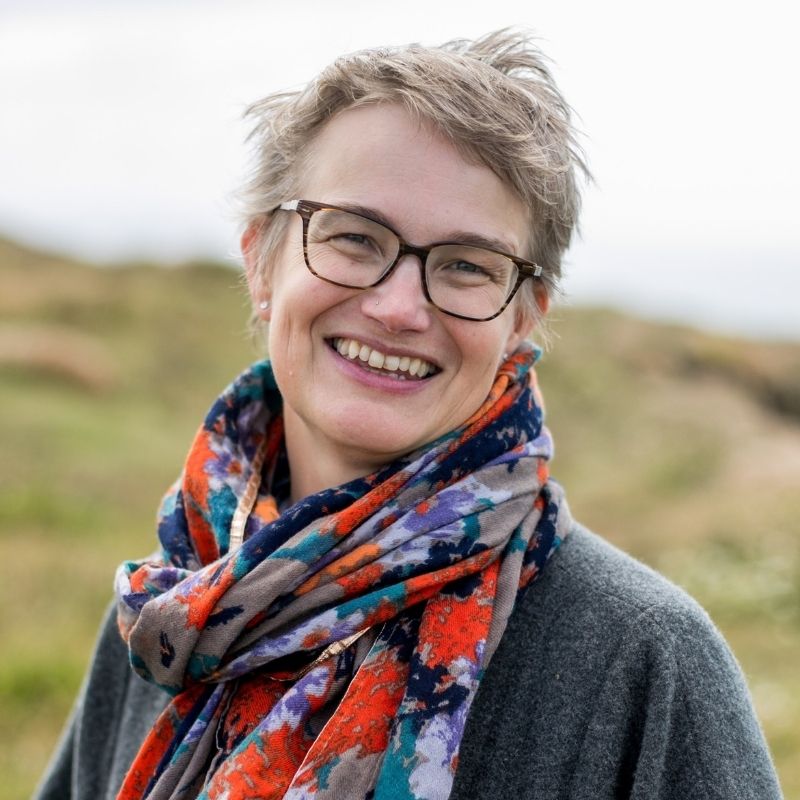 "I love LifterLMS. It's the one I ended up with and I'm really happy with it. I love the flexibility of it. I love the fact that it's built on WordPress. I'm a WordPress person anyway, so it just felt like the perfect fit for me."

—Kay Peacey, Slick Business
The Challenge: Accommodating a Variety of Businesses
Kay herself started with ActiveCampaign five years ago and remembers the frustrations she faced learning how to use it. The platform can be used for a myriad of automation tasks, that range from email to lead generation, sales funnels and engagement, A-B testing, internal processes, data storage, and more. The huge body of features ActiveCampaign offers can puzzle even a seasoned user, and can certainly overwhelm a new one. Understanding this positioned Kay in the perfect place to eventually become an ActiveCampaign specialist. After five years as a consultant, however, she realized that if she wished to serve a wider audience she would have to expand to a membership structure.
One of her challenges out of the gate was how to prioritize the body of knowledge she wanted to teach. She realized that to do so, she would have to create a structure that would accommodate the individual demands of a vast variety of businesses.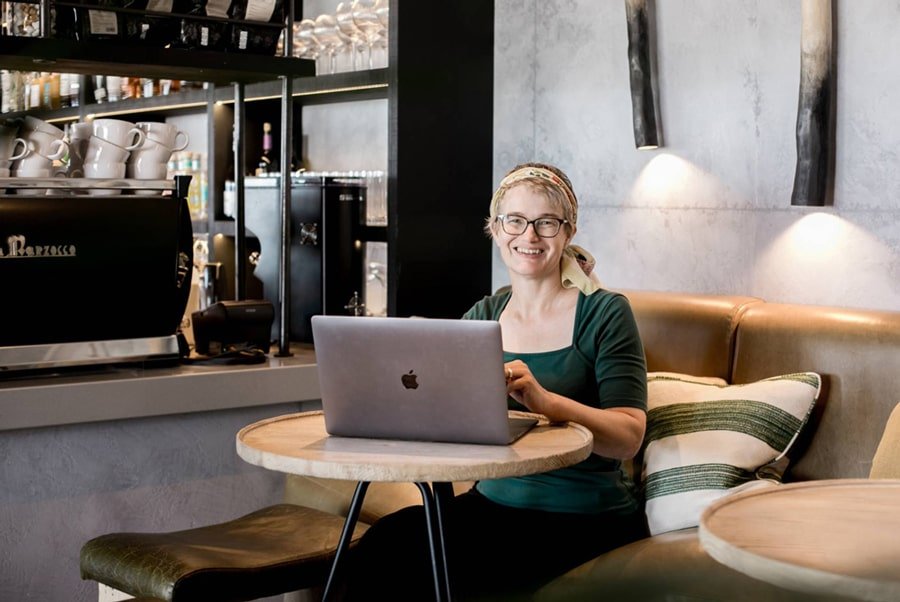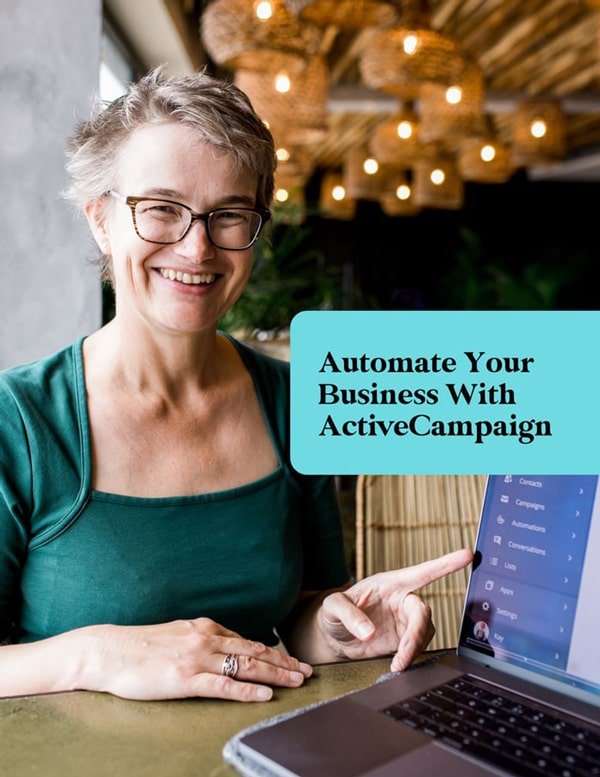 Using insights gleaned from pre-launch beta students, Kay mapped out a four-fold plan to tackle the steep learning curve ActiveCampaign users often face. Not surprisingly, the plan starts with courses, using LifterLMS, to explain ActiveCampaign's features and related items. Helpful resources comprise the second element, and include real-case walkthroughs, outlining of strategy, familiarity with the tech involved, and how to deploy these to build and document automated processes.
The third element is the academy's private member community, a particularly rich lode of even more resources in a dedicated library area, and access to Kay and her team for responses to deep-dive questions. Finally, twice-a-week office calls make up the fourth element, and allow members to participate in a group call with Kay to find solutions to areas where they might be stuck.
Process & Launch
To switch from consultant to academy owner Kay had to put herself in the shoes of other business people, each of whom likely has different needs, and figure out the best framework to fast-track them on using the relevant parts of ActiveCampaign. As she worked with the pre-launch beta students, it became clear almost immediately during office hours that which issues were most critical to students and likely to keep coming up, and for which courses needed to be developed.
---
"Every business is different, your business structure is different, your tech stack is different… your state of play in terms of working with tech and automation and strategy… all of those things need to be taken into consideration when you come up with a plan to automate something."
---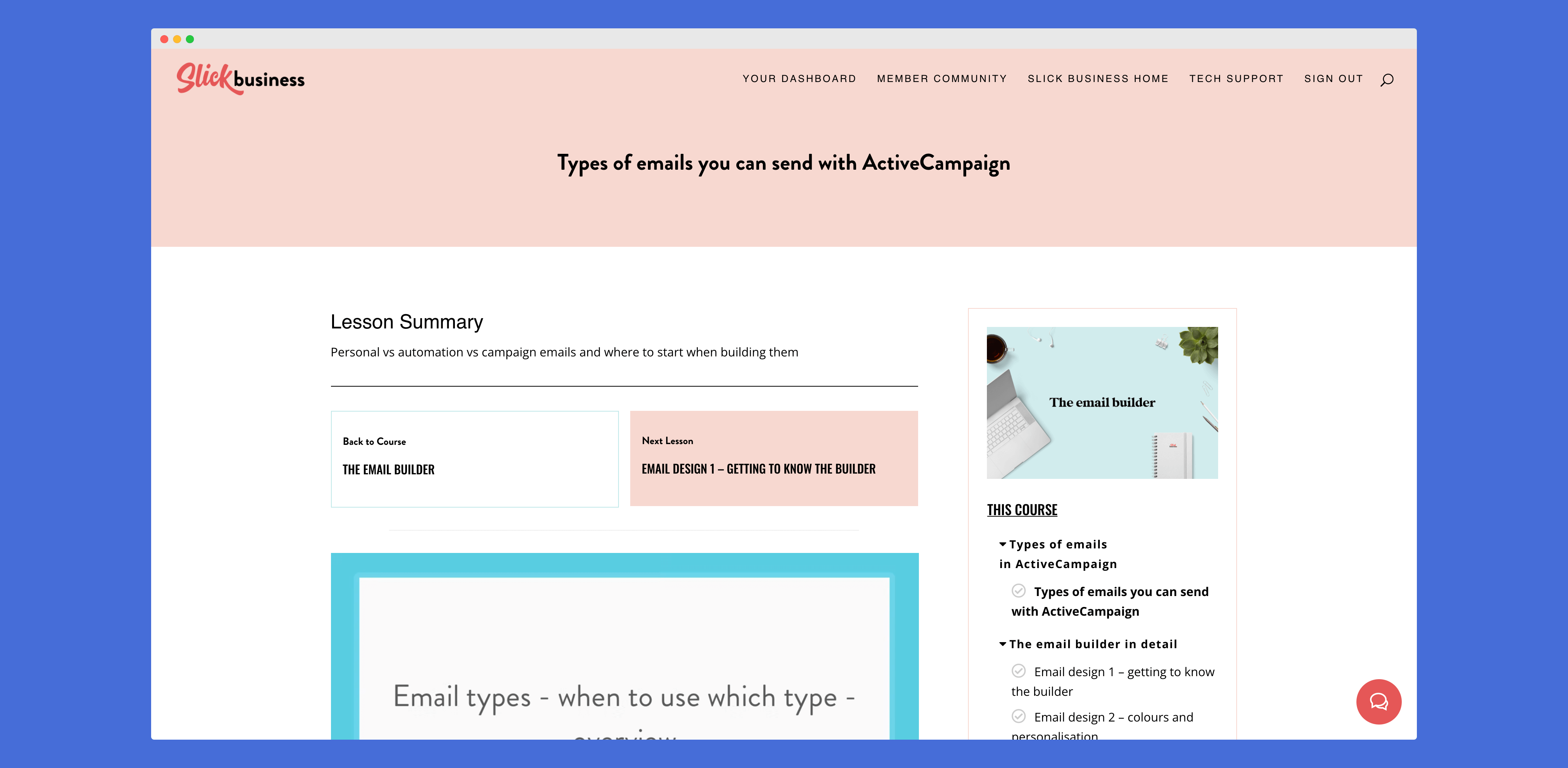 As an example of LifterLMS' easy integration and "open-endedness," Jon points to video inclusion. While LifterLMS allows a user to link to their own private YouTube or Vimeo videos, Jon chooses to embed his own video player using Presto Player.
With all the flexibility LifterLMS offers, Jon is working on new courses to share his holy grails on on-page SEO and content marketing–find out when they launch at HolyGrailWP.
Over a nine-month academy "gestation" period, Kay promoted what she was doing, put together a team, and built a live webinar launch funnel. Eleven courses, each containing an average of ten lessons, were ready by the time of the launch. The introductory presentation, dubbed the EASY ActiveCampaign Webinar, was a series of three live webinars over three days.
The EASY ActiveCampaign Webinar
Kay credits her colleague, creative marketing specialist Melissa Love, with coaching her on how to structure the webinar–first establishing trust and letting viewers know they were in the right place, talking about pain points, and introducing Kay, her history, and her extensive qualifications. Four themes, or "pillars of content" constituted the meat of the webinar, making the content comprehensible and deliverable. The four pillars also lent themselves to both the structure and the clever, mnemonic name of the webinar, EASY Active Campaign:E > Environment, such as tech and tools
A > Activity; how to use the tech and tools for processes and automation
S > Strategy, including making and refining a plan, and knowing the outcomes one wants
Y > You, the human at the heart of one's business
The live webinar launch funnel was so successful that by the time the academy launched, it had over a hundred members.
The Importance of Connection and Structure
Prioritizing connection with academy members and establishing trust is number one for Kay, but she also acknowledges the importance of team management and decision making involved in running a business.
---
"I always prioritize connecting with my members. That is the most important thing."

---
Realizing that her teaching serves her students better and more efficiently when organized motivates Kay to carefully structure her teaching. A plan structure that productizes her knowledge also helps keep her from over-extending herself and burning out from having to respond personally to repeat inquiries. Developing a team workflow for course creation and documentation has also aided in this effort as it becomes part of the ever-growing resource base.
Kay Peacey's Tech Stack
Kay's tech stack needs to accommodate not only her own business' automation, but content and course presentation, and community interaction, so she has in play:
ActiveCampaign
WordPress
LifterLMS
Divi
WPFusion
Circle, an embeddable community platform, which both includes resources and encourages sociability
WooCommerce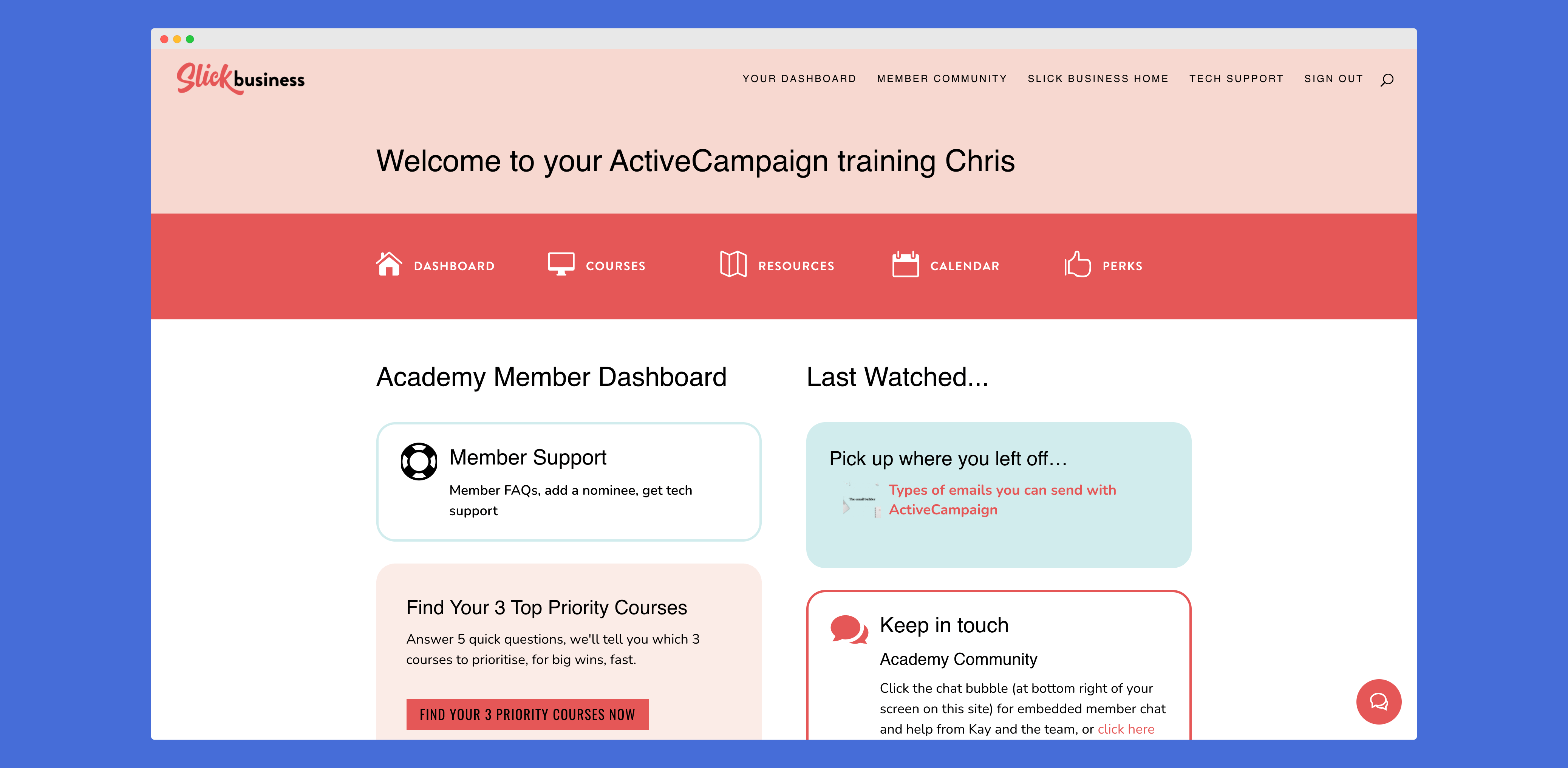 The LifterLMS Advantage
"LifterLMS is just so fluent and easy to use… But the thing that's benefited me most at this point launching into this membership is being able to use the membership layer over the top of the courses. That has been absolutely pivotal."
While the newly launched academy already offers a huge body of learning material to its members, Kay continues to add more content, using LifterLMS for course expansion. She's enthusiastic about LifterLMS' flexibility and fluidity, and shares some of her favorite LifterLMS advantages:
Easy to use, build and change
Ability to use membership layer over courses
Ease of adding new material
Auto enrollment of new members
Integration with WooCommerce and other apps
Attractive presentation
Availability of quizzes certificates and gamification
Ownership, insights and automation, compared to the limitations of third party SaaS e-learning platforms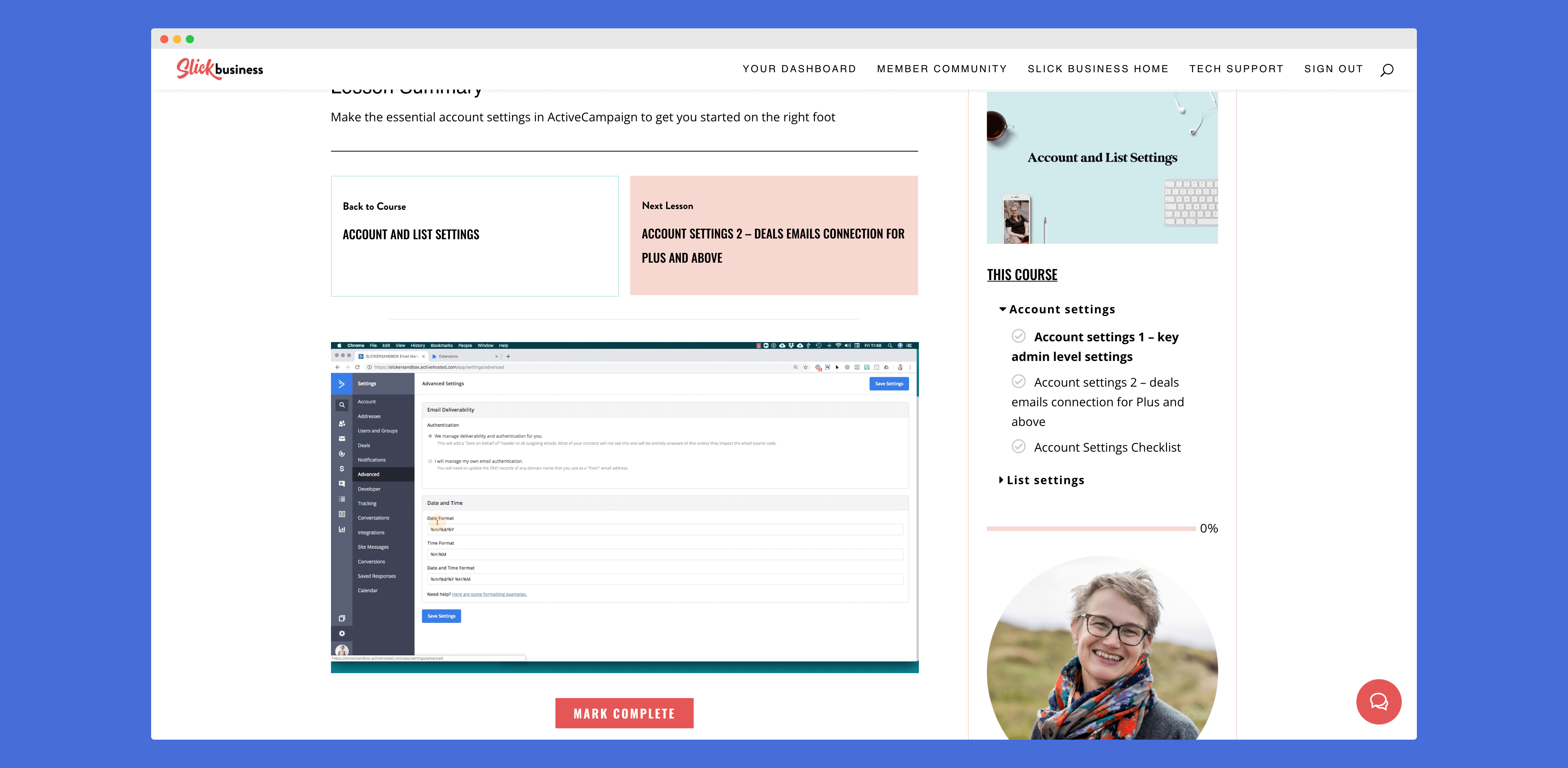 Do you know what I'm really excited about with LifterLMS? When this membership reaches a point of maturity where I can start to look at the other things, quizzes and certificates and gamification and all of those extras… I'm really excited. I'm going to be getting me that LifterLMS Infiinity bundle!
The Academy Pricing Plans: Flexibility & Fairness
The same comprehensibility, consideration, and flexibility that serves clients with different needs also applies to Kay's pricing structure. Some business owners can make do with one month of training, but others are far better served with the annual plan. Kay reckons that about 20% of her members are ActiveCampaign service providers, for whom the advanced annual plan is best.
In pricing her Academy plans, Kay looked at ActiveCampaign's four levels: Light, Plus, Pro, and Enterprise. ActiveCampaign's Light plan packs a lot of features, but those using it will likely not need the same in-depth training that service providers or other more advanced users need. For such users, Kay feels it is fairer to offer a more accessible price point in the Academy's Essential level. The content of the academy's Advanced level, however, is more geared toward ActiveCampaign Plus, Pro and Enterprise users.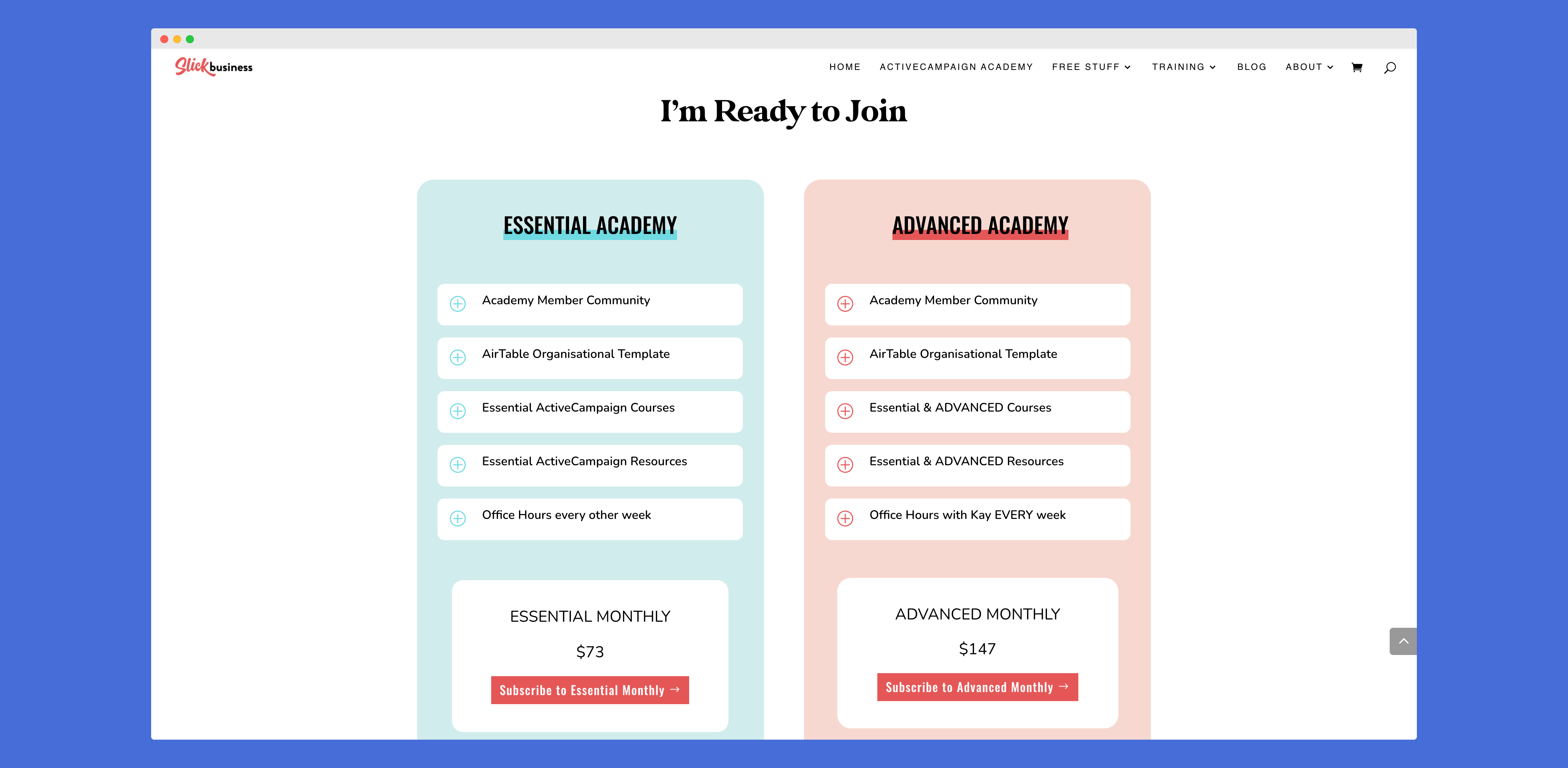 ---
"My mission now is to make that journey so much easier and so much faster for small and medium business owners and the people who work in them, so that they can actually leverage the enormous power of ActiveCampaign to make their working life easier, and their business better, and their customers feel happier."

---
For those interested in learning how to automate their businesses with ActiveCampaign, but who may not yet feel ready to jump into the academy, Kay hosts a Facebook group, Automate Your Business With ActiveCampaign, as well as a free training built with LifterLMS called Accelerated ActiveCampaign.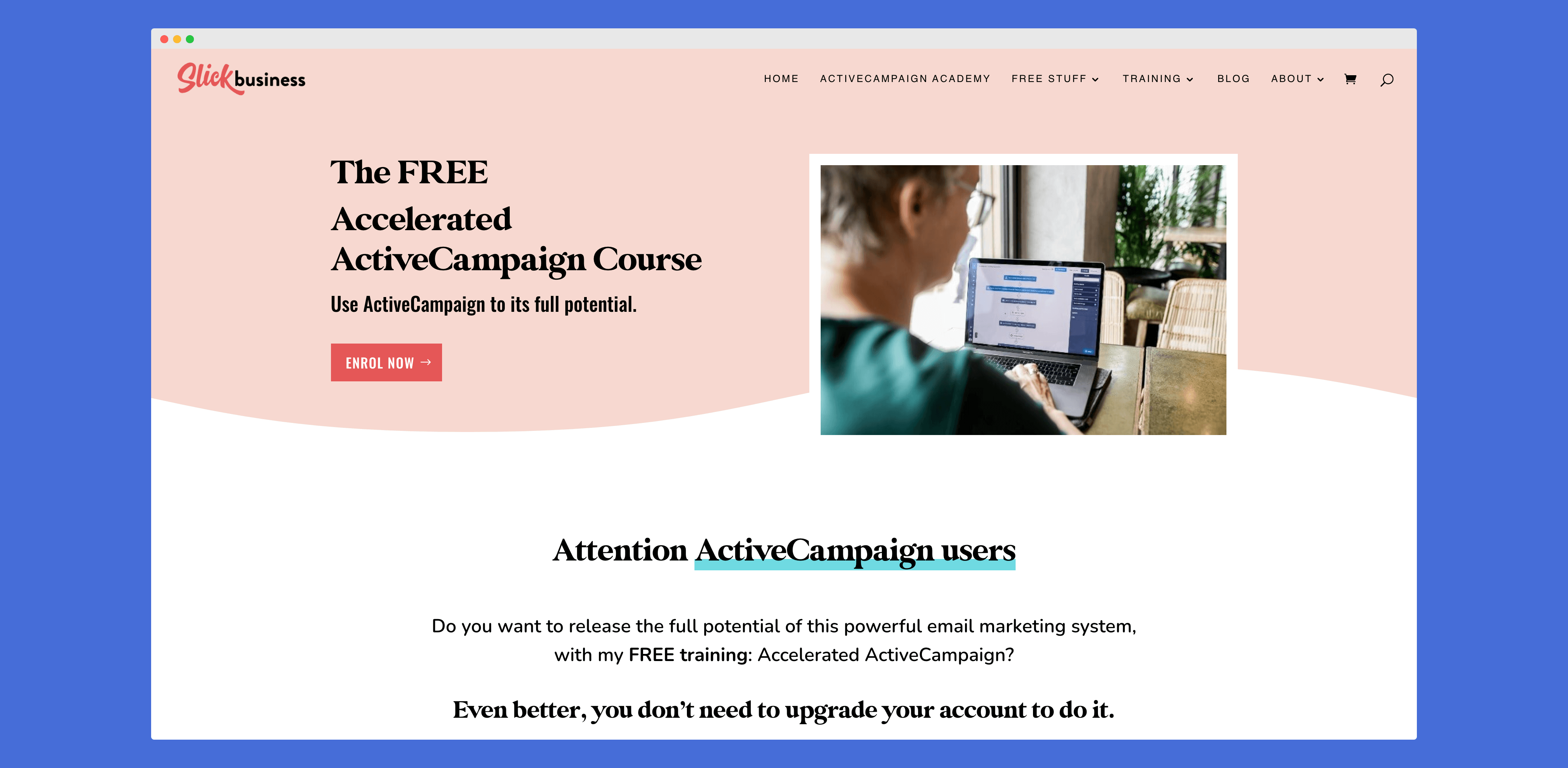 We have published a podcast episode with Jon Phillips on LMScast. You can learn a lot more in detail about website speed optimization from this podcast-