Successful Membership Site Launches From a Commitment to Community and a Problem/Solution Approach
Designer and WordPress Website Building Professional Melissa Love Built a Successful Training Based Membership Site Business Around Meeting Others Needs

Melissa Love, The Design Space
Success Story Highlights
500 Students Enrolled in First Course
8+ Additional Experts Contribute Training to Melissa's Membership Site
6 Month Waiting List to Work with Melissa
At age 13, Melissa thought graphic design was BORING. But with parents who were both in that field, she found the knowledge was impossible to escape.
Little did she know that it would take her beyond designing invitations and posters for friends and be the foundation for creating a successful business, a LifterLMS course, and ultimately her own membership site.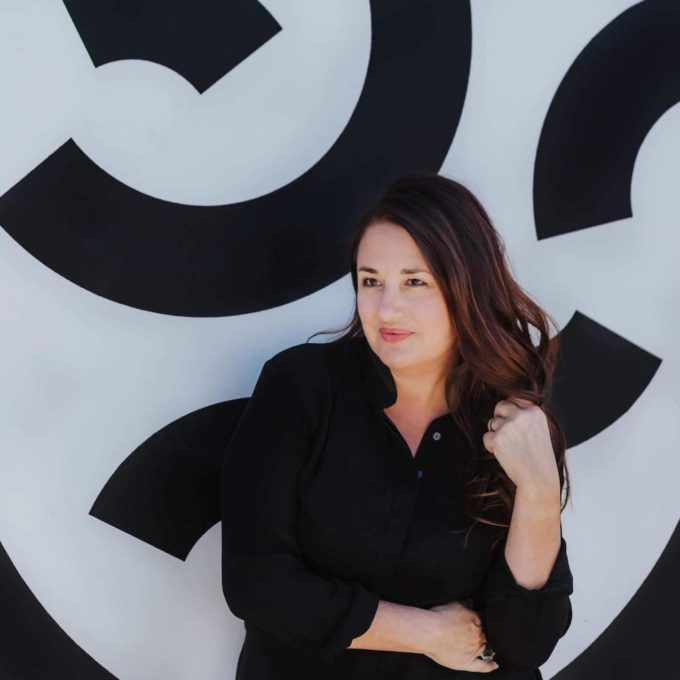 "LifterLMS is the most comprehensive and customizable WordPress LMS plugin available. Whether you're creating online courses, a membership site, or a combination of both, LifterLMS has everything you need to create, sell, and protect engaging online content."

—Melissa Love, The Design Space
Finding Her Community
Like many, Melissa's path to success coincided with a life changing event; in her case it was becoming a mother. She'd spent her early adult years in a variety of completely different industries, but now, with children to care for, she wanted to try out working from home.
This brought her full circle.
She decided to draw on her design knowledge and build herself a WordPress website. Her WordPress story grew into building websites for friends and eventually, about 10 years ago, the need to know how to code. To do so, she took some courses, asked others for help, and learned a lot through trial and error.
"I built some terrible WordPress sites and then I kind of really started to develop my skills."
Around this same time, she also became involved in the Divi community. Using this page builder, Melissa was able to craft beautifully designed sites with minimal coding, eventually leading her to create child themes she was able to sell to others in the general WordPress and Divi communities. This idea originally received mixed reaction, but eventually took off and within 6 months Divi had its own marketplace.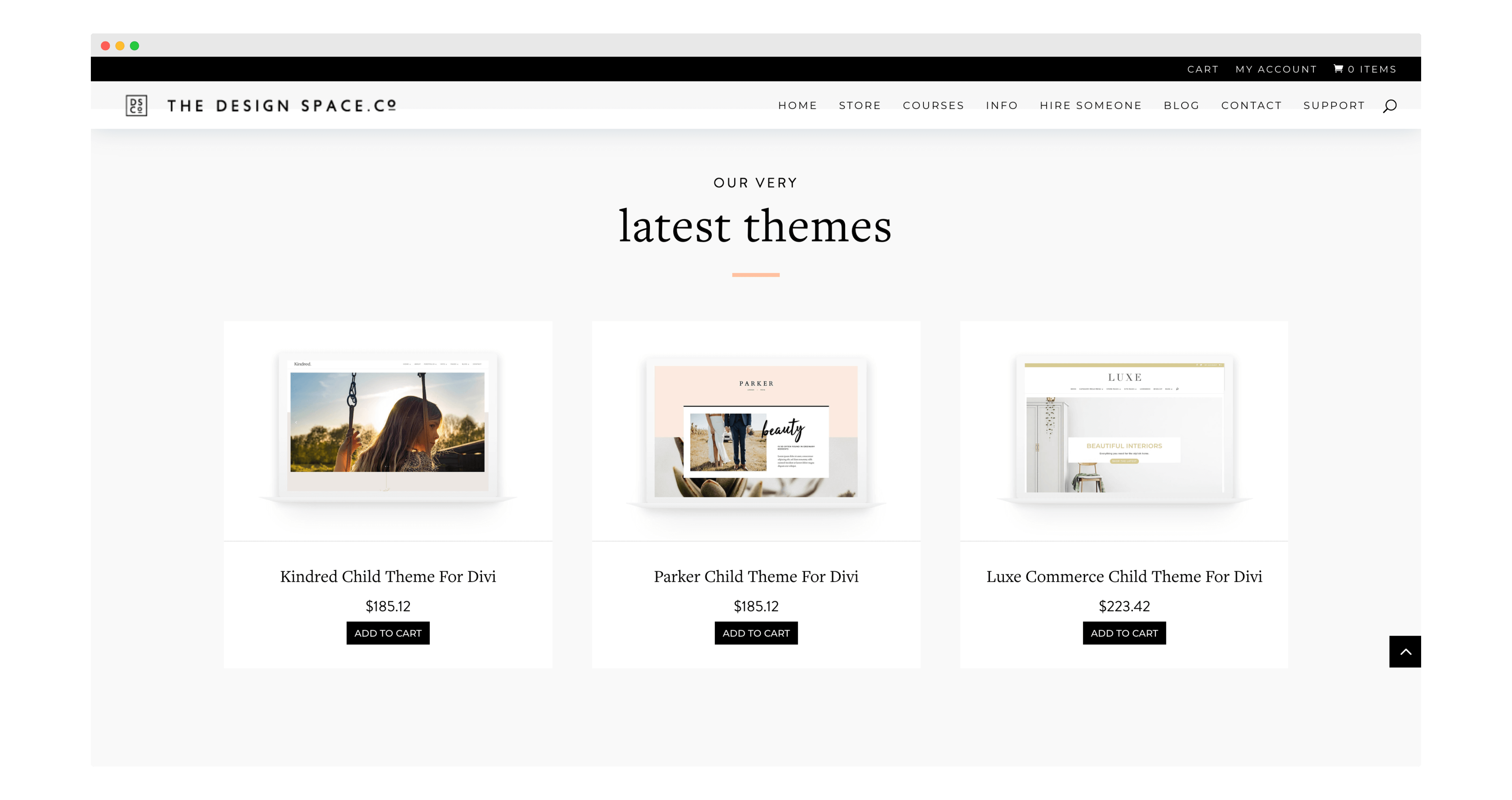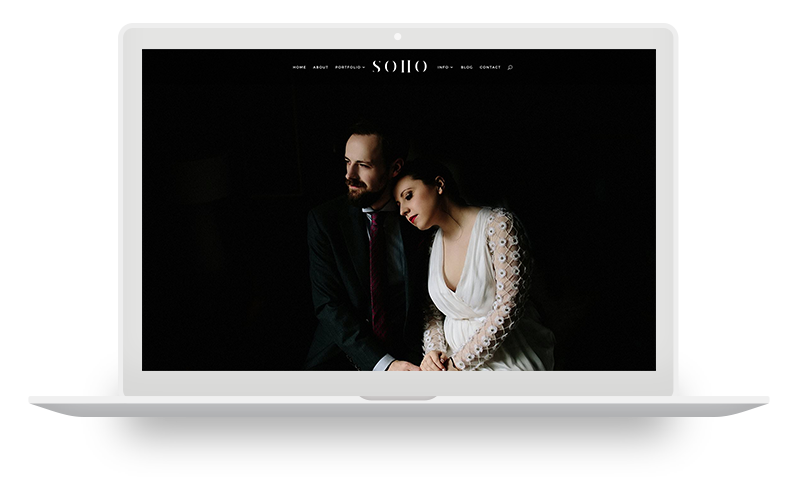 While initially she was building sites for anyone who'd ask, it was fixing a photographer friend's website that opened an unexpected door.
Helping her friend led to mentoring in a prestigious photography program where she was asked to teach branding and design, and found a steady stream of higher paying customers. Eventually, she found her website building business with a waiting list of six months to a year.
Finding Her Niche
Developing a niche has been fundamental to Melissa's success. By having an intimate knowledge of that niche, she's been able to build trust in her abilities which allows her more freedom to be creative, something that can be difficult when working with other creative people.
However, building that trust doesn't come quickly or without effort.
If your business is built on a community's trust, it's essential to invest the time to stay involved. Doing so comes with added benefits, benefits that she was able to grow her business on.
---
"When you become a specialist — and I'm a really big fan of niching down, it's a topic I talk about a lot when I'm teaching people — the value of that is it allows you to position yourself as the expert and then you become the least risky choice for somebody."
---
By staying involved, she was able to recognize that Divi community members wanted to know more about how to build a website. And once again she found herself shifting her business to solve a problem and meet her clients' needs.
Finding Her Tools
To meet this particular need, Melissa created the online course, Site School.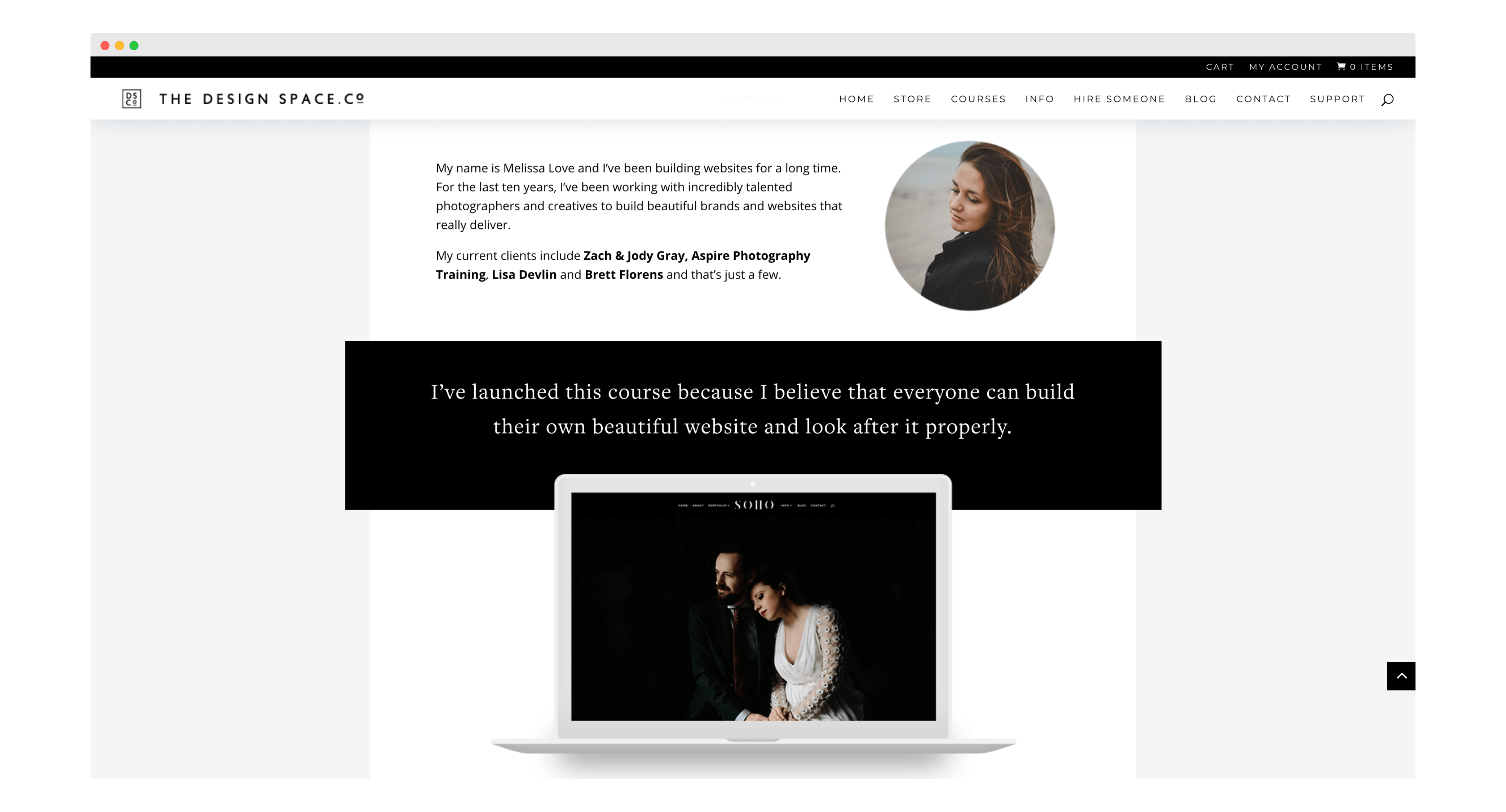 Since a previous project had allowed her to test out other WordPress LMS options, she knew that LifterLMS was right for her. She passed on other options that she found frustrating, clunky, and required too much additional CSS coding.
But not LifterLMS.
LifterLMS provided her a flexible experience that fed her designer's soul while shortcodes allowed her to keep her coding needs to a minimum. With it, she was able to craft a highly functional, attractive course with minimal coding.
All while still using the tools she was already familiar with: Divi and it's Theme Builder as well as custom post types and eventually Advanced Custom Fields.
Along with familiar tools, she found a friendly community. She was able to ask questions, try things for free, and manipulate existing layouts. She became so adept at styling LifterLMS that she was able to add that as an offering in her design business.
Thanks to choosing the right platform and having positioned herself as an expert in her community, she was able to create a successful course that has taught more than 500 people how to create their own websites.
However, Melissa didn't stop there.
She continued to pay attention to the needs of her community and soon realized that people were creating websites that weren't being used to their fullest potential.
---
"All the standard things I was doing with a custom website, people were just building their sites and they looked lovely and then that was it. They just had a pretty shop window."

---
Her solution this time was a membership site, TheMarketingFix.co, where she could walk members through her marketing processes, using them to promote their own businesses. The philosophy of the site is to break marketing into manageable chunks and then conquer these chunks together.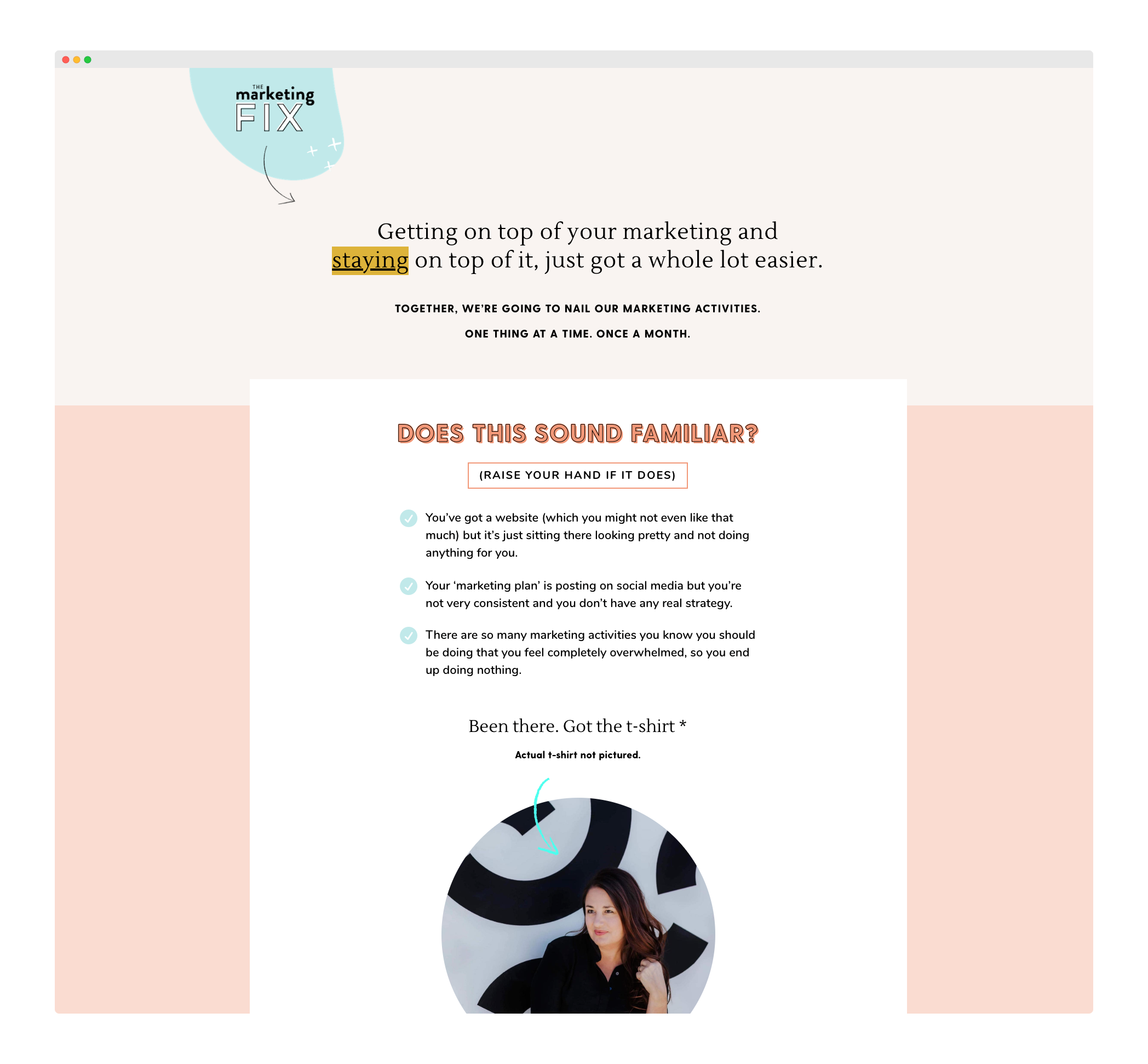 To make all of this work she uses a collection of tools.
It all starts with a WordPress website built through the Divi builder. LifterLMS provides the functionality for both the courses and the membership site. From there, she depends on WooCommerce to handle sales, Facebook Groups to build community, and Zoom for live meetings and presentations.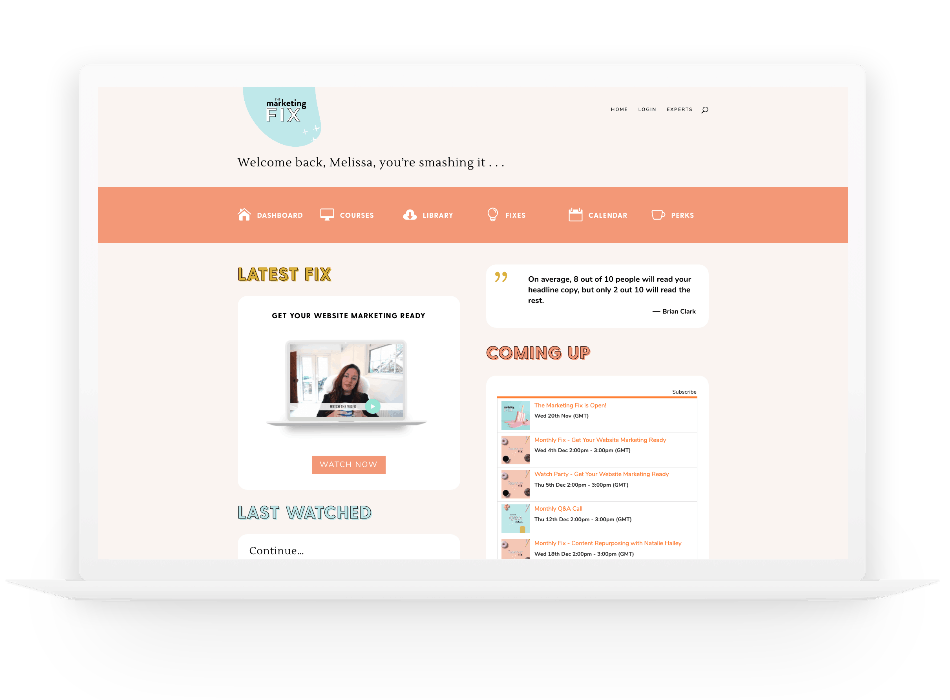 Last but not least is one of her favorite combinations: WP Fusion partnered with Active Campaign. This powerful pair lets her create conditional formatting so she can drip lessons to her members, reward them for completing lessons and courses, and allows her best performing students to drive organic engagement with her Facebook audiences.
She sums up the power of this combination by saying,
"It's all so deeply integrated that it's allowed us to make massive strides in terms of the way we advertise and the way we target people."
Melissa also wrote this detailed article about how she built her membership site and how she decided on which tools to use.
Behind the Membership
Here are a collection of screenshots from inside Melissa's beautifully designed membership site …
Course Catalog
Course Overview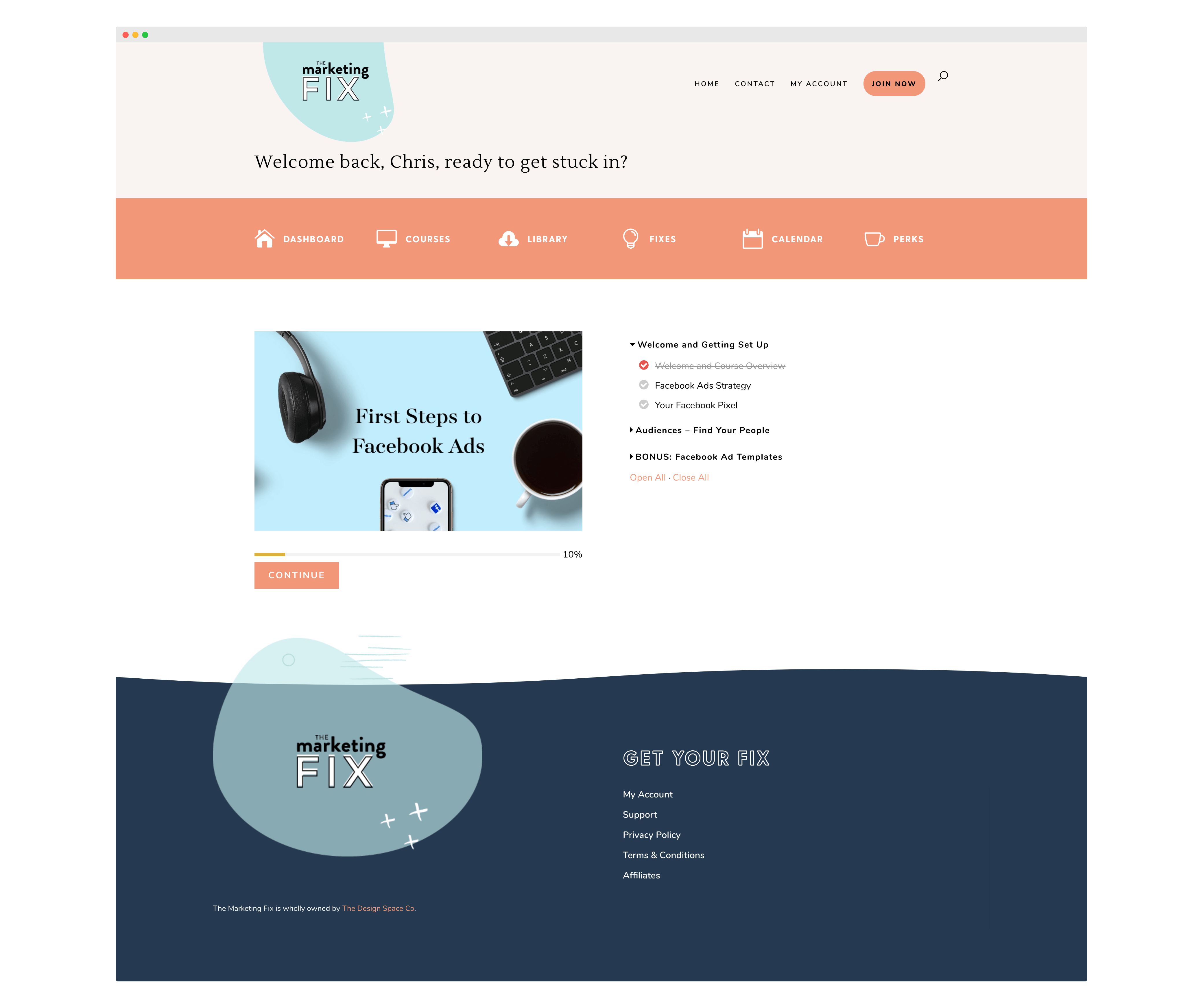 Lesson Layout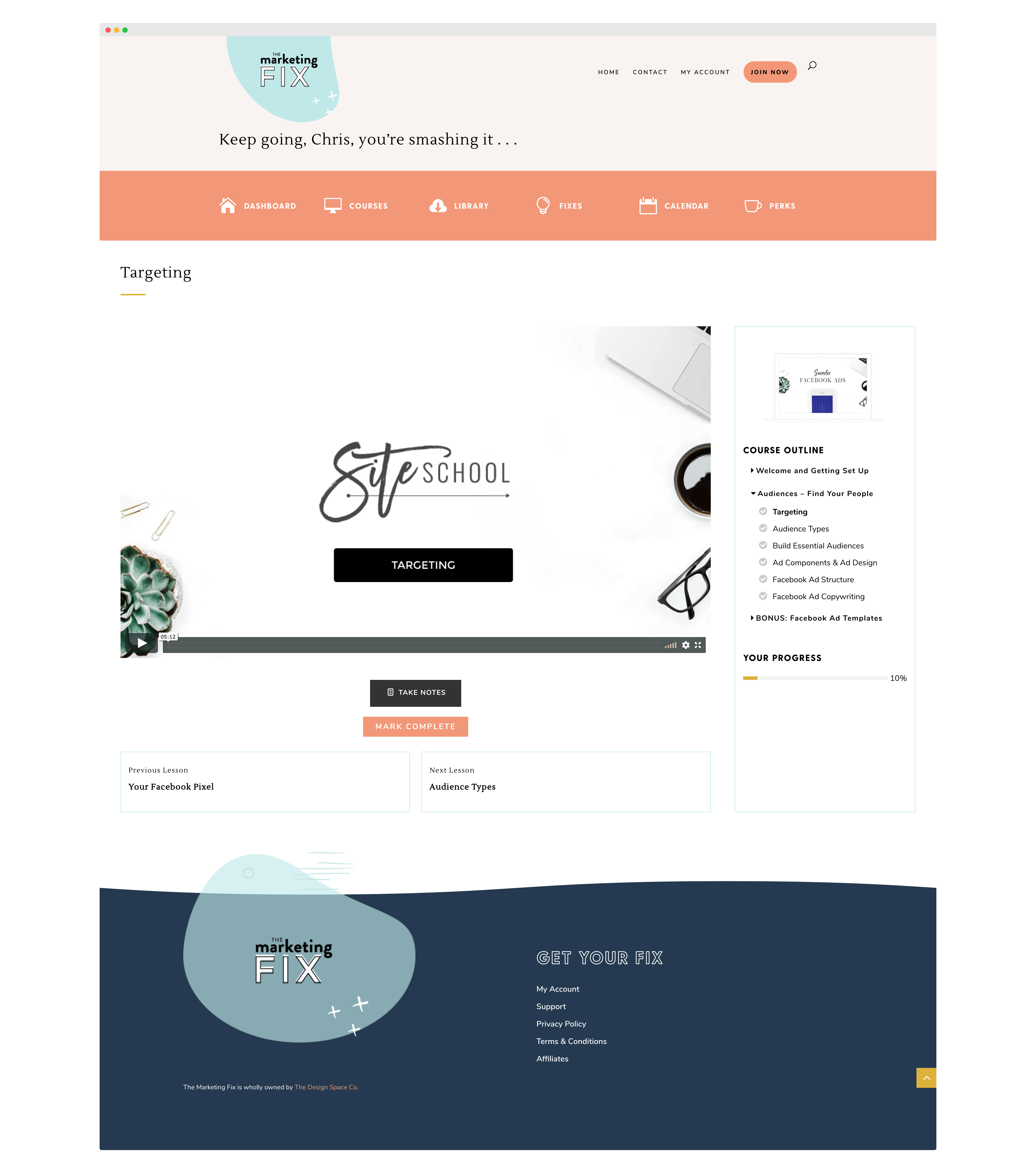 Expert Webinar Training Library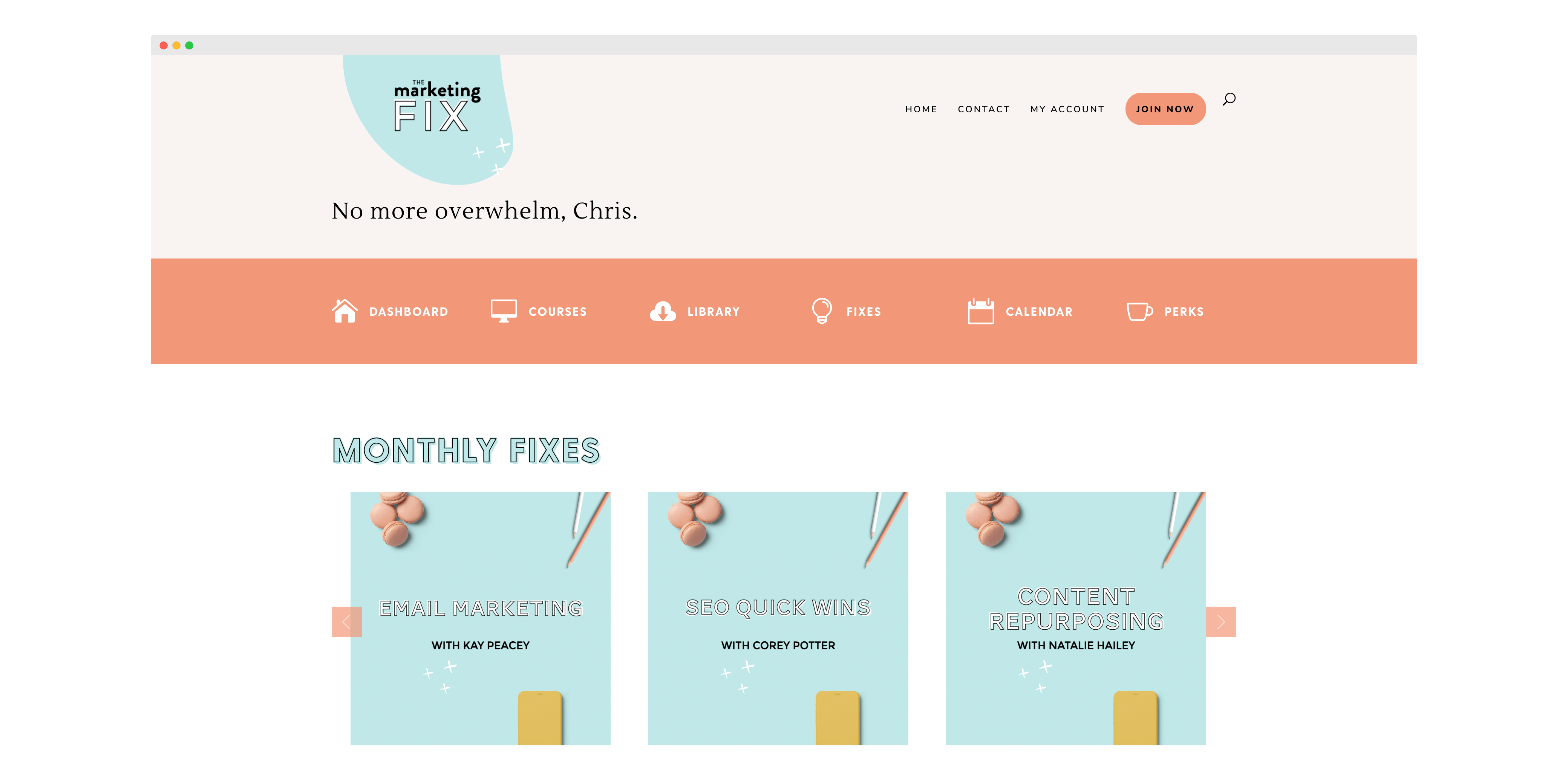 Member Event Calendar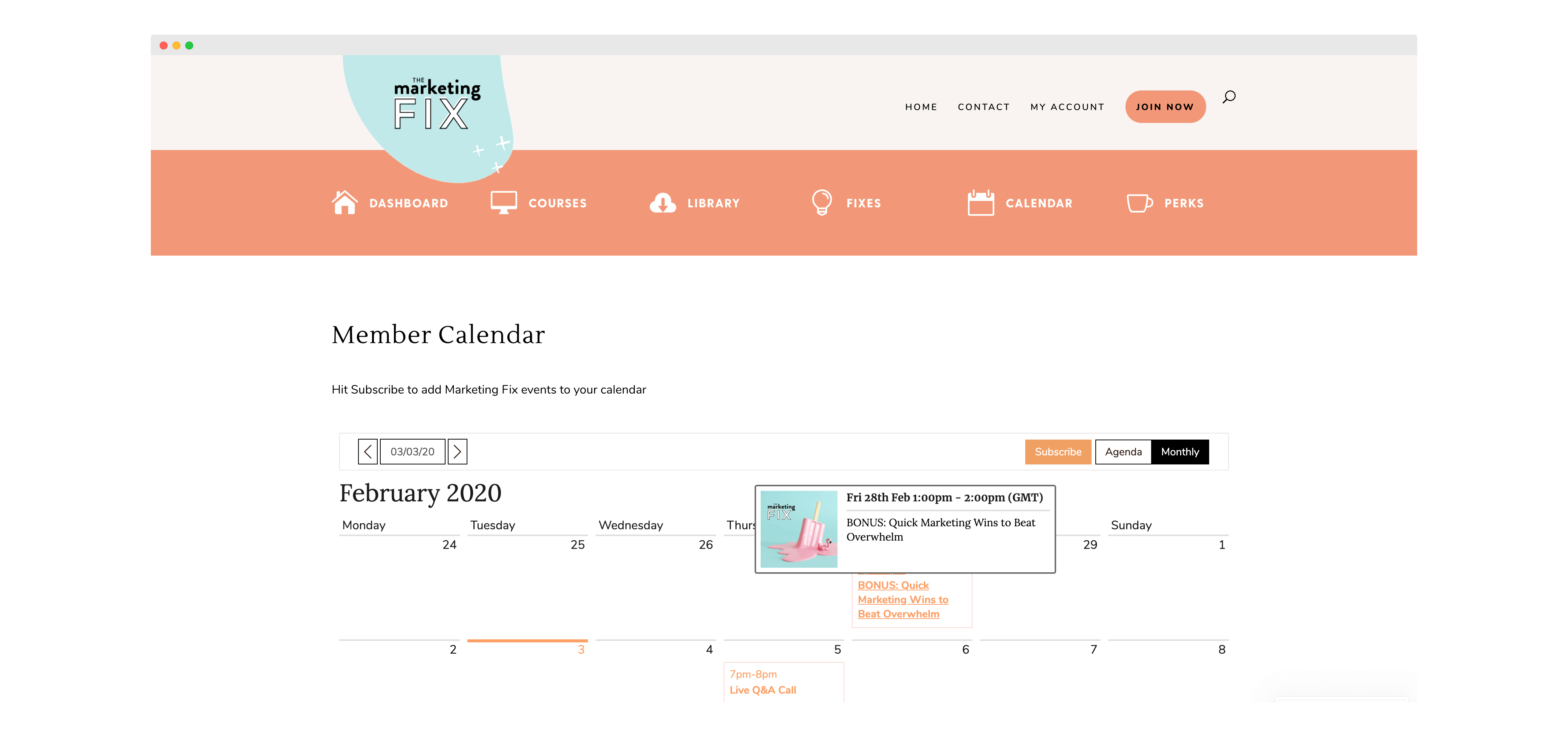 Member Downloads Area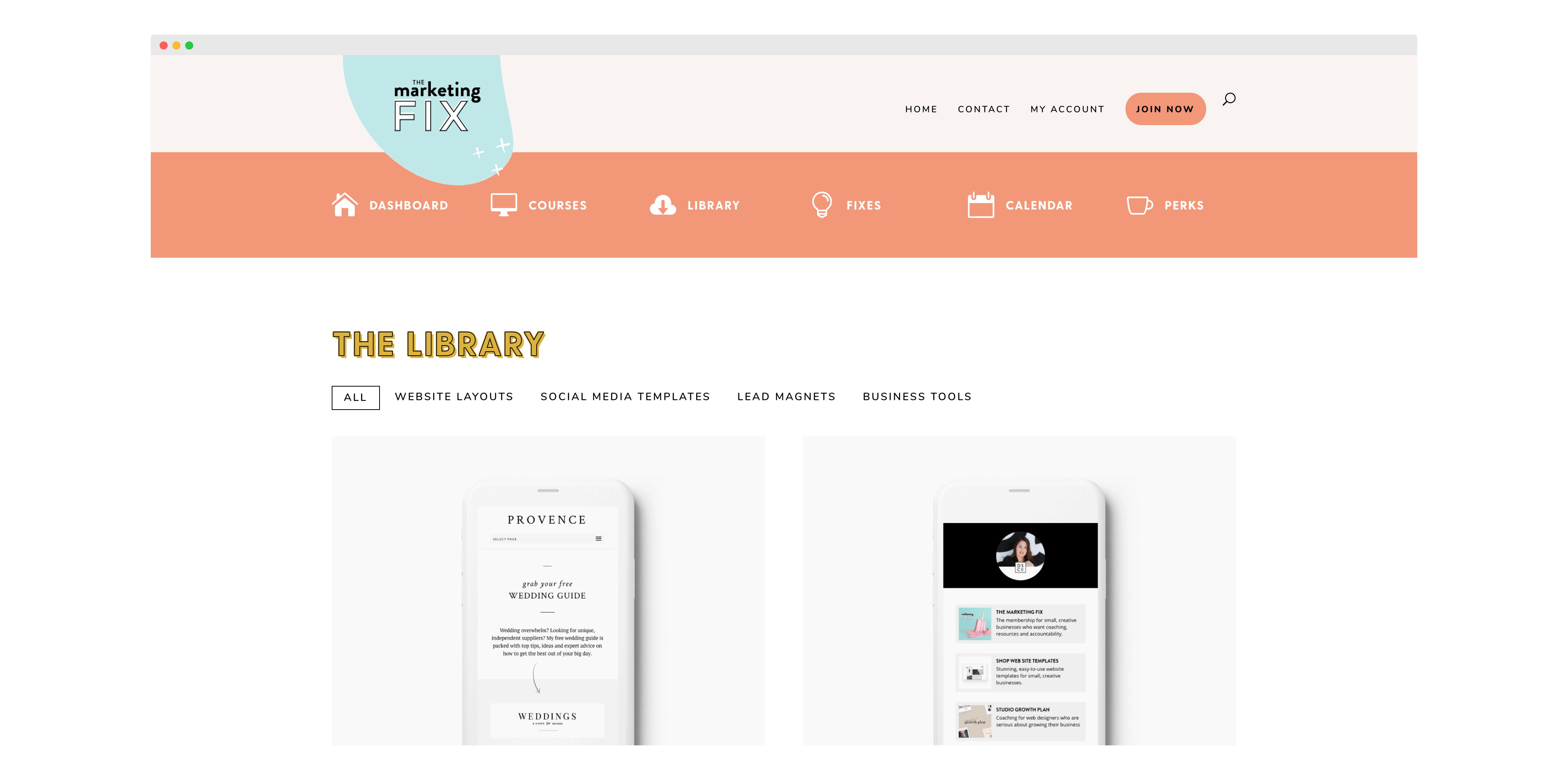 Personalized User Dashboard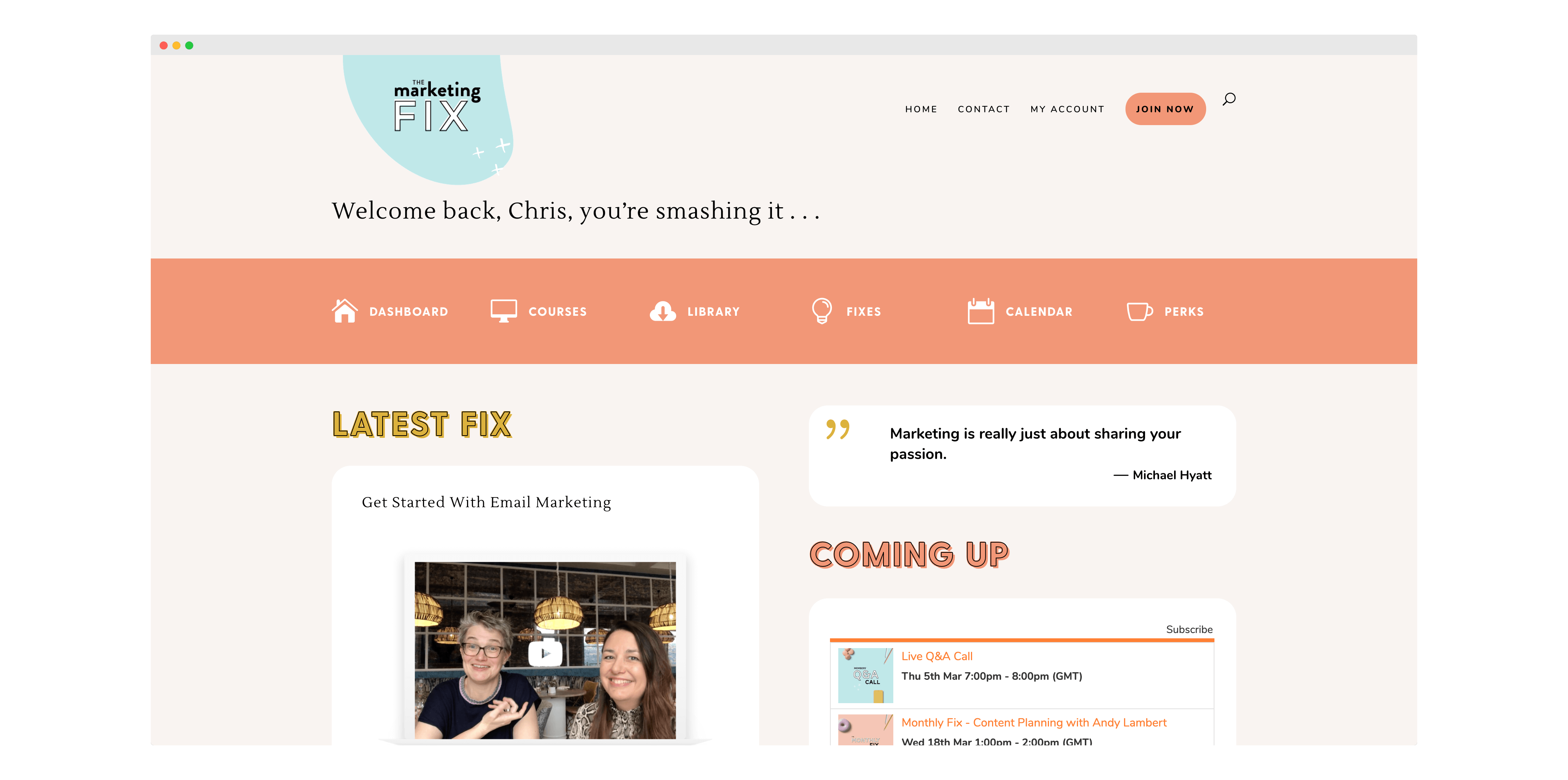 Finding Her Success
Over the last 10+ years, Melissa Love has drawn on a background that she never thought she'd use, to create solutions for the people around her. She's educated herself to meet her own needs of working from home and expanded on them as she saw the problems in her community. She became a specialist in the tools that fit her skills, building an in-demand business, successful course, and a thriving membership site. Slowly, but steadily; one problem at a time.
---
"The themes, the 'how to', and now the community and the marketing; it all seems to fit together in a really nice whole. And I couldn't have done it without a tool like LifterLMS.""

---
We have published a podcast episode with Melissa Love on LMScast. You can learn a lot more in detail about membership sites from this podcast: