David Didn't Have to be Perfect to Get 400 Signups for His First Course
First TIme Course Creator Furthered His Dreams of Financial Stability & Location Independence
Meet David Blackmon of Divi Space
Can you imagine 400 people signing up for your first course? David Blackmon couldn't either. When he and S. J. James launched ​Transforming Divi with CSS & jQuery Course​, they didn't know what to expect. Particularly when an overly aggressive timeline made it necessary for them to keep pushing back the release date.
So what are the secrets to this course's success? Read on to learn more about David Blackmon's journey and the birth of ​their Transforming Divi with CSS & jQuery Course​.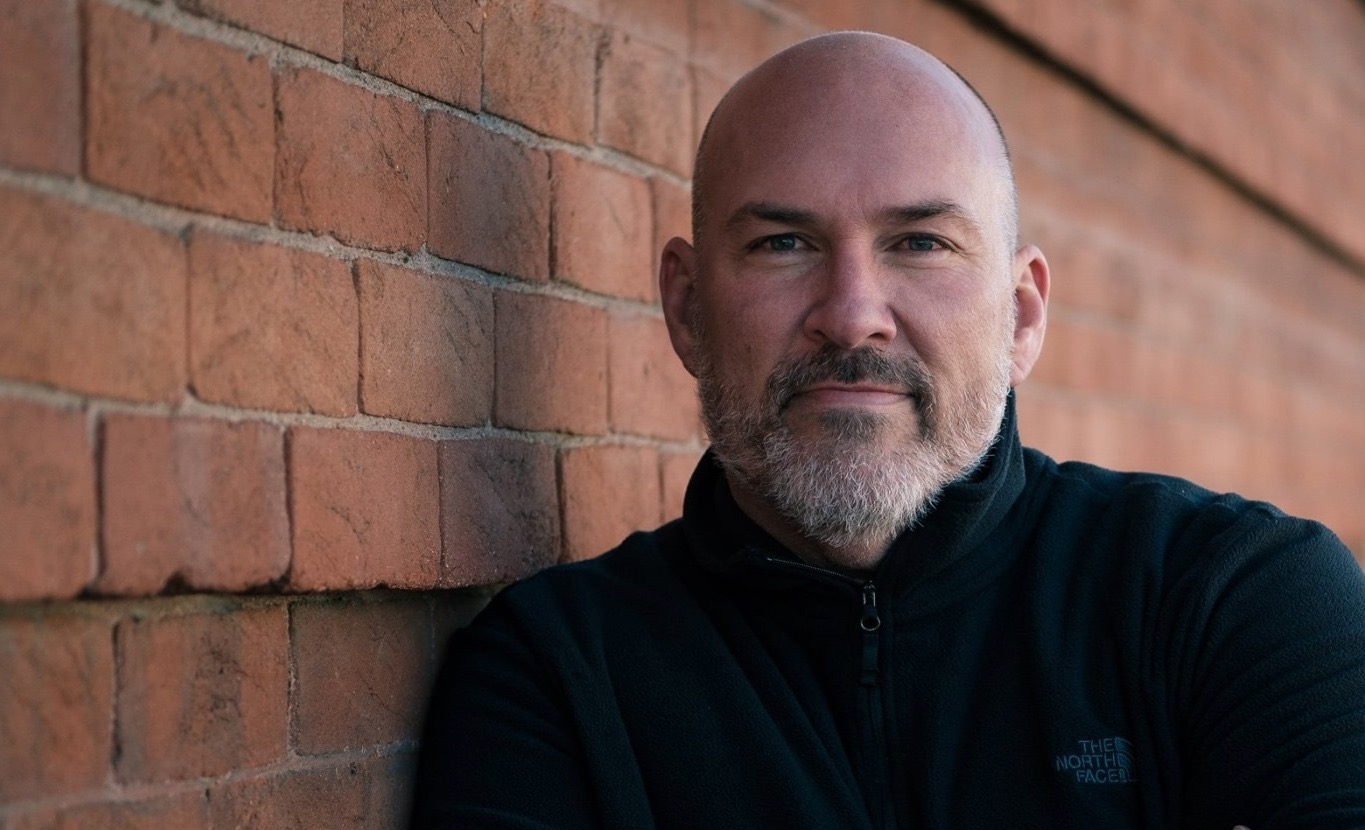 It's Never Too Late to Start Building Your Dream
Even though he didn't embrace it until his 30s, David Blackmon has always had an entrepreneur's mindset. But growing up in the 80s and 90s, self-employment and entrepreneurship weren't as culturally embraced, and he found himself headed off on a more traditional career path. A successful path, but a path that left him constantly wondering,
"Why was he making millions of dollars for other people instead of building something for his family and himself?"
That question simmered until the fall of the newspaper industry in 2013, an event that shoved him toward WordPress, and eventually the Divi platform and its community. From there, he combined his natural abilities to market and sell with these new found tools to create a thriving service-based business building websites.
But even though David enjoyed what he was doing, he knew that a single source of income wasn't enough to sustain his family through the ebb and flow of our unpredictable economy.
With his goal to create 5 different sources of income in mind, he added a second revenue source through website service agreements and was able to start his fifth year of solopreneurship with $150,000 in the bank before building even one website.
While his website development business was growing, he began to search for his third source of revenue.
And thanks to his involvement in the Divi community from the very beginning, it didn't take him long to find it. His participation in the Facebook community allowed him to hear various frustrations -- pain points -- people were having and in May 2015, Aspen Grove Studios was born. Though they identified a variety of problems people were having building websites with Divi, they decided to focus their first product on something David was struggling with himself: how to move things around in the footer.
Since the launch of their initial plugin, Divi Footer Editor, they've gone on to release more than 100 products, many of which are free. One of those free offerings was the Demo Zone, a tutorial for learning Divi.
Creating Something New Takes More Time Than You Think
It seems David had inadvertently stumbled onto a secret: business aren't always interested in providing training for their products. And, like any good entrepreneur, he saw the opportunity to capitalize on this for his fourth stream of revenue, a course.
By combining the above realization, his experience creating Demo Zone, and his own passion to share knowledge, he was perfectly positioned to acquire divi.space from S. J. James on April 1, 2017 and launch the new ​Transforming Divi with CSS & jQuery Course. This acquisition freed S. J. James up to pursue other opportunities while also allowing him to collaborate with David on creating courses.
But in spite of their combined experience, the process still takes time. David learned that if you think it's going to take a month, it's likely to take 6 months. He warns that getting content ready simply takes longer than you think it will. Depending on your structure, you'll have course content, tests, and quizzes. All of which they wanted to have completed before applying it to the LifterLMS platform.
David reminds us all, "There's just so much that goes into creating a course. It's going to take 4 times what you think it's going to take."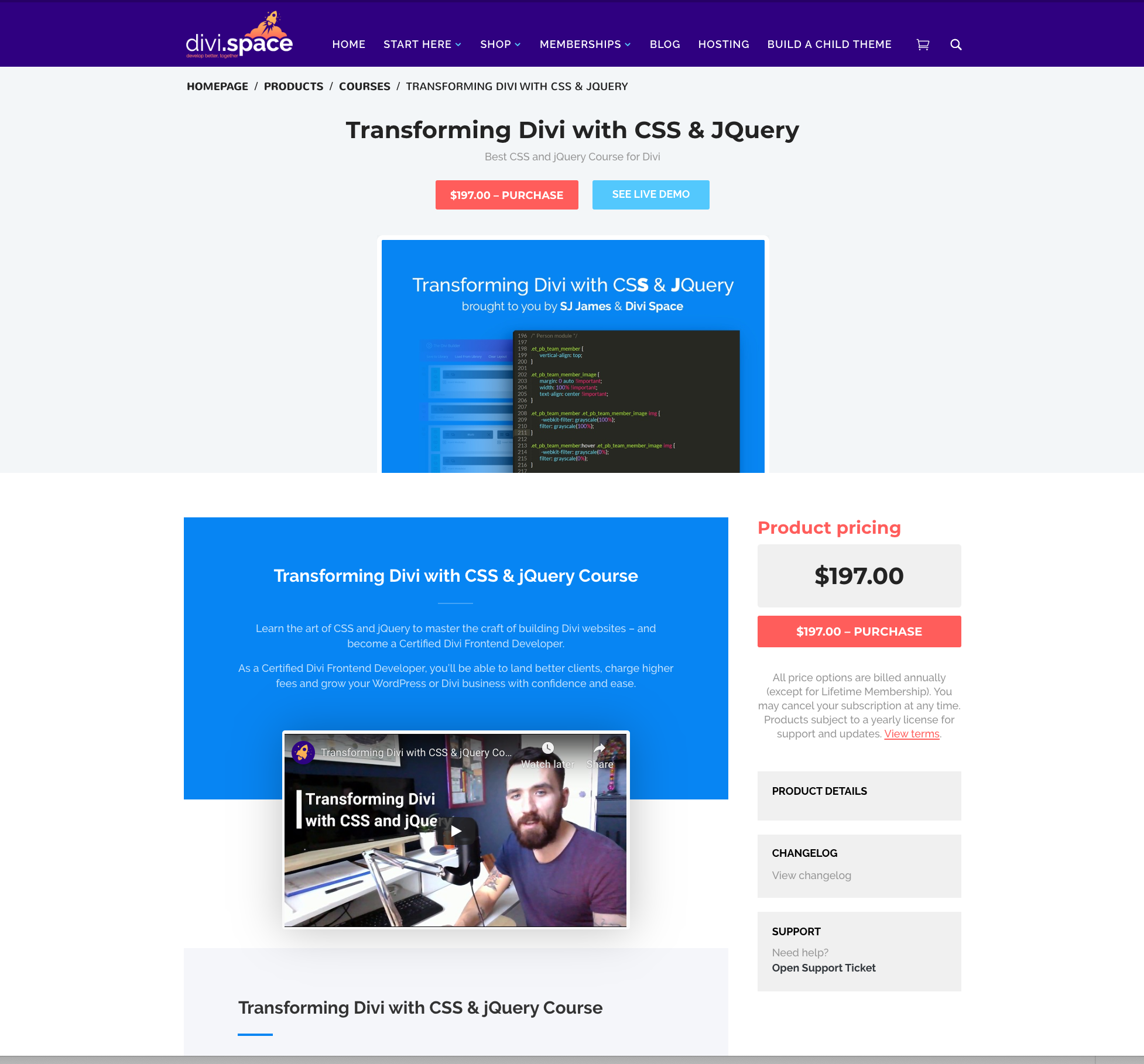 Don't Let a Mistake Stop You
This hard learned lesson came with a little embarrassment. With an aggressive initial timeline, they announced Black Friday and through early December that the course would launch January 1. Unfortunately, the course wasn't actually ready until May.
So how did they manage to still get 400 subscribers for a course that was 5 months late?
Honesty, good communication, and releasing a quality product. As they learned the deadline was unachievable, he chose to communicate with his community openly and honestly. While an on-time launch would be ideal, they made the choice not to take shortcuts and rush to release. By keeping their community informed and creating a quality product, they were still able to have a successful release.
That hiccup aside, David was excited about a number of wins in the process.
First and foremost, simply completing his first course was a huge success. Now with one under his belt and a better idea of what all goes into creating a course, he can look ahead to what the next one might be. Same for his second victory: creating the course content. Until you've done either, you just can't know what all goes into the process.
Lastly, being able to build the course out using LifterLMS was a huge win for him. He states freely that he's a marketer not a developer and being able to put his ideas into a platform without writing any code was ideal. He can focus on the ideas and content and leave the hard stuff to LifterLMS.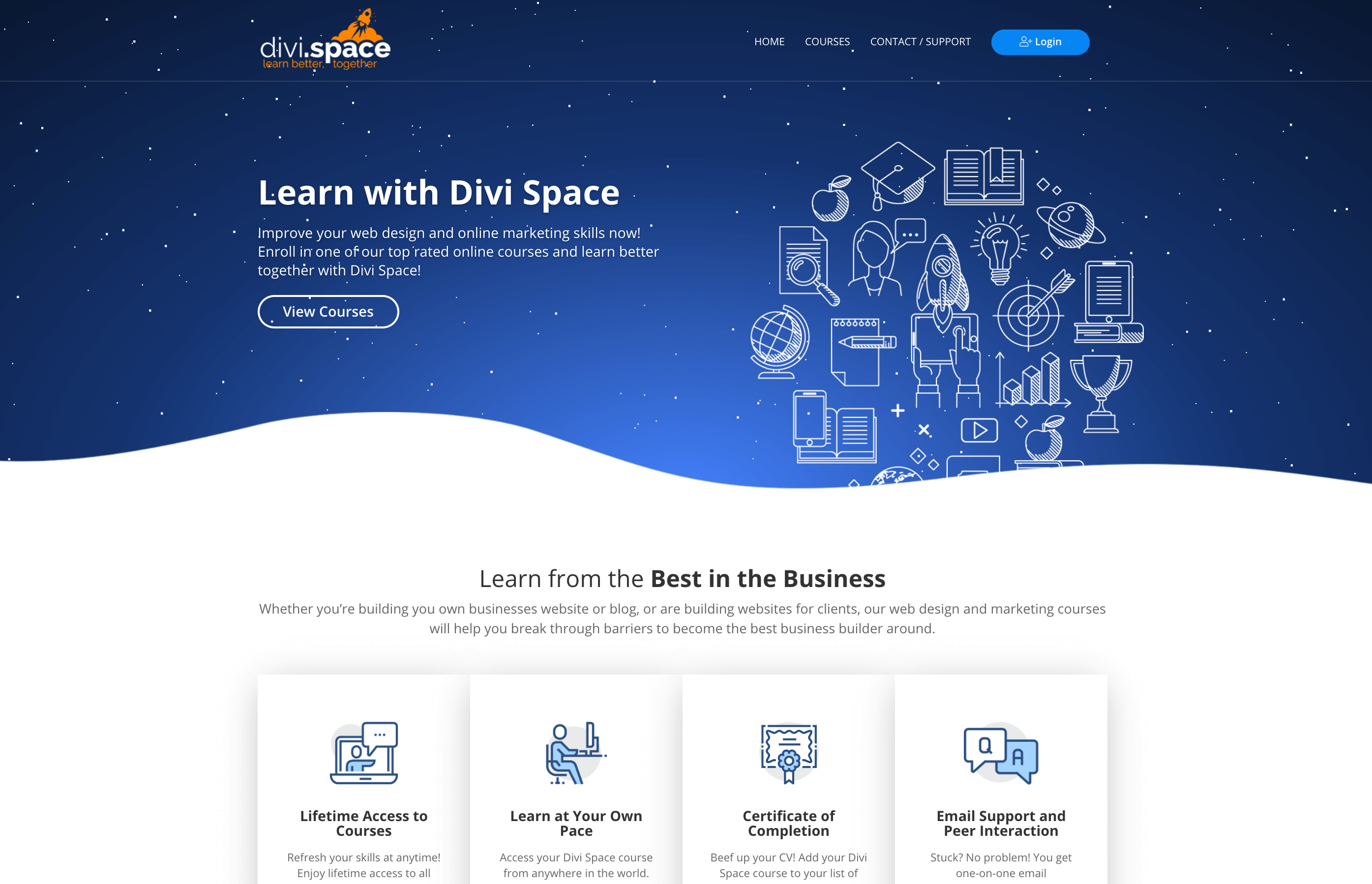 Achieving Financial and Location Independence
So, what's next for David and are there still opportunities inside the Divi community?
David has taken his success on the road. Literally. He and his wife sold their house and have embraced location independence. From their RV, he runs his 4 existing businesses, is a part of WP the Podcast, and remains active in the Divi community.
On top of all that, he also has Revenue Stream Number 5 in the works. I for one can't wait to see what he'll roll out next!
As for the Divi community and community involvement in general, David encourages you to get out and participate, both online and in real life. Shake hands. Meet people. Listen to their ideas. Pay attention to their problems. That's how he found his inspiration and could be the source for yours. David Blackmon encourages, "Even if there's 10,000,000 people in (the community), there's still room for you to do your thing."
Press play below to hear David tell his story in an interview with LifterLMS CEO Chris Badgett.
David has Since Launched 3 More Courses with LifterLMS
Once you develop the income streams that come from a course it's exciiting to release more courses like Davd.