From Free Direct Selling Content to Paid Membership With Corporate Clients
How Becky and Jeremy Launder Built the Modern Direct Seller Academy within 3 Years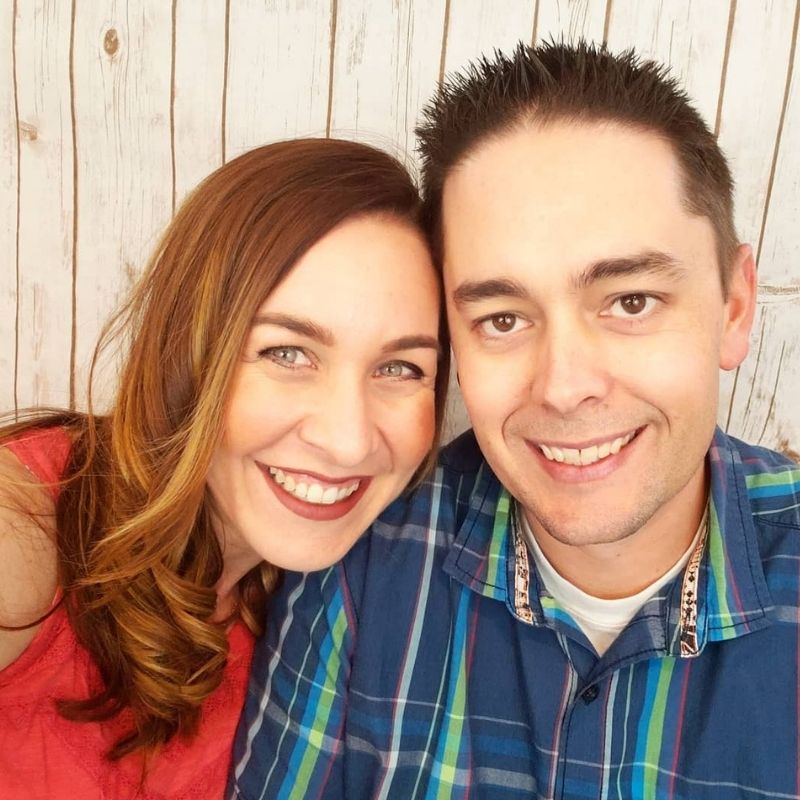 Becky and Jeremy Launder, The Modern Direct Seller
Success Story Highlights
500+ Academy Students Empowered
5 Courses For Individual Learners & Licensed for Corporate Clients
7 Video Lessons Per Course Plus a PDF Workbook
After a successful career in direct selling, Becky Launder found herself in charge of teaching her direct sales colleagues. Over time, she noticed that many of her students were asking very similar questions, and she realized she needed a better way to deliver her training. With the help of her husband, Jeremy, Becky launched the website Modern Direct Seller in 2017, where they could provide free learning materials for her peers in direct selling.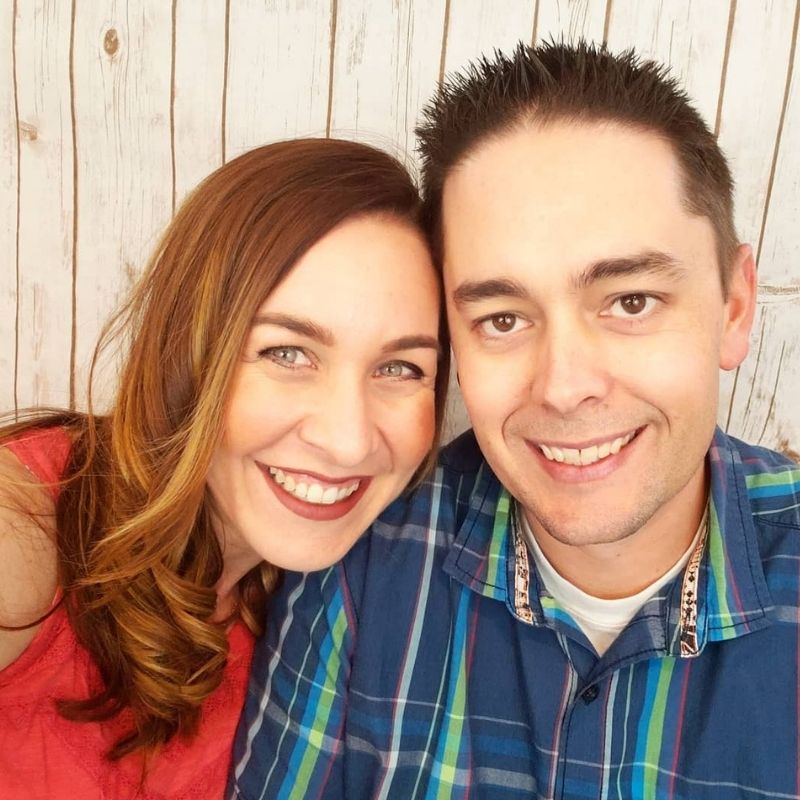 "We chose LifterLMS because it had the capability to do everything we wanted to do, and it was within our budget. It had the ability to do quizzes, to have the multimedia that we wanted to have, to have a community forum, and all of the things that we wanted to do with our course. And it also had the ability to scale with us as we grow."

—Becky and Jeremy Launder, The Modern Direct Seller
They focused their efforts on content creation, regularly publishing blog posts, and short training videos. Whenever their students asked the same question 3 times or more, Becky would create more free content to help better address that question.
Starting Their Online Course Business
Direct selling is where a business sells a product (often one they did not produce) directly to the customer instead of through a wholesaler or retailer. Many aspiring direct sellers who want to start a business in this niche find themselves lacking the much-needed connections and systems in their industry to grow successfully. Through Modern Direct Seller Academy, these aspiring direct sellers can find the resources they need to build their business. As a result, Becky found that her free platform was beginning to get more attention, and she realized that there was a need for her expert knowledge.
Becky also discovered she needed a better system to teach her industry knowledge to her growing online community. She and Jeremy brainstormed, and they both decided to develop a series of online courses for their audience. They went back to the drawing board and analyzed their website content, organizing their free training materials into a series of 5 online courses called Grow Your Direct Sales Biz. These courses covered everything from starting your direct sales business to launching, marketing, leading a team, and scaling your business.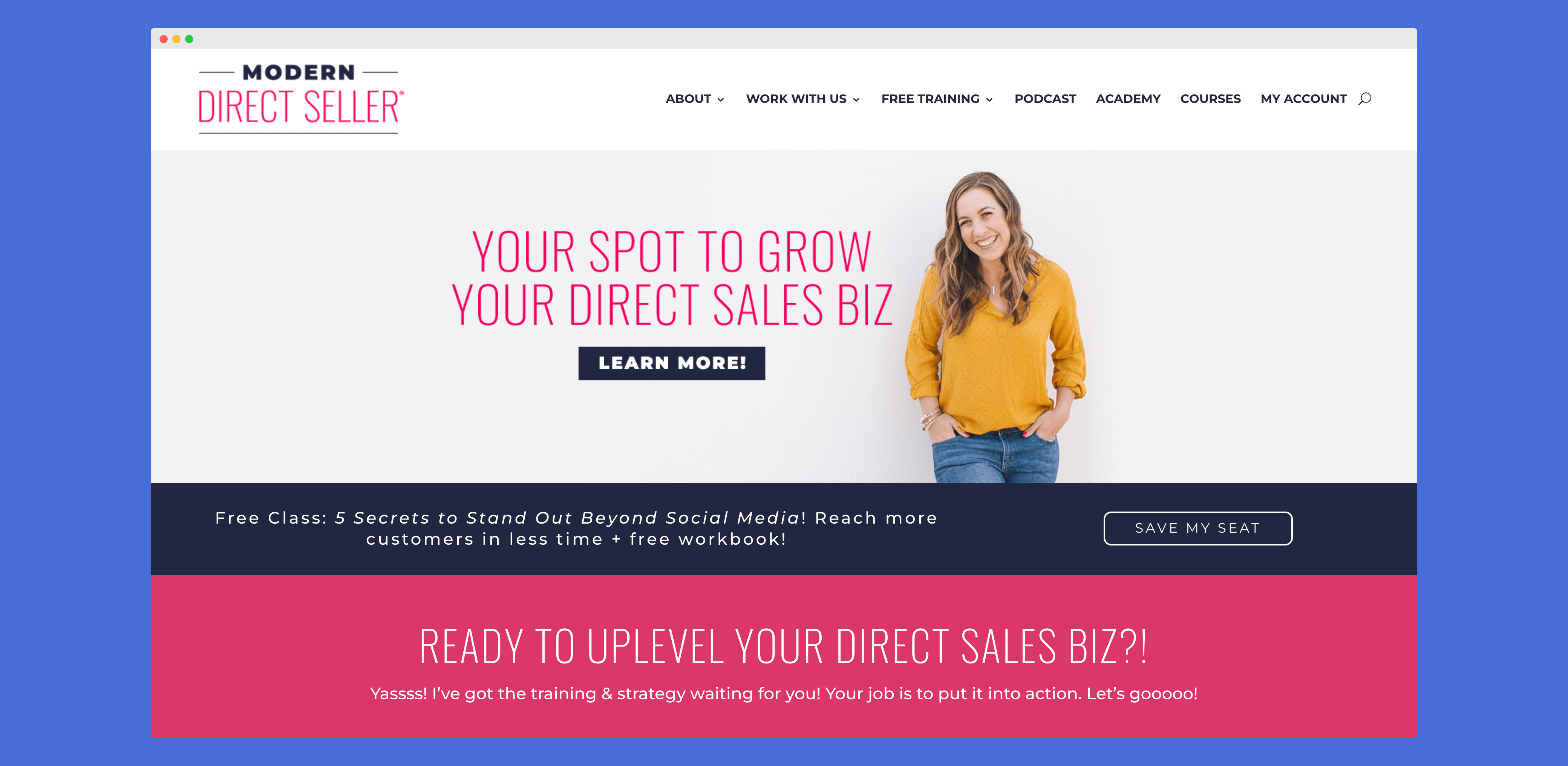 Launching The Modern Direct Seller Academy
As Modern Direct Seller Academy began to grow, Becky quit her corporate job to work full time on the business. On the tech side of things, Jeremy needed to find a learning management system that would handle the demands of their audience and allow them to deliver their online courses with a high level of flexibility. He knew that Becky had specific requests in mind for the Modern Direct Seller Academy's course delivery. They needed to deliver their courses in short, digestible modules that were easy for their students to follow. And with all the momentum they were building up, they had several challenges to address
First, they needed to provide the best possible learning materials to their clients to help them succeed. Direct selling often has a high turnover rate, which means that presenting their course material effectively would have the potential to save struggling businesses and help them thrive.
Second, Becky and Jeremy needed to integrate the learning management system with their WordPress website. With over seven years of experience in WordPress, Jeremy could tap into the versatility that WordPress has to offer. The learning management system needed to be integrated into their WordPress site and work well with their existing WordPress plugins.
Lastly, as the business continues to grow, the learning management system needed to be something that could offer them possibilities instead of limitations when they needed to adapt.
Jeremy considered all of these challenges, and after exploring many options, he decided to go with LifterLMS.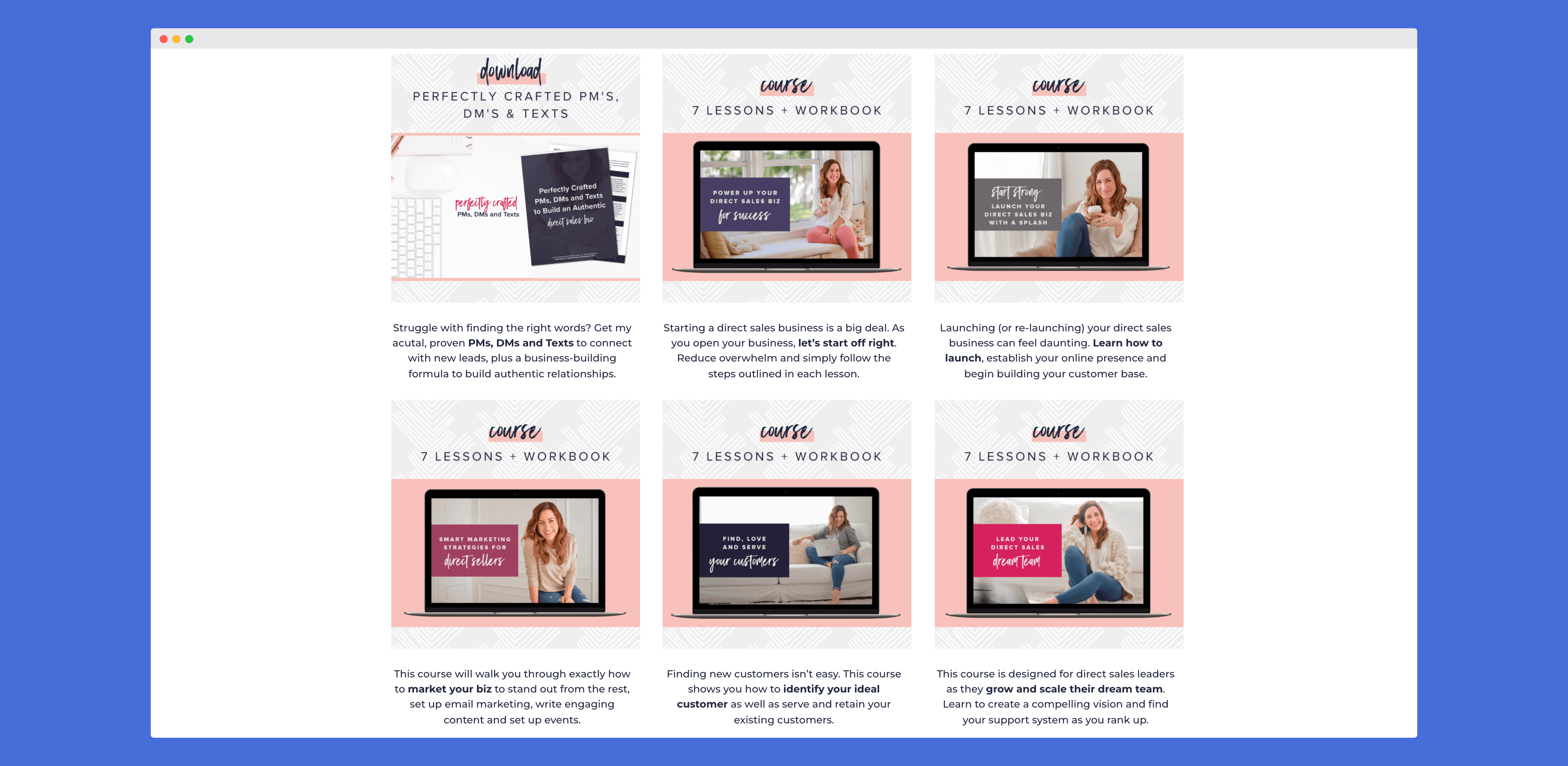 ---
"I looked at Teachable, I looked at LearnDash, and I looked at Lifter. And really, what drew me in was, I stumbled upon your Facebook group before I purchased it and just saw all the helpful content. I was also able to jump on a pre-sales call with you and get all of my questions answered. The support and the access, all that stuff is what drove me to Lifter."

~ Jeremy Launder
---
Leading Their Direct Selling Community to Success
With LifterLMS, Becky and Jeremy were able to successfully overcome their challenges. Not only did LifterLMS provide them with the tools they needed to deliver high-quality courses to their online community, but it also worked seamlessly with all the WordPress plugins that they were already using. In 2019, Becky and Jeremy moved their content into a paid membership site where members could access the Grow Your Direct Sales Biz training courses.
The Grow Your Direct Sales Biz online course bundle performed well in its relaunch, and Becky and Jeremy grew their membership to over 500 active subscribers. With this momentum, Jeremy quit his corporate job as an electrical engineer to work for Modern Direct Seller Academy with Becky full-time. Becky was also able to publish her first book, 52 Tips on How to Build a Thriving Direct Sales Business, which is available in print and PDF.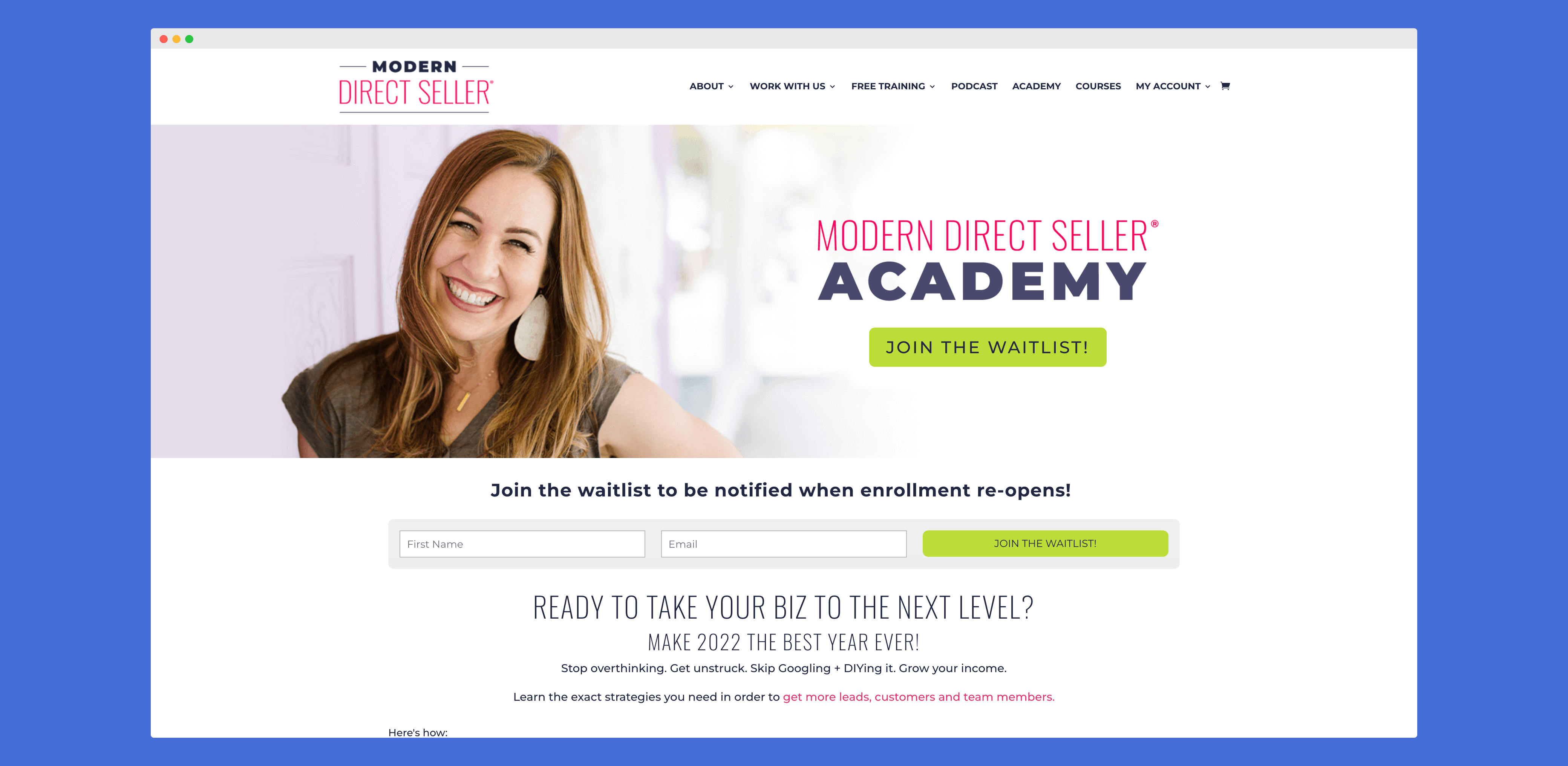 ---
"We've been able to do anything we needed to do at this point, and if I need to do anything else, generally there's a plugin. I think it was a good decision to go with LifterLMS and to stick with WordPress."

~ Jeremy Launder
---
Scaling Their Business With Corporate Clients
With their growing success, Modern Direct Seller Academy started to attract the attention of corporate clients. Most of these corporations had great products but weren't quite sure how to train their sales force to sell these products. As a result, several direct-selling corporations reached out to Becky and Jeremy for licensed access to their courses to train their team. They came up with a licensing agreement to provide their corporate clients with white label training courses. Thanks to the versatility of LifterLMS, Jeremy was able to replicate their course material to meet the needs of their corporate clients without affecting their original membership. With this new development, their corporate clients were able to utilize training material from the Modern Direct Seller Academy and could call on Becky for additional training and support whenever they needed it.
"And I think as we look into the next year, that's the part of the business that we're most excited to grow. So it's just been this evolution from, we have one course, to five courses, to the memberships, to the licensing, it's really grown from there."

~ Becky Launder
We have published a podcast episode with Becky and Jeremy on LMScast. You can learn a lot more in detail about How They Built the Modern Direct Selling Academy in 3 Years from this podcast: