Software Company Founder Quickly Launches Academy with LifterLMS to Drive Sales, Improve Onboarding & Reduce Churn
How Adrian Tobey's B2B Software Company Leveraged a Learning Management System to Meet Unexpected Challenges Without Having to Hire a Bigger Team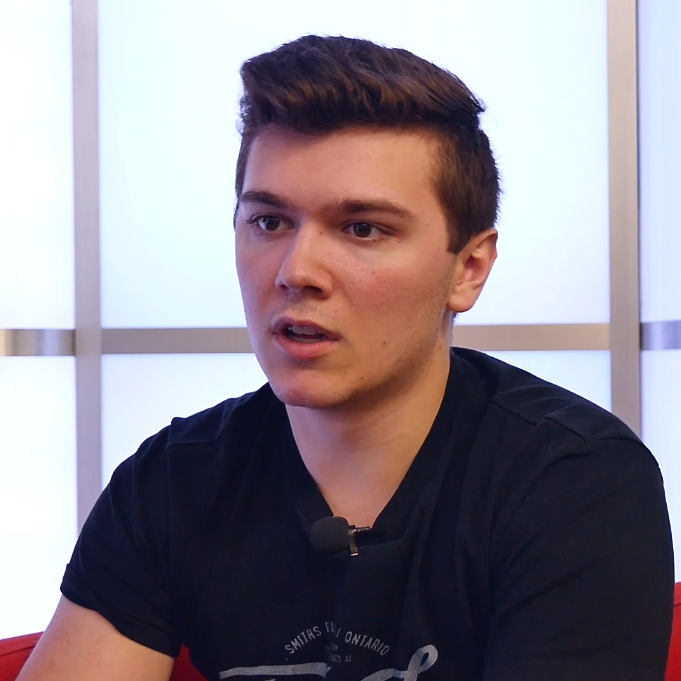 Adrian Tobey, CEO of Groundhogg
Success Story Highlights
33% Increase Customer Success is Up Since Academy Launch
283 Students Learning Inside the Academy on Autopilot So Far in the First 90 Days
40% Decrease Refund Requests Are Down Since Academy Launch
Unexpected challenges are part of an entrepreneur's journey, but nobody builds anything hoping it'll frustrate customers.
Adrian Tobey was no different. As creator and CEO of Groundhogg, an innovative marketing and CRM system that works right from your WordPress dashboard, he imagined smooth sailing for his new product.
So imagine his surprise when new customer emails started rolling in with lots of support questions and some messages of frustration.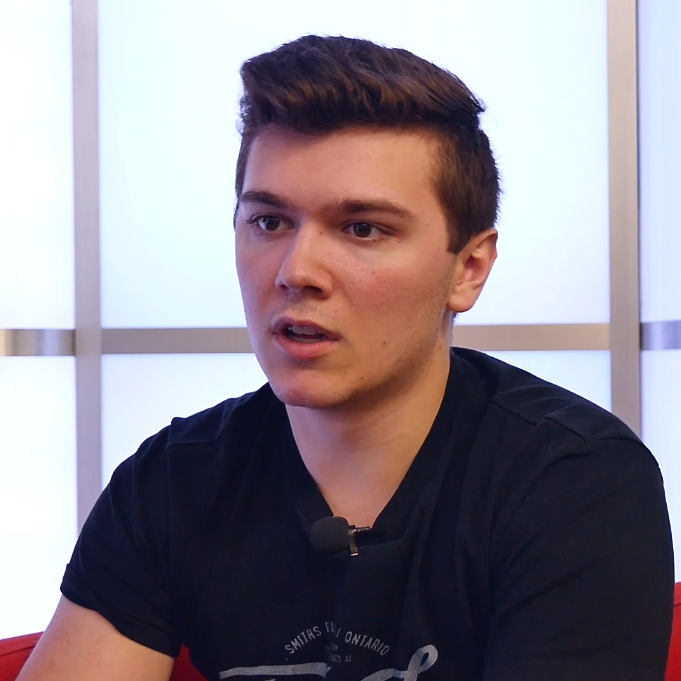 "I looked at a lot of LMS's, and LifterLMS was the most powerful and flexible that I found. I wanted something that would allow me to customize the user experience, and LifterLMS allowed me to do that. I also needed something that could integrate with other platforms, and LifterLMS had that capability as well."

—Adrian Tobey, CEO of Groundhogg
What do you do when your product frustrates your customers?
For Adrian, the answer was simple: use LifterLMS to add a new layer of education opportunities to his onboarding resources.
An Onboarding Challenge
The goal for Groundhogg was always two-part. One, it should work inside WordPress. Two, be as low touch as possible.
The first was fairly straightforward to accomplish. Before long, he and his team had a working product that people were signing up to use. New customers were following the documentation and using the B2B software as planned.
Unfortunately, this led to a false sense of accomplishment.
Just because he and other customers could comfortably make it work, didn't mean that just anyone could do it. Soon support emails started rolling in from an entirely new type of interested — paying — customers that were struggling to simply download the software and go.
---
"I started getting lots of emails: "I can't get it to work. I don't know what to do." …. "What are my first steps?" And I'm, "Well, there's templates and stuff in there, you should be able to figure it out." And of course, that was very naive of me."
---
These frustrated customers were coming from a different avenue — often podcasters recommending the product — than had been expected.
Because of that, they had a completely different technical knowledge background than the team had expected, and the documentation didn't seem to be working for them. These customers were excited to sign up and put Groundhogg to work for their businesses, but kept getting stuck soon after downloading it.
To meet their needs and keep the B2B software as low touch as possible, a pivot in onboarding was in order.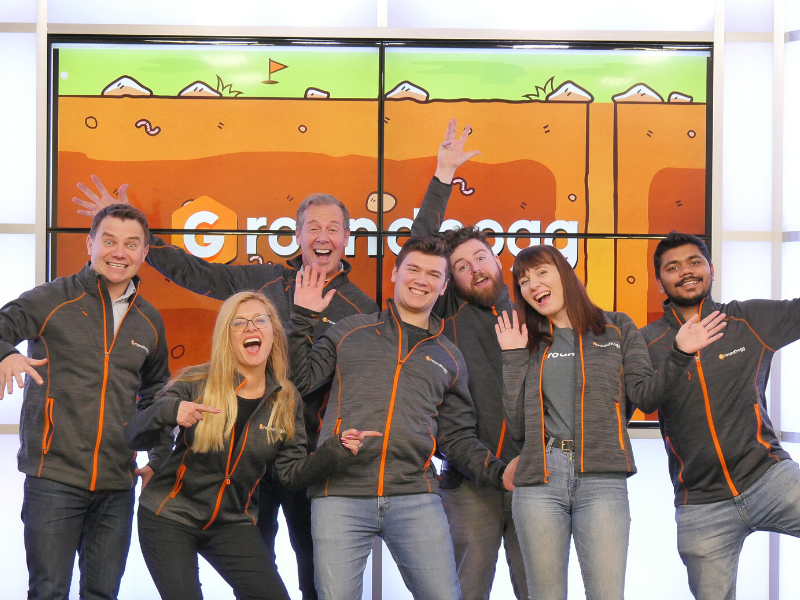 The seed of Groundhogg Academy was born …
Documentation Alone Wasn't the Answer
The new level of education required to meet this challenge came in the form of the Groundhogg's free online self study Quickstart course, a set of lessons based on LifterLMS's own Quickstart course. Adrian Tobey believed this Quickstart course and other courses would fill the technical knowledge gaps his customers were encountering and set them up for success.
By introducing the courses early in the customer lifecycle, they're able to bridge the knowledge gap. Customers are from the beginning brought up to a level where the other educationational resources like documentation make more sense.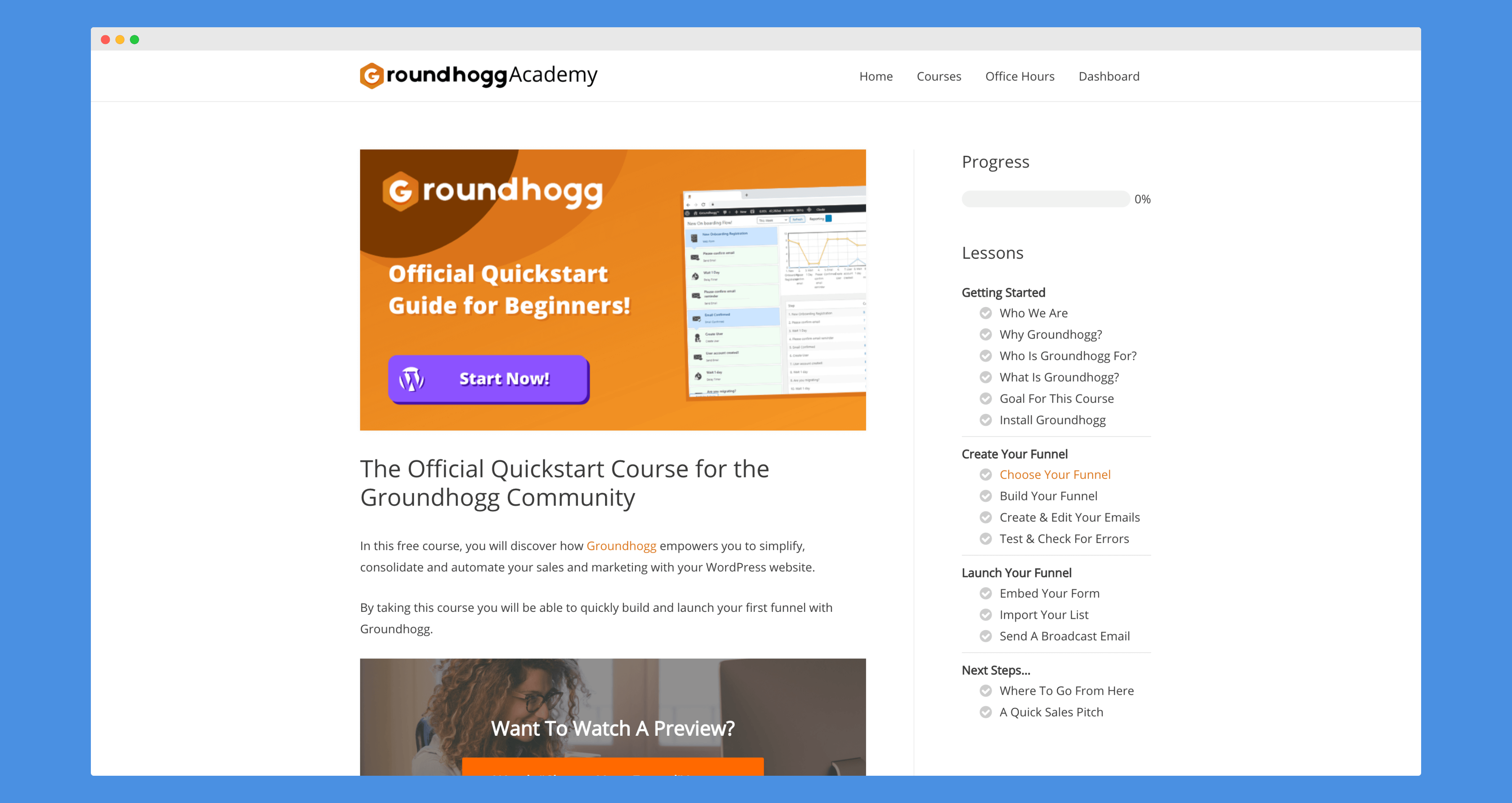 The beauty of Adrian's Quickstart Course is that it guides customers through Groundhogg's implementation process as well as a template to set up a working lead magnet, all in just one hour.
"The Quickstart Course kills two birds with one stone in that sense, gets them onboard the program, and also breaks the expectation that they have to get it all done before launching, which is one of the biggest problems that we faced in our earlier days."
Groundhogg continued to expand its customer resources with both virtual Office Hours, a Facebook group, and more courses, eventually offering the Groundhogg Academy where customers can expand their skills with the Course Creators Essentials and a course dedicated to becoming a Certified Partner.
Aside from addressing the initial technical knowledge challenge, Adrian's courses also helped reduce support demands, moving the product closer to the low touch software product Adrian had originally dreamed of.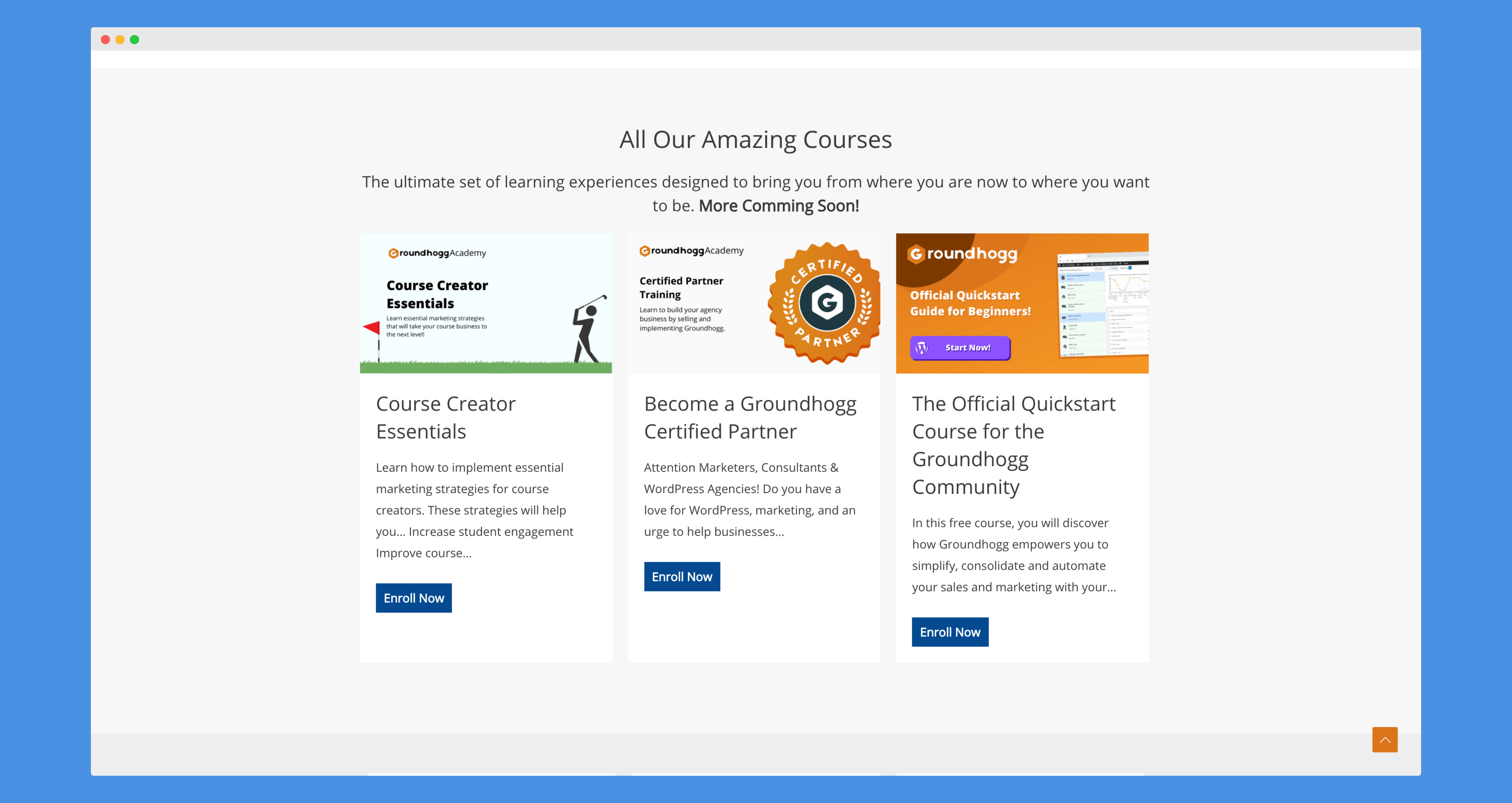 Partnering with the Right Products for Success
So, what prompted Groundhogg to turn to LifterLMS over other learning management systems?
It was largely the positive experience Adrian Tobey had in the LifterLMS community. When he went looking for a course creation option, he found a fellow entrepreneur already implementing the exact system his product needed.
"Whenever I hear a good idea from someone that I trust, I try to implement it as quickly as possible because it usually comes from a solid source."
And that's what he found when introduced to LifterLMS's own Quickstart Course. Going through LifterLMS's onboarding system, he realized that not only did his company need a Quickstart course, but also its own learning academy to allow customers to learn and do even more on their own.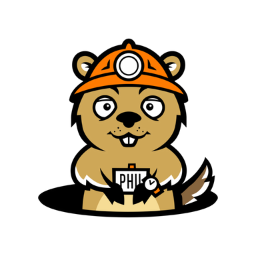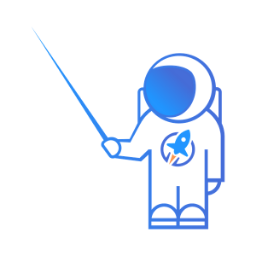 The 2 key advantages the Quickstart Course and the learning academy in general bring to Adrian's software product business are customer success and retention.
Having a course not only helps customers start with a successfully implementation of the software, it also gives them a human at the software company to build a relationship with. CRM and marketing software tend to be a critical technology component in most businesses. And seeing the actual people behind the product generates authenticity and trust which is important with a vital piece of software.
"Establishing that trust early lets people feel comfortable. This is important for everyone. It's especially important for those who are currently considering leaving another competitor software provider they have outgrown or are not happy with."
A Final Unexpected Benefit to a Quickstart Course
Groundhogg CEO Adrian Tobey will be the first to admit that he's learned a lot from the challenges he's overcome to serve the Groundhogg community.
First among them is that you shouldn't wait to release a product until everything is figured out. Not only can customers see how Groundhogg has continued to grow, but Adrian uses the course to pass that message of "continuous improvement" along to his customers.
---
"By taking the courses and following the steps outlined in the lessons they actually get a taste of what it feels like to start collecting leads, and even potentially revenue. That way, they can start actually being successful with the product in bite size chunks, and start building more and more on top over time. This is a better way to implement our software than trying to build it all-out beforehand, and then launching it, and of course, something doesn't work, because it never works entirely the first time."
---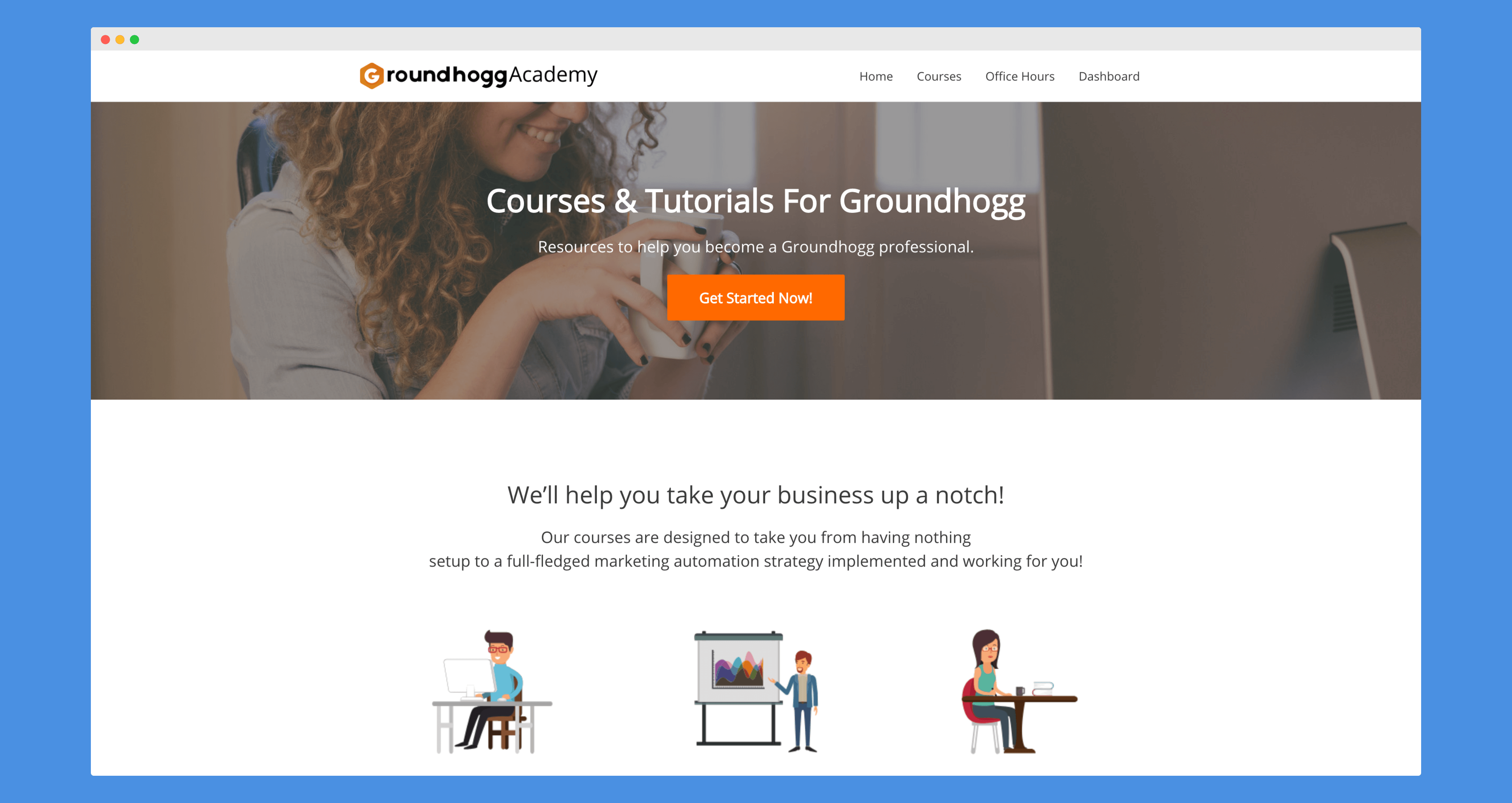 By acknowledging his own misconceptions about how "easy and intuitive" his software was to use, and following LifterLMS's lead in customer educational resource creation, Adrian Tobey was able to build a product and training academy with more depth and reach than originally planned. He improved his customer's user experience especially in relation to their initial onboarding and retention through future subscription payments to him. And to his delight his free Quickstart course also rapidly became a critical driver of new leads and automated sales mechanism for his B2B software business.
We have published a podcast episode with Adrian Tobey on LMScast. You can learn a lot more in detail about to Grow Your B2B Software Leads with LifterLMS from this podcast: