Sign Up for a LifterLMS 30 Day Demo Site!
Would you like your own great looking LifterLMS demo site that you can try out while you look for the best tools to get the job done?
Now you can have your own LifterLMS site to test for just $1 for 30 days.
You can try out all $999 worth of tools available in our Infinity Bundle for just $1.
What are the Top LifterLMS 30 Day Demo Benefits?
Benefit #1: Our 30 day personal demo sites give you a chance to 'drive' the website and actually use the powerful LifterLMS backend settings, options and tools on a fully set up demo site hosted on our servers.
Benefit #2: You can test out a fully functioning LMS membership website (like the one pictured below) from the learner's perspective.
Benefit #3: When you try LifterLMS for $1 for 30 days, you get to see for yourself why course creators just like you are switching to or starting with LifterLMS for their websites.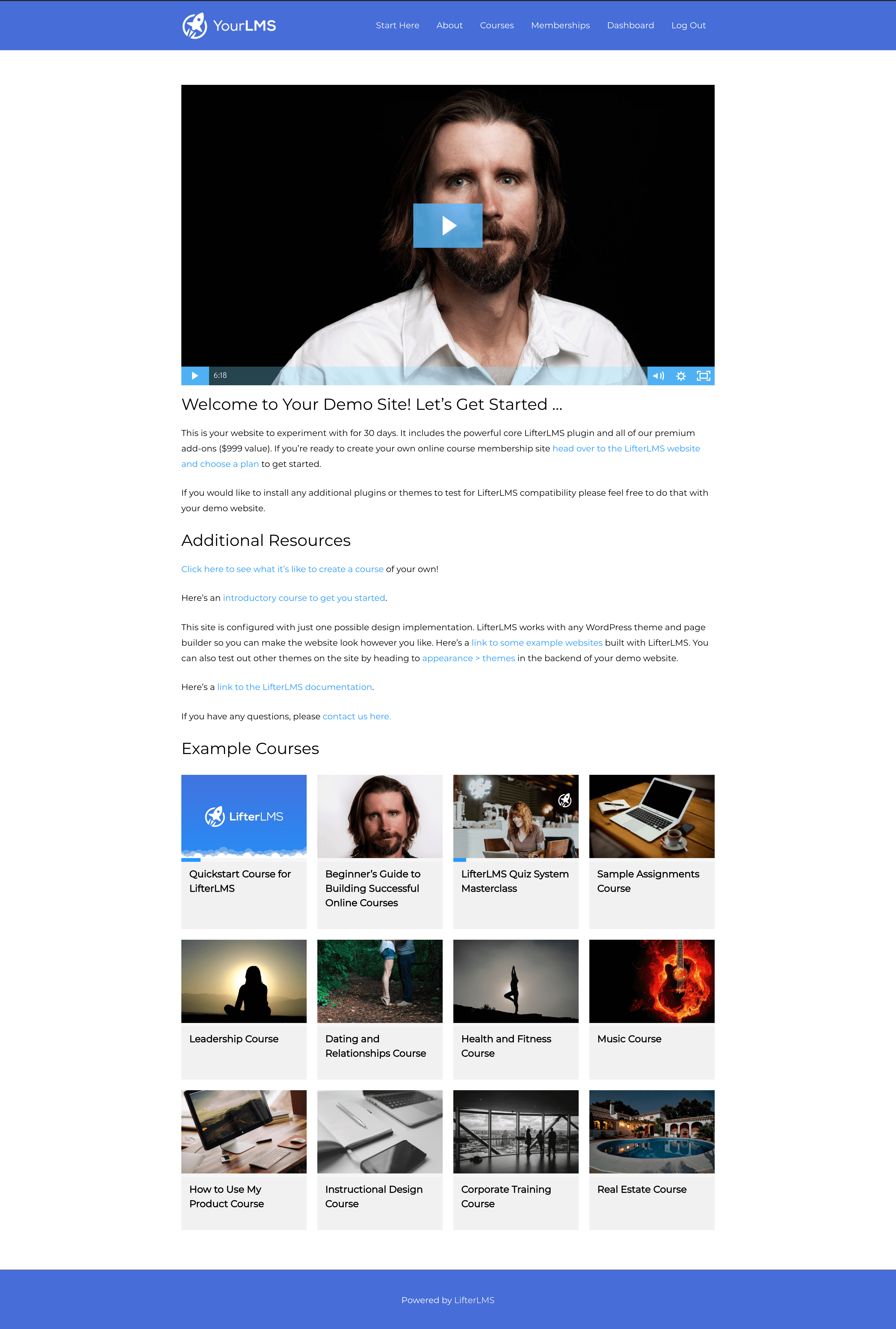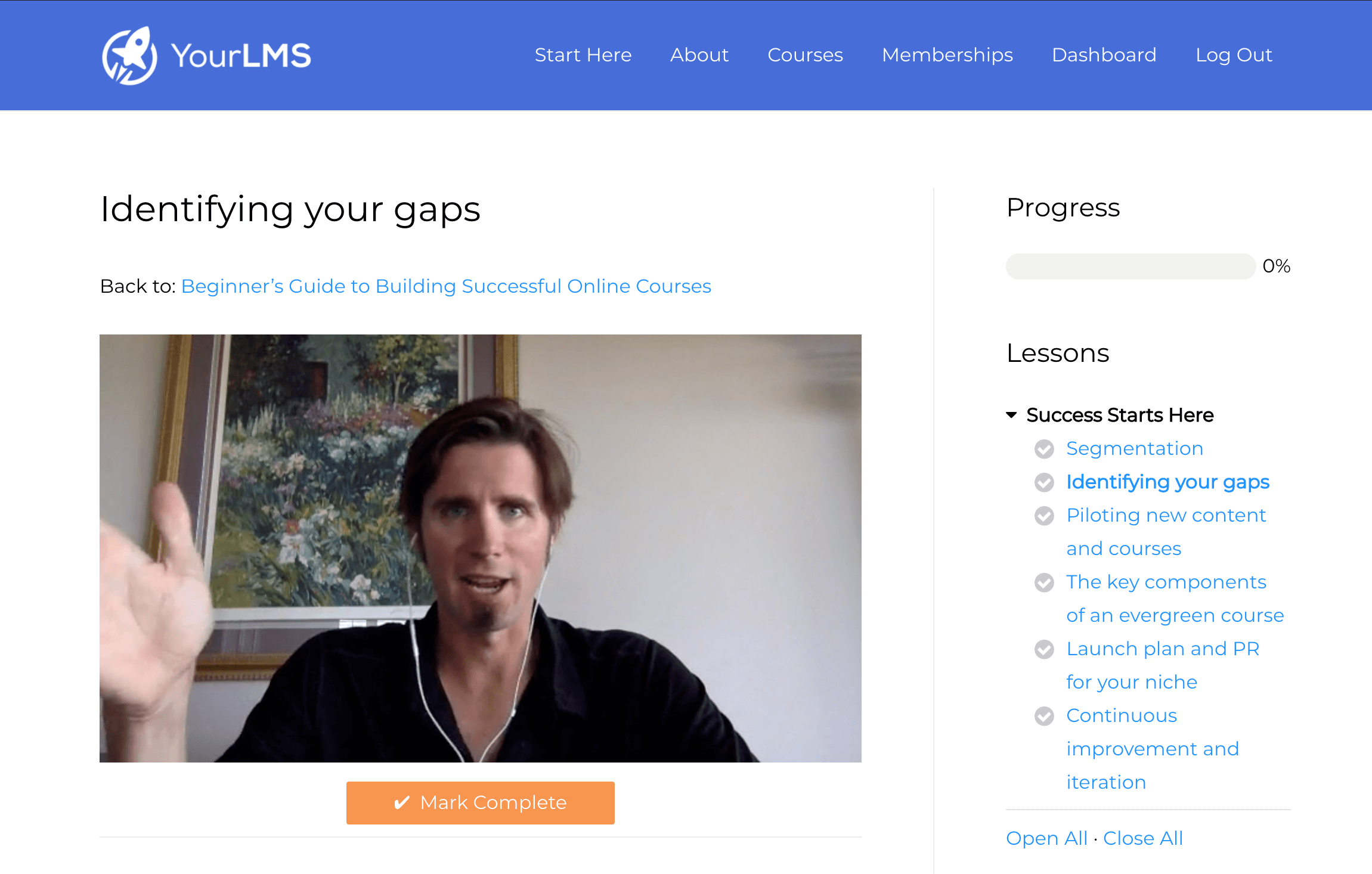 Questions You Might Be Asking …
Who is the 30 Day Demo for?
This offer is for anyone who wants to test drive LifterLMS with all the software already installed and configured. If you like what you're experiencing, you may decide to purchase the Universe Bundle or the Infinity Bundle. Your trial is conveniently hosted on our site and already configured for your testing. We'll allow you access for 30 days, but we find most people decide to make a purchase fairly quickly.
How long after I sign up for the 30 Day Demo offer until I get my site link and logins?
Your logins should arrive by email  within 10 minutes.  If you have purchased a site and do not receive logins please email [email protected]
Exactly how long is my trial?
30 days, not 30 business days. For example if you buy your trial July 4, your temporary trial site will expire and vanish from the internet permanently on August 3. You will see an expiration countdown clock on your site.
Why does the trial site cost $1?
To prevent spam sign ups and to cover the costs of us hosting a temporary website for you.
Can I install additional plugins or themes on the Demo site to test compatibility?
Absolutely! We encourage and allow you to test out anything you would like on the site to allow you to decide if LifterLMS is right for you.
Will I be charged for anything after the trial?
No! There are no recurring charges associated with the trial after it ends and nothing to cancel.  You may, however, choose to head over to our store to make a purchase if you like  what you're seeing!
I loved the 30 Day Demo and LifterLMS, but can you just do it all for me?
While we don't do custom site work at LifterLMS, we do recommend experienced third party LifterLMS Experts who might be a good place to start. These are all website builders who have worked with LifterLMS before and can do various custom site work for a fee.
Can I contact you if I have questions during my trial?
Yes! We are here for you. Click here to contact LifterLMS. There is also a chat feature installed on your 30 Day Demo site where you can chat with a team member live, or leave a message for us.
Can I keep my trial website or transfer it to my own hosting after 30 days?
No. The trial website service is a no obligation opportunity for you to test drive the LifterLMS suite of tools on a temporary website. You can export courses that you build on your trial website, but you cannot transfer the whole website.  Use your temporary trial website to see if LifterLMS is a good fit for your project, then choose the bundle that's right for you so you can create your very own LifterLMS powered online course or training based membership website on your own web hosting.
Why do so many people start with or switch to LifterLMS?
LifterLMS an all-in-one solution so you don't end up with a Software Frankenstein website. LifterLMS has a thriving community around the project so you are never alone. And the LifterLMS support is incredible so you never get stuck or lost.