Using WordPress and LifterLMS to Deploy The Course Marketplace Business Model
Adrian Nutiu Built a Multi Instructor Course Marketplace Like Udemy without Venture Capital
Learning WordPress years ago changed Adrian Nutiu's life. Now the innovator is changing the lives of others, by creating sites for publishing and education using WordPress. In the case of the latter, LifterLMS is what propels his new platform for course development and presentation, MadBright.
Remembering how valuable that online learning experience was has inspired Adrian to create a platform for what he sees as an under-served market––an easily accessible "democratized" middle-ground educational resource, hoping to bridge the gap between high-end, pricey platforms and those that are free but over-saturated.
Adrian's LifterLMS-fueled MadBright (formerly Yumva before its rebrand) allows multiple instructors to create and offer courses with minimal fuss and currently, at no cost.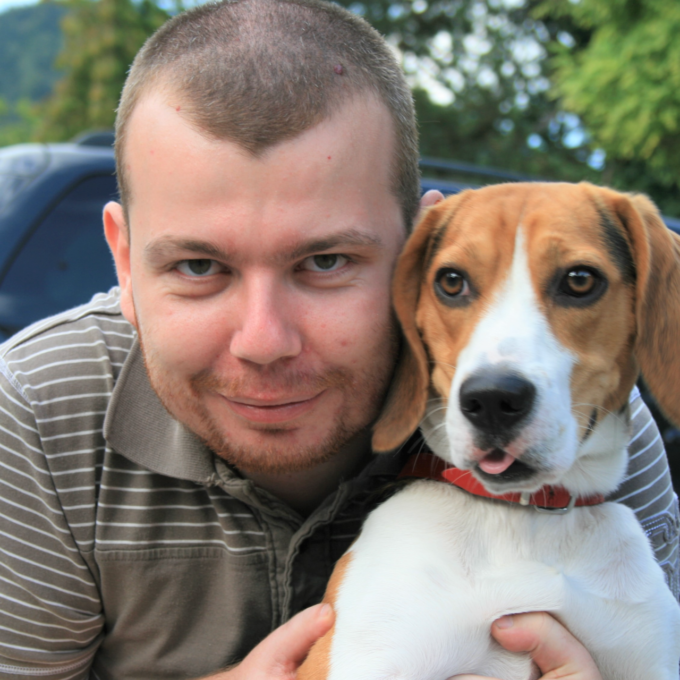 "Thanks to LifterLMS, I was able to launch a fully-featured and fully-customized multi-instructor educational platform in days."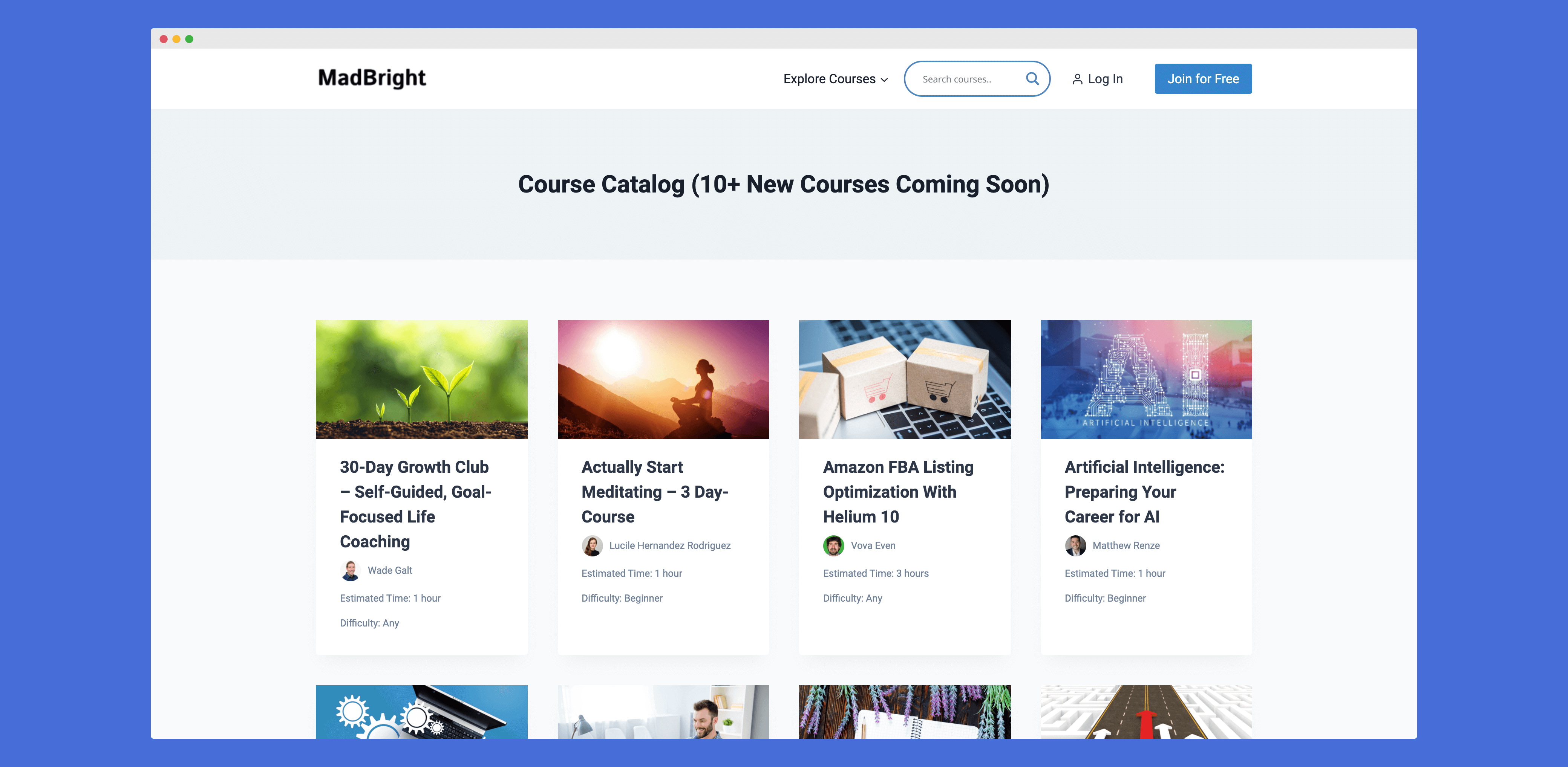 Education as Agent for Change
Adrian is committed to furthering education, as he sees lack of education as one of the major problems affecting the world today. Despite recognizing that it may take a few years for MadBright to gain traction, Adrian is hopeful that it has the potential to be beneficial, and that it will eventually reach millions of people around the globe.
Fortunately, the built-in advantages of LifterLMS is making this mission quicker, easier and with little to no investment.
Many education apps, including LifterLMS, make it easy for an individual or company to create an online course, or a series of courses, on a website. Creating a multi-instructor course marketplace, however, presents a different approach with different challenges, the kind Adrian, with his "publisher mindset," enjoys tackling. (In addition to MadBright, Adrian is also the brain behind UpJourney.com, another educational site focused on written-content, where multiple authors share articles and books dedicated to life skills and self-improvement.)
With LifterLMS Adrian is able to meet those challenges and create a growing platform for courses by multiple teachers that supports his wider educational mission.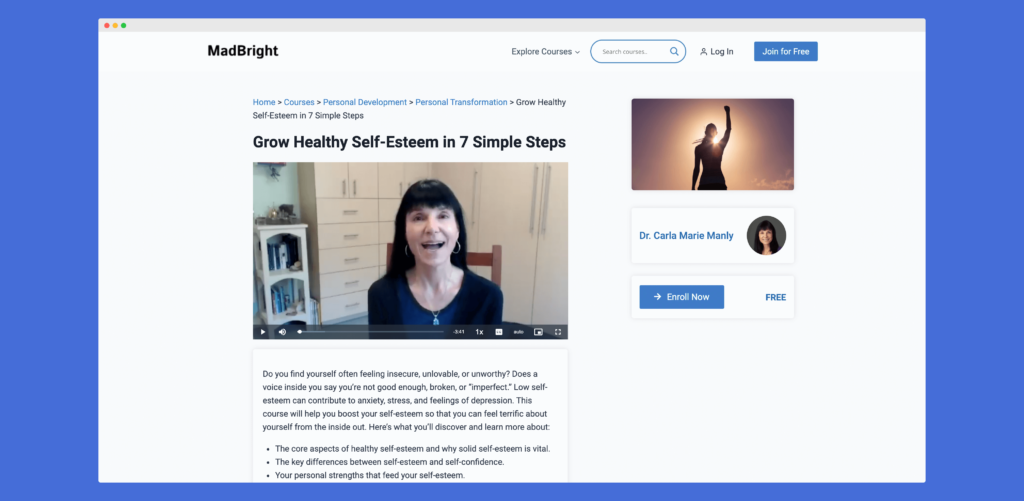 LifterLMS "Out of the Box"
Already a fan and user of WordPress for some twenty years, Adrian knew that its flexibility and scalability, especially when paired with LifterLMS, could support the kind of growth he hopes to achieve at MadBright. It also makes MadBright a viable alternative to expensive self-hosted platforms, offering a more level playing field for educators, while making it easier for potential students to find their courses. At the same time it's intended to provide better traffic and visibility as it grows, especially when compared to saturated sites like YouTube.
Having decided to develop his education platform on WordPress, Adrian next spent a lot of time testing other course plugins, including LearnDash and Tutor. His choice of LifterLMS was based on several criteria:
Economical in that LifterLMS is fully featured and deployable, and is 100% free, unless one needs add-ons for specific functionality. Adrian only needed one plug-in despite the scope of his project.
Instructor roles (Adrian notes no other LMS has instructor roles without pay-for add-ons.)
The fact that there are instructor roles allows Adrian to create a course multi-educator marketplace, where even instructors can offer a multi-course series.
LifterLMS is easily integrated with third party apps in the WordPress ecosystem.
Adrian found that LifterLMS integrated perfectly with the Elementor page-builder to easily achieve the look and feel he wanted.
LifterLMS' ease of use allowed Adrian to jump right into recruiting instructors, publishing courses and marketing the new site, instead of spending months on development and raising money.
"The big advantage I found with LifterLMS was... the instructor role. (It has) everything that's needed."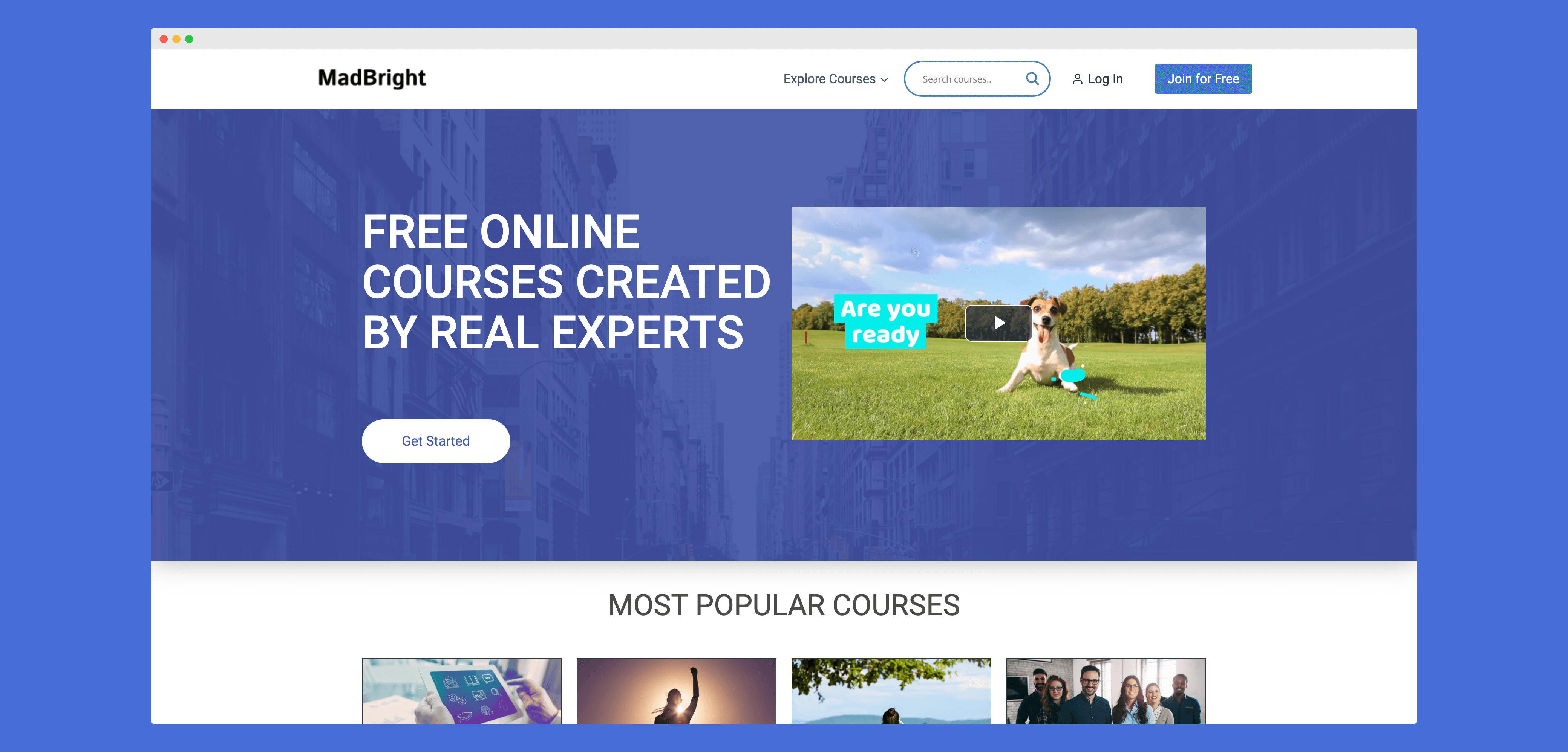 In essence, Adrian has the capability to start building a site like Udemy, but without the need for a significant investment––a multi-instructor course marketplace that is affordable, accessible and provides its own traffic. It is notable that Udemy, which has a team of 27 members, a board of advisors, 21 investors, and 1000 employees, has raised $223 million over nine rounds. A multi-course marketplace can understandably be a huge undertaking. And yet Adrian has started with LifterLMS "out of the box."
Education-Based Marketing
As committed as Adrian is to furthering education for its own sake, he also recognizes the need for educators to promote themselves and to add an element of marketing in their courses, especially those courses are offered at no cost. Going beyond that, a certain amount of marketing can become a marketing tool for them to attract followers to their own sites and other platforms they might use, and further their brand awareness.
In fact, he points out, companies would also be well served to make use of courses in order to teach their users how to maximize their products, and go way beyond the basic how-tos. Using concrete examples is not only helpful, but works to deepen customer relations.
"If you have products like... yoga pants, you should do a course about yoga... Instead of telling them, "Hey, our products are amazing," show them, help them."
Acknowledging the prevalence and importance of ads, Adrian adds that MadBright allows instructors to add pitches at the end of their courses, promote products like books, as well as watermark their videos and link to their content hosted elsewhere.
But there are other advantages to this approach.
The Magic of Interactivity
Adrian is a proponent of using a social ecosystem on the web that can work in interactive ways for educators and publishers who should extend their reach beyond one platform. With this vision, not surprisingly, MadBright uses social login & registration with LifterLMS and does not require content exclusivity from the instructors.
The approach or format of similar content can differ as well; he points out that a course can stimulate interest in a book, for example, where the course may be more on the entertaining side due to its interactivity, and the book more of a study. In the same vein, he recommends that publishers be accessible and consider allowing some interactivity with their audiences, perhaps in the form of live calls or coaching.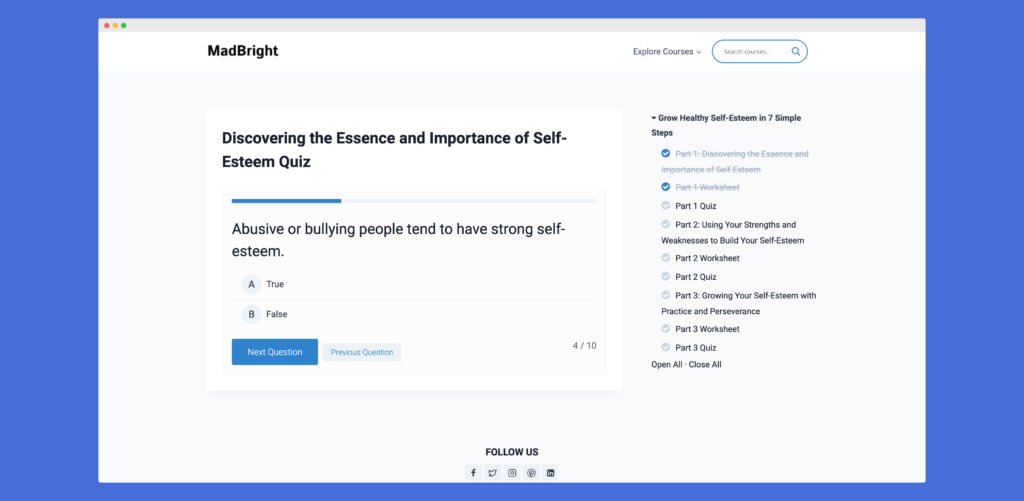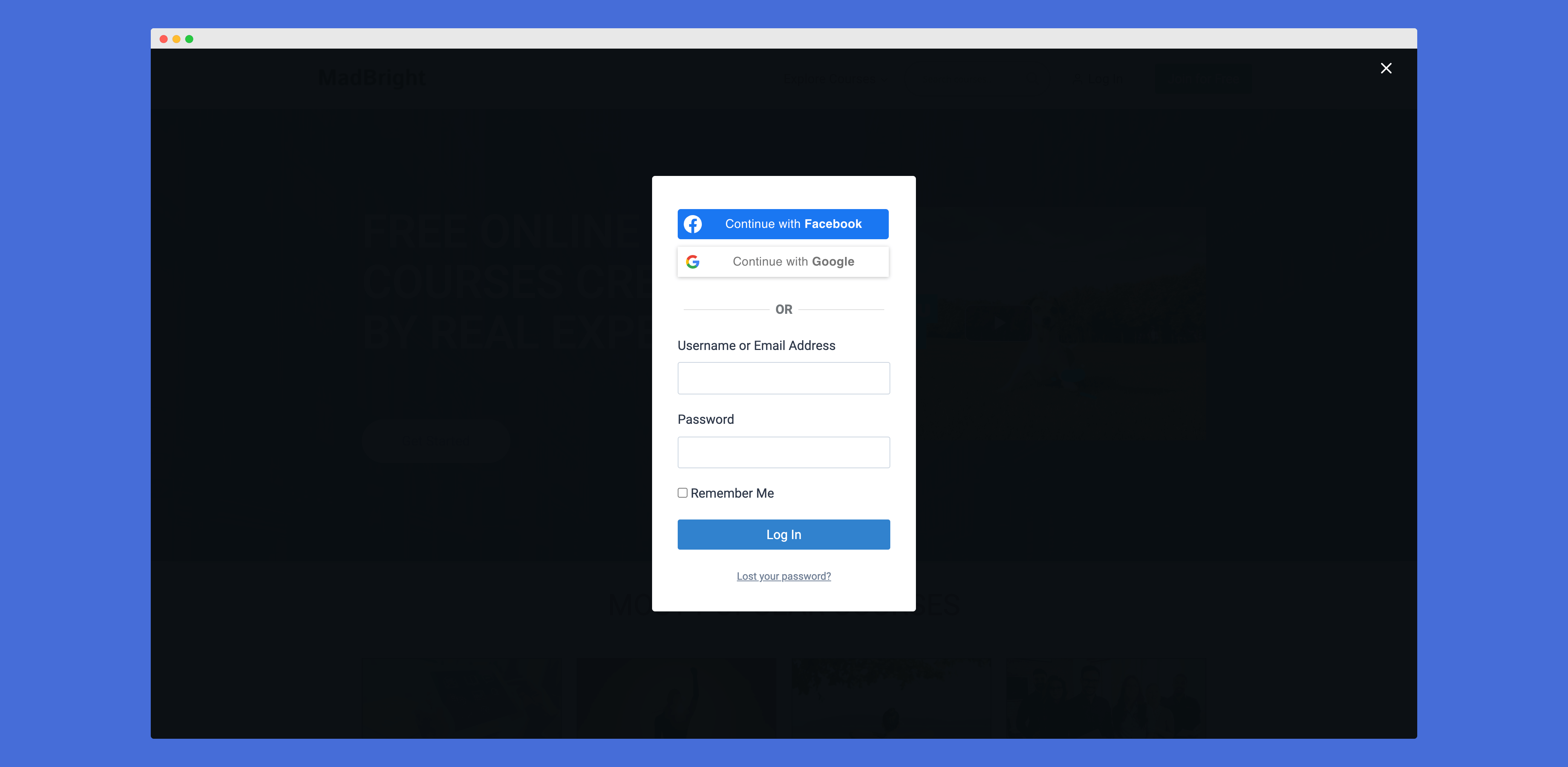 It's not a magic bullet, however. Adrian cautions that it can take time, that even well-established teachers make sure they are visible on different social platforms, and that utilizing a variety of media and communications outlets is necessary in order to attract an audience.
"If you're an instructor, just go everywhere, try to find any podcast, go in Facebook Groups, do YouTubes, try to build an audience… Give yourself time... It's not going to be overnight."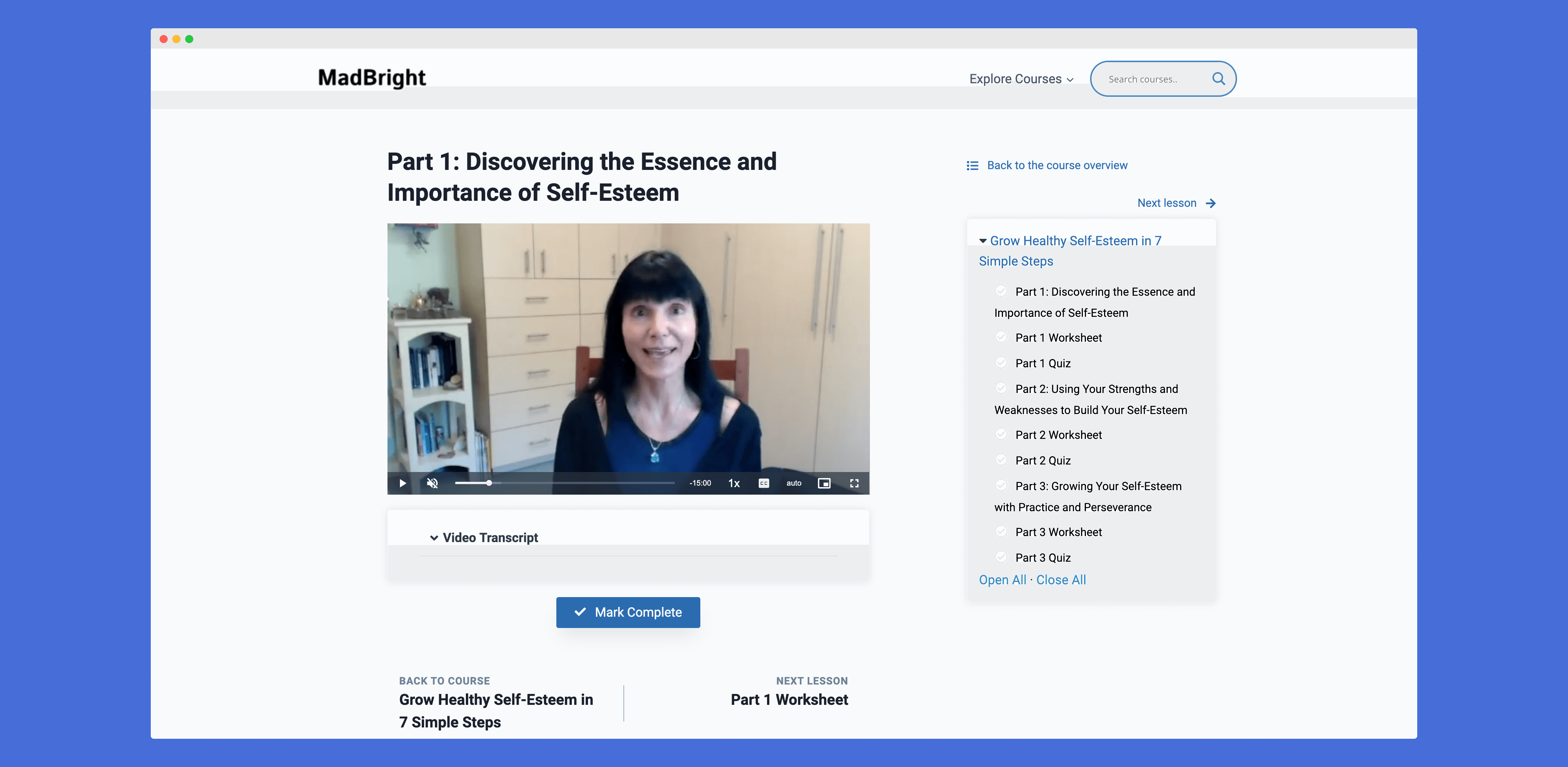 And while not everyone is looking to build another Udemy, anyone wanting to build a multi-instructor site will find, like Adrian, that LifterLMS will provide the tools they need. 
Adrian Tells His Story of Building a "Udemy clone" on the LMScast ...