LifterLMS PayPal allows you to accept payments for courses and memberships via PayPal Checkout using customizable Smart Payment Buttons, enabling your students to pay without leaving your site.
This document refers to the new LifterLMS PayPal 2.0, currently in beta. Refer to the (legacy)
LifterLMS PayPal guide
for information about the 1.0 version.
An SSL certificate is required to facilitate webhook notifications for recurring payments.
To setup and configure LifterLMS PayPal settings head to LifterLMS -> Settings -> Checkout and click PayPal on the Payment Gateways table.

On this screen you can configure the LifterLMS PayPal settings:
Enable/Disable: Controls whether or not PayPal will be available as a payment method at checkout.
Title: Customize the payment method's name at checkout.
Description: Additional information displayed below the name at checkout.
PayPal Sandbox: Enable this to process payments via the PayPal sandbox for testing.
Debug Logging: Debug logging stores API requests and other information in a log file for debugging by yourself or the LifterLMS support team.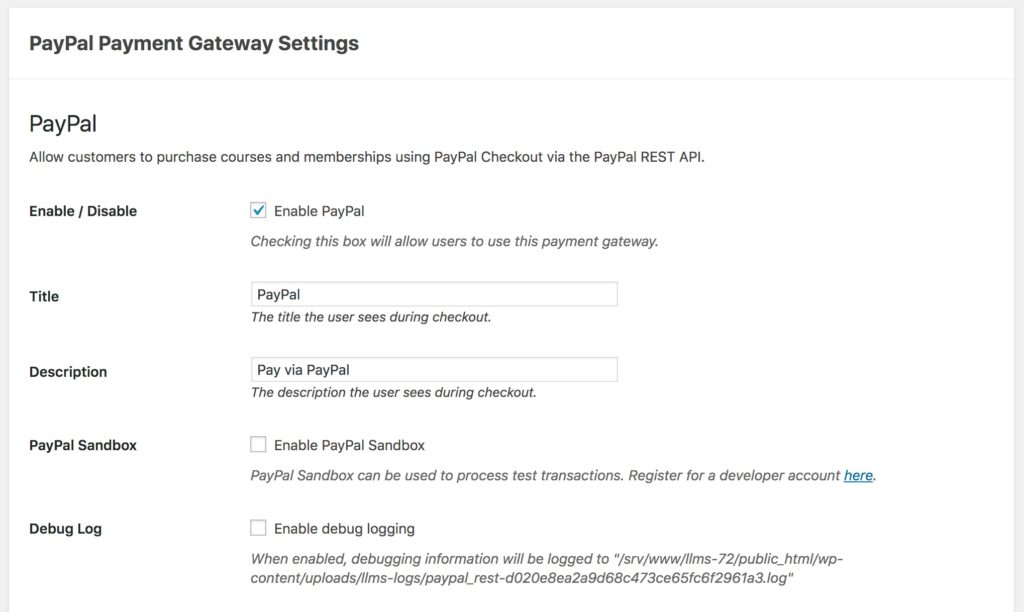 Add your PayPal REST App API credentials in order to start accepting payments.
Head to developer.paypal.com and click "Log into Dashboard"
Log into your PayPal account
Create a Sandbox Business Account

Navigate to Sandbox -> Accounts in the sidebar menu
Click the "Create Account" button
Under "Account Type" select "Business (Merchant Account)"
Enter an email address and password

We recommend appending "+seller" to the end of your PayPal account email, for example "[email protected]".

Optionally enter a first and last name and balance
Click "Create Account"

Create a new REST API App

Navigate to Sandbox -> My Apps & Credentials in the sidebar menu
Under "REST API apps" click the "Create App" button
Name your app and select the Sandbox Business Account you created in Step 3
Click "Create App"

Add your API Credentials to the LifterLMS PayPal settings

Use the toggle on the top right of the screen to toggle between Sandbox and Live credentials
Copy the Client ID and paste it into the "Client ID" field on the LifterLMS PayPal settings screen
Click "Show" below "Secret" and copy and paste the key into the "Client Secret" field on LifterLMS PayPal settings screen
Click "Save" on the LifterLMS PayPal settings screen
Note: Live credentials will not work in Sandbox mode and sandbox credentials will not work in live mode!
LifterLMS PayPal will attempt to verify the API credentials and report a success or error message accordingly.

If you receive an error message please double check your credentials and try again.
If you continue to have issues enable Debug Logging, try again, and then open a new support request (providing a copy of the log file and error message).