Since WordPress has lightened up website creation and optimization, now you can create any type of website with ease. Building an eLearning website where you can publish different types of courses and lessons has also become easier – all credit goes to WordPress LMS Plugins.
The reason is WordPress offers solutions such as plugins and themes to craft a wonderful eLearning website. Nevertheless, still, you will be in a dilemma about what LMS plugin to pick as there are many options.
That's why here, we will discuss the best WordPress LMS plugins in 2023 to simplify this task for you. But, before that, let's jump into what you should consider while picking one…
What to Look for Before Picking an LMS Plugin?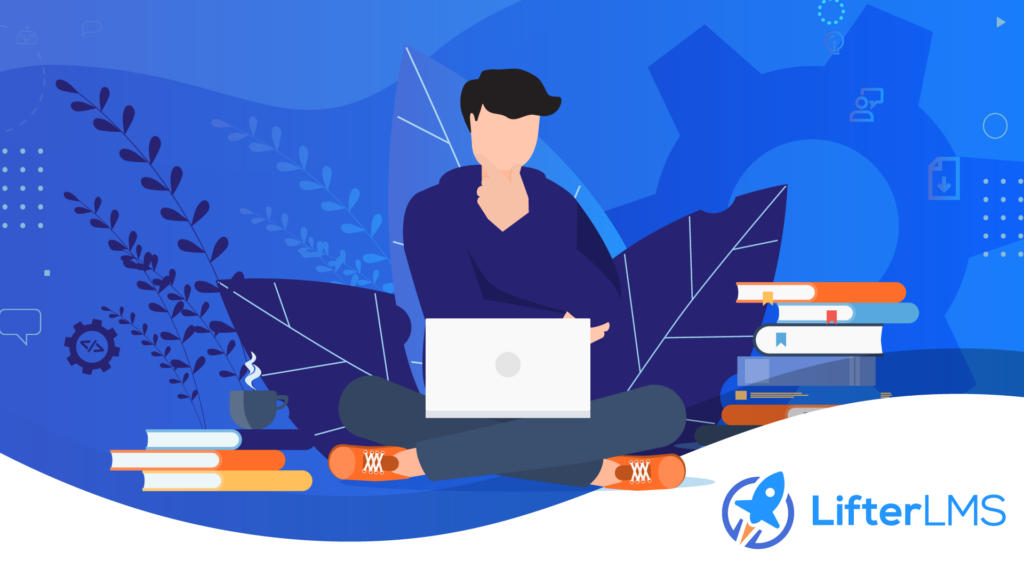 A WordPress LMS plugin offers you every option to create and manage online courses for successfully running your eLearning business. While building these courses for your website, you don't require to use a single line of coding.
Just you have to select the right LMS plugin for your eLearning platform. However, before picking one, you have to ensure that your LMS plugin offers the following features that are mandatory for creating and managing any eLearning website:
1. Uploading and removing course material:
For creating courses, you need to upload various files from time to time. Must ensure your LMS plugin allows uploading any file.
2. Course progression:
LMS plugins should have the option to show the progression of courses to your students.
3. User dashboard:
Students can easily manage their profiles.
4. Certifications or badges:
Certifications or badges encourage students to participate in the courses more. Make sure your picked best WordPress course plugin has this option.
5. Email automation:
Automated emails allow you to keep in touch with your audience. So, use an LMS plugin that has an email automation option.
6. Course enrollment:
You can check the number of students who receive your courses and pay for the courses.
7. Online and offline payment:
It has to offer online and offline payment options so that course purchasing never stops.
8. Homework submission:
Students should have an easy option to submit homework on your site.
9. Q/A session:
Your chosen LMS plugin should support Q/A sessions.
So, These are the features that you must ensure before selecting your LMS plugin. Now, how about getting a list of the 6 best WordPress LMS plugins?
Excited? Keep reading to find detailed descriptions and features about these plugins.
Best WordPress LMS Plugins 2023
Check out the following list of the 6 best LMS plugins for WordPress along with their features, pros, cons, pricing, and other stats: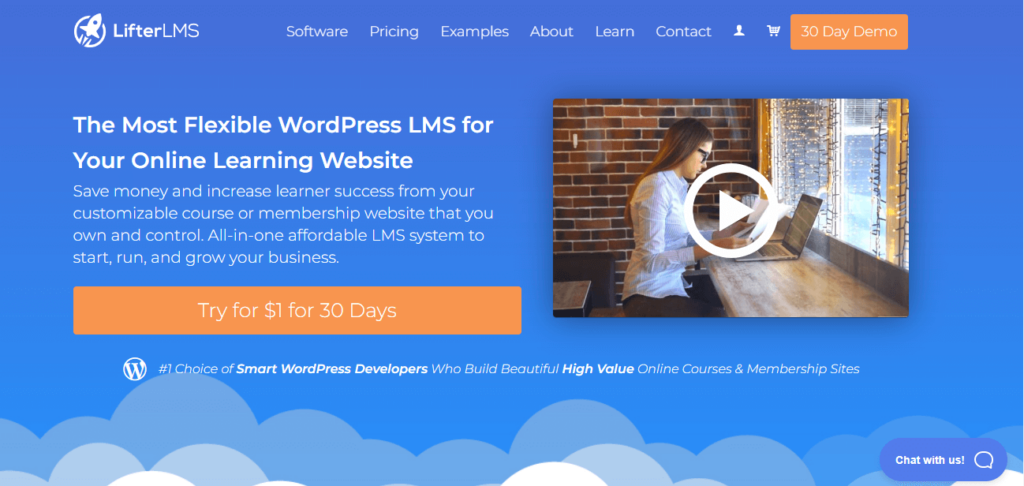 It is one of the best WordPress LMS solutions that can create unlimited courses and lessons for students and instructors. Besides, it has all the characteristics that the best WordPress course plugins must contain. For example, you can show the progress of courses to your students, create badges, send personalized emails, schedule courses, and whatnot.
Furthermore, LifterLMS is a zero-code solution for users where you don't need to care about applying code. On top of that, it supports almost every WordPress LMS theme, plugin, and page builder such as Elementor, Divi, Beaver Builder, etc. Therefore, anyone can build, run, and manage courses without any issues.
Key Features:
Supports adding unlimited courses, instructors, admins, and students.
Shows course progression.
Has the option to create private courses.
Training program for groups of people.
Option to send personalized emails and show email notifications.
You can create a certificate and download it via PDF with it.
Supports both online and offline payment.
Has a course subscription option.
Displays the current answer to the question.
Easy assignment and question-answer submitting option.
Auto grading option for assignments.
Pros:
It's a user-friendly WordPress LMS plugin.
LifterLMS is a lightly coded WordPress LMS solution.
An excellent support team who is always one call away.
Incredible infinity bundle plan where you will find unlimited active sites, industry-leading support, up to 3 tech accounts support, private Facebook support group, different add-ons along with other features.
It is frequently updated according to customers' requirements.
Cons:
The prices of the plans might seem a bit expensive if you have a limited budget. But, if you think about its opportunities, the price of the plans is highly justified.
Pricing:
There are the following three plans in the LifterLMS:
Earth Bundle: $180/ year.
Universal Bundle: $360/ year.
Infinity Bundle: $1200/ year.
Now, on this Black Friday, you can save up to 30% on all the above packages by simply entering the coupon "BLACKFRIDAY22".
Other Stats:
Active Installation: 10,000+
WordPress.org rating: 4.8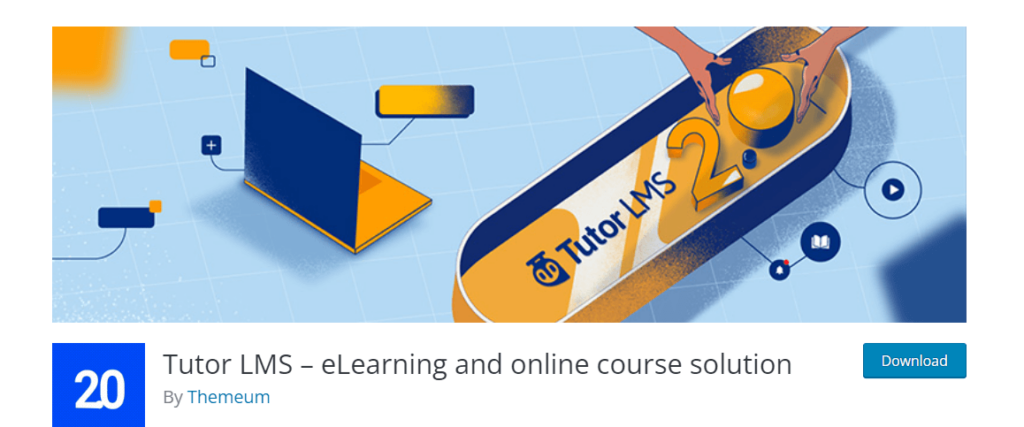 Tutor LMS is another best LMS plugins for WordPress that offers every option to build a full-fledged eLearning store. With the help of Tutor LMS, you can create unlimited courses and lessons for unlimited instructors and students.
Besides, you can create private and set personalized emails for your students that are helpful to boost the growth of your learning management website. Moreover, you can also set a quiz timer and attempts along with creating certification badges for your courses. So, it has every feature to be one of the best LMS plugins for WordPress.
Key Features:
You can add a discussion area for courses.
Schedule courses and show the course progress to the students.
With Tutor LMS, you can arrange a group training program.
Duplicate courses for minimizing effort.
Tutor LMS has the option to set the difficulty level for courses and course completion certificates that students can download via PDF.
Manual grading and quiz retaking options are available.
This best WordPress LMS plugin allows you to add a subscription option for courses.
Integration is available for WooCommerce.
Pros:
Tutor LMS is a frequently updated WordPress LMS solution.
They offer 30 language support.
Compatible with all the popular WordPress themes and plugins.
Cons:
Their technical support is poor. In most cases, you might not get the expected support you are looking for.
You might face bugs in their new updates.
Pricing:
In Tutor LMS, you will find four plans. Both you can purchase for yearly or lifetime. The pricing of yearly plans:
Basic: Free/ year.
Individual: 199/ year.
Business: 399/ year.
Agency: 799/ year.
Other Stats:
Active Installation: 60,000+
WordPress.org rating: 4.6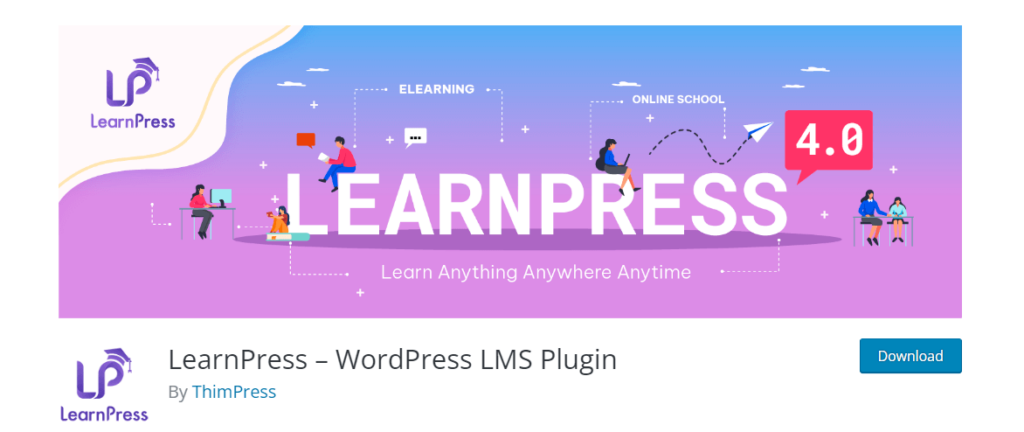 Are you looking for a light and at the same time handy LMS solution for WordPress? LearnPress is exactly the plugin you are looking for. Because it is one of the lightest plugins with vast business opportunities.
On top of this, LearnPress allows you to translate your WordPress site into 23 languages. That means LearnPress is now WPML compatible as well. In one sentence you can say, LearnPress is the most complete solution for eLearning creation and optimization.
Key Features:
Students can maintain personal profiles.
You can set quizzes, give question hints, and show the right answers with this best WordPress LMS solution.
It allows you to add course categories and tags.
Students can pay offline.
It offers templates for emails.
LearnPress allows adding subscription options for courses.
Pros:
You can translate your eLearning platform into 23 languages.
A light-coded and updated LMS plugin.
It provides a fine user experience.
Cons:
Recent updates might break your site.
Doesn't have the option to provide group training.
No WooCommerce integration. Besides, they don't have sufficient integration with other required solutions.
You might face difficulty to get on-time support.
Force login is not possible with this LMS.
You can set the course difficulty level.
Pricing:
LearnPress has three plans with interesting pricing. Such as:
LearnPress Free: $0/ year.
LearnPress Theme Bundle: $49 – $69/ year.
LearnPress Pro Bundle: $249.99/ year.
Other Stats:
Active Installation: 100,000+
WordPress.org rating: 4.3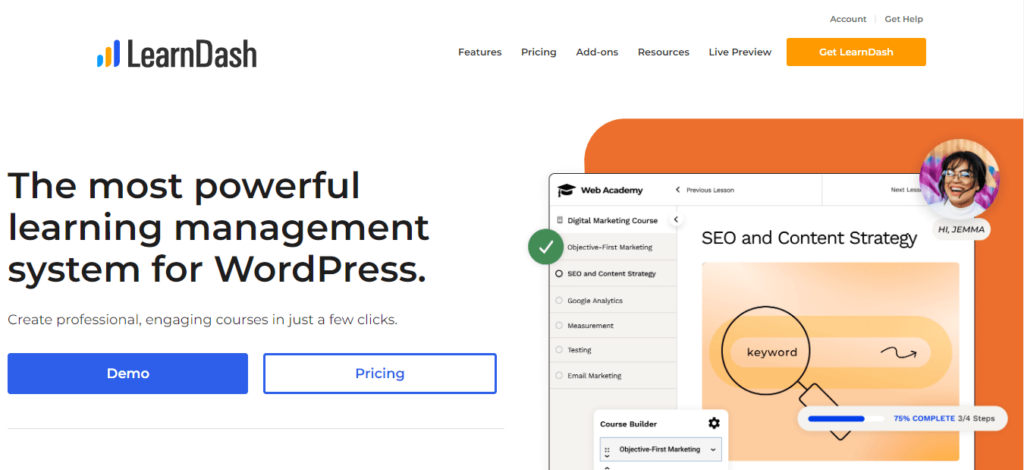 Whether you want to create a public or private course, LearnDash is here to help you out. It is another powerful and featureful option to build your eLearning platform like Udemy.
However, you won't find a free version of it. Only the paid plans are available. Take a look at the key features of this paid WordPress LMS solution that might give you an overall idea about its usability.
Key Features:
It lets you create course completion certificates and your students can download them via PDF.
You can easily schedule courses.
This LMS solution offers an option to set personalized email along with notifications.
Training option for a group of people.
Difficulty level setting for courses.
Automatic grading option for assignments.
Pros:
They have a fine support team.
LearnDash offers an excellent user experience.
You can enjoy the auto-grading feature for assignments.
Cons:
Update less frequently than other WordPress LMS solutions.
They don't have an offline payment system.
Don't have the option to hide completed courses.
LearnDash won't provide you with pre-built templates for email.
Pricing:
You can enjoy LearnDash for 1, 10, or unlimited sites. Price will increase with the number of sites. Here are the plans:
1 Site: $199/ year.
10 Sites: $399/ year.
Unlimited: $799/ year.
Other Stats:
Not available on WordPress.org so active installation and ratings are missing.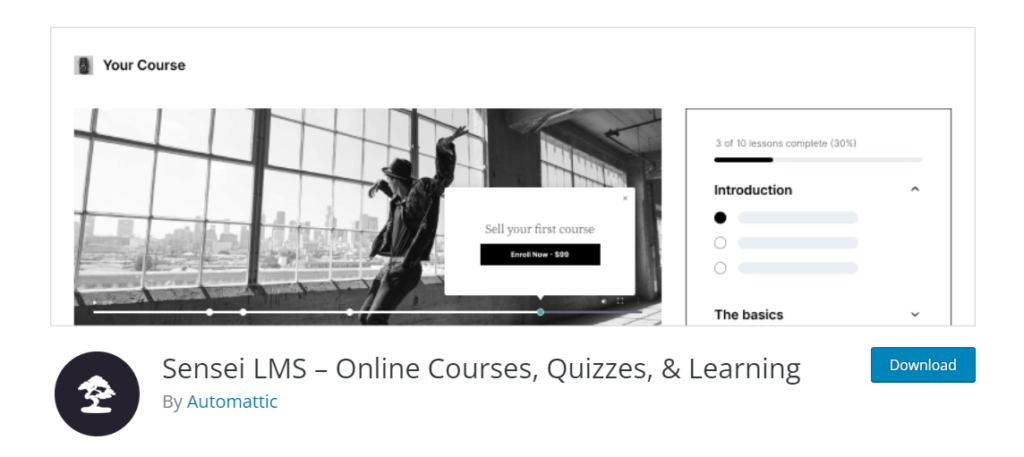 Sensei LMS is a renowned WordPress LMS plugin that is established by Automattic, the maker of WordPress.com and other mindblowing solutions. It seamlessly works with WordPress and is specially created for the training purpose of the employees of Automattic.
This free and best WordPress LMS plugin allows you to craft beautiful courses and lessons for your students. Apart from this, you will be able to customize the look according to your brand.
Key Features:
It helps you to create personalized emails for boosting conversion.
You can arrange training programs for individual groups or companies.
Course difficulty level setting option.
Easy digital download integration is available.
Attractive built-in customized email templates.
Debug mode option is available.
Pros:
A plugin that is always updated to provide the best value to its users.
You can translate the eLearning site into 18 languages.
No need to code at all.
Cons:
Language translation might break your site.
Sometimes their update may not fulfill users' requirements.
Pricing:
Sensei LMS has three yearly plans which have been listed below:
Sensei Blocks: $49/ year.
Sensei Pro: $149/ year.
Sensei Agency: $349/ year.
Other Stats:
Active Installation: 10,000+
WordPress.org rating: 3.7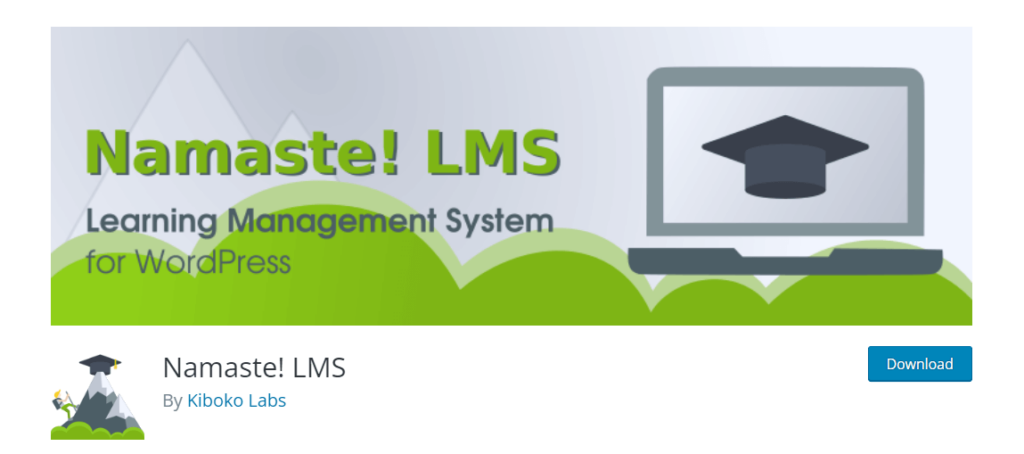 Like others, Namaste! LMS is another WordPress LMS solution that supports creating unlimited courses and lessons for your students where you can apply different rules and limitations.
Your students will be able to earn certification with the completion of each course which going to encourage them to participate in more courses like this. Also, you can easily create assignments and review students' answers.
Key Features:
Students can easily make payments whether they are offline or online.
Video-making facilities for courses.
Students can resume the video when they start watching the video.
EDD integration for your eLearning store.
Pros:
It's a user-friendly and updated LMS.
This WordPress LMS has a well-responsive support system.
It's a light-weighted plugin. Therefore, it won't slow down your site.
Cons:
It doesn't provide language support.
The free version is not that helpful.
Pricing:
Namaste! LMS also has three plans like others:
Namaste! Pro: $67/ year.
Namaste! Plugin Bundle: $97/ year.
Namaste! Full Bundle: $137/year.
Other Stats:
Active Installation: 700+
WordPress.org rating: 4.6
Comparison Among the Top WordPress LMS Plugins
Picking one from the list of the above 6 best WordPress LMS plugins might still seem overwhelming and time-consuming as you need to check every single plugin on the list. However, a quick comparison of the above 6 best WordPress LMS plugin can ease your decision-making process. So, let's check out the comparison of the top LMS solutions –
| | | | | | | |
| --- | --- | --- | --- | --- | --- | --- |
| Features | LifterLMS | Tutor | LearnPress | LearnDash | Sensei LMS | Namaste! LMS |
| Unlimited Courses & lessons | ✅ | ✅ | ✅ | ✅ | ✅ | ✅ |
| Unlimited Instructors & Students | ✅ | ✅ | ✅ | ✅ | ✅ | ✅ |
| Public courses | ✅ | ✅ | ✅ | ✅ | ✅ | ✅ |
| Certification Badge | ✅ | ✅ | ✅ | ✅ | ✅ | ✅ |
| Personalized Email | ✅ | ✅ | ✅ | ✅ | ✅ | ❌ |
| Group Training Program | ✅ | ✅ | ❌ | ✅ | ✅ | ✅ |
| Offline payment method | ✅ | ✅ | ✅ | ❌ | ❌ | ✅ |
| Course Difficulty Level | ✅ | ✅ | ❌ | ✅ | ✅ | ❌ |
| Question hint | ❌ | ❌ | ✅ | ✅ | ❌ | ✅ |
| Display correct answer | ✅ | ❌ | ✅ | ✅ | ✅ | ❌ |
| Video for lessons | ✅ | ✅ | ❌ | ✅ | ✅ | ✅ |
| EDD integration | ✅ | ✅ | ❌ | ✅ | ✅ | ✅ |
| Resume video | ✅ | ✅ | ❌ | ❌ | ❌ | ✅ |
| Force login | ✅ | ✅ | ❌ | ❌ | ❌ | ❌ |
| Templates for emails | ✅ | ❌ | ✅ | ❌ | ✅ | ❌ |
| Subscription option for courses | ✅ | ❌ | ✅ | ✅ | ✅ | ❌ |
| Course announcement | ✅ | ✅ | ✅ | ❌ | ✅ | ❌ |
| Video security | ✅ | ✅ | ✅ | ❌ | ✅ | ❌ |
| Logout redirect | ✅ | ❌ | ✅ | ✅ | ✅ | ❌ |
| Debug mode | ✅ | ❌ | ✅ | ✅ | ✅ | ❌ |
Get Started with the Best WordPress LMS Plugin
Online course-building opportunities and learning are increasing tremendously and so are the chances of success in this industry. So, it's a great option to build an eLearning website and start your career if you have good knowledge in any specific niche.
You have already known enough about the 6 Best WordPress LMS plugins for 2023. And the above comparison table shows how all these 6 LMS plugins for WordPress differ from each other. Nonetheless, if you want to know more specifically, then LifterLMS should come first on your mind as it has more options to craft a successful eLearning site than any other plugins. Furthermore, now you can save up to 30% due to the exclusive Black Friday Deal 2022. So, get started with the best WordPress LMS plugin at the best price.